African Safari Luxury Gay Cruise & Tour
9 days from Johannesburg to Victoria Falls, Zimbabwe
October 13 – 21, 2023

CroisiEurope Cruises African Dream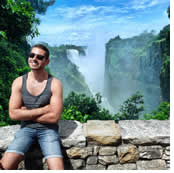 Travel To The Ends Of The Earth On A Dream African Safari Cruise! Join us for the OUTbound gay adventure of a lifetime. Embark on an exclusive cruise on Africa's Lake Kariba and an unforgettable stay at a luxurious safari lodge within Chobe National Park. From Johannesburg to Victoria Falls, you'll witness spectacular panoramas, learn rich histories, and discover incredible wildlife, all while savoring carefully crafted menus that reflect the flavors of Africa. OUTbound offers you an up-close and personal experience with nature at the ends of the world, touring the most beautiful natural reserves and uncovering the secrets of Lake Kariba before taking in the grandeur of the "smoke that thunders," Victoria Falls.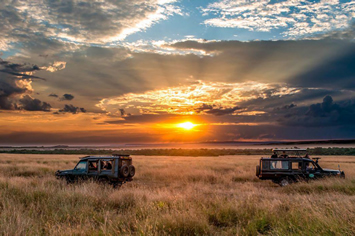 From Johannesburg to Victoria Falls, you'll discover spectacular panoramas and tumultuous histories, but also incredible wildlife and carefully crafted menus that reflect the flavors and savors of Africa, as well as the most beautiful natural reserves and the secrets of Lake Kariba before taking in the grandeur of the "smoke that thunders," Victoria Falls.
All Included, All Inclusive!
All Meals & Alcoholic Beverages Included!
All Shore Excursions Included!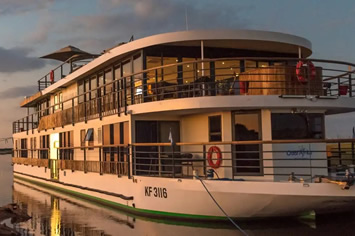 Your Ship - RV African Dream
The African Dream offers you an up-close and personal experience with nature at the ends of the world. Built in 2018, this premium-rated ship sails along Lake Kariba and the most beautiful bends of the region with fantastic views of the surrounding wonderland.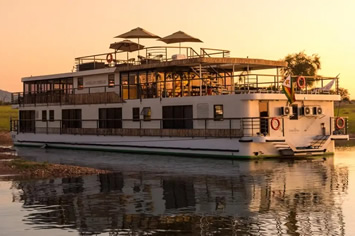 The African Dream experience is geared toward providing our guests the best sightseeing and wildlife experiences as we sail across the world's largest artificial lake. It is a very comfortable ship with a bright, airy and contemporary African-themed decor enriched with colorful locally made artifacts. Mixed drinks, wine, beer, sodas, juices and coffee are all included anytime onboard.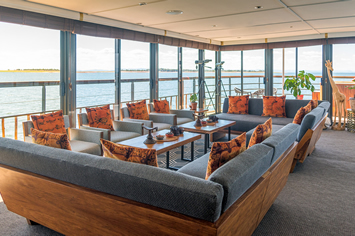 Panoramic Lounge
The tastefully decorated Panoramic Lounge, located at the front of the ship on the Upper Deck, was named for the superb views of the passing coastlines and wildlife that guests will enjoy courtesy of the floor-to-ceiling windows. Intimate seating areas are peppered throughout the open floor plan, allowing you the choice of going all in with the group or enjoying a little private time between you and a smaller gathering of friends. The warm and comfortable space is bright, airy and decorated with colorful, locally made African artifacts.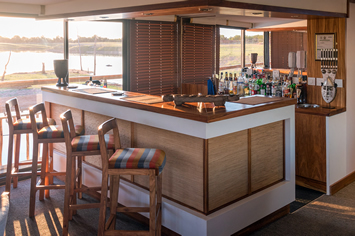 Salon Bar
Enjoy a cocktail at the main bar with us while watching a spectacular sunset together. Located within the Panoramic Lounge, you'll find originality and innovation, with a new twist on the ol' purveyors of gin and tonics and buckets of beer. This is the place where you'll spend an enjoyable evening nursing a cocktail with great friends, old and new! Whether you're in the mood for a mixed drink or glass of wine, we invite you to join us and enjoy one of best bars at sea with your fellow OUTbounders. Order your favorite cocktail you'll savor after a long day out on safari.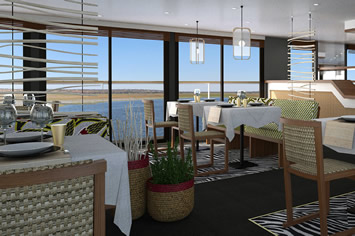 Dining
Located on the Upper Deck, the restaurant comfortably seats all our OUTbounders at tables which vary in size with a panoramic view of the passing wildlife. The selection of food is outstanding, and you'll enjoy carefully crafted menus that reflect the flavors and savors of Africa. After a buffet breakfast, lunch and dinner are served meals with set menus of multiple courses. Vegetarian and other dietary requirements can be accommodated as well, so no one will be going hungry after a long day on safari. And you certainly won't go thirsty either, as free-flowing beer, wine, cocktails and soft drinks are always included.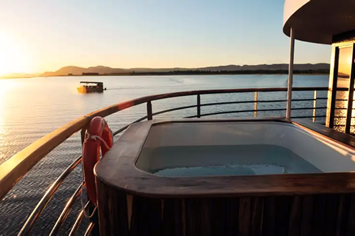 Jacuzzi Terrace
Located at the front of the ship, the Jacuzzi Terrace is the perfect place where you can meet up with friends and relax while enjoying the view. This secluded al fresco hideaway overlooking the bow of our ship is the perfect casual spot for relaxing during the day if the Sun Deck is a little too social for your taste. Just grab your drink and jump in the bubbling jacuzzi while you enjoy the stunning views in this charming little oasis.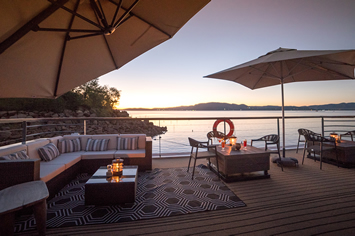 Sun Deck
Head up to the Sun Deck and a 360° wrap-around view for an immersive experience at the heart of the African wilderness. The Sun Deck has a gorgeous outdoor living area and a huge canopy midship, perfect for OUTbounders who prefer a little cover as we sail through the stunning landscape. Choose to have your breakfast or a light snack at any of the private tables that ring the deck, or simply lie back and take in the amazing wildlife from the comfort of your lounge chair. At night, you won't find a more perfect spot for stargazing up at a sky that you'll have to see to believe.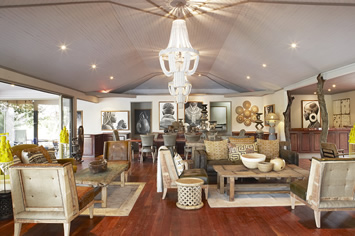 African Safari Lodge
Safari Lounge
At the heart of our luxury lodge is the safari lounge, where OUTbounders will gather before embarking on the day's adventure and unwind after an eventful day out in the wilderness. No matter how enticing the wildlife is, you may find yourself itching to get back to base. The accommodations are quite simply a work of art. The modern architecture is breathtakingly original. The space is decorated with touches such as vintage trunks and framed prints, and several telescopes are close at hand to get an even closer view of the ever-present wildlife.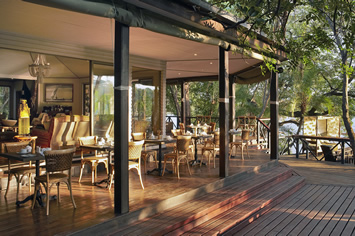 Dining
Enjoy your buffet breakfast or a light lunch out on deck overlooking a watering hole brimming with life. Locally sourced foods compliment the stunning views. Dinners are served in the main dining room, with family style seating at the main table or more intimate tables available for smaller groups or couples wishing to enjoy a romantic night by themselves. At each meal you'll have the option to try local delicacies and cultural dishes, with a mix of traditional favorites for those wanting a little taste of home.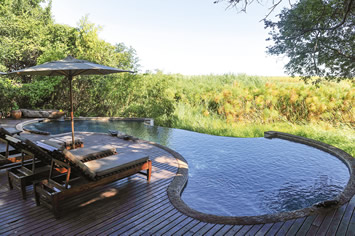 Infinity Pool
There's no better way to unwind and relax after a long day of safari than with a soak in the infinity pool. Located at the edge of a nature preserve, there's no better way to get up close and personal with the parade of wildlife wandering by. Order a cocktail from the ever present bar staff to complete the perfect luxury safari experience!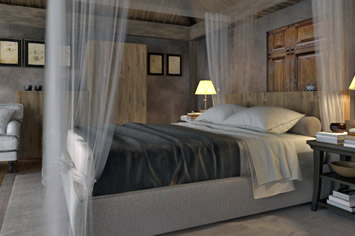 Safari Suites
The suites are decorated with an elegant and contemporary theme, using locally sourced and hand-crafted materials. Large windows and glass doors overlook the wild landscape beyond that can open up to create a unique outdoor living space. Each suite has a bedroom and separate lounge opening onto a wide private wooden deck. Situated just outside each suite is an indulgent outdoor bathtub, allowing you to bathe under the African sun or the shimmering moon while watching the passing wildlife.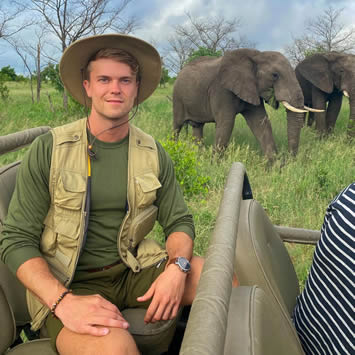 African Safari
Luxury All-Gay Cruise & Tour 2023
Itinerary


Date

Port

Arrive

Depart

13 Oct
Johannesburg, South Africa
11:30 AM
Overnight
14 Oct
Kasane, Botswana
9 AM
Overnight
15 Oct
Chobe, Namibia
10 AM
4 PM
16 Oct
Impalila Island, Namibia
8 AM
1 PM

17 Oct

Kasane, Botswana
9 AM
11 AM
17 Oct
Lake Kariba, Zimbabwe
3 PM
Overnight

18 Oct

Lake Kariba, Zimbabwe
Overnight
19 Oct
Matusadona, Zimbabwe
9 AM
4 PM

20 Oct

Kariba, Zimbabwe
8 AM
12 PM
20 Oct
Victoria Falls, Zimbabwe
2 PM
Overnight

21 Oct

Victoria Falls, Zimbabwe
1 PM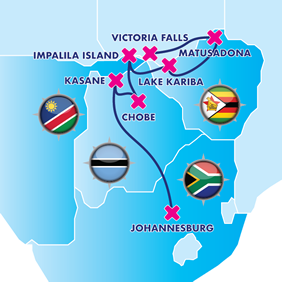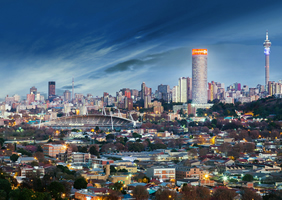 Day 1 - Johannesburg, South Africa
Welcome to Johannesburg, South Africa's largest and most progressive city by far. Affectionately known as Jo'burg or Jozi by locals, this rapidly changing city is the vibrant heart of South Africa. Johannesburg is a city racing towards the future, and the hipster-friendly neighborhood of Maboneng is considered one of the most successful urban-renewal projects in the world.
Tour the fascinating cities of Johannesburg and Pretoria with a local LGBTQ+ guide passionate about the social, political and cultural forces that shaped modern-day South Africa. We'll visit the evocative Apartheid Museum to gain an understanding of the inhuman philosophy that ruled South Africa for nearly half a century. Afterwards, we'll set off for a panoramic tour of Johannesburg. We'll see Constitution Hill, home of the Supreme Court, built on the site of a formerly notorious prison. Then we'll visit a township before we arrive at our hotel for dinner and to rest up for our flight in the morning.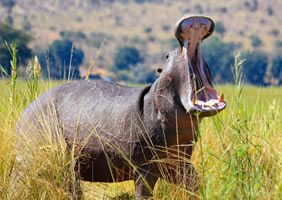 Day 2 - Kasane, Botswana
Kasane is a bustling little town in the northeastern corner of Botswana and gateway to Chobe National Park, known for the herds of elephants which converge on the Chobe River in the dry season. Kasane is home to the Caracal Biodiversity Center, a shelter for rescued wildlife and world renown center for animal rehabilitation and release. Elephant and Hippo can frequently be seen wandering freely throughout the area, our first chance to encounter Africa's "Big 5" in their natural habitat. We'll arrive in Kasane on our way to our luxury lodge, located within the Chobe National Wildlife Park.
This morning we'll have breakfast and check out of our hotel before flying from Johannesburg to Kasane, Botswana. Once in Kasane, we will begin our adventure and transfer from the airport to our luxury lodge onboard small private boats. After arriving, you'll settle into your suite at our comfortable lodge that is ideally located in the heart of the wilderness. We'll venture OUTbound on a quick safari tour as night falls before returning to our lodge for dinner and a special welcome cocktail party.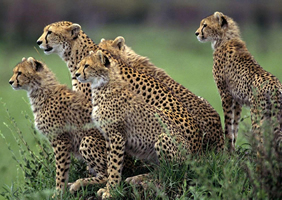 Day 3 - Chobe, Namibia
Chobe National Park is a true wildlife paradise and one of the best national parks in the world. Just one peek at the variety of wildlife and lush vegetation and you will be mesmerized forever! Chobe is uniquely lush due to the many waterways converging in the area. The Chobe River flows through the park and draws many animals and birds during the dry season. It's known for its large herds of elephants and buffalo along the waterfront, along with lions, antelopes and hippos that inhabit the woods and lagoons around Linyanti Marsh. The grasslands of the nearby Savuti Marsh attract countless bird species and migrating zebras.
Buckle up as we venture OUTbound and enjoy our first full-day safari in jeeps to explore the Chobe National Park and its majestic fauna and exotic animals. We'll have lunch in a "floating restaurant" with incredible views of the surrounding nature. Afterwards, we'll board small private boats and sail off on the Chobe River all the way to Sedudu Island and its marshes. Later we'll return to our lodge for dinner and a special night talking with some of the local safari guides about the region and the current conservation efforts on the Chobe River.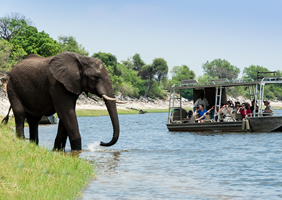 Day 4 - Impalila Island, Namibia
Impalila Island is located in the eastern most point of Namibia's Caprivi Strip. The island is rich in birdlife and surrounded by two of Africa's great rivers, the Chobe and Zambezi Rivers. The island is inhabited by several small villages, and hippo and crocodile can frequently be seen in the nearby waters. In the middle of the island is a particularly old and large baobab tree that visitors are invited to climb. Those adventurous enough to make it to the top are rewarded with a view of the point where the four countries of Botswana, Zambia, Zimbabwe and Namibia all meet in the Zambezi River.
This morning we'll visit Impalila Island, home to hippos, crocodile, spectacular birdlife and more. The island is also the meeting point between four African countries. We'll return to our lodge for lunch, and then enjoy some leisure time at the infinity pool. Finally, join us for a discovery of the Zambezi River on small private boats.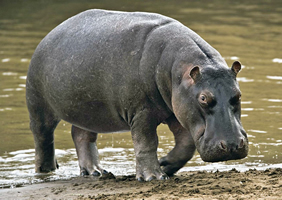 Day 5 - Kasane, Botswana / Lake Kariba, Zimbabwe
This morning you'll enjoy one final water safari in Chobe National Park before departing our lodge. After lunch, we'll set out for the Kasane airport. On board small private planes, you'll discover the stunning panoramas over Lake Kariba during your flight from Kasane to Kariba. You'll be transferred to board the ship and comfortably settle into your cabins. We'll then begin our cruise across Lake Kariba, the world's largest man-made lake and reservoir that is approximately 1,300 kilometers upstream from the Indian Ocean, along the border between Zambia and Zimbabwe.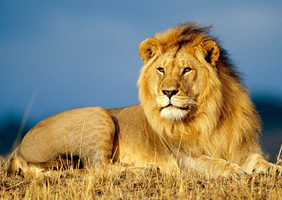 Day 6 - Lake Kariba, Zimbabwe
Lake Kariba is known as Africa's undiscovered Riveira! It offers spectacular views, stunning sunsets, and an out-of-this world OUTbound African cruise. Kariba is Africa's largest man-made lake, formed by the construction of the nearby Kariba Dam in 1959. The dam provides electricity to both Zambia and Zimbabwe and supports a thriving commercial fishing industry. A mystic place of superlative proportions, Lake Kariba spans about 25 miles at its widest point. Crocodiles and hippos thrive in the lake, and Kariba's fertile shores and freshwater attract a wealth of wildlife including elephant, buffalo, lion, cheetah and antelope.
Today we continue our voyage across Lake Kariba. This morning we'll set out from our ship on small private boats to discover the Gache Gache River and its unique wildlife. We'll have a chance to see hippos, crocodiles, elephants, bushbucks, impalas, waterbucks, warthogs and (if we're lucky!) lions and buffalo. Along the way we'll also encounter an incredible variety of birdlife, so remember your binoculars and telephoto lens! We'll return to our ship for lunch as we continue our cruise towards Changa. Later, we'll set out on small private boats to share a life-changing sunset that only comes from an OUTbound African safari.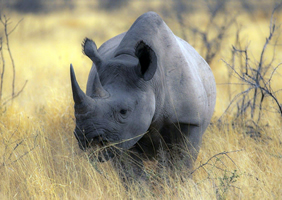 Day 7 - Matusadona, Zimbabwe
Matusadona National Park, on the shore of Lake Kariba, offers excellent wildlife viewing in a magnificent setting. All of the "Big Five" are present, including the endangered black rhino. Elephant and buffalo are abundant on the lake shore and hippos can be seen in small pods in the shallows. This was one of the last wild sanctuaries of the endangered black rhino and is considered to have the highest natural population density of lions in Africa. Cruising the lake offers a unique safari perspective of the abundant wildlife that only a few lucky travelers get to experience.
We'll journey OUTbound this morning on a safari to discover the area around Matusadona National Park and its rich animal wildlife. This remote and rugged park is the first in Zimbabwe to be protected by the African Parks mandate, and was declared a National Park in 1975. Matusadona is a protected habitat region for the African elephant and black rhino, and a federally-limited destination that few people are ever lucky enough to experience for themselves. After returning to our ship, we'll enjoy a traditional dinner and learn more about the creation of Lake Kariba and its rich ecosystem.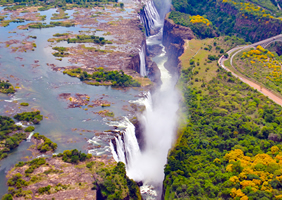 Day 8 - Kariba / Victoria Falls, Zimbabwe
At sunrise, we'll set sail towards Kariba, the Zimbabwean town that gives this massive lake its name. We'll disembark our ship after breakfast and discover the gigantic Kariba Dam, which was created to form Lake Kariba. After our stop, we'll head to the airport to board private planes for the short flight to Victoria Falls. We'll have lunch while cruising the Zambezi River, the 4th largest river in Africa and home to hippos, crocodiles, elephants and lions. After our cruise, we'll get up close and personal to Victoria Falls with a tour on foot over rope bridges and nature trails. We'll have dinner and spend the night at our four-star hotel.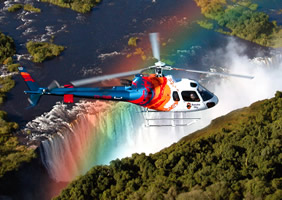 Day 9 - Victoria Falls, Zimbabwe
One of the greatest and most spectacular waterfalls on Earth, Victoria Falls is the largest waterfall in the world with a length of more than half a mile and a height of more than 330 feet. The noise of Victoria Falls can be heard from over 20 miles away, while the spray and mist from the falling water can be seen from a distance of 30 miles, inspiring local tribes to call the falls Mosi-o-Tunya... the "smoke that thunders". Famed explorer David Livingstone named the falls after Queen Victoria in 1855. In more modern terms Victoria Falls is known as the greatest curtain of falling water in the world.
There's still time for one final OUTbound adventure, and this is the big one! We'll take in the view from the top on a thrilling helicopter ride over Victoria Falls. You'll experience a bird's eye view of one of the world's seven natural wonders and learn what the explorer David Livingstone meant when he described the beauty of the "smoke that thunders". We'll soar above one of the world's most spectacular waterfalls on this incredible ride over the falls, up the Zambezi River and past the Batoka Gorge during our flight. Sadly, this is the end of our OUTbound African safari cruise, but honestly... what a way to go!!!