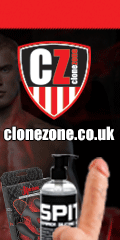 Portugal & Spain Douro River All-Gay Wine Cruise 2024
10 days from Porto to Lisbon, Portugal
June 7 – 16, 2024
CroisiEurope Cruises Amalia Rodrigues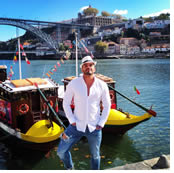 Our all-gay cruise on Portugal's Douro River offers an authentic taste of life and world-class wines in a region steeped in wine making for over 2,000 years. Explore the colorful city of Porto, an enticing labyrinth of winding streets, baroque churches and blue-tiled houses, where port wine is made and stored.We'll trace port wine to its source, the quintas and picture-postcard villages of the Douro River Valley, a UNESCO World Heritage site. Here, you'll discover terraced vineyards and enjoy tours, tastings, wine pairings, and a lesson in port cocktail-making. You'll also tour baroque Mateus Palace, and immerse yourself in the rich local history and proud colorful culture that showcases the very best of Portugal. A legacy of wine making awaits you on our OUTbound adventure through the lush Douro River Valley!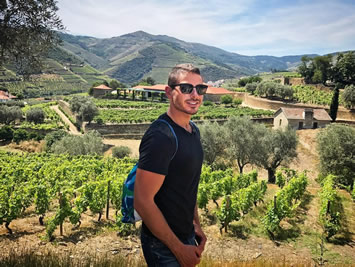 Sail OUTbound with a dream river cruise through the Douro Valley. From the peaceful wineries producing Portugal's much-loved port wine to the ancient Spanish city of Salamanca, the Douro is a rustic region of simple pleasures. Along the way, you'll explore incredibly majestic sites such as the Vila Real and the gardens of the manor house of Solar de Mateus.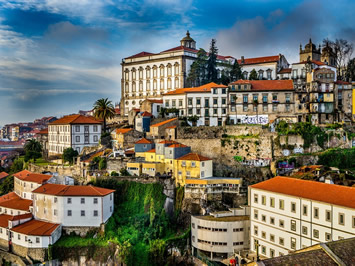 The Douro Valley is home to delicious treasures and will take you along the port wine route. Admire incredible terraced vineyards that extend over a hundred kilometers along the Douro to the Spanish border. We'll venture far into the Iberian countryside to Salamanca, exploring the shops and cafés of the Plaza Mayor and enjoying a sampling of regional cuisine and ending our time together in the amazing city of Lisbon.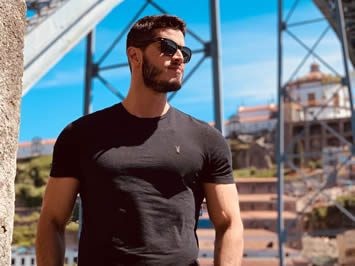 Bucket List Moments
• Wander the back streets of Porto's Ribeira neighborhood
• Cross the Douro River in a traditional Rabelo boat
• Get lost in the hedge maze of Mateus Palace
• Taste a tawny port that's been aged 35 years
• Hear a live falda concert performed in a Portuguese tavern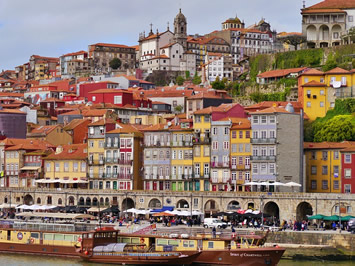 All Included! All Inclusive!
• All Meals & Alcoholic Drinks Included
• All Shore Excursions Included
• All Tips & Gratuities Included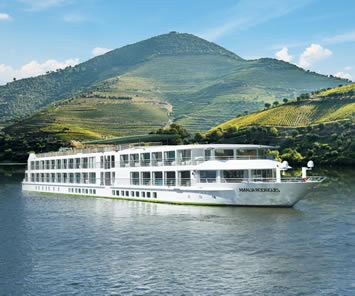 Your Ship - MS Amalia Rodrigues
Built to navigate the waters of the Douro Valley and make the most of the delightful Portuguese climate, our ship pays homage to the Queen of Fado, Amalia Rodrigues, the famous Portuguese singer and actress. The warm terracotta tones reflect the gowns the fadista wore on stage, while light-hued woods bring to mind the guitars that are part of the genuine Portuguese spirit. Boasting a spacious open-air Sun Deck, wonderful dining areas and generously appointed suites and staterooms, every inch of this vessel has been designed for your comfort and enjoyment.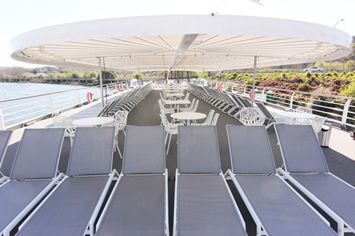 Built in 2018 and christened in 2019, this Superior-category ship offers ample space in each cabin and public areas. Large picture windows on the Upper and Mid Decks display all the scenery as the ship cruises. These decks share four suites. Two of the suites have private patios with sunloungers.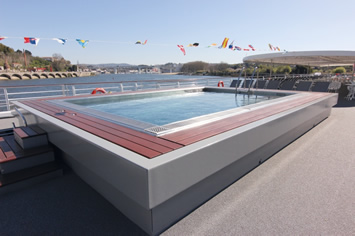 All the meals during the cruise are served in the restaurant on the Main Deck. Onboard fun, music, and dancing happen in the lounge and bar on the Mid Deck bow, where a cozy patio also provides great landscape views.
The Sun Deck has a pool and sunloungers that everyone can enjoy.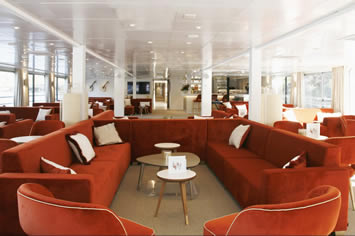 Panoramic Lounge
The Panoramic Lounge is the hub for social interaction of our OUTbounders on board during our Douro cruise. The floor-to-ceiling windows on both sides of the space offering breathtaking views of the Douro River and the stunning landscapes beyond. You'll find comfortable seating and tables ideal for playing board games, chatting with old friends and new, drinking a specialty coffee, enjoying hand-crafted cocktails or indulging in some of the local port wines the region is famous for.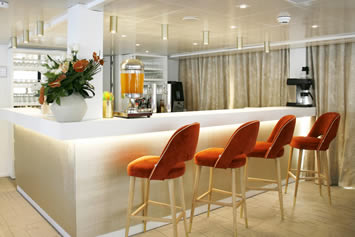 Main Bar
Sailing along the UNESCO-designated Douro River, you'll have the chance to taste new wines from the old world. The main bar is located within the Panoramic Lounge on the Middle Deck at the front of the ship, just past the reception desk. Here, in the heart of the ship, you can relax, catch up with new friends and enjoy the evening's entertainment. The space offers floor-to-ceiling windows and great views of the spectacular scenery. Head to the bar for sunset or an after dinner nightcap. It's an ideal place to snuggle into a comfy couch, order a drink and watch the world go by.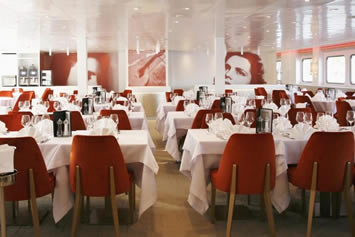 Restaurant
Savor authentic regional delicacies as we cruise the Douro, along with more familiar western cuisine for those who are looking for a taste of home. All the food on board is sourced from regional suppliers, meaning your meals are both extremely fresh and always in season. Enjoy plentiful buffets for breakfast and lunch with a wide variety of choices. Every OUTbounder will be invited to indulge in the multi-course dinner menus, specially paired with selections from the region's best wineries. Throughout your voyage, you'll be treated to unlimited mixed drinks, wine, beer or soft drinks, all included in the price of your cruise.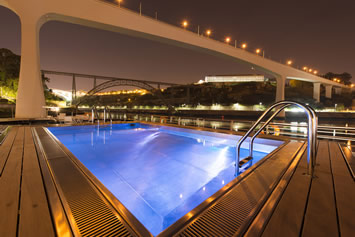 Sun Deck
Built for Portugal's warm climate, the comprehensive Sun Deck provides ample opportunity to sample the sun and gentle river breezes. The open-air aspect of the deck is the perfect place to enjoy a bite to eat and a drink or two with your fellow OUTbounders. The pool on the Sun Deck is the perfect place to relax with a few friends, enjoying a glass of vinho verde under the beautiful Iberian sky. It's also the ideal way to spend your afternoon enjoying a panoramic view of the magnificent landscapes. Literally on top of the world, you'll spend hours simply soaking up the views as the world around us drifts by. With plenty of comfy seating and a walking track for those active OUTbounders, there's an option for everyone up top.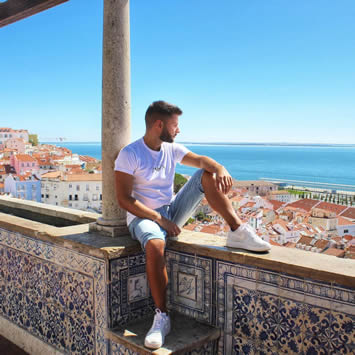 Gay Lisbon
It's hard to believe gay Lisbon has flown under-the-radar for so long. By day this capital city offers twisting alleyways, world-class museums, world-class dining, and understated glamour, all served with idyllic views thanks to the city's seven hills setting. But it's after the sun goes down that gay Lisbon really comes alive, made even better by the pleasant Mediterranean climate and warm summer nights!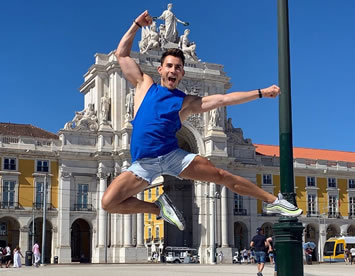 Portugal has some of the most progressive gay rights legislation in the world with gay marriage, same-sex adoption, a simplified process of legal gender identification and even a ban on discrimination based on sexual orientation enshrined in its Constitution. All this means you will find plenty of LGBTQ+ people wandering the streets of Lisbon, getting cozy in any one of the countless delightful cafés and just generally making the most of life. Throw in all those boutique fashion stores and art galleries, plenty of sunshine and various day-trips to vineyards, beaches and castles and you begin to understand why so many in our LGBTQ+ community are flocking to Lisbon.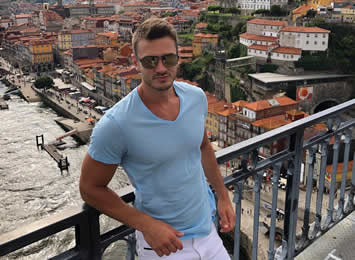 Douro River Portugal
All-Gay Cruise 2024 Itinerary


Date

Port

Arrive

Depart

07 Jun
Porto, Portugal
4 PM
Overnight
08 Jun
Porto, Portugal
1 PM
08 Jun
Regua, Portugal
7 PM
Overnight
09 Jun
Vila Real, Portugal
8 AM
5 PM

10 Jun

Salamanca, Spain
8 AM
5 PM
11 Jun
Ferradosa, Portugal
1:30 PM
9 PM

12 Jun

Lamego, Portugal
8 AM
12:30 PM
13 Jun
Porto, Portugal
9 AM
Overnight

14 Jun

Coimbra, Portugal
11 AM
1:30 PM
14 Jun
Lisbon, Portugal
4 PM
Overnight

15 Jun

Sintra, Portugal
11 AM
3 PM
16 Jun
Lisbon, Portugal
12 PM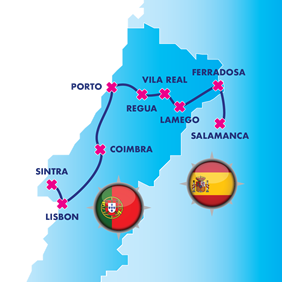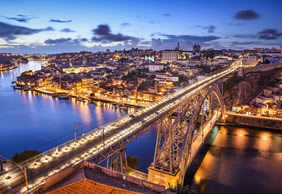 Day 1 - Porto, Portugal
Bem vindo a Porto! Porto
is a trendy and charming mix of now and then. This evening, meet your OUTbound hosts and mingle with your fellow guests. We'll introduce the crew with a welcome aboard cocktail before heading OUTbound to explore the fascinating city of Porto after dark. A vibrant city, Porto's nightlife is even more alive with energy. We'll see the city as it lights up, from panoramic spots overlooking its famous old town to a trip along the banks of the Douro to see reflections of the iconic Dom Luís I Bridge, a double-deck metal arch bridge designed by Gustave Eiffel in 1879, a full 10 years before beginning work on his tower in Paris.
After dinner, join us for a tour of Porto by night. A vibrant city, Porto's nightlife is even more alive with energy. We'll see the city as it lights up, from panoramic spots overlooking its famous old town to a trip along the banks of the Douro to see reflections of the iconic Dom Luís I Bridge, a double-deck metal arch bridge designed by Gustave Eiffel in 1879, a full 10 years before beginning work on his tower in Paris. After our tour, spend some time on your own exploring the local bars and night clubs, offering music for every taste.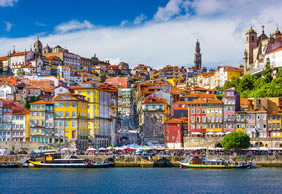 Day 2 - Porto, Portugal
Located at the mouth of the Douro River, Porto is a fascinating eclectic mix of modern and ancient architecture. Admire its graceful bridges, grand cathedral and romantic buildings nestled together on narrow cobblestone streets. Sample wines that have been in the making for generations at the historic Quinta da Aveleda estate, or soar over the historic "City of Bridges" on a thrilling gondola ride along the banks of the Douro.
Today we'll have a guided tour of Porto. Discover one of the oldest cities in Europe, with a charming historic center listed as a UNESCO World Heritage Site. We'll admire Porto's graceful bridges, grand cathedral and romantic historic buildings nestled together on cobblestone streets. We'll conclude our excursion with a tasting of some free time down by the waterfront where you can choose to taste some of the local specialties before returning to our ship and beginning our cruise along the Douro.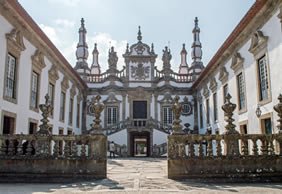 Day 3 - Vila Real, Portugal
Explore Mateus Palace, a stunning baroque palace that was the home to the last Count of Vila Real. See its pinnacled façade, grand stairway, richly appointed interiors and priceless objects on display before strolling through the palace's enchanting formal gardens featuring exquisitely sculpted hedges and serene bodies of water.
Visit one of the area's iconic port wine making institutions. See its vineyard and tour the facility to learn how these unique Portuguese products are crafted, then sample the libation in their tasting room.
Day 4 - Salamanca, Spain
This ancient city, a UNESCO World Heritage Site, is a living museum that takes visitors back to the Middle Ages. Take a ride through the Iberian countryside, then spend some time exploring the shops and cafés of the Plaza Mayor. See the Gothic House of Shells, the 13th century Salamanca University and the New Cathedral, before hitting the local market to enjoy sampling some regional cuisine.
Today we'll take a ride through the Iberian countryside to Salamanca, embarking OUTbound on a city tour before spending some time exploring the shops and cafés of the Plaza Mayor (Main Square) on your own. At the local market, enjoy sampling regional cuisine. Our guided city tour takes us to the Casa de las Conchas, a building that has been lovingly decorated with more than 300 sea shells. We'll also visit the 13th century Salamanca University and the New Cathedral, built from 1513 through 1733. The Old Cathedral still exists and can be visited during our free time.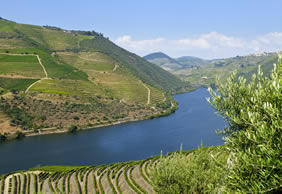 Day 5 - Ferradosa, Portugal
Continue your OUTbound venture through the enchanting countryside. Terraced vineyards rise from the river banks, historic landmarks pepper distant horizons and charming townships lay hidden in the rural hillsides. Experience the unique culture of the Douro Valley while enjoying traditional cuisine, port wine and 'fado' singing. Fado music is a form of Portuguese singing often associated with pubs, cafés, and restaurants. This music genre originated in Portugal around the 1820s, and is known for how expressive and profoundly melancholic it is.
On today's tour we'll take a scenic drive up to the little village of Ferradosa, where we'll make our way OUTbound to one of the traditional wineries of the Douro River Valley. Discover how port was made in the old days, and how those traditions continue to present day. Sample local fortified port varieties such as Ruby, a deeply-colored red port; Vintage, a type of Ruby that requires aging in the bottle (sometimes for decades); and Tawny, a very sweet barrel-aged port with oxidative nut and caramel flavors.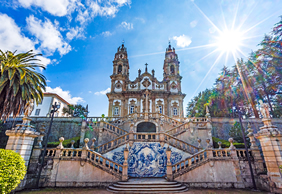 Day 6 - Lamego, Portugal
Lamego is a delightful town set amidst the vineyard covered hills of the Alto Douro region. The town is famed for its magnificent baroque stairway that climbs the steep Santo Estêvão hill to the beautiful Nossa Senhora dos Remédios church. It was in Lamego that Alfonso I was crowned as the first King of Portugal in 1139. The town prospered during the 16th and 18th centuries as a wine producing region, and is still the heart of Raposeira sparkling wines. Lamego's history is reflected in its ancient Moorish castle, gothic cathedral and elegant 18th century villas.
You can choose to walk down the 686 steps of the town's famous baroque stairway, admiring the incredible blue tile mosaics along the way. Once at the bottom of the magnificent stairway, reward yourself with an iced coffee at one of the local cafés along the Avenida before heading back to our ship.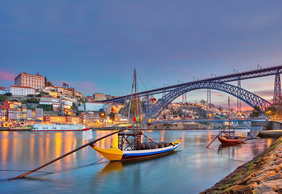 Day 7 - Porto, Portugal
Today we'll return to where we started, the incredible city of Porto. Enjoy some free time exploring the city on your own, or join us for a guided tour of Guimarães, one of the finest historic cities in Portugal and regarded by the Portuguese as the birthplace of their country. It was here that the first Portuguese king was born.
We'll see the magnificent Gothic monastery, a heavily fortified castle and an elegant 15th century palace. Between these monuments we'll explore a maze of cobbled streets and charming plazas, lined with traditional houses and local, family owned shops and cafés.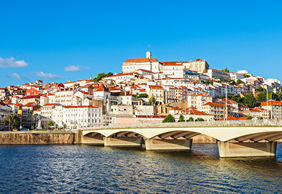 Day 8 - Coimbra & Lisbon, Portugal
This morning we're OUTbound from Porto to Lisbon. Along the way we'll stop in Coimbra, home to one of Europe's oldest universities. Stroll through old-timey shops, cafés and bakeries all under the watchful eye of Coimbra's historic university, capping the hill above town.
After lunch, we'll continue south and arrive at our host hotel in Lisbon, Portugal's old world capital city. Once settled into your room at the Brown's Central Hotel
, spend the evening on your own exploring Lisbon and all this charming city has to offer.
Day 9 - Sintra, Portugal
Bem vindo a Lisboa! Enjoy a relaxing day on your own in Lisbon, or join us for a guided tour of Sintra. For centuries, Portugal's aristocracy considered Sintra the perfect place to escape from city life. Sintra is a mix of natural and man-made beauty, with fantasy castles set amid exotic tropical plants, lush green valleys and craggy hilltops providing stunning views of Lisbon down below.
We'll see The Sintra National Palace, distinguished by dramatic twin chimneys and elaborate tilework and visit the hilltop Pena National Palace, known for its whimsical design, colorful façade, and sweeping views.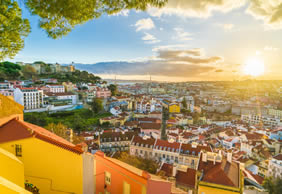 Day 10 - Lisbon, Portugal
This morning we say "Obrigado" to the city of Lisbon and our fantastic OUTbound Portugal and Spain river cruise. Spend your final hours in Lisbon exploring more of Bairro Alto, our surrounding bohemian neighborhood and its bright colors and romantic streets. Take one last stroll through Rossio Square in the heart of Lisbon, perfect for relaxing and people watching.
We'll check out of the Brown's Central Hotel this morning and transfer to Lisbon Portela Airport for our flights home.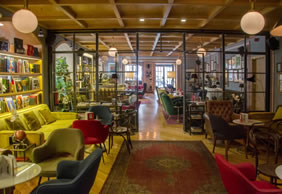 Lisbon Host Hotel
Brown's Central Hotel
Our host Brown's Central Hotel is a boutique hotel ideally located in the center of the city, near Lisbon's gay district found in the old Bairro Alto and neighboring trendy Principe Real area. Huge all-night club events, trendy cocktail bars, drag shows and go-go boys galore tempt those who are willing to go out and explore during pride weekend, though there are also plenty of gay saunas, cafés and beaches to see as well as the main pride events.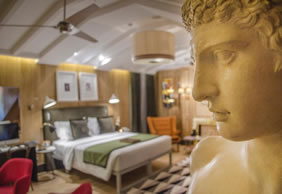 Located in the center of Lisbon, the Brown's Central Hotel is set in an 18th-century building, recently renovated to reflect Lisbon's new design trends. Free Wi-Fi is available in all areas. Each air-conditioned room offers a unique decoration and features elements from renowned world-class designers like Charles and Ray Eames, BestLite, Arne Jacobsen, Eero Saarinen and Artemide. The rooms include wooden floors, contemporary furniture and private marble bathrooms. All come with a Nespresso coffee machine, Smeg kettle, a Bluetooth MediaHub system and flat-screen Smart TV.