French Wine Country Saone & Rhone Rivers All-Gay Cruise
7 days from Martigues (Marseille) to Lyon, France
June 6 – 12, 2023
CroisiEurope Cruises MS Camargue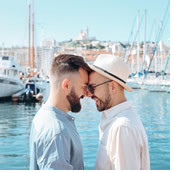 Join us OUTbound as we sail through the fabled wine country of Southern France. Explore ancient Roman influence and architecture, experience world-renowned vineyards and exquisite restaurants on our French Wine Region all-gay cruise. A culinary heritage few can match, a capital synonymous with romance, and a history packed with intrigue, it is little wonder that France welcomes more international visitors every year than anywhere else on Earth. Our Saone & Rhone rivers gay cruise is the perfect way to explore the culture, history and beauty of this incredible part of the world, transporting you through the nation's unspoiled beauty spots and culture-rich cities.
Join us for a wonderful cruise on the Rhone river! You'll be amazed by the beautiful landscapes of the South of France as we sail through the wild Camargue all the way to Avignon, "Papal city" with a rich past and exceptional jewels of architecture. Dive into the pleasures of delicious French wines while also enjoying a cruise through renowned vineyards and beautiful countryside.
All Included, All Inclusive!
All Meals & Alcoholic Beverages Included! All Shore Excursions Included!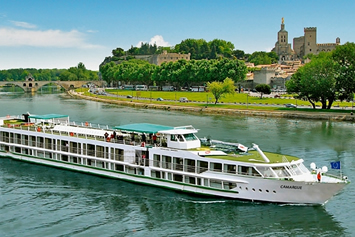 Your Ship - MS Camargue
The MS Camargue is designed with a bright and spacious interior, a perfect match to the landscapes and wildlife in the Camargue region. Forward on the Upper Deck you'll find the lounge and salon bar, perfect for enjoying the passing scenery in comfort. Aft on the Upper Deck is the main restaurant, providing breathtaking views while serving delicious cuisine.
The Camargue is ready to offer our OUTbounders an unforgettable experience cruising the south of France and this fabled wine country. Mixed drinks, wine, beer, sodas, juices and coffee are all included anytime onboard.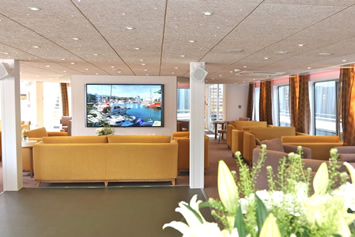 The stylish interior is a perfect match to the plants and wildlife in the Camargue region. Pastel pinks are contrasting with cool tones of yellow and few touches of white, forming one balanced visual effect that appeals to the eye and which delivers a feeling of coziness.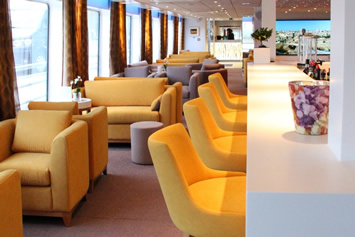 The upper deck has two main areas: the lounge and bar towards the bow of the ship, and the restaurant towards the stern, where all meals are served during the cruise. The cabins on the upper deck have French balconies, while the cabins on the main deck have large windows. But the best place to be is the sun deck! It is furnished with comfortable sun loungers and chairs and provides great views while you bask in the sun.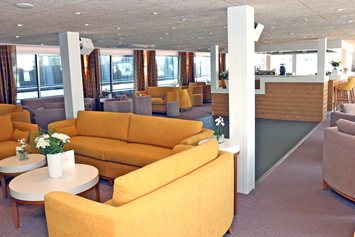 Panorama Lounge
The tastefully decorated Panoramic Lounge, located at the front of the ship, was named for the superb views of the passing coastlines that guests will enjoy courtesy of the oversized windows. Intimate seating areas are peppered throughout the open floor plan, allowing you the choice of going all in with the group or enjoying a little private time between you and a smaller gathering of friends. Enjoy cocktails, dancing, games and nightly entertainment in this picturesque setting.
Salon Bar
Enjoy a cocktail at the Salon Bar with us while cruising the south of France together. Located within the Panoramic Lounge, you'll find originality and innovation. This is the place where you'll spend an enjoyable evening nursing a cocktail with great friends, old and new! Whether you're in the mood for a mixed drink or glass of wine, we invite you to join us and enjoy one of best bars on the water with your fellow OUTbounders. Sit back and order your favorite cocktail after a fantastic day with friends.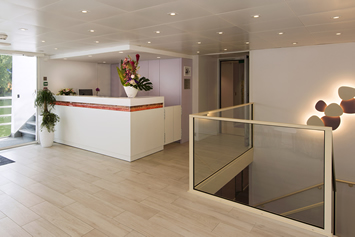 Reception
At your service, OUTbounders will find everything they need at the reception desk, located at the heart of the ship on the Upper Deck. It's the perfect place to meet with friends before dinner or ask any questions you may have during our voyage. Here's where you'll leave each morning as we venture OUTbound to discover the treasures of the south of France, and where you will return at the end of each day... greeted by a friendly smile and warm drink.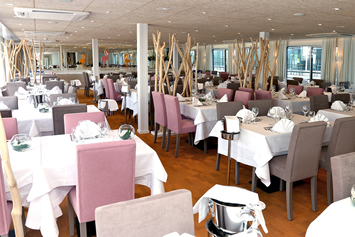 Dining
Located on the Upper Deck, the restaurant comfortably seats all our OUTbounders at tables which vary in size with a panoramic view. The atmosphere is casual but elegant. The selection and presentation of the food is outstanding, and you'll find the quality of service is unmatched.
The food is incredible, every meal every day. You'll enjoy plenty of fish, fruits and vegetables with every meal and be impressed by how fresh everything is. In fact, the only frozen item is ice cream! You'll have plenty of healthy choices to choose from, and loads of unhealthy ones, too!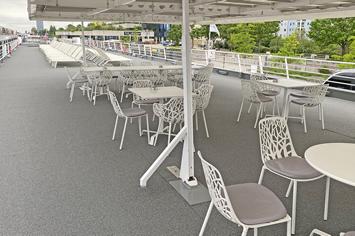 Sun Deck
For spectacular views of the passing landscape, head up to the Sun Deck to experience the full enjoyment of the view, even when passing under low bridges. The top deck features an all-weather seating area and a walking track for those who want to keep active. It's the perfect place to visit with old friends and new during the day while enjoying complimentary refreshments with the stunning scenery of the fabled French wine country passing by.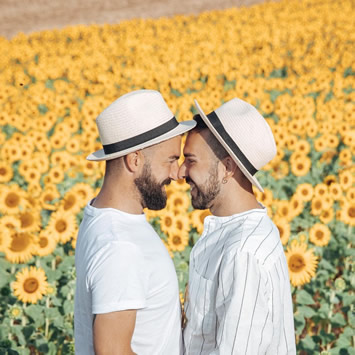 French Wine Country
Saone & Rhone Rivers All-Gay Cruise
Itinerary


Date

Port

Arrive

Depart

06 June
Martigues, France
4 PM
Overnight
07 June
Camargue, France
9 AM
12:30 PM
07 June
Marseille, France
2 PM
6 PM
08 June
Arles, France
9 AM
1 PM

08 June

Avignon, France
2 PM
8 PM
09 June
Vercors Massif, France
9 AM
1 PM

09 June

Lyon, France
2 PM
Overnight
10 June
Lyon, France
12:30 PM

10 June

Macon, France
9 PM
Overnight
11 June
Macon, France
1 PM

11 June

Beaujolais, France
2 PM
8 PM
12 June
Lyon, France
10 AM
Disembark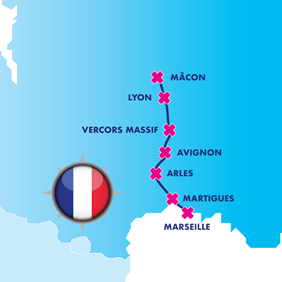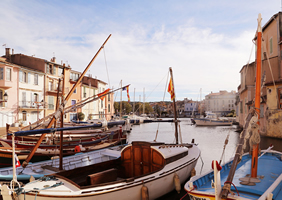 Day 1 - Martigues, France
Today we'll start our river cruise through the South of France and its fabled wine region. After boarding our ship and settling into your staterooms, we'll introduce your OUTbound hosts and our ship's crew during our welcome cocktail. We'll enjoy dinner on board getting to know your fellow OUTbounders. We're docked overnight, so feel free to head out and start exploring as you begin your incredible vacation in France.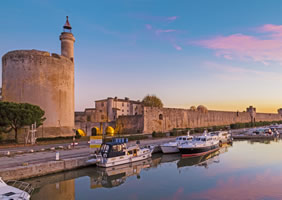 Day 2 - Camargue, France
This morning we'll head OUTbound on a Safari through France's Camargue region in a four-wheel-drive vehicle. Your included excursion includes an exciting jaunt into the heart of this area's natural beauty. Sit back and admire the rivers, marshes, ponds, pink flamingos, black bulls, and the famous, indigenous Camargue horses as we tour the countryside. Whether on the edge of the sea or inland, each spot is an immersion in the wonders nature has to offer in France.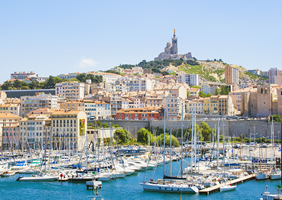 Day 2 - Marseille, France
This afternoon we'll take a guided tour of Marseille where we'll visit all the main sites, including La Canebière, the Old Port, and the famous White Basilica. We'll also see Fort Saint Jean, perhaps the most impressive historic site in Marseilles... a seventeenth-century fortress, built by King Louis XIV, that stands guard over the entrance to the Old Port. Once inside Fort Saint Jean, you'll see the 15th century Tour du Roi René (King René's tower), and the Commandery of the Knights Templar.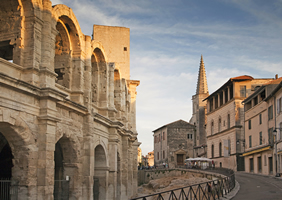 Day 3 - Arles, France
This morning we'll take a walking tour of Arles and explore its diverse architectural highlights including Les Arènes, an arena that seats 20,000, and the Church of Saint-Trôphime, completed in the 15th century. We'll also learn a little about the city's ties to Vincent Van Gogh, with its vibrant colors that inspired many of his works. The city oozes French charm, and every corner seems packed with something to see or taste. And speaking of taste, no trip to the south of France would be complete without a visit to a local olive oil manufacturer.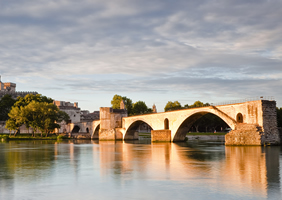 Day 3 - Avignon, France
Avignon has a rich history, from its Celtic beginnings to being the only residence in history of the Pope besides Vatican City. It was also central to the French Revolution. This afternoon we'll take a guided tour of Avignon and the Papal Palace, one of the largest and most important Gothic buildings in Europe and the city's most famous attraction. We'll see this Palais des Papes up close and learn a little about its history, as well as Pont d'Avignon, an ancient stone bridge hearby that crosses the Rhône.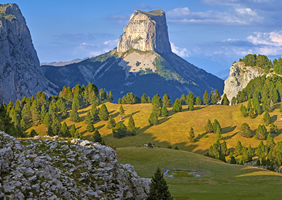 Day 4 - Vercors Massif, France
This morning we'll discover the Vercors Massif and enjoy a tasting of local sparkling wine, Clairette de Die. The Vercors Massif contains impressive sites and breathtaking views. We'll discover many of these on a trip through its natural park. Peaks, trails, rushing streams, steep cliffs, and rolling mountain pastures await. We'll visit the quaint town of Die, known for its delicious sparkling wine, and enjoy a tasting.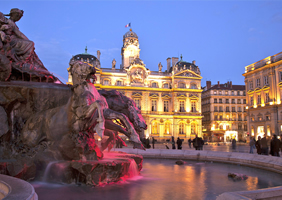 Day 4 - Lyon, France
Today you'll have your pick of excursions. First, enjoy a guided tour of Lyon, including the Basilica Notre-Dame de Fourvière. Wander through the city and soak in its vividly illustrated history, as buildings from all time periods can be seen adorning narrow cobblestone streets. Alternatively, explore Lyon by bike and see its historic monuments and neighborhoods while riding before enjoying a tasting in the heart of the Old Town.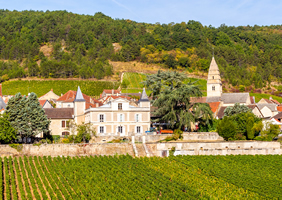 Day 5 - Macon, France
Today we continue our tour through France's wine country with a visit to Mâcon. Resting alongside the banks of the Saône river in France's Burgundy region, Mâcon is a charming city where you can do anything from exploring its epic outdoors or learning about its rich history, to finding a little sidewalk café to sip on delectable wines. Take time to admire the pastel-hued houses, cobbled lanes, and take your time sampling wines from the nearby vineyards.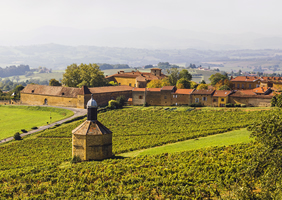 Day 6 - Beaujolais, France
This afternoon we'll visit the Beaujolais vineyards, a wine region tucked between Lyon and Burgundy. We'll hear about a variety of wines, from the young Beaujolais Nouveau to high-quality crus. You'll learn how red wines are made mostly from Gamay grapes that create a vibrant, fruity taste, while light and fresh white wines come predominantly from Chardonnay varieties. You'll have a tasting after to decide which is your favorite.