Vietnam & Cambodia Mekong River All-Gay Cruise 2025
11 days from Ho Chi Minh City, Vietnam to Siem Reap, Cambodia
March 04 – 14, 2025
CroisiEurope Cruises RV Indochine II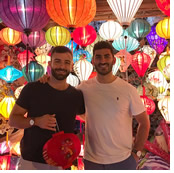 Join us on the most adventurous OUTbound all-gay cruise event yet! Live out all your wildest "Indiana Jones" fantasies as we journey to Southeast Asia and explore the ancient temples of lost civilizations. Explore the complex of Angkor Wat. Behold the haunting beauty of Ta Prohm, where jungle vines embrace ancient ruins. Shop Old Saigon's markets. Discover Phnom Penh, Cambodia's busy capital and its ornate Royal Palace, Silver Pagoda and National Museum.Journey to silk towns, fishing villages, monasteries and floating markets. This OUTbound adventure reveals the beauty and grace of a land few have been lucky enough to experience for themselves… until now!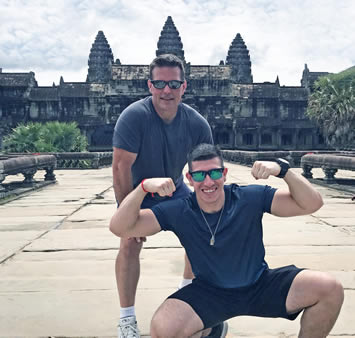 Bucket List Moments
• Order an iced coffee from a street vendor in Ho Chi Minh City
• Take a shot of Snake Wine made from fermented cobra
• Stand inside the Royal Palace of Phnom Penh
• Buy fresh fruit at the Cai Be floating market
• Climb the ancient temple of Angkor Wat like Indiana Jones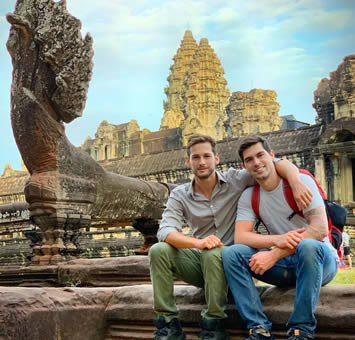 Angkor Temples & The Mekong Delta
Our all-gay cruise in Vietnam and Cambodia will take you to discover ancient traditions. A Mekong river cruise is the most fascinating way to discover South-East Asia. From the monumental splendours of the ancient Khmer Empire to the visit of Angkor Wat, let yourself be enchanted by the Mekong's exotic and extraordinary vibe. Experience an unforgettable and enriching tour, from the boat trips in the floating markets, the typical villages, the natural beauty, to the sacred temples, and Khmer traditional dances.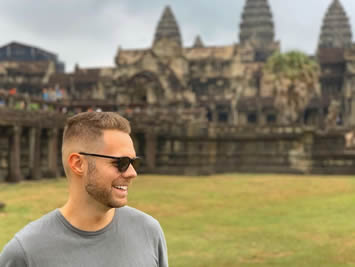 From the heights of the Himalayas to the southern coasts of the South China Sea, winding over 2,700 miles, the Mekong is much more than just irrigation for Indochina—everywhere it flows, it fascinates men and shapes their lives. Come take an expedition on this grand and plentiful "water snake," from Ho Chi Minh City, still largely influenced by the French colonial days, to Phnom Penh, Tonle Sap Lake and the ruins of Angkor, following the footsteps of Henri Mouhot. Our meditative trip takes you along the Mekong River on board a ship combining charm and colonial-style comfort.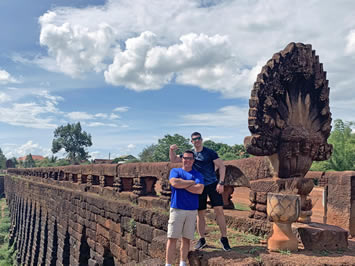 From Ho-Chi-Minh City to Siem Reap, sail the Mekong on board of CroisiEurope's luxury ship, RV Indochine II. Enjoy top rated services on board, including a panoramic restaurant, relaxing sundeck, spacious cabins, stylish colonial interiors, and all the comforts to make the most of this enthralling destination.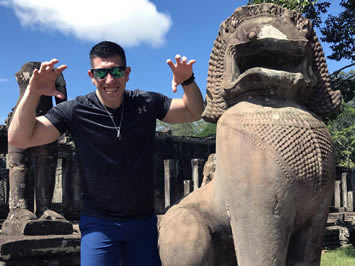 All Included! All Inclusive!
• All Meals & Alcoholic Drinks Included
• All Shore Excursions Included
• All Tips & Gratuities Included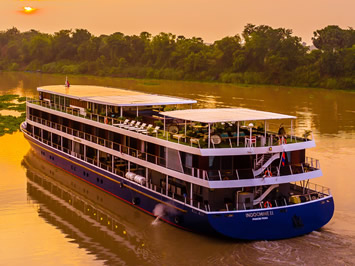 Your Ship - RV Indochine II
The RV Indochine II touts amenities designed to satisfy luxury travelers on the Mekong River and is rich with French-colonial character, while also boasting private balconies outside each of its cabins and a roomy Sun Deck swimming pool.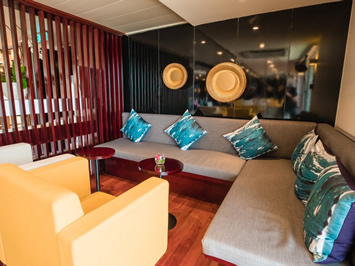 Its sleek exterior is low and wide with large windows throughout. The outer decks sport rich, local hardwood while the interior flooring features lovely Vietnamese Cam Xe wood. You'll find contemporary accents blend seamlessly with traditional colonial touches throughout the vessel. Mixed drinks, wine, beer, sodas, juices and coffee are all included anytime onboard.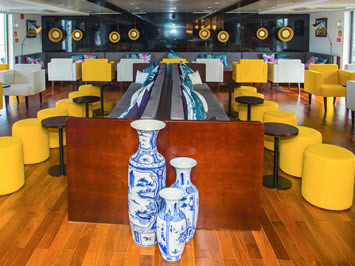 Panoramic Lounge
The French-colonial decorated Panoramic Lounge, located at the front of the ship, provides impressive views of the passing shorelines and villages that guests will enjoy courtesy of the floor-to-ceiling windows. Intimate seating areas are decorated in dark wooden tones and muted colors that relax you as you sail toward our next destination. Located at the front of the Sun Deck, small plates and snacks will be available here throughout the day, as well as teas and coffees. Watch the endless horizons unfold as you sip your favorite drink and nibble something delicious.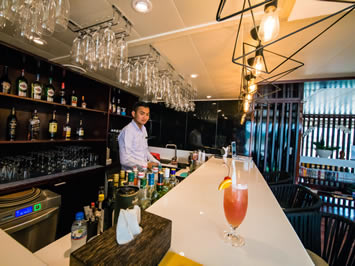 Main Bar
Located inside the Panoramic Lounge, the main bar is the place to enjoy a cocktail with friends. The saying along the Mekong is "No one makes friends drinking milk", and despite the joke, the phrase brings an incontestable truth. OUTbounders love to celebrate around the bar, which is why it's always good to discover new recipes while sailing this magnificent river. Colorful and refreshing regional cocktails are plentiful, while traditional drinks like beer, wine and standard spirits are always available.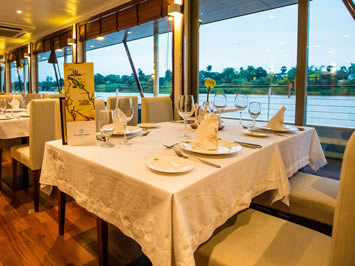 Restaurant
Open seating is perfect for relaxed dining and socializing with your fellow OUTbounders, as you savor a wonderful variety of Asian-inspired dishes. It's a delicious way to conclude a day of exploration or to prepare for one of your many included excursions.
We believe food plays an important role in your travel experience, that's why we source most of our produce locally, ensuring that every dish served is as fresh and authentic as possible. And, of course, all your mixed drinks, wine, beer and soft drinks are included with your meals and at any time while onboard.
Massage Retreat
After a day exploring the Mekong Delta, return to our ship and treat yourself to a warm, soothing massage that will tantalize the senses. Imagine warm bamboo shoots of various sizes soaked in essential oils massaging your muscles into pure bliss. This is but one gorgeously indulgent massage treatment available onboard that will revive your senses in new and traditional ways. Customized to your preference, the onboard massage therapist will use deep tissue techniques or gentle strokes to melt away your tension and soothe your muscles into sweet oblivion as we sail through Southeast Asia.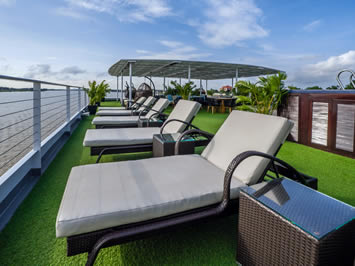 Sun Deck
The Sun Deck is much more than the place to soak in the pool, savor a cocktail or catch some rays. It's also the perfect way to spend your afternoon enjoying a panoramic view of the magnificent landscapes. The Sun Deck on the RV Indochine II is ringed by comfortable, cushion-topped lounges with a shallow pool situated near the Sun Deck bar, midship. A gorgeous outdoor living area also has a huge canopy near the rear of the ship, perfect for OUTbounders who prefer a little shade mixed in with their fun in the sun. And you're never far from a place to grab a drink with the fully stocked Sun Deck bar.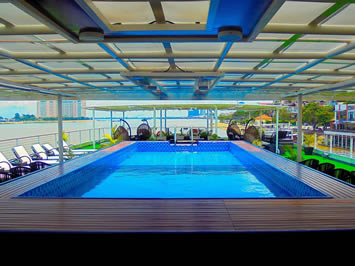 Sun Deck Pool
After a long day on shore, give into temptation and head for the Indochine II's heated pool up on the Sun Deck. Take a refreshing dip on warm days, before enjoying a selection of alcoholic and non-alcoholic drinks from the outdoor bar just a few feet away. Sit back and relax in the refreshing water of the temperature-controlled pool as the river breeze invigorates you. Outdoor relaxation and entertainment are priorities when cruising, and the Sun Deck pool delivers the perfect venue with which to enjoy the warm sun on your back and stunning vistas of lush green landscapes dotted with local villages.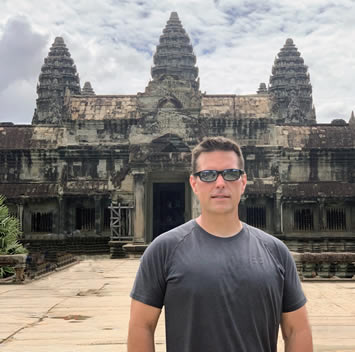 Vietnam & Cambodia
Mekong River All-Gay Cruise 2025
Itinerary


Date

Port

Arrive

Depart

04 Mar
Ho Chi Minh City, Vietnam
5 PM
Overnight
05 Mar
Ho Chi Minh City, Vietnam
9 PM
06 Mar
My Tho, Vietnam
10 AM
1 PM
06 Mar
Vinh Long, Vietnam
3 PM
6 PM

07 Mar

Sa Dec, Vietnam
10 AM
4 PM
08 Mar
Chau Doc, Cambodia
9 AM
1 PM

08 Mar

Phnom Penh, Cambodia
6 PM
Overnight
09 Mar
Phnom Penh, Cambodia
Overnight

10 Mar

Koh Chen, Cambodia
9 AM
12 PM
10 Mar
Kampong Tralach, Cambodia
2 PM
5 PM

11 Mar

Kampong Chhang, Cambodia
9 AM
Overnight
12 Mar
Siem Reap, Cambodia
1 PM
Overnight

13 Mar

Siem Reap, Cambodia
Overnight
14 Mar
Siem Reap, Cambodia
9 AM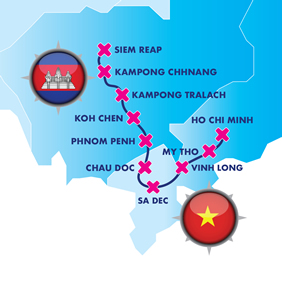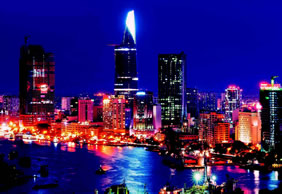 Day 1 - Ho Chi Minh City (Saigon), Vietnam
Still known as Saigon and "The Pearl of the Far East", Ho Chi Minh City
contains a splendid array of monuments and landmarks from the French colonial era. Ho Chi Minh City came to life during the French colonial era in the late 19th century when builders constructed wide boulevards, old-style Parisian buildings and spectacular cathedrals such as the Notre Dame. The influences also go well beyond architecture as the city boasts plenty of fine dining options, cafés and boutiques that capture a distinctly European essence.
Welcome to Southeast Asia! Head for our ship to drop your luggage and meet your hosts, then choose to relax or head OUTbound! Spend the rest of your first day at leisure, getting acquainted with Ho Chi Minh City at your own pace, taking in the historic French colonial architecture, or soaking up some of the city's youthful energy. Order an iced coffee from a sidewalk vendor or small café. Introduced by the French in the 1800s, coffee is an integral part of the economy and culture. The legendary ca phe sua da (iced coffee with condensed milk) is thick, sweet, and strong as hell! Today is yours to get OUTbound and exploring!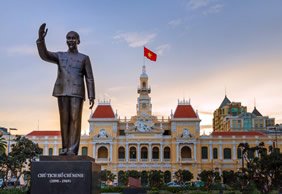 Day 2 - Ho Chi Minh City (Saigon), Vietnam
Ho Chi Minh City, commonly known by its previous name, Saigon, is the most populous and largest city of Vietnam. After breakfast, we'll begin our tour of the city to see the Reunification Palace, Notre-Dame Basilica and the Saigon Central Post, with charming colonial architecture and ornate decorations. Next, we'll head to Cholon, the Chinese-influenced section of the city, to tour its hectic market and the Thien Hau temple. The rest of our afternoon is free to explore the city's neighborhoods or do a bit of shopping along Dong Khoi Street, the main shopping boulevard in the old colonial heart.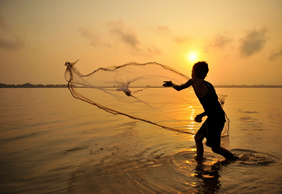 Day 3 - My Tho & Vinh Long, Vietnam
This morning we're OUTbound on the Mekong, sailing first through the Cho Gao Canal. A thriving trade route for thousands of years, the Mekong River remains one of the few big rivers in the world that refuses to be spoiled by modernization. The Greater Mekong region holds irreplaceable riches, ranging from rare wildlife in spectacular landscapes to communities with distinct cultural heritages. The region contains some of the most biologically diverse habitats in the world, teeming with wildlife and lined with everything from small towns and capital cities to the stunning Angkor Wat temple complex.
During our passage through the Cho Gao Canal you'll discover daily life in Vietnam. In My Tho, our tour will take us to a bee farm where you'll enjoy some honey tea and exotic fruit before taking a ride in small sampans (local wooden boats) along the canal lined with mangrove palms before retuning to our ship for lunch. After lunch onboard, we'll visit Vinh Long, a major transit hub along the Mekong and known as an ecotourist destination. We'll see the Cai Be Floating Market, discover a brick and pottery factory, and get a close up look at how puffed riced, rice-paper, and rice alcohol are made, and how each contributes to the economy of Vietnam.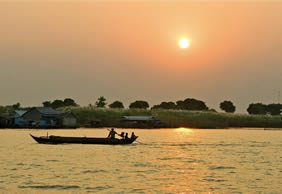 Day 4 - Sa Dec, Vietnam
Savor morning tea as we sail further up the Mekong. Our tour will explore the small, sleepy town, of Sa Ðéc, the original setting of the novel "The Lover" by Marguerite Duras. This romantic and charming little town still isn't very touristy, but it's a true hidden gem along the Mekong Delta. We'll tour a busy market near the river and see plenty of architecture from the colonial period, as well as numerous old mansions and merchant homes. The riverside road makes for a fantastic OUTbound stroll with its cafés, market stalls and old French church in the background.
In Sa Ðéc, board a sampan to visit local cottage industries and a traditional Vietnamese house. Immerse yourself in this historic town and interact with sellers in the lively market. Visit the home of Huynh Thuy Le, who inspired Marguerite Duras' novel "L'Amant" (The Lover). Later we'll take a tour of this peaceful city, passing tree-lined streets, fading colonial villas, and vibrant flower markets. Lining the waterways are countless nurseries you can visit while you enjoy some free time on your own in this charming town.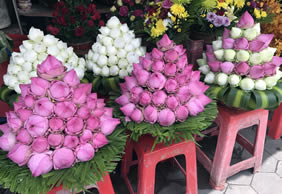 Day 5 - Chau Doc, Vietnam
Stroll through the local markets and absorb the atmosphere as locals buy and sell fish and produce. Embark on a journey down the backwaters of the Mekong, seeing traditional floating homes, religious sites and a market selling dried goods that are integral to the local way of life. Châu Ðoc is situated where the Bassac and Mekong Rivers converge. Home to the sacred Ba Chua Xu Temple pilgrimage site, Châu Ðoc is also known for its beautiful scenery, cultural diversity, and a thriving economy. Visitors will be captivated by Sam Mountain and the Tinh Bien International Border Gate, which leads to Cambodia.
Join us for a guided tour of Bà Chúa Xu Temple and the Tay An Pagoda. We'll then visit Sam Mountain, the highest point in the region which affords stunning views of the lush delta region below. According to legend, the mountains here are home to many spirits, so people from all over the country assemble to worship. Nearly 200 temples, pagodas, and hermitages are scattered from the foot of the mountain to its peak. Experience a floating fish farm by wooden sampan, or take a walk to see various methods of traditional Vietnamese farming of the local people firsthand. After we'll return to our ship and sail OUTbound for Cambodia.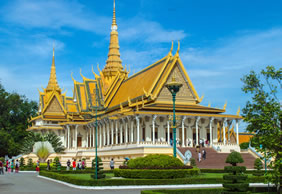 Day 6 - Phnom Penh, Cambodia
The capital city of Phnom Penh is incredibly charismatic and increasingly sophisticated, with a growing reputation as a destination for luxury travelers. Historic buildings such as the art deco Central Market and the glittering Royal Palace stand alongside ever-rising skyscrapers. It is this contrast that makes Phnom Penh endlessly engaging. You'll be intrigued by the colorful riverfront markets and the iconic French quarter. Beautiful pagodas and stupas (mound-like or hemispherical structures containing relics that are used as a place of meditation) stand out all over the city.
We'll tour the fabulous Royal Palace and the Silver Pagoda, inlaid with more than 5,000 silver tiles. Next up is a visit to the National Museum of Cambodia. We'll have lunch in the city and free time at the market on your own afterward. Explore the historic riverfront area with its restaurants, art galleries and silk shops, or visit the distinctive Central Market to shop for jewelry, curios, or locally made garments. You might visit a few of the city's 'wats' (monastery temples), either Wat Langka, Wat Botum, Wat Koh or Wat Ounalom, each with its own special character and purpose.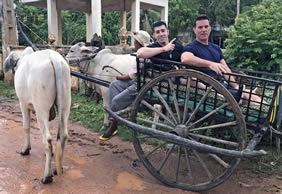 Day 7 - Koh Chen & Kampong Tralach, Cambodia
It can be said that the soul of Koh Chen Village is clay and silver craft items. Here, we'll be welcomed by the locals into their homes, which also serve as workshops. You'll see the process of shaping the bronze or silver and the molding of clay. We'll also gaze in wonder at their artistry of engraving before continuing our OUTbound adventure. Friendly people, idyllic landscape and the items decorated with meticulous engraving leave a deep impression on visitors to Koh Chen. In Kampong Tralach, take a fascinating OUTbound journey in a traditional wooden cart pulled by two oxen to the nearby village, like the locals do!
Our tour today will visit the village of Koh Chen, which sits on an island in the Tonlé Sap Lake. The first thing you'll notice is the big Buddha statue sitting peacefully near the river, and just beyond is a temple roof built in Khmer style, covered with stunning yellow tiles. Join us as we explore this small village where craftspeople specialize in silver and copper work. You'll see the engraving process close up in the workshops of the village. After, we'll visit the beautiful Vihara at the Wat Kampong Tralach Leu pagoda. Take a ride through the middle of magnificent rice fields in a traditional ox cart on our way to the village of Kampong Tralach and the pagoda beyond.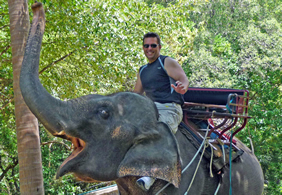 Day 8 - Kampong Chhnang, Cambodia
Explore this community village set along the shores of the Tonlé Sap Lake, the largest freshwater lake in Southeast Asia and the wellspring of Cambodian life. Tonlé Sap Lake is responsible for supplying fish and feeding the extensive rice fields in Cambodia's vast low-lying plains. A visit to villages in the Mekong basin, with its people still immersed in age-old practices and crafts such as silk weaving, is like stepping back in time. We'll spend the afternoon cruising across Tonlé Sap Lake, the largest freshwater lake in Southeast Asia. Tonight, we'll have our final cocktail and dinner on the ship.
We'll visit Kampong Chhnang, one of the largest fishing ports on Tonlé Sap Lake. Fish farming is abundant here. The region is also known for its traditional pottery, which combines ancient knowledge with modern techniques. The word Chhnang itself means 'pot' in Khmer. We'll take a water tour where local people live a traditional life on stilted houses standing over the river. We'll use local transportation to get to the harbor and explore the busy action along the Tonlé Sap river. During the day we'll also enjoy a tasting of regional products from the floating villages dotting the river.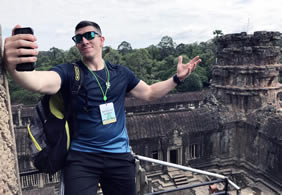 Day 9 - Siem Reap, Cambodia - Angkor Wat
Regarded as the largest religious monument in the world, Angkor Wat (translating to "City of Temples") is the most significant relic from the ancient Khmer empire. Constructed in the early 12th century, Angkor Wat was forgotten and nearly reclaimed by nature centuries after the decline of the Khmer empire, only to be rediscovered in 1861. Originally built as a Hindu temple, the ruins of Angkor grew over the centuries to eventually stretch more than 248 square miles.
Get your "Tomb Raider" on as we visit Angkor Wat on our tour, the epitome of Khmer architectural art and the most famous and imposing of all the monuments in Angkor. Join us for a personal tour of this UNESCO World Heritage Site. For several centuries Angkor was the center of the Khmer Kingdom, and is a major site exemplifying cultural, religious and symbolic values, as well as containing significant architectural, archaeological and artistic treasures. Head OUTbound on a stroll through the Angkor Night Market. Tonight we'll check into our Siem Reap hotel, the five-star Sofitel Angkor Phokeethra Golf & Spa Resort.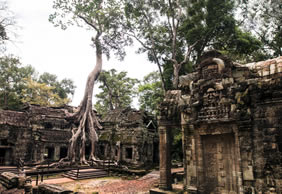 Day 10 - Siem Reap, Cambodia - Beng Mealea
Beng Mealea, known as the Jungle Temple, provides a fantastic opportunity to experience an Angkor temple as it would have been hundreds of years ago. The complex is largely unrestored, with its walls and towers broken apart by giant twisting tree roots and jungle vines. While a wooden walkway guides visitors through the ruins, more able OUTbounders can tomb raid through rubble-filled corridors and make their own archaeological discoveries.
Join us for a tour of the mysterious Beng Mealea temple, whose ruins were once literally consumed by the jungle. Dating from the 11th century and constructed in the distinct Angkor style, Beng Mealea precedes and may even have served as a prototype for Angkor Wat. After lunch in the city, we'll visit a local business with a diverse collection of silk and carvings, as well as a superb range of traditional beauty products and spices, all made locally. We'll also visit a silk farm to learn about the complex process of creating this luxurious fabric. We'll end the day with our farewell party at the Sofitel Angkor Phokeethra Golf & Spa Resort.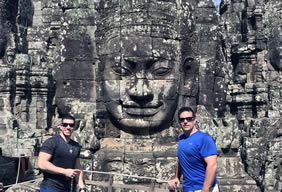 Day 11 - Siem Reap, Cambodia - Angkor Thom
Angkor Thom was the last capital of the Angkor Empire and is famous for its "face-towers" at its city gates and at the central Bayon temple. They became emblematic of Angkor and the ancient Khmer culture. Angkor Thom is home to many great archaeological sites including the Royal Palace, the Phimeanakas, the Elephant Terrace, Victory Square, and the Leper King terrace walls.
We've saved the best for last! This morning we explore the fortified city of Angkor Thom, the last and most enduring capital city of the Khmer Empire. Angkor Thom was established in the late 12th century by King Jayavarman VII and houses several of Angkor's most popular attractions, such as the Terrace of the Elephants and the Terrace of the Leper King, with their dramatic bas-reliefs. We'll tour Ta Prohm, a temple dedicated to the family of Jayavarman VII. We'll then stroll through the grounds of the former Royal Palace. Lunch will be served back at our hotel before we bid you farewell and head OUTbound for home.