South Pacific Island Hopper Gay Group Cruise 2023
7 nights from/to Brisbane, Australia
August 05 – 12, 2023
P&O Australia Cruises Pacific Encounter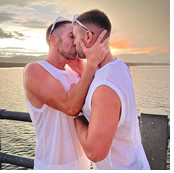 Your own South Pacific Island adventure! Nothing says 'tropical holiday' like island hopping from one tropical destination to the next, and when it comes to the Pacific Islands, we do it best! There's the Frenchy-chic vibe of Noumea, the ancient culture of Lifou and the Caribbean atmosphere in Vila. Oh, and the beaches...we'd never forget the beaches! We are excited to team up with OUTexploring's Rainbow Gay Group Holiday, supported by QNews and P&O Cruises Australia.
Join Australian drag favourites Crystal Heart, Wanda dParke, Mya Crafone & Martini Ice for fun and relaxation and be a part of the huge LGBTQIA+ group, aboard P&O Pacific Encounter, departing from Brisbane, Australia.
This is your holiday to explore New Caledonia and Vanuatu and we want to make it extra special. Bring your resort clothes, frocks, feathers and fabulousness onboard and be ready to party on the high seas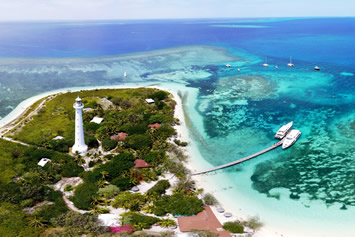 Get stuck on a deserted island
Say 'Bon Voyage' to the everyday
All the flavour and ambience of a bustling, sophisticated provincial french town with the friendly charms, adventure and heavenly climate of the pacific islands.
Noumea is situated on Grande Terre, New Caledonia's main island. In the late 1800's Noumea had a strong frontier quality with adventurers, miners, government officials, traders, seafarers and convicts all calling the place home. Gradually, other ethnic groups added to the mix – Chinese, Vietnamese, American servicemen during World War II and settlers from a variety of Pacific Islands. Many came to seek their fortunes, particularly in the nickel and gold mines.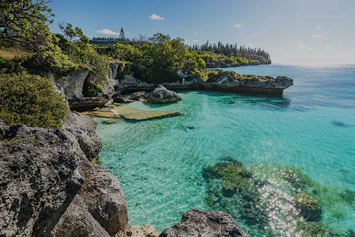 Like Paris without the Eiffel Towel (and everything else)
Lifou is the largest island in the archipelago of coral atolls known as the Loyalty Islands. Long stretches of white sand beach, small coves, limestone caves, grottos and imposing cliffs give the island one of the most dramatic landscapes in the pacific.
Melanesian seafarers were the first people to discover and settle the Loyalty Islands. Whether French navigator D'Entrecasteaux or La Perouse was the first European to arrive is unknown - there's some dispute as to whom. The name Loyalty Islands was bestowed on the group of islands by European merchants towards the end of the 18th century, apparently to acknowledge the cooperation of the indigenous people. Whaling and timber were the main industries during the 19th Century. Today, the main industry is copra, the dried meat of coconuts, from which oil is extracted. Increasingly, tourism is becoming an important mainstay of the local economy.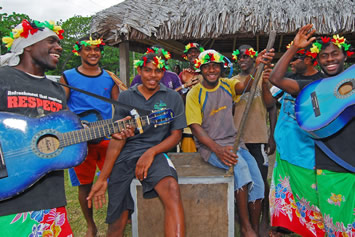 Part port, part village, part paradise
Port Vila has seen more history and change than many towns ten or even a hundred times its size. when it comes to culture, tradition and history, this is a city with an incredible depth of each.
Port Vila is the trading centre and capital of Vanuatu. It's perfectly located around a beautiful harbour on the south-western coast of the island of Efate. Here you'll find a mix of cultures – Melanesian (Indigenous Ni-Vanuatu), French, English, Chinese and many others.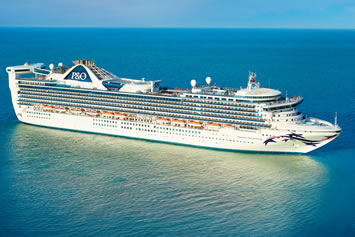 Meet Pacific Encounter!
Pacific Encounter will showcase many of P&O's favourite features as well as a range of new ones that guests are going to love.
Splurge and book a select suite or mini-suite and along with a host of great benefits, you'll gain access to Byron Beach Club, a private retreat with pool, spas and comfy seating, located on the top deck of the ship. Enjoy expansive views along with pure relaxation and a superior level of service for dining reservations, shore tours, embarkation and disembarkation. Guests will love the relaxed breakfast at Angelo's as well as the healthy salads and wraps from the Byron Beach menu throughout the day.
Guests will love our new celebrity chef dining venues, Luke's Bar & Grill by Luke Mangan and 400 Gradi by award-winning Melbourne chef, Johnny di Francesco.
The Lobby, located on deck 5 is our favourite new hang out place, from morning to night. It is the perfect place to sit and watch the (ship's) world go by. Choose from three fabulous bars for your favourite drink, a snack, a quick lunch, or a cheese platter. We're sure the Lobby will become your favourite new hangout place. If you're in the mood for something more lively head to Altitude, our nightclub on Deck 18.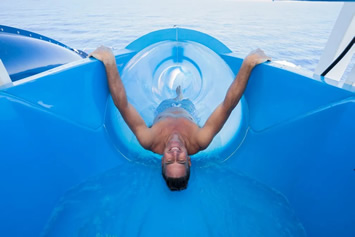 Familiar favourites include Waterfront, Angelo's, Dragon Lady, and Shell & Bones or go casual in The Pantry. Head to the Oasis for a cocktail and a perfect view of the ship's wake or the chilled-out vibe in the Ocean Bar.
Fabulous Twin Racer Waterslides will be coming to Pacific Encounter on March 2023.
There are more spaces to explore, more places to relax and more things to do. On Pacific Encounter, you'll find there's something for everyone.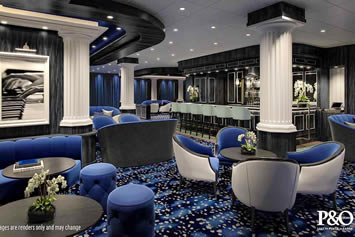 After Dark Extravagance or Intimate Experiences - You choose!
Grab craft and small batch beers, then relax in the cosy The Explorer Hotel, enjoy a cocktail at The Ocean Bar or head to The Blue Room for some live entertainment with a huge roster of LGBTQIA+ artists over the 3 nights!
Speakeasy? Why not visit The Bonded Store In partnership with Archie Rose Distilling Co.
Sit, swill and savour the finest liquors and set your tastebuds free in this glamorous speakeasy as our mixologists serve up fantastic cocktails.
Or get inspired during a gin or whisky masterclass - Bring home your own blends!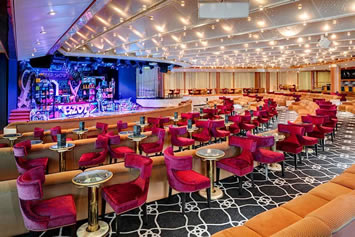 Black Circus Enjoy new levels of entertainment with exclusive dinner and show packages and a glamorous cabaret style show, Love Riot. Get ready for a fetish-laced acrobatic feast for the senses. It's the ultimate night out full of spectacle and outrageous fun.
Blue Room Hit the dance floor and cut some shapes to some funky live tunes in the Blue Room. You'll catch some home grown live acts every night.
Stage Shows - It's Showtime! All of our original stage shows are developed and choreographed by a leading Australian production company exclusively for P&O Australia, so you can't see them anywhere else. With an exciting program of shows to choose from, you'll want to catch them all.