If you are looking for a fun, relaxed and affordable active gay sailing adventure to one of the fantastic cruising areas on our planet with an enthusiastic gay skipper, meeting fellow international sailor dudes and sleeping on deck under the stars, you have just landed on the right spot!
A holiday on water is an experience that you will probably not forget very easily and may want to do more often. Relaxing under the sun, hearing nothing but the wind and the waves, jumping in for a swim every now and then... Does that sound tempting? SAILORdudes organises fun group (clothing optional and naturist) sailing adventures for sportive fit dudes and tailor-made cruises for private groups and makes an effort to match similar guys together on each trip.
Sailing experience is not required but if you are eager to learn (and want to have a break working on your tan :-)) your professional skipper with 15 years experience is more than happy to show how it's done.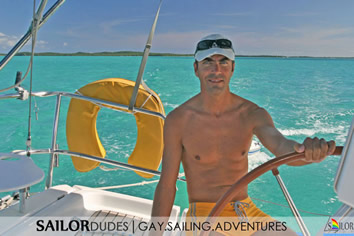 For most group adventures Rene will be your skipper. He is based in Holland and l-o-v-e sailing, which is ?why he organise a few sailing trips each year to share this fantastic kind of holiday with others.? He has been sailing for almost 15 years now, and have meanwhile visited great sailing areas on our planet for a number of groups and with sailor dudes from all over the world
Besides the safety on board as a main priority at all times, Rene will do his best to let you enjoy your active gay sailing holiday in the way you like! Whether this is working on your tan from sunrise to sunset, picking up some sailing skills for becoming a true sailor dude, swimming, snorkeling, taking a stroll on a beach or in a village, catching fresh fish for the beach BBQ, it is up to you!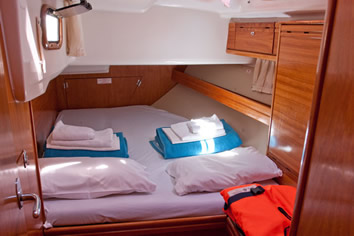 The sailing yacht will be our (non-smoking) home for the duration of the trip and is fully equipped for a comfortable stay. Even though we should be cautious with water and electricity (we usually don't have 110/220V on board), you will generally find everything you need such as cabins with beds, a kitchen with a stove and fridge, a toilet, shower and a saloon area. We usually take showers on the stern of the yacht by the way. It's just as easy and the view that comes with it is priceless!
The yacht size and number of berths on board will vary depending on the size of the group (or your preference for tailor-made adventures) but we usually have yachts accommodating 6 to 10 persons. Cabins either have double or bunk beds and sleep 2 persons. Keep in mind that all beds will probably be smaller than you are used to at home and that most yachts do not have air conditioning unless specifically mentioned. If you prefer some more privacy, a bunk bed is smaller but is for you alone. You can indicate your preference or special requests in your booking and if you want a guaranteed type of bed, please indicate so clearly in the booking. If there are free berths, the skipper may decide to take a cabin for himself (which will in that case of course not be the biggest one ;-)). Our aim is always to rent yachts in perfect technical condition although there is of course never a guarantee that any (technical) issues of some kind can occur.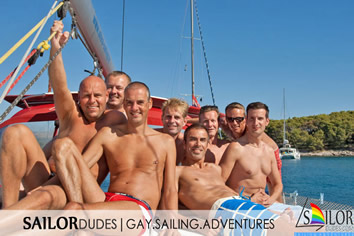 While the group organises breakfast, the skipper will prepare the navigation to the next bay or village. After breakfast, there will be a short briefing about expected weather conditions, the route to our next destination, suggested lunch/swim stops on our way and the expected sailing time. When that's done, the yacht should be prepared for leaving and off we go! In the evenings we may end up swimming under the moonlight, chatting in the cockpit or near a beach fire or partying on deck and dancing under the stars! Suggestions by the group about the program are welcome at any time. The skipper, however, may exercise a veto when it comes to safety or route planning issues. Weather is also an important fact and may give reason to alter the planned route.
The very first day of the adventure is used to arrange provisioning by the group, unpack your bags and organise your cabin, have a welcome drink with your fellow sailor dudes and get a briefing about safety and some other housekeeping stuff. Only when sufficient time remains to sail we will do so, but generally we leave the day after arrival. The evening before the end of the trip we will make our way back to the final destination. After a final group dinner we must disembark the yacht on the final day at the time indicated, which is usually in the morning. Also check the information provided on cruise descriptions page for the specific cruise you intend to join.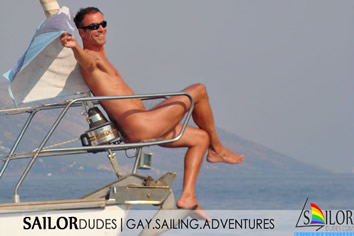 Being on our own yacht offers a lot of privacy so you can feel free to either work on your tan lines or be nude and getting rid of them because all organised gay sailing holidays are clothing optional (where appropriate and in the cockpit and/or during meals we may wear something depending on the groups preference). Some trips are specific gay nude sailing cruises for those that like naturism and like to stay naked on the sailing yacht in general. Naked sailing holidays are specifically announced as such under the sailing adventure information.
And that may help because in any case you should leave your big hard case Samsonites at home since storage space is limited and life on board does not need to be as glamorous as on land (right ?) :-). Best is to pack light and bring a soft bag that can be flattened or folded. Areas we sail in are generally warm but be prepared for the occasional chilly evening or rain shower.
Recommended items to bring besides the usual clothes are: sunglasses, hat, wind/rain proof jacket, closed toe shoes without black/dark soles as they are not allowed on deck, water shoes, sun protection (bring lots, also a higher SPF than usual is recommended due to water reflection and preferably no spray), toiletries including shower gel/shampoo, sailing gloves (if you have them) to protect your fingers when assisting the skipper, snorkeling equipment, (waterproof) camera, insect repellent, ear plugs and any sea sickness medication if you think you may need it. Bed linen (one set per week) and a towel (no beach towel) is usually provided unless indicated otherwise in the final information that you receive shortly before departure.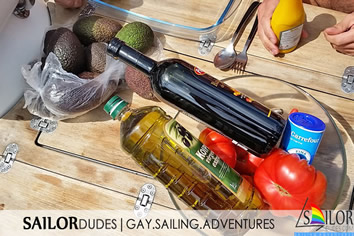 The listed group adventure price already includes all costs directly related to the yacht rental. On top of that you should expect some additional expenses related to the trip which are shared by the group and paid from a common wallet that is managed by one person in the group. It is common practice that the skipper is excluded from contributing to the common wallet.
Meals | Drinks
For meals on board we depend on local availability of groceries. Breakfast is usually done on board in a continental buffet style. Lunch as well (like pasta, a salad or sandwiches), although it may sometimes be an option to go on shore. Dinner can be prepared on board while in a bay, or -if the group prefers- we have dinner in a nearby restaurant where possible. Because of the variety of options, preferences and local prices it is hard to give an exact estimate of costs and we recommend to inform yourself about local price levels. In general, however, you should roughly expect about 75 euro per week for on board breakfast, lunch and general groceries (dudes, this excludes champagne breakfasts! :-)) and about 5 euro per person for on board dinners. All estimates exclude alcoholic beverages.
Harbour / mooring fees
Cost differ highly per sailing area. There are usually no to very low fees in Greece but they can be anywhere between 20 and 80 euros per night in Croatia. Bays are generally free of charge but if we make use of so-called mooring buoys, there may be a fee (20-30 USD in the Caribbean) or free of charge when we have dinner in the restaurant that owns the buoy. Check the 'Sailing areas' page for more information about expected fees.
Fuel | Water tanks
These costs are already included for organised group adventures.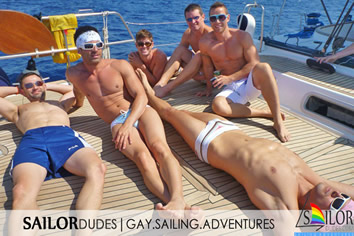 Even though we stay on a comfortable yacht, it is a limited space that we share with other -often international- dudes (ages range from end 20's to 40's) whereby we try to match like-minded people and ages together on the same yacht, also due to cabin sharing with limited privacy. We mostly get sportive guys within the age range mentioned and that are looking for an active gay holiday and whereby the language spoken on board is mostly English. Besides sailing adventures, some ask about possible sexual adventures on board :-) Although this is not part of the general program on board SAILORdudes sailing cruises, anything can happen of course as on any holiday where people are in a happy mood but should not be assumed. You would for sure not be the first to make new friendships and meet up with sailor dudes long after the sailing cruise has ended, and everything else depends on if it's written in the stars :-) The bottom line is that we want you to enjoy yourself as much as possible and that no-one is offended.
To make sure we keep cruising around as a happy family throughout the adventure, there are a couple of tasks where your participation is requested (also applicable to tailor-made adventures unless arranged otherwise):
- Provisioning on the first day and shopping when needed during the trip
- Organizing on board meals
- Dish washing
- Keeping your cabin and the boat interior in general tidy (makes unexpected leaving a lot easier!)
The skipper will help you organising on board tasks if needed but is in general busy with navigation, preparation and keeping the boat exterior tidy. After arriving at the overnight stop, the skipper is therefore in general off duty.
Sailor dudes should be sportive and fit (since you stay on a yacht that moves with the waves), be able to swim and be flexible in terms of 'going with the flow' so we can get the best out of each day together. Sailing experience is not required but if you are eager to pick up some sailing skills, your gay skipper will be more than happy to explain how it's done! If you are very sensitive to seasickness you may want to consider an area where seas are predominantly gentle. In many cases, however, seasickness can be managed in various ways and should not influence your holiday too much.
So, if everything meets your expectations so far it would be great welcoming you on board as a SAILOR dude!