Costa Fortuna
Ship Facts
Gross Tonnage: 102,669
Length: 272.2 m
Beam: 35.54 m
Cruising Speed: 23 knots
Guests: 2,702
Crew: 1,027
Staterooms: 1,351
Decks: 13
Ships Registry: Italy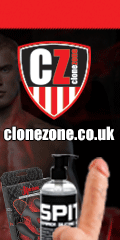 Redefinition Gay Cruise 2021
Mediterranean Spring Break Italian Gay Cruise
3 nights from/to Savona, Italy
April 29 – May 02, 2021
Costa Cruises Costa Fortuna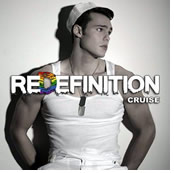 Join us for four days of fun & parties on Travel Gay third edition Italian gay & lesbian cruise on board of Costa Fortuna. Enjoy the most beautiful places in Italian Riviera and 3 nights of fun in company of of the most Famous Stars, Drag Queens, DJ's, and Gay Performers. For the third time you can enjoy the main & fanciest Italian gay clubs in one place. Redefinition Cruise has partnered with the most important gay DJs and performers from all over Italy. Gay Village Rome, Drag Factor Rome, COX, Mamamia Tuscany, Disegual La Notte Genova, JOIN the Gap Milan, Red Bologna, Padua Pride Village, Queever Turin, G -break event, and others will join us on cruise, and entertain you! And of course hot Italian gay guys... so are you still thinking about?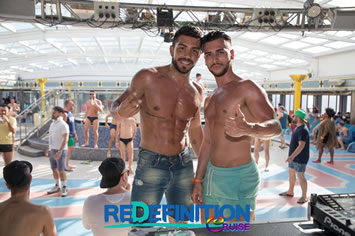 Redefinition Spring Break Cruise is an exclusive gay cruise group departing on April 29, 2021 from Savona, Italy to enjoy the itinerary Savona (Italy) - Marseilles (France) - Tarragona (Spain) - Savona (Italy), with a lots of fun, exclusive activities, the best animationa of the Italian LGBT nightliife. Once docked you can decide visit each city or just stay on board and relax with friends.
Join us for the 3rd edition of Redefinition Cruise, with a completely new itinerary and a hot travel dates! The most beautiful beaches and cities of the Italian Riviera & Mediterranean await you for 3 nights of pure fun with our EXTRAVAGANT STAFF! On board exclusive private parties only for Redefinition gay cruise customers....
There is no airport in Savona so most passengers beginning or ending cruises there normally fly into or out of Genoa, or Milán-Malpensa Airport which lies 190km to the north. Shuttle transfers are available from the airport to Milano Centrale train stations from where there are some direct trains to Savona and others which require a change in Genoa.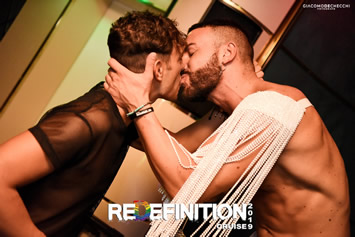 Cruise ship passengers who are beginning or ending their cruise in Savona will find a selection of modern hotels
in the historic centre or can stay in a beach hotel at the Playa de Luna resort to the south. A little further south but still only 15km from the cruise port is the lovely resort of Spotorno
which is highly recommended for a few nights' stay.
An evening in Savona is best spent dining on Ligurian seafood dishes at a local restaurant such as Ristorante Verso il Maestrale (Calata Pietro Sbarbaro) which overlooks the harbour. Alternatively, you can head for one of the city's many family-run trattorias such as Pizzeria Vesuvio (Piazza Goffredo Mameli) which serves excellent pizzas and pasta dishes to a mainly local clientele.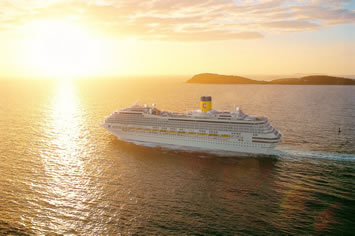 Redefinition Cruise Ship - Costa Fortuna
Costa Fortuna has drawn inspiration from the grand Italian steamships that provides regular passenger services between Italy and the Americas. Throughout this Costa cruise ship, scale models of historic cruise ships have been incorporated into the style and design of the Costa Fortuna's various restaurants and other public areas. For more recent history of these cruise ships, guests can view a tribute to the first (and leading) Italian Cruise Company by glancing up at the ceiling of the main lobby known as the Costa Atrium where models of 26 past members of the Costa fleet are displayed. Get on board a Costa cruise ship today!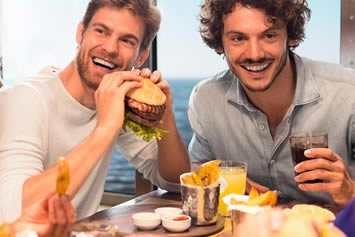 Dining
For guests who want to try something different! There are 4 restaurants, including one the Club Restaurant and 11 bars, including a Cognac & Cigar Bar. Club Restaurant is the special restaurant for Suite Guests and Members of the highest level of the Costa Club, where you can enjoy breakfast, lunch and dinner in an intimate and elegant setting. In the Club restaurants, pure flavor is the order of the day, and the presentation and service is even more meticulous. For dinner, the restaurant serves both regional menus from the main restaurants and gourmet specialties.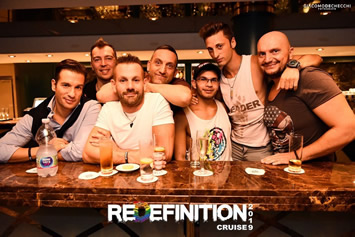 Bars & Lounges
The Ferrari Wine Bar is a classy corner on a Costa Cruise ship, where they can sip exceptional Italian bubbly. Ferrari is the Italian brand of excellence for sparkling wine. Arising from the desire of its founder to create a wine able to compete with the best French Champagne in Trentino, it is now known worldwide as a high-quality label. Costa ships have a wonderful Ferrari Bar on board, where you can taste a brut, rose or demi-sec or participate in the tasting of grande cuvee labels. Meanwhile, the windows of the ship overlook the sea, which will accompany you during this exclusive experience.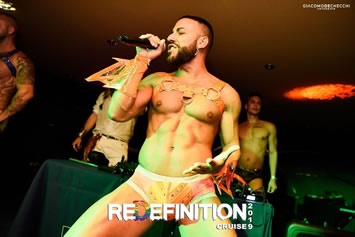 Entertainment & Nightlife
Plenty of the Entertainment places on-board. Theatre on three levels Casino Disco Pool deck with retractable glass roof Water slide Internet Point Library Shopping Center Virtual World and Squok Club.
Visit the casino if you prefer more traditional, but no less exciting bets! Rouge or noir, on which side does your fortune lie? The Costa ship Casino is a fun place for adults, where they can spend some time after dinner and make a bet to test their luck.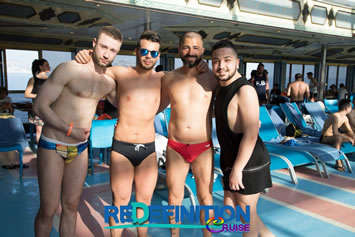 Fitness and Spa
At the wellness center, guests enjoy a wellness experience of complete bliss and rejuvenation. Costa holidays are designed to regenerate mind and body. You can dedicate time to your wellbeing whenever you want during your cruise! 1,300 sq. mt of wellness center with gym, treatment rooms, sauna and Turkish bath. 5 Jacuzzis, 4 pools, including one with a retractable cover, Multipurpose sports pitch and Outdoor jogging track are available on ship.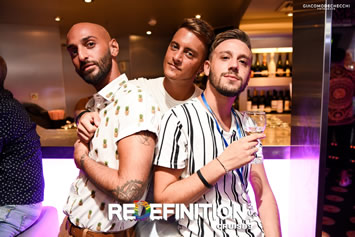 Redefinition Cruise Package Includes
• Accommodation on Costa Fortuna in cabin of your choice
• Special Redefinition cruise entertainment, shows, Pool party, Disco nights
• Full board and buffets and snacks throughout all day
• Required Redefinition cruise bracelet to access parties & shows (120 Euro value!)
• Personalized entertainment with parties, events and Disco nights
• Redefinition cruise staff assistance
• DRINK PACKAGE CHEERS
Drink Package 'Cheers' Include:
• Selected Drinks Priced Up to €6!
• House wines by the glass
• One brand of draft beer (Heineken, or similar)
• Selected spirits and cocktails, non-alcoholic cocktails
• Soft drinks, fruit juices by the glass, bottled water
• Classic hot drinks (espresso, cappuccino, cafe latte, hot tea, hot chocolate
The perfect package for those of you who like to relax with your favourite drink by the glass throughout the day. Coffees and cappuccinos, soft drinks and refreshing beers, popular aperitifs and a great selection of wines and spirits.
Not Included:
• Taxes & Port Charges
• Shore Excursions
• Gratuities
• Travel Insurance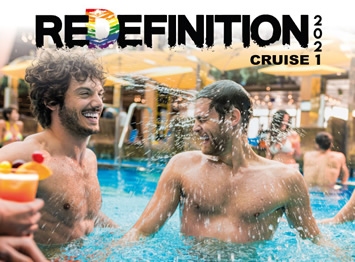 Redefinition Mediterranean Spring Break Gay Cruise 2021 Itinerary


Date

Port

Arrive

Depart

29 Apr
Savona, Italy
5 PM
30 Apr
Marseilles, France
8 AM
5 PM
01 May
Tarragona, Spain
7 AM
2 PM
02 May
Savona, Italy
9 AM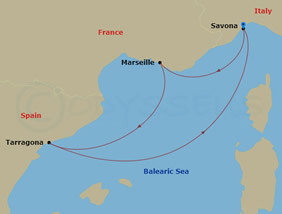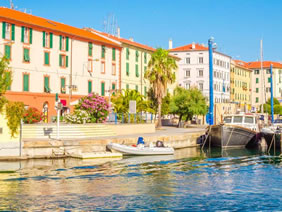 Day 1 - Savona, Italy
Located on the Ligurian coast of Italy between Monaco and Genoa, Savona has served as an important port since it was occupied by the Romans in 180 BC. Above the port of Savona
, the Priamar Fortress greets our departure and arrival of the Costa Fortuna ship sailing in the Mediterranean. Genoa and its aquarium are nearby. The port of Savona is one of the prettiest of the Italian Riviera. The lovely climate, summers that are never to hot, mild winters and the exceptional beauty of the sea near the town makes Savona an excellent base to set out to explore Liguria. Savona is notable for the Priamar Fortress, which has dominated the town since the 16th century, and also for its historic centre where you can visit Savona Cathedral. A stop in Savona can also be an opportunity to visit the nearby city of Genoa
and its narrow, picturesque streets, known as "caruggi".
Day 2 - Marseilles, France
A pleasant thing to do is simply sit down at one of the cafes overlooking the port of Marseilles and, sipping a Pastis, observe the landscape and the people who inhabit it. Also called the "Porpoise City ", Marseille is France's sunniest town, charming with its gullies where you can swim, its history and culture and restaurants with cosmopolitan cuisine. You cannot leave without having first toured on the "Cours Julien", the street for shopping. The port of Marseille is perhaps a typical tourist destination, but it deserves to be visited for the ferry that leaves from the Town Hall and the old church, which replaced a Templar building.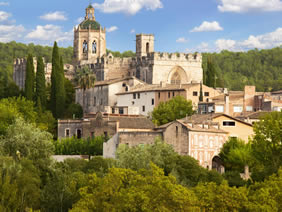 Day 3 - Tarragona, Spain
The port of Tarragona is a gem, with Roman ruins that are the pride of the local people and historical traditions that are part of the local folklore. The Roman heritage is still part of the urban context in Tarragona. Here, you can watch the reenactments of the centurion parades and gladiatorial combat. During the stop in the port of Tarragona, proceed to the Praetorian Tower. On the first floor there is a model of the medieval town and its glory that was lost during a war that is still commemorated with solemn candles on the steps of the cathedral. If you have the time, watch the races of human pyramids that are organised in various districts of the city.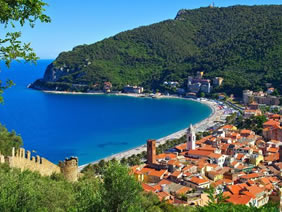 Day 4 - Savona, Italy
Behind Savona's
sprawling port facilities, the city's unexpectedly graceful medieval centre is well worth a stop. Among the old-town treasures to survive destruction by Genoese forces in the 16th century are the baroque Cattedrale di Nostra Signora Assunta and the lumbering Fortezza del Priamŕr. There's also a nice urban buzz, with lots of new shops, bars and restaurants regenerating the old centre. Don't miss an opportunity to visit the capital of the Italian region of Liguria the nearby city of Genoa
.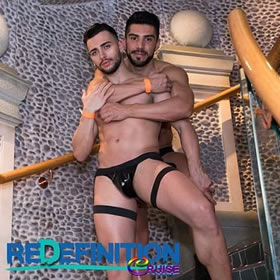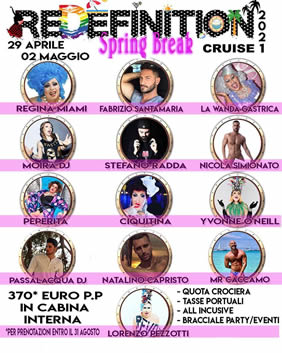 Guests: 2,702 • Crew: 1,027 • Gross Tonnage: 102,669 • Length: 272.2 m • Cruising Speed: 23 knots • Registry: Italy

Redefinition Mediterranean Spring Break Gay Cruise 2021 Rates

Double
Interior Stateroom
Approximately 150 sq ft. Two twin beds or a queen bed (some may convert to two twins), private bath and shower, minibar, television, telephone, hairdryer, and safe deposit box. Providing all the comforts of a standard class cabin and the freedom to enjoy all the services and facilities available on the ship.
€ 395


Single
Interior Stateroom
Approximately 150 sq ft. Two twin beds or a queen bed (some may convert to two twins), private bath and shower, minibar, television, telephone, hairdryer, and safe deposit box. Providing all the comforts of a standard class cabin and the freedom to enjoy all the services and facilities available on the ship.
€ 450

Double
Ocean View Stateroom
Approximately 190 sq ft. With large windows to admire the view, or simply enjoy the first rays of morning sunshine. Two twin beds that convert to a queen, a private bath with shower, telephone, television, hairdryer, safe deposit box, and minibar. Providing all the comforts of a standard class cabin and the freedom to enjoy all the services and facilities available on the ship. Some staterooms have an obstructed view.
€ 440


Double
Balcony Stateroom
Approximately 219 sq ft. including balcony. An ocean view with balcony, two twin beds that convert to a queen, a private bath with shower, telephone, television, hairdryer, safe deposit box, and minibar. Providing all the comforts of a standard class cabin and the freedom to enjoy all the services and facilities available on the ship. Some may have an obstructed view.
€ 475


Suite
Approximately 340 - 519 sq ft. including balcony. Two lower beds that convert into a queen-sized bed, a sitting area, private balcony, private bathroom with shower and whirlpool tub, direct-dial telephone service, minibar, TV, safe, and a hairdryer.
On Request
Taxes & charges of €40pp, gratuities, and optional insurance are additional.

Drink Package 'Cheers' INCLUDED!

All prices are per person in Euro, and include all meals, accommodations and entertainment!

Minimun Deposit EUR 200 per person due at the time of booking. Balance payment is due by January 15, 2021

Optional shore excursions will be offered.

Prices are cruise only and DO NOT INCLUDE return airfare! Please ask for airfare add-ons back to your home city.

Fares are subject to availability and may change without prior notice.

The price includes:
- Accommodation in the chosen cabin for 3 nights
- Full board and buffets and snacks throughout all day.
- Drink Package Cheers
- 120 euro - Bracelet to access all Redefinition Cruise programs.
- Redefinition cruise assistance
- Costa Fortuna entertainment.

Redefinition Cruise - disco nights; funny drag cocktails each day; pool parties; performers, go go boys, many other surprises for our guests ...

Not included: -Transfers (quote on request)
-Tips, excursions.

TRAVELLING ALONE?
To avoid singles surcharges ask for the program "Cabins Buddy" and share a cabin with new friends.

Pre and post cruise extension packages available on request

Please ask for further details.

Special Airfares




Pre-Cruise Hotels







Post-Cruise Hotel