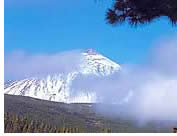 Affectionately known as the 'island of eternal spring', Tenerife is home to striking volcanic landscapes and open green countryside. Situated just off the West African coast, enjoy golden and charcoal grey beaches, picturesque mountain villages, pretty coastal towns and year-round subtropical climates.
Beneath the dizzy heights of Mount Teide, you'll find an exceptional holiday destination. Tenerife is the largest island of the archipelago. There are most varied landscapes: a mountain range with the mighty volcanic crater Cañadas del Teide, with a diameter of 20 kilometers, and the 3.718 meters high Teide in its center; extremely fertile valleys with important vegetation and a coastline offering stunning steep coves and wide beaches of fine sand. Probably best known in the UK for the southern resorts of Playa de las Americas and Los Cristianos, it is up in the greener and more lush north that you will fins the far more attractive resort of Puerto de la Cruz and it is this part of the island which plays host to a friendly, long-established gay scene.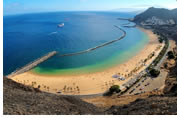 Tenerife manages to take the very best of all the islands while still turning its back on the more brash "cheap and cheerful" excesses of her sisters. Beautiful beaches with volcanic sand run up to lush greenery, with towering black rock faced cliffs in the background. The natural beaches have an almost "otherworldly" feel and are truly stunning but beware, the only 'golden' beaches on the island are entirely man made and are best avoided.
With an average temperature of what they call a "Spring-like" 22 degrees (who's Spring is 22 degrees?) and never colder than 15 degrees or hotter than 30 degrees, Tenerife's climate allows gentle sun bathing, sophisticated al fresco dining, and dancing in the evening. Perfect.
What about the gay scene?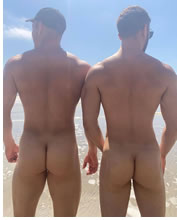 There's no doubt that the neighbouring island of Gran Canaria offers the largest gay scene in the Canary Islands, but Tenerife still has plenty to offer and the locals are a friendly bunch. Santa Cruz, the capital of the island, has only one gay bar, but plenty that are gay friendly and a gay sauna. There are several gay bars in La Laguna plus one gay disco, and there are two gay bars in the south of the Island in Playa de las Americas.
The town with most gay bars and discos is Puerto de la Cruz. There are four gay bars, four gay discos, two gay saunas, gay restaurants, many gay friendly bars and sex shops.
Cruisy then is it?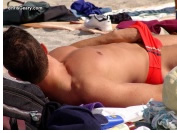 It can be. Tenerife has many, many, many cruising areas, nudist beaches and plenty of tanned (permanent and all over - the lucky lads!) boys. The perfect weather tends to make the Germans break out their speedos, but if you can look past the dross, there is a lot at which to stare wistfully. Oh hell, even some of the speedo packing Germans look a bit tasty. But it might be the beauty of the locale.
So it's like Gran Canaria then?
No, no, no. A much better class of homo goes to Tenerife than the 'Beach and Bar' Brigade who inhabit Gran Canaria. While there are the necessary bars and clubs, nude beaches and such, it is surrounded by startlingly beautiful landscapes and picturesque villages.
What can I see then?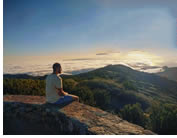 3000 year old caves, pyramids, one of the largest volcanoes in the world, cloud shrouded mountains, quaint fishing villages, charming old world towns and modern tourist resorts.
Mount Teide makes the island very popular with walkers and mountaineers and the national park has many interesting and challenging summits.