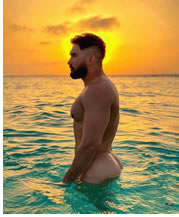 An added bonus. Nude sunbathing is allowed on some of the more secluded beaches around the island if you feel inclined expose your bits to passers by. Here is a list of some of the acknowledged cruising areas/beaches.
Gay and Lesbian sex is legal in Spain, the age of consent is 16 and over. As the same laws in Mainland Spain apply in the Canary Islands it is the same in Tenerife.
Playa de los Rusos / Darsena Pescadora
Puerto de la Cruz
Leave La Cruz and head north towards San Andres and follow the signs toward Darsena Pescadora. Park by the jetty. Reach by car, bike or bus number 914.
At the top of your list for daytime fun, write Lago Martinez in capital letters. Drench yourself in sunshine here while taking a dip in the natural salt water pools before lying back and enjoying the view at this somewhat cruisey landscaped lido (the gays are on the left hand side).
Playa de la Teresitas and Playa de la Gaviotas
An artificial beach, head north form La Cruz toward St Andres and follow the signs. Cruising takes place near the cliffs at the left. Also, when you reach La Teresitas , continue up the hill towards Playa de la Gaviotas where nude sunbathing is acceptable. Bus 914 also takes you here.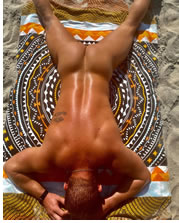 Punta Roja at Playa de la Tejifa
Playa De Las Americas
Located close to Reina Sofia (southern airport), on the road between El Abrigos and El Medano, Punta Roja is a nudist beach at the headland between these two points. Bus 111 form Las Americas takes you to this beach.
Los Cristianos
As well as the nude beaches there is a busy cruising area of the east side of Los Cristianos. Walk or get a taxi down to the Costa Mar hotel (15 floor towerblock) What past the hotel and down towards the beach. you should see a steady stream of cars and individuals arriving early evening. Watch out for the rocks though.
La Caleta
Take a bus or taxi to La Caleta. Follow the coast (starting at a path next to the gravel football pitch) away from Las Americas, on a steep path up, over and down the headland and then, at sea level, around the next headland to two sandy bays - total distance about a mile but worth the effort aparently.
Bora Bora in Las Americas
The beach in front of Bora Bora in Las Americas is popular for cruising in the evening.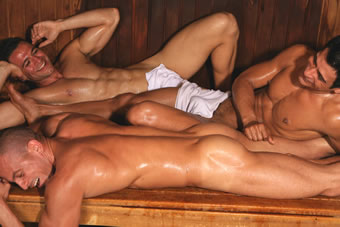 Gay Saunas
Looking for a bit of after-sun action? Check out one of these gay saunas in Tenerife:
Stonewall Gay Sauna
C.C. Pueblo Canario, local 2, Playa de las Americas
Modern gay sauna in Playa de la Americas. Stonewall's facilities include a Finnish sauna, jacuzzi, steam room, video room, private cabins, bar, cafe, dark room, lounge area, sling, etc.
Babylon Gay Sauna
Blanco 34, Puerto de la Cruz
Popular gay sauna in the heart of the Puerto de la Cruz. Babylon features a Finnish sauna, Turkish bath, dark room, private cabins. There's a cinema with a large screen and free WiFi. Babylon was recently upgraded, with a new maze, and play zone with glory holes.
Boss Gay Sauna
Avda. 3 de Mayo 71 – Local 13 Frente al C.C. Meridiano (Pasillo), Santa Cruz de Tenerife
Turkish bath, relax pool, cabins, dark room and video room.