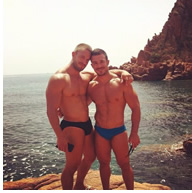 The weather in Tenerife stays moderate throughout the year, making it a perfect travel destination for those visitors seeking a winter holiday hot spot as well as for those travelers who are planning trips for spring and summer breaks from work. Tenerife has an average winter temperature of 20-22° and average summer temperatures of 26-28°. Perfect temperatures really - never too cold and never too hot. Indeed Tenerife is known as the "Island of Eternal Spring". The weather in the South of Tenerife is generally hotter and drier than the weather in the North of Tenerife.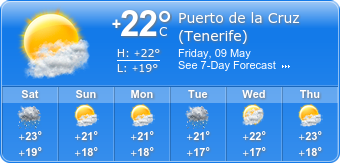 Of course, when you are planning a holiday, you want to be sure that you will enjoy good weather. While there can be no guarantees, Tenerife has one of the best climates in the world, maintaining a pleasant average daytime temperature of 22°C for most of the winter and increasing to up to 30°C in the summer.
The great thing about Tenerife is that the climate remains fairly consistent and does not reach the extremes of heat that other countries in Europe encounter in the summer.
The North and South of Tenerife have very different characteristics. The North with a higher average rainfall is cooler and lush. The South is relatively rain free and basks in the sun for most of the year.
The stunning thing about a winter holiday in the south of Tenerife is that you can be sat on the beach or by the pool but be looking up at Mount Teide which can be covered in snow!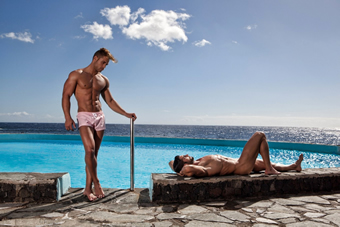 The South Coast
Tenerife South, where the majority of the tourist resorts are clustered, is warm year round with pleasantly hot summers. This includes resorts such as Los Cristianos, Playa de Las Americas and Playa Paraiso. This side of the island faces south and east and so is affected by hot, dry weather systems coming over from Western Sahara in Africa.
Summer,
from June till September, sees average high temperatures rising through the mid twenties to a peak of around 27°C in August that lasts into September. June is only marginally cooler with an average high temperature of 24°C. Night time temperatures are cooler, but stay in the high teens to early twenties so air-conditioning is a good idea. The steady trade winds ensure that the heat rarely becomes uncomfortable, and you can always take a siesta or dive in the sea if it gets a bit too hot. As Tenerife is in the North Atlantic, the water temperature does not reach the highs seen around Mediterranean holiday resorts, but it is still plenty warm enough for swimming, sitting in the low 20s for the entire season.
Sunshine levels are good throughout the summer, rising from nine hours per day and peaking at ten hours per day in July before reducing to eight in September. Rainfall is minimal.
Autumn,
in October and November, is still hot but does see an increase in rainfall. The average high temperature decreases to 26°C in October and to 24°C in November. The sea temperature stays about the same and sunshine levels remain good at around six or seven hours per day. While rainfall does increase, showers are usually short-lived.
Winter,
from December till February, is very warm but sometimes quite wet. January is the coolest month in the year but still sees an average high temperature of 21°C. Most people would consider this warm enough to lie on the beach, especially if you're from northern Europe and have a tendency to be rather optimistic about these things. On some days it can get up into the mid 20s but this is not to be relied upon. Night times are cooler, getting down to an average low of 14°C, so a few extra layers are necessary. Rainfall is higher in this season. Light showers and the odd stormy day occur but are infrequent, and poor weather conditions rarely last for long. Sunshine levels remain good at around six hours per day for the entire season, and the sea is still warm enough for swimming.
Spring,
from March till May, sees the temperature creeping back up to 22°C with some sunny days reaching into the high twenties. However, cool winds can force the temperature back down into the teens. Night times remain mild, at around 16°C, so don't forget to pack a jumper. Rainfall rapidly decreases and sunshine levels creep up, reaching an average of nine hours per day in May. This is a fantastic time to visit the island when the summer crowds are yet to arrive and the island is in full bloom following the winter rains.
The North Coast
Tenerife North is much quieter largely because of its cooler, wetter weather, especially in the winter months. Summers on the north coast are still hot but are a bit more overcast with slightly higher rainfall levels. Tourism is still a high earner for the north but thinner crowds mean that many areas remain unspoilt. Resorts on the north coast include Puerto de la Cruz, El Sauzal, and Garachico. The area is popular with walkers and golfers. The wetter weather has resulted in a more verdant landscape where palm trees and banana plantations thrive. The beaches on this side of the island are mostly black, volcanic sand.
Summer,
from June till September, is very similar to that in the south but a few degrees cooler. It sees average high temperatures in the low 20s, peaking in July and August at 24°C. Sunshine levels are also at their highest in July with ten hours per day. As in the south, rainfall is almost non-existent as it tends to fall in the higher, central mountains of Tenerife. The region can be quite windy so conditions are changeable from moment to moment. This keeps temperatures in check and also gives rise to great water sport conditions. Windsurfers and sailors seek out the strong trade winds. The north is generally safe from the sirocco wind.
Autumn,
in October and November, is pleasantly warm, much like winter in the south. 18°C can be expected in the day but night times are cool around 12°C. The sea remains warm enough for swimming and sunshine levels are reasonable at six hours per day. A few storms may blow in but infrequently. October sees rain on around five days and showers are usually heavy but short, and followed by clear weather.
Winter,
from December till February, is mild but much cooler and a wetter than on the south coast. The average high gets down to 15°C in January when the average low gets down to 9°C. This is hardly cold and many like to visit the area for walking holidays during this season. The sea generally does not fall below 19°C which can make an interesting contrast to the cooler air temperature. The sea is bound to be warmer than any unheated outdoor swimming pools which cool down quickly due to their small volume. Sunshine levels remain good at around six hours per day throughout the season. Rain is still not frequent at all but when it falls it can be heavy. If you're lucky you'll miss the rain altogether.
Spring,
from March till May, is very mild and gets warm by the end of the season. The average high rises slightly to a pleasant 17°C in March and April and up to 18°C in May. Night times remain cold but sunshine levels increase and the rain practically disappears again. The sea heats up very slightly to 20°C in May. Again, this is a popular time to visit for a more active holiday. Spring is a good time to visit if you don't want to spend all of your time on the beach and you don't like competing with crowds.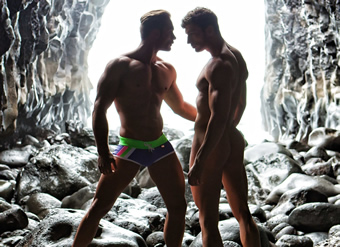 The Central Mountains
Tenerife is a volcanic island. Mount Teide is technically the third largest volcano in the world and is the highest point in Spain, though clearly Spain is cheating a little as geographically the Canary Islands are much closer to Africa than Spain. It is 3718m above sea level at its peak.
Higher altitudes always mean cooler temperatures. The mountains of Tenerife provide cool respite from summer heat and Mount Teide, the highest in Tenerife, is snow-capped during winter months. Rainfall is always higher in this region, especially on the northeast faces due to the northeast direction of the trade winds. Mist and fog can also develop in any season. The mountains provide many routes for walkers, trekkers, cyclists and climbers but not, as some have been lead to believe, skiers. While snow is a regular winter feature it has not so far proved reliably thick enough for the development of a ski resort. However, with climate change: who knows?
It is not just the rugged mountain itself that attracts hikers and the like, but the diverse plant life that thrives on the mineral-rich soil created by the ancient lava flows. Pine forests and more exotic plants, such as the bizarrely named Teide Bugloss with its red-flowered tower reaching up to 3m tall, thrive there. A wide variety of animal life, many species of which are unique to the island, also make Mount Teide their home. As such, Mount Teide and its surrounding areas are part of a protected national park. It was named a world heritage site by UNESCO in 2007.