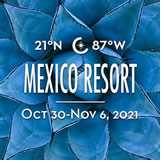 The Ultimate "Spring Break" Vacation in Fall 2021! VACAYA returns to Mexico just in time for Halloween & Day of the Dead 2021 with a all-gay vacation that delivers even more of the fun you've come to expect from VACAYA without breaking the bank. In the heart of the magnificent Riviera Maya, Panama Jack Playa del Carmen Resort provides you and your friends a sun-kissed beach backdrop with the vibrant city center just steps away. Panama Jack Resort is a favorite among locals, offering a young, hip, fun-centric vibe with all of PDC's restaurants, shopping, nightclubs, gay bars, and Dia de los Muertos celebrations within a couple blocks!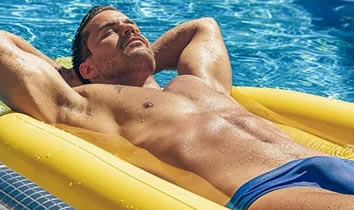 Staying at a VACAYA Oasis all-inclusive resort delivers a truly relaxing and exhilarating vacation because it's all included for one incredible price, from meals and alcohol to spa treatments and excursions. Our resort offer scores of daytime activities, exclusive nightly entertainment, gourmet restaurants, exquisite turquoise waters, and sun-soaked beaches. But that's only the beginning. This is place where we come together and feel part of a bigger family. With so much included, all that's left to do is have fun and enjoy the value!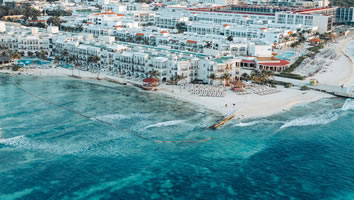 The newly refreshed Panama Jack Resort in Playa del Carmen offers travelers the perfect blend of relaxation and adventure. All-inclusive and catering to guests who love a casual atmosphere, Panama Jack boasts sun-soaked beaches, incredible suites, gourmet eateries, a plethora of pulse-pounding water sports, inviting pools, fitness facilities, unlimited Wi-Fi, and never-ending libations, among other fantastic highlights. At Panama Jack Resorts, the options are endless.
The resort underwent a major renovation in 2019 that refurbished all guest-rooms and suites, upgraded the spa, and renovated several other public areas.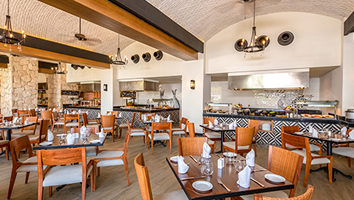 Flavors from around the world, fresh ingredients, imaginative recipes, and masterfully-trained chefs amount to cool dining concepts and compelling cuisine that'll please even the palate. There's a spot for every craving, mood, and crowd with each venue uniquely bursting with distinctive personality and style.
Ventanas
An extensive buffet of impeccably prepared international cuisine in a casual yet elegant atmosphere amid stunning sea views.
Zarape
Panama Jack's authentic Mexico restaurant offers world class food with warm hacienda décor and vibrant local flavor.
Bella
Explore the rustic cuisine of the Italian seaside with artfully prepared dishes of pasta, pizza, seafood, and meats.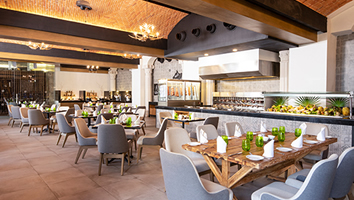 Ipanema
Enjoy a Caipirinha and choose from many different rodízio cuts of roasted meats accompanied by a colorful salad bar.
The Grill
Enjoy this casual food truck next to the pool and the beach, where hamburgers are served with fries and nachos – all deliciously cooked open-fire.
Off The Hook
This rooftop hotspot is known for serving cocktails, fresh nigiri, and a variety of sushi roll delights. OTH will be one of The Strip's "go-to" spots!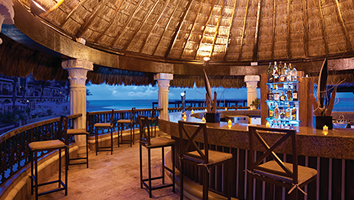 Jack's Shack
Come for the views and enjoy your favorite cocktail at this casual waterfront bar serving up a range of refreshments.
Jack's Landing
You can't miss this lobby bar hot spot, featuring live music and the resort's most iconic vehicle. Rekindle friendships or make new ones in this resort hub.
Jack's 24
Kick back and relax with self-serve snacks and satisfying sips at any hour.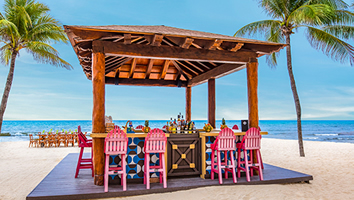 Las Olas Bar
Enjoy the ocean vistas and take your seat on a swing chair where margaritas and mojitos are made to order by friendly mixologists.
Panama Jack Coffee Co
Refuel with a classic cup or a creative caffeinated concoction from this causal, cool coffee house.
In-Room Dining
Have you ever eaten breakfast with someone in a hot tub or a hammock overlooking the ocean? Well, at Panama Jack with VACAYA, you can! Great cuisine can always be enjoyed right from the comfort of your room.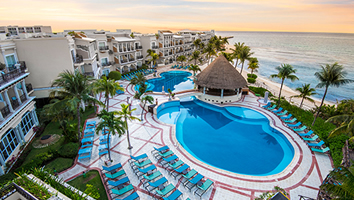 Freshwater Pools
Overlooking the Caribbean Sea, our expansive freshwater pool is the resort's heart, with daily activities, cabana lounging, waiter service, and more.
Cabanas with Waiter Service*
From the pool to the sandy beachfront, Cabanas with waiter service abound at Panama Jack. If you want to experience the perfect sun-drenched day, our beautifully appointed cabanas are the way to go. Each of these spacious retreats features details and furnishings that provide comfort, convenience, and service that make your time here pleasurable and relaxing.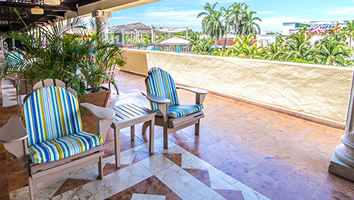 "The Strip"
If you're looking for non-stop fun in the most exciting neighborhood at Panama Jacks, go west! The Strip's west end rooms are 263 sq ft and feature 2 double beds – one for sleeping and the other for...
Each room on The Strip's 4th and 5th Floors also features a fantastic lanai out the room's front door, which is just steps away from the nearby rooftop pool. There's also a clothing optional deck in this area. And with friendly neighbors, the spa, and 3 mouth-watering restaurants – Sushi, Italian, and Mexican – in the neighborhood, endless excitement is guaranteed!
Amphitheater
Evening entertainment will take place in the amphitheater – our open-air theater where VACAYA's signature talent will be featured.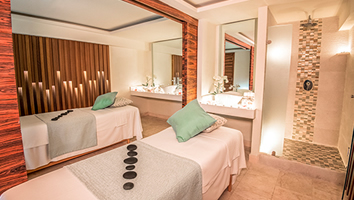 Aura Spa*
Aura Spa invites you to reach a level of tranquility you've never experienced before. Indulge with a chocolate body wrap or simmer under a hot stone massage. But first, the hydrotherapy area calls. Follow that up with a couple's massage, a warm Mayan mud wrap, or a refreshing citrus exfoliation. Delve into the most gracious state of bliss and let all your worries drift away.
Hydrotherapy Circuit*
Detoxify, rejuvenate, and reconnect mind, body, and soul as contrasting water temperatures soothe and provide you with immediate relief. Our healing waters feature a steam bath, outdoor tub, and sauna, and can be experienced as a circuit or individually.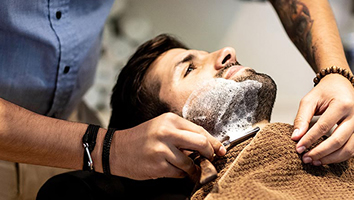 Beauty Salon*
Look your best and feel amazing with a range of transformative beauty services tailored to your unique personal style. Services include manicures & pedicures, nail polish services, hair styling & braiding, haircuts for him and her, and full & partial body waxing.
Fitness Center
Jack makes working out a welcome part of your vacation. The fully equipped sports center and fitness activities are a great way to learn a new skill, work on your physique, or simply maintain your healthy routine. The resort also offers stretch classes, aqua aerobics, beach volleyball, daytime tennis, and non-motorized aquatic sports.
*Additional Charge Applies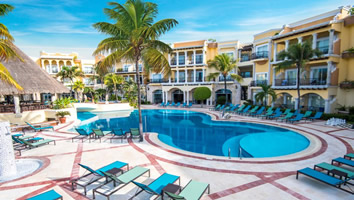 All-inclusive resorts offer an amazing value for any cost-conscious traveler, and Panama Jack Playa del Carmen offers all that along with a level of comfortable accommodations you can sink into at this affordable all-in price point.
On a sun-drenched beachfront in the heart of Playa del Carmen, Mexico, all-inclusive Panama Jack welcomes guests to recharge amid the azure seas, authentic culture, and coastal charm of the Riviera Maya.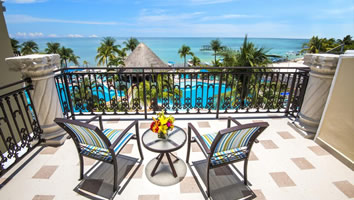 Cool, casual, and simple, this gay-friendly resort is ideally located on the Caribbean Sea just steps away from Playa's famed Fifth Avenue shops, clubs, and restaurants.
From action-packed activities like beach volleyball and wine tasting to oceanfront swimming pools with waiter service, discover the perfect combo of relaxation and adventure. On top of all that, the resort was voted Travelers Choice by Tripadvisor in 2020.
Explore all the inclusions and judge for yourself the incredible value of VACAYA's newest and most affordable all-inclusive resort.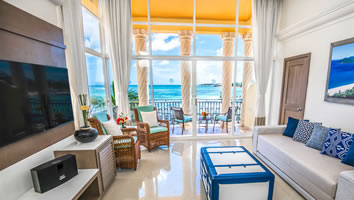 Accommodation For Kings and Queens. Included.
Contemporary and elegant, Panama Jack Resorts' accommodations are designed with your comfort in mind and inspired by the sea, sun, and sand. With Jack's deep insight into the desires of travelers, thoughtful amenities include stocked minibars, furnished terraces, ocean views, delectable room service, and several special touches – a true home away from home.
And our more simple and economical options in "The Strip," give cost-conscious travelers the chance to join in all the fun. INCLUDED.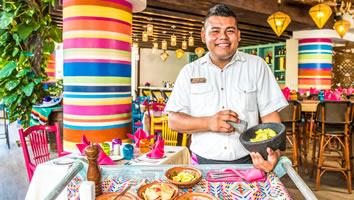 Delicious Food. Included.
At Panama Jack Playa del Carmen, the attentive waiters and expert chefs will take you on a tasteful trip around the world, one dish at a time at more than 6 included restaurants, 5 bars & lounges, and of course in-room dining.
Prepare for a multi-sensory culinary adventure. ALL INCLUDED.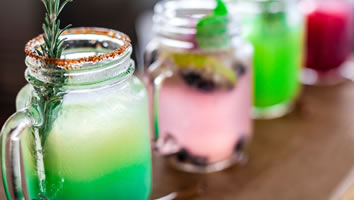 Top-Shelf Drinks. Included.
Panama Jack's mixologists know how to whip up your favorite 'tini, smoothie, or frothy libation. Meticulously crafted cocktails and a selection of top shelf spirits can be found resort-wide.
Premium Branded Alcoholic and non-alcoholic drinks, bottled water, specialty coffees, and teas at all of hotel's food and beverage outlets during their regular hours of operation are ALL INCLUDED.
Activities & Parties. Included.
With VACAYA, you're in complete control of your own schedule. You can hop from one activity to the next or simply relax at the resort's expansive freshwater pool overlooking the Caribbean Sea.
Our activities include pool games, fitness classes, cooking demonstrations, mixology lessons, meetups, crafts, and more.
Part of the fun of each and every VACAYA resort vacation is our theme parties. Once we're 120 days out, we'll share the party themes, so you can dust off those sewing machines and refill those hot glue guns! Just let your creativity (or your Amazon Prime membership) soar!
And while costumes are always encouraged, they're never required. We'll love you in or out of costume and you'll enjoy your time at VACAYA's friendly welcoming parties no matter what. ALL INCLUDED.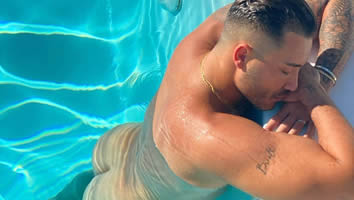 Clothing-Optional Deck. Yep, Included!
Whether you hate tan lines and sand in your swim trunks, or just love the feeling of sunbathing au naturel, you're in luck – as VACAYA's Mexico Resort will again offer a clothing-optional area so the only suit you have to wear is your birthday suit!
The rooftop deck and hot tub is a tranquil spot to soak in the sun by day and a bustling social beehive at night! INCLUDED.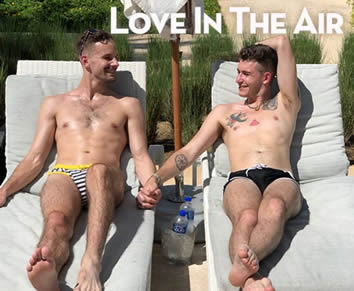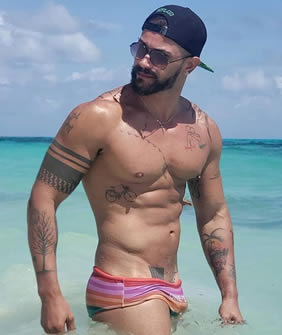 Vacaya Oasis @ Panama Jack Playa del Carmen Gay Resort Week Itinerary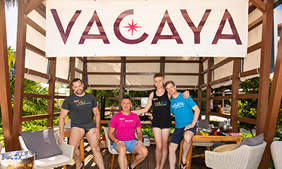 Day 1, Saturday, October 30, 2021
Check In
Smiles, Everyone, Smiles! Welcome to Panama Jack Playa del Carmen
! The Vacayans will welcome you as you arrive at the resort for a breezy check in. We're easy to spot in our colorful "I AM VACAYA" T-shirts and we're eager to make your vacation dreams come true. An amazing lunch awaits, followed by a casual walk around the resort. Is a dip in one of the resort's freshwater pools what you crave? Or maybe you're ready to take in your first spa treatment at our holistic spa? A fun dinner at one of the resort's restaurants and a welcome party are on tap for your first evening, so get ready to flash your smile and say hello to all your new friends!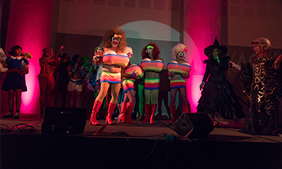 Day 2, Sunday, October 31, 2021
Halloween
It's Halloween and VACAYA & Panama Jack are ready with both tricks AND treats! Tonight, don't miss our Halloween Costume Extravaganza poolside before we dance the night away. You'll have the chance to walk away with our coveted "ZZOLO" Award. We know… most of you have NO IDEA what that is, but you will soon enough. And we promise… it's worth it!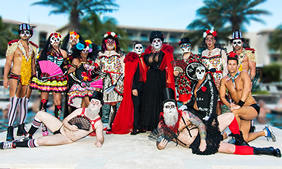 Day 3, Monday, November 01, 2021
Day of the Dead
Today is hands down the most special day of our week here in Mexico. It's Día de los Muertos (or Day of the Dead), Mexico's celebrated holiday for those who've moved on to the spiritual world. It's a day like no other in the world and we'll celebrate it authentically with our Mexican brothers and sisters both here at the resort and in the Playa del Carmen City Center. "¡Hay más tiempo que vida!" ("There is more time than life!"). Our first V-Dance of the week takes place this afternoon, but it's not like any you've seen before. Expect the unexpected!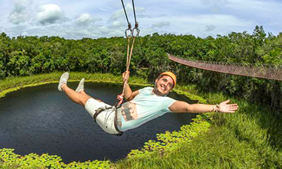 Day 4, Tuesday, November 02, 2021
The Adventure Continues
We've reached the midpoint of our time here in Mexico and the choices for today abound! Will you take advantage of one of the excursions and head off to the Mayan Ruins to explore the ancient sites? Or will you explore the crystal-clear waters of Xcaret, a water themed eco-archaeological park? Or are you looking to expand your friend circle through one of our planned social mixers? Here, you literally can have it all!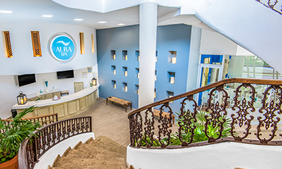 Day 5, Wednesday, November 03, 2021
The Spa & 5th Avenue Shops Call
The Riviera Maya sun shines brightly today as everyone settles in to Panama Jack powered by VACAYA. Is today the day you finally experience the Aura Spa's pampering treatments? Or are you looking to explore the city center? Panama Jack is just steps away from world-renowned "5th Avenue," a lively pedestrian walkway that offers dining, nightlife, and endless shopping opportunities at internationally recognized boutiques. Can't decide? We don't blame you. There's so much to see and do.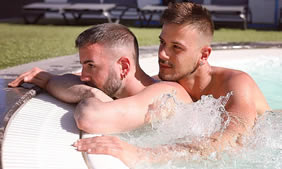 Day 6, Thursday, November 04, 2021
Sun's Out! Buns Out!
Feeling adventurous? Want to avoid tan lines and a sand-filled swimsuit? Why not go au natural at our clothing optional rooftop deck and hot tub? If being naked isn't your definition of utopia (and we totally understand if it's not), maybe try a little volleyball on the beach. Or how about a Mexican cuisine cooking class? No matter your "state of dress" preference for the afternoon, we've got something to "suit" just about everyone! After a fun dinner at one of the resort's restaurants, don't miss the chance to dance poolside as we celebrate the night away!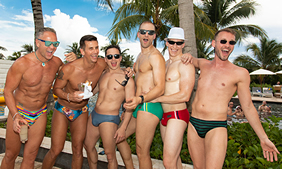 Day 7, Friday, November 05, 2021
Relax. Refresh. Rejuvenate.
Where does the time go? Panama Jack's inclusions, adventure, rejuvenation, and connections are waiting to be discovered around every corner. No matter your choice, you've entered UTOPIA and it'll be hard to say goodbye… guaranteed. Our last V-Dance of the week takes place this afternoon and we can't wait to see you there!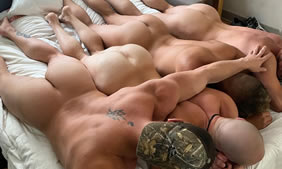 Day 8, Saturday, November 06, 2021
Check Out
Parting is such sweet sorrow. Our time here in Mexico officially comes to an end today. Many of you will, of course, extend your stay here at Panama Jack Playa del Carmen
and other hotels in the area, while many others will return home today. Whether you stay here or head home, we wish you the safest of journeys.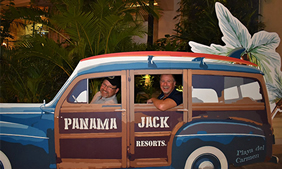 Panama Jack offers a wide variety of fun activities. Enjoy pool games, savory wine and zesty tequila tastings, cooking classes, adventurous kayak outings, foam parties, taco fests by the pool, mini-golf, and so much more!
Dine in any one of the six à la carte restaurants and discover a new wine perfectly matched with your meal or let a mixologist create a signature cocktail for you in any of the six bars or lounges. Sit back and enjoy pool and beach waiter service or pamper yourself in the world-class spa.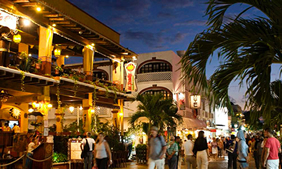 Panama Jack is just steps away from the world renowned "5th Avenue," a lively pedestrian walkway that offers dining, nightlife, and endless shopping opportunities at internationally recognized boutiques. As you wander, keep your eyes peeled for street performers, ranging from fire breathers and painted mimes, to musicians and break dancers. And most importantly, don't be afraid to journey beyond 5th Avenue.
If you have the time, there are dozens of shops and restaurants located a few blocks on either side of Quinta Avenida, too. If you like trying different flavors of Tequila, you can stop by one of the many stores and find the flavor you like best.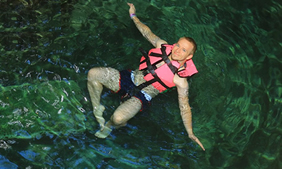 Playa del Carmen is neighbored by multiple eco-adventure theme parks, awe-inspiring archeological sites, and an astonishing Caribbean coast.
Options abound, including Xcaret's eco-adventure parks, local coral reefs with SCUBA or snorkeling, Río Secreto natural reserve, or magical dining experiences at the Cirque de Soleil La Joya.
With a beautiful coastal location for a number of daytime activities and an energetic nightlife that often features world-famous music festivals, you're sure to find something to do no matter your taste.
Panama Jack will make it easy for our guests to plan and purchase excursions at the best prices in advance or on site. We'll present excursions for purchase about 60 days prior to departure.