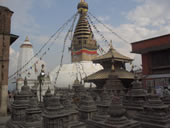 11-day Nepal and Bhutan luxury gay group adventure. Immerse yourself in the natural beauty and culture of two beautiful Himalayan Kingdoms in one magical tour. Enter the serene and spiritual lands of Nepal and Bhutan, and experience the countries' rich histories and unique cultural heritages. From the brightly colored fluttering prayer flags of Nepal to the elaborate traditional dress of the Bhutanese, these fascinating countries will delight your inner explorer.
While the natural sights of this incredible region are hard to surpass, this tour does not neglect the local culture and traditions. Learn the ancient arts of traditional healing, meditate with monks in centuries-old monasteries, and shop at markets crowded with local artisans. And you'll do all this while staying in a premium selection of the region's finest hotels as a Brand g host ensures your comfort throughout.
In Nepal, you'll wander Kathmandu's old narrow alleys, carved temples and bustling markets, visit Durbar Square, the 5th-century Swayambhunath stupa, explore the medieval city of Bhaktapur and catch a birds-eye-view of Everest with an optional 1-hour mountain flight.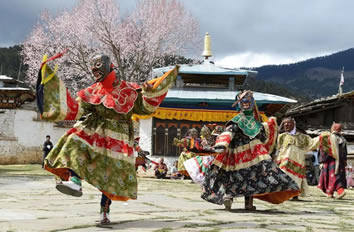 In Bhutan, you'll discover the impressive 12th-century Changangkha Lhakhang temple, visit the Folk Heritage Museum, the 108 memorial stupas (Druk Wangyal Chortens) and climb to the cliff-side Taktsang monastery (Tiger's Nest) perched 3,000 ft. above the lush valley.
You can easily combine the Nepal and Bhutan trip with our Splendors of India Cruise and Tour for a comprehensive 25-day vacation.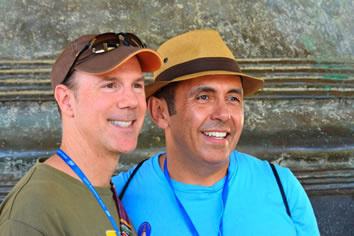 • Visit UNESCO World Heritage Sites of Pashupatinath and Kathmandu Durbar Square
• Explore Boudhanath, the largest Buddhist stupa in Asia
• Visits to Bhaktapur and Patan, the oldest settlements in the valley
• Swayambhunath the "Monkey Temple"
• Optional 1-hour mountain flight, focus on Mt. Everest
• Experience Thimphu, the capital of the Kingdom of Bhutan and the nation's largest city
• Stroll the Thimphus Farmers Weekend Market
• Tour the Motithang Takin Preserve, a wildlife reserve area for Takin, the national animal of Bhutan
• Visit the fortresses Punakha Dzong and Rinpung Dzong
• Hike to the striking monastic retreat of Paro Taktsang, the "Tiger's Nest"
• Includes program internal flight from Kathmandu to Paro
• Includes 10 Breakfasts, 6 Lunches and 9 Dinners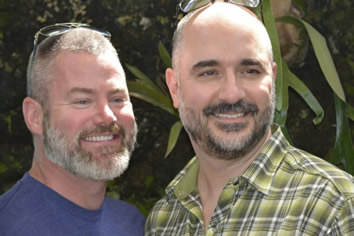 Day 1 - Friday, October 14, 2022
Arrive in Kathmandu, Nepal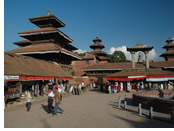 Arrive at the Kathmandu airport, where you will be greeted by a Brand g representative, who will transfer you to the Hotel Hyatt Regency for check-in.
Kathmandu, is the capital of the Nepal, and one of the world's oldest cities.
Meet your fellow guests at a welcome reception at approximately 5:30pm today.
Dinner is include tonight at the hotel.
Meals: Dinner
Hotel: Hyatt Regency Kathmandu Resort Hotel
, Kathmandu, 5*
Day 2 - Saturday, October 15, 2022
Kathmandu - Patan - Bhaktapur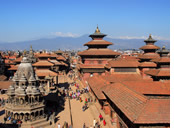 This morning sightseeing tour of Patan City, the oldest settlement in the valley. This venerable city of artists began to be built around 299 AD and located on the southern bank of the Bagmati River five kilometers south-east of Kathmandu City, perhaps has more Buddhist and Hindu temples than Kathmandu itself. Two-third of the people here are Buddhists. Local claim that the bronze and wooden gateways and windows, statues of deities, wood carving and metal works demonstrate Patan's superiority in craftsmanship and stone architecture. This could be true when one visits the small but exquisite Golden Temple tucked away in a small by-way and the Krishna Temple in the Patan Durbar Square.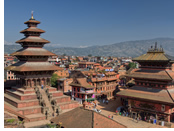 Following lunch at a local restaurant, we proceed to visit Bhaktapur, literally meaning "City of Devotees", calling it the "living Museum" is more apt. Founded in 889 AD, with the Khasa Khusung and Hanumante Rivers on either side, Bhaktapur boasts of an immense palace complex in the center surrounded by numerous other temples which reflects the supreme craftsmanship of the city's artisans. In the middle of the Durbar Square stands the magnificent "pachpan jhyaley mahal" (Palace of 55 Windows), residence of the former kings. Other "must see's are the Big Bell, the stunningly exquisite Golden Gate, the five-tiered Nyatapola Temple, the Bhairab Temple and the wood carving and metal work museums in Dattaraya Square.
Meals: Breakfast, Lunch, Dinner
Hotel: Hyatt Regency Kathmandu Resort Hotel
, Kathmandu, 5*
Day 3 - Sunday, October 16, 2022
Kathmandu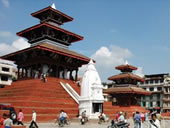 This morning we visit the Kathmandu Durbar Square, a UNESCO World Heritage Site, where one sees the old residence of Nepalese royalty, Hanuman Dhoka (The Monkey God's Gate) Palace which also houses a museum. Hanuman Dhoka is surrounded by a plethora of temples dedicated to Shiva the Destroyer, Vishnu the Preserver, Kali the Avenging Consort of Shiva, Indra the God of Rain and the magnificent four-storied Temple of Goddess Taleju, Protectors of the Valley, which is opened to the public only on one day of the year during Nepal's most important festival, Dashain. Here also one finds the temple of the Kumari, the Virgin Living Goddess who, several times a day will gracefully deign to come to her ornate first floor window to give audience to visitors. Nearby is the Kashtamandap temple, dedicated to Shiva and his son Ganesh (the God with the elephant head), and said to have been built from the wood of one single tree. The modern name Kathmandu is derived from Kashtamandap, meaning "House of Wood".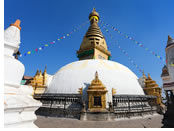 Thereafter we visit Swayambhunath, situated at a hill overlooking Kathmandu city, said to be over two thousand years, is one the oldest Buddhist stupa)in the world. Beneath the high spire and gilt copper pinnacle and on all four sides, the allseeing eyes of the Buddha gaze out at the world. The temple also represents the hybrid religion of Buddhism-Hinduism practiced by many inhabitants of the valley. Inside and outside the Temple area are many superbly crafted images of the Buddha and other entities losely linked to Buddism. Visitors have dubbed Swayambhunath the "Monkey Temple" as a large group of monkeys resides in the vicinity.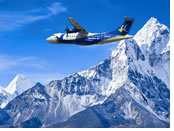 Optional 1-hr Mountain Flight (subject to weather conditions):
Mountain flight is all about the view of various mountains in Nepal from Langtang Range to Kanchanjunga range but the main focus is to view MOUNT EVEREST. 5:30 am pick-up from the hotel. Mountain Flight will depart at 6:30 am. Every guest has a window seat to ensure maximum visibility. The duration of flight will be one hour. (Additional cost of $325 per person)
Meals: Breakfast, Dinner
Hotel: Hyatt Regency Kathmandu Resort Hotel
, Kathmandu, 5*
Day 4 - Monday, October 17, 2022
Kathmandu, Nepal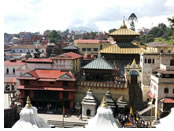 This morning, enjoy a sightseeing tour of Pasupatinath, Nepal's most sacred Hindu temple and pilgrimage destination.
Afternoon is at leisure.
Optional – cooking lesson of a momo followed by Tibetan Gyakok dinner. (Additional cost $45 per person)
Meals: Breakfast
Hotel: Hyatt Regency Kathmandu Resort Hotel
, Kathmandu, 5*
Day 5 - Tuesday, October 18, 2022
Kathmandu, Nepal / Paro / Thimphu, Bhutan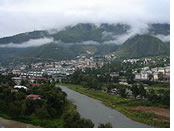 Late morning transfer to airport for flight to Paro.
On arrival at Paro airport drive to Thimphu (approx 1-hr), the capital of the Kingdom of Bhutan and the nation's largest city. Check into Le Meridien hotel.
The remainder of the day is free to relax before dinner tonight at the hotel.
Meals: Breakfast, Dinner
Hotel: Le Meridien Thimphu Hotel
, Thimphu, 5*
Day 6 - Wednesday, October 19, 2022
Thimphu, Bhutan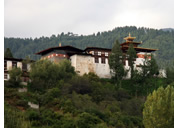 Today sightseeing of the majors places of the city. In the morning visit an Arts & Crafts School, the Folk Heritage Museum, a traditional house that showcases rural life. Exhibits and cultural shows are held in the museum compound; and the Changangkha Lhakhang: constructed in the 15th century, is one of the oldest temples in the Thimphu Valley, and is dedicated to Avalokiteshvara, the Buddhist emanation of compassion. The temple affords wonderful views over the entire valley.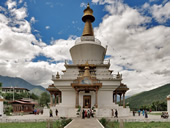 After lunch in a local restaurant, visit Memorial Chorten (from outside), which dominates the skyline of Thimphu. It was built in 1974 to honour the 3rd King of Bhutan. This prominent landmark in the city has golden spires and bells; the Motithang Takin Preserve, a wildlife reserve area for Takin, the national animal of Bhutan. Native to Bhutan, India, and China, the Takin are docile creatures whose unique appearance attract special attention. Local legends attribute the creation of these animals in Bhutan by a 15th century saint name Drukpa Kunley, popularly known as the Divine Madman; the giant Statue of Sakyamuni Buddha, sitting on top of Kuensel Phodrang hill is a 51.5m bronze statue of the founder of Buddhism. The site also offers unobstructed views over the Thimphu Valley – especially stunning at sunset. and Takin Preservation Center.
Meals: Breakfast, Lunch, Dinner
Hotel: Le Meridien Thimphu Hotel
, Thimphu, 5*
Day 7 - Thursday, October 20, 2022
Thimphu / Punakha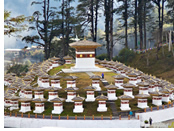 Breakfast at the hotel. Later drive to Punakha (approx. 3 hrs) crossing over the Dochu-La Pass. Weather permitting enjoy the beautiful views of the mountains from the pass. Visit the 108 memorial stupas known as Druk Wangyal Chortens that were built by Ashi Dorji Wangmo Wangchuk, the eldest Queen Mother. We descend into Punakha Valley and visit the ChimiLakhang, the fertility temple dedicated to famous Buddhist Lama Drukpa Kunley.
Lunch in the local restaurant and check into hotel. Punakha was the capital of Bhutan until the 1960's, and still retains the serene atmosphere of a place with a regal past.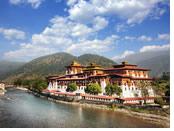 In the afternoon, visit the Punakha Dzong (fortress) majestically standing on an island between the confluence of the Pho Chhu and Mo Chhu rivers, the city's dzong is one of the most photogenic of all Bhutan's ancient fortresses. The dzong is joined to the mainland by an arched wooden bridge, and contains many precious relics from the days when successive kings reigned the kingdom from this valley.
Meals: Breakfast, Lunch, Dinner
Hotel: Dhensa Boutique Resort
, Punakha, 4*
Day 8 - Friday, October 21, 2022
Punakha - Nezigang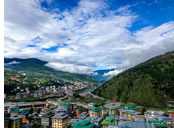 Today, we visit Nezigang, which is the starting point for a hike through cultivated fields and small villages, with a gradual climb to the Khamsum Yuley Namgay Chorten, a shrine recently built by the royal family. It is an amazingly elaborate structure with a rainbow of Guru Rimpoche images and superb views of the Punakha Valley. Hike back down and follow ancient riverside trails and see the longest suspension bridge.
Following lunch in a local restaurant, we drive to Nobgang village. On the way we visit the Shechen Lhendup Dorji Lakhang (nunnery).
Meals: Breakfast, Lunch, Dinner
Hotel: Dhensa Boutique Resort
, Punakha, 4*
Day 9 - Saturday, October 22, 2022
Punakha / Paro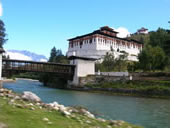 Following breakfast, we drive to Paro (approx 4-hrs). Upon arrival we'll have lunch at a local restaurant and check into our hotel. Paro is a historic town with many sacred sites and historical buildings scattered through the area. The Paro Valley is wide and verdant and is recognized a one of the most beautiful in all Bhutan.
This afternoon we'll visit the National Museum (Ta dzong), which has a fascinating collection of arts relics, religious Thangkha paintings and a national history collection; and the Paro Dzong Rinpung Dzong, the "fortress of the heap of Jewels" was built in 1646 by Shabdrung Ngawang Namgyal on a hill above the township. Walk over the old Cantilever bridge and enjoy some free time in Paro town.
Meals: Breakfast, Lunch, Dinner
Hotel: Zhiwa Ling Hotel, Paro, 4*
Day 10 - Sunday, October 23, 2022
Paro - Paro Taktsang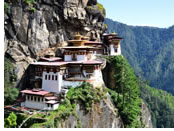 Following breakfast, enjoy a hike to the striking monastic retreat of Paro Taktsang, the "Tiger's Nest" (3120m), built into a sheer cliff face above the forested Paro Valley. This is the most famous temple in Bhutan and one of the venerated pilgrim sites of the Himalayan world. Padmasambhava, the great 8th century Buddhist saint and teacher, is thought to have landed at this spot after flying over the mountains from Tibet on the back of a tigress, thus bringing the teachings of Buddhism to Bhutan. The primary temple was built around Padmasambhava's meditation cave in 1684.
Enjoy lunch at a teahouse midway with fantastic views of the monastery.
Meals: Breakfast, Lunch, Dinner
Hotel: Zhiwa Ling Hotel, Paro, 4*
Day 11 - Monday, October 24, 2022
Paro / Departure
After breakfast at the hotel, you are transferred to the airport for your journey home on onward to a new destination.
Or, you may choose to join our Splendors of India & The Ganges River Luxury All-Gay River Cruise & Tour 2022, October 24 - November 06, 2022
Meals: Breakfast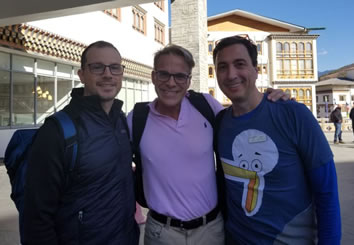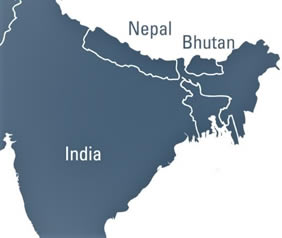 Hyatt Regency Kathmandu Resort Hotel
, Kathmandu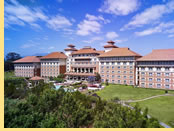 Hyatt Regency Kathmandu is a 5 star luxury hotel and resort in Kathmandu, Nepal offering internet access to all guests. The hotel is set on 37 acres of landscaped grounds, and created in the traditional Newari style of Nepalese architecture.
This beautiful hotel and resort is located on the road to the Boudhanath Stupa: the most holy of all Tibetan Buddhist shrines outside of Tibet, and a UNESCO World Heritage Site which is walking distance from the hotel - about five minutes away.
The Hyatt Regency Kathmandu
offers a spa, a fitness centre and a steam and sauna room. Complementing these is a massage centre, a picturesque garden. Guests can also seek travel related assistance at the tour desk.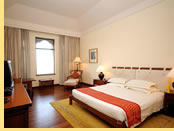 Air-conditioned rooms feature heating facilities as well and are equipped with a work desk, wardrobe, electronic safe, seating area, minibar and a satellite TV. The en suite bathrooms feature complimentary toiletries.
Dining options include the Rox Restaurant which features South European flavours. The Café offers local and International cuisines. Refreshing beverages can be enjoyed at the Rox Bar and The Lounge. Room service options are available throughout the day.
Le Meridien Thimphu Hotel
, Thimphu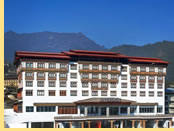 Located in the heart of the capital city, Thimphu, the Le Méridien Thimphu
invites the discerning guest to engage and discover the legendary 'Land of the Thunder Dragon', Bhutan.
Offering an indoor swimming pool, a spa and wellness centre and a fitness centre, Le Méridien Thimphu is located in Thimphu. The Memorial Chorten is 500 m and the National Library & Archives of Bhutan and the National Institute for Zorig Chusum are within 1.8 km.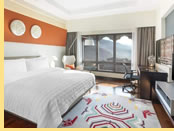 Each air-conditioned room here will provide you with a minibar and a seating area. Featuring a bath or shower, private bathroom also comes with a hairdryer and bathrobes. You can enjoy mountain view from the room.
Dining options include Latest Recipe that serves seasonal specialities and Sese Shamu that serves only dinner. Refreshing beverages can be enjoyed at Latitude 27.
Dhensa Boutique Resort
, Punakha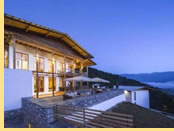 Dhensa Boutique Resorts sits in the heart of the verdant and lush Punakha Valley. Flanked by thick pine forests, it overlooks the Punakha river and hundreds of paddy fields that stair-step down to the valley floor. It is surrounded by plentiful walking and trekking trails.
From Dhensa Punakha, it is just a five-minute trek up the mountain to the magnificent Sangchhen Dorji Lhuendrup Lhakhang Nunnery, which houses one of the biggest bronze statues of Chenrigzig (Avalokiteshvara) in the country.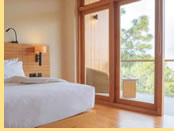 Featuring free WiFi, a restaurant and a sun terrace, Dhensa Boutique Resort
offers accommodations in Punakha. The resort has a spa center and sauna, and guests can enjoy a drink at the bar. Free private parking is available on site.
Every room is fitted with a TV. Certain accommodations include a sitting area for your convenience. You will find a coffee machine in the room. Each room includes a private bathroom equipped with a bathtub. For your comfort, you will find bathrobes and free toiletries.
Zhiwa Ling Hotel, Paro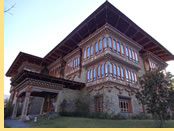 Set on 10 acres, Zhiwa Ling Hotel has many amenities available to guests. The spa offers all the facilities guests could want; a fitness centre, sauna, steam room as well as a traditional Bhutanese outdoor hot-stone bath. There is a business centre, Tea House, two fully equipped conference rooms, a Meditation House and the hotel has it's own greenhouse. The two restaurants specialise in contemporary international cuisine and classic Bhutanese dishes. Gathering at the Mad Monk Bar for a pre dinner drink or after-hours fun is a highlight for guests.
Honoring the spiritual heritage of this ancient Buddhist kingdom, a temple has been built into the second floor of the hotel, made with 450-year-old timbers from the famous Gangtey Monastery, the crowning glory of this new cultural landmark.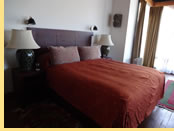 The accommodation will provide you with air conditioning and a seating area. Featuring a shower, private bathroom also comes with a hairdryer. You can enjoy mountain view from the room.
At Zhiwa Ling Hotel you will find a 24-hour front desk, a garden and a terrace. Other facilities offered at the property include a shared lounge, a games room and a tour desk. An array of activities can be enjoyed on site or in the surroundings, including cycling.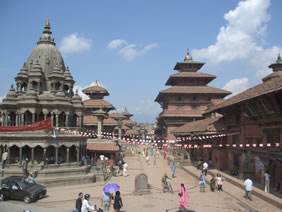 Flight Recommendations
You should schedule your flights to arrive in Kathmandu, Nepal (KTM) by October 14, 2022. The first activity will be a welcome reception and dinner at the hotel, which will begin at approximately 5:30pm. You should schedule your departure from Paro (PBH) at at anytime on October 24, 2022. Hotel check-out time is 11am that day.***
***If you are combining this program with the India program, your flight from Paro to Delhi will be arranged by Brand g Vacations. Consult your confirmation for the India program to determine your flight home at the completion of that program.
How can I communicate with home while away?
Internet service is available at all land accommodations. You should check with your cell provider to determine if you have coverage in this region or if you can add coverage for the duration of the trip. Cell service will not be available in all areas. Contact information for the hotels will be provided in your final travel documents.
What is the local currency?
Nepal uses the Nepalese Rupee; and the Bhutanese Ngultrum is the currency of Bhutan. Major credit cards are accepted in most shops.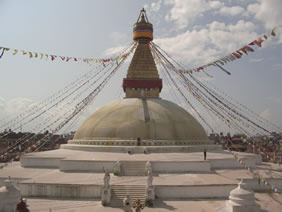 What are the passport or visa requirements?
A passport, which is valid for six months after your last date of travel, is required for this trip.
Visa Requirements – citizens of almost every country require tourist visas to enter India, Nepal and Bhutan.
You will require an entry visa for Nepal. The Nepalese visa may be obtained upon arrival to the airport in Kathmandu for $25 USD payable by cash or credit card.
We will obtain the Bhutan visa on your behalf approximately 45 days prior to the trip start date. We will require a clear copy of your passport and a clear passport photo in order to process this visa.
If you decide to combine this trip with our Splendors of India program, you will also need to obtain an entry visa to India, which you will need to apply for in advance. The soonest you may apply is 3 months prior to your last day in India. We will remind you at the appropriate time and provide instructions.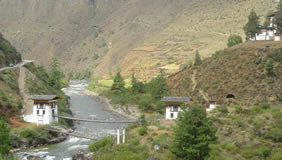 What to wear?
Attire is casual and comfortable during the day, with sturdy footwear for excursions. Evening wear consists of open-neck shirts, slacks, or similar attire. Fleece jackets or sweaters are advisable for cool evenings. Other items to consider: shorts, swimsuit, hat, sunglasses and rain jacket.
What if I have dietary requirements?
We will make every effort to accommodate special dietary requests. Please inform our office at least 45 days prior to departure of these requests.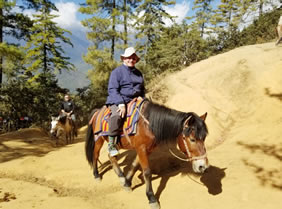 How do I power and charge my devices?
The voltage in Nepal and Bhutan is 220/50Hz. To use any electrical product from the US that is not dual voltage, you will need an electrical converter. We recommend bringing an adapter for use in the hotels. The most common socket types are the two round-prong plug type such as is found in Europe or three round-prong plug such as that found in India. Because the voltage may fluctuate at times, we also recommend unplugging your devices when not in use or when leaving them unattended.
What are pre-paid gratuities?
Gratuities are customary expressions of appreciation for a job well done. It is our goal to ensure that the service you receive is as wonderful as the sites you visit. Gratuities for the included portions of this program have been pre-paid. At your own discretion you may choose to provide additional tips.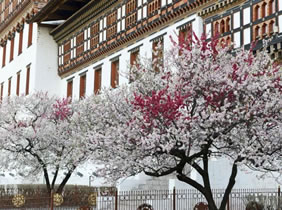 What is the altitude like for this trip?
In spite of being among the highest peaks in the world, the elevations you will experience on our Bhutan/Nepal custom tours are not extreme. Kathmandu is at 4,500 feet; Paro, which is situated in foothills of the Himalayas is at 7,300. There is time to move at a comfortable pace, allowing travelers to adjust to the mountain air. Keeping hydrated, avoiding excessive alcohol, eating frequent, light meals, and getting plenty of rest will help with any effects of altitude that you may feel.
Are vaccinations required?
Most US travelers are covered by routine vaccinations. US citizens should consult the Centers for Disease Control website or your health care provider for vaccination requirements and recommendations. Citizens of all other countries should consult their government's national disease center or their physician.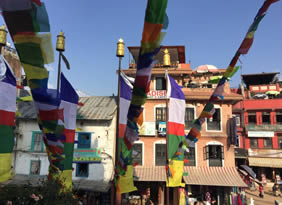 Are there any luggage restrictions?
Yes, here are the known luggage restrictions for this trip.
Druk Air:
Kathmandu to Paro Coach 30kg (66LB) / Business Class 40kg (88LB)
Restrictions are subject to change.
What arrival and departure transfers are included?
This package includes an arrival transfer from the Kathmandu, Nepal Airport (KTM) to the Hotel Hyatt Regency and a departure transfer from the Zhiwaling Hotel Paro to the Paro Airport (PBH)). If you extend your stay at these properties, the transfers will still be included. Contact our team or your travel agent to ensure arrangements outside of these arrival and departure transfers will be included. Booked guests should provide their arrival and departure details 45 days prior to the trip to ensure transfer availability.