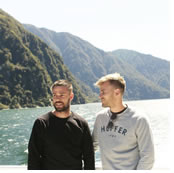 Immerse yourself in the natural beauty and a culture of the last country to be inhabited by humans. New Zealand is blessed with perhaps the world's largest concentration of stunning natural wonders, including geothermal pools, dramatic peaks, dense forests, scenic fjords and beaches. Yet New Zealand is much more than striking natural landscapes – and on a Brand g luxury all-gay tour, we unveil the country's cosmopolitan side as well.
Discover New Zealand's award-winning restaurants and wineries on a personally crafted culinary tour of the country, or take in the best of Queenstown and Auckland.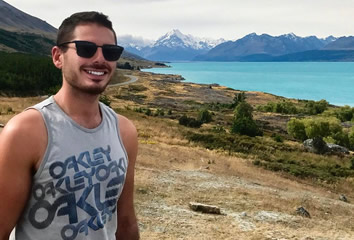 In Rotorua, gaze at the turquoise-blue waters of geothermal pools, a cloud of mist hanging over the water, for a truly otherworldly experience. Head for postcard-perfect Milford Sound, exploring it from an awe-inspiring cruise to the mouth of the fiord.. Set off on a jetboat safari on the Dart River, or hike on the shores of the flowing ice river of Franz Josef Glacier.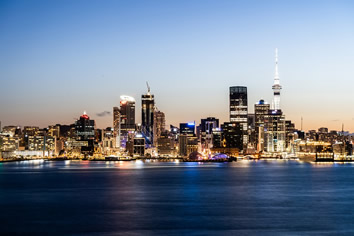 Day 1 - Monday, February 27, 2023
Auckland, New Zealand
Welcome to New Zealand! Auckland is a colourful vibrant city, often called the 'city of sails'. Its spectacular setting on sparkling Waitemata Harbour and its major landmarks are the Harbour Bridge, the Sky Tower and Rangitoto Island, the region's youngest volcano. Visitors can enjoy the magnificent harbour, enjoy the many and varied activities of the city or walk and hike in the nearby hills where native flora and fauna abound.
Upon arrival, your guide and driver will be waiting for you and will whisk you away to your luxury boutique accommodation. Your room will be available for immediate check-in for a seamless experience.
After a rest we'll visit Auckland Museum where upon arrival, you are treated to a performance of traditional song and dance by a Maori cultural group. Join your fellow guests high above the city at The Sugar Club in Auckland Town for a special welcome dinner.
Meals: Dinner
Hotel: SO/ Auckland Hotel
, Auckland, 5*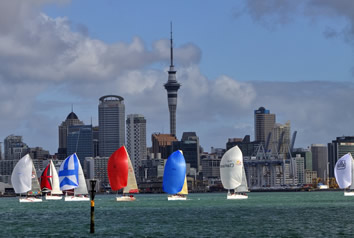 Day 2 - Tuesday, February 28, 2023
Auckland, New Zealand
After an included breakfast join us for a short walk to the Waterfront where you will ferry to Waiheke Island for an unforgettable gourmet food and wine tour. Upon arrival to Matiatia, you will be greeted on the wharf by a local representative and taken on scenic drive along northern route, taking in spectacular views of the Hauraki Gulf and Coromandel Peninsula.
First up, visit a local vineyard where they produce fully certified organic Syrah, Merlot, Sauvignon Blanc, Chardonnay and Rosé wines. Here you will also taste estate–grown olive oil and New Zealand avocado oil. The winery decks are tucked among the Pohutukawa trees overlooking Waiheke Island's Kennedy Bay and are the perfect setting to sample a range of fine wines.
Next, more wine tasting at a nearby picturesque olive grove vineyard, that really put an emphasis on fresh seasonal produce. Sit back and enjoy the scen ic views as you indulge in a gourmet platter lunch with included Te Matuku Bay Oysters and sample cheeses. Finally, visit the highest vineyard on Waiheke Island with north facing sun-soaked hillsides of vines including terraces of traditional and elegant Alsace-style vines close to the winery.
There are spectacular 360 degree views over the island and beyond to the gulf islands. Taste as range of their wine, including Cabernet Sauvignon, Pinot Gris and Flora plus Batch Winery's sparkling wine de Blancs.
Meals: Breakfast & Lunch
Hotel: SO/ Auckland Hotel
, Auckland, 5*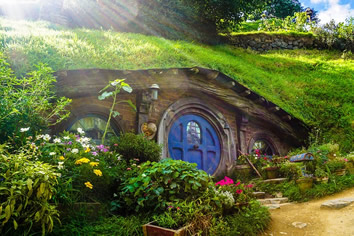 Day 3 - Wednesday, March 01, 2023
Auckland / Rotorua, New Zealand
In the morning, we will depart from the Auckland Hotel after breakfast and depart for Rotorua, New Zealand's cultural heartland. Here the earth's crust is so thin that its molten heart bubbles and steams at the surface. Often called 'Sulphur City' this town on an active fault line and the area's bizarre natural wonders have fascinated visitors since the 1840's. Home to one-third of the country's Maori population, Rotorua holds a strong sense of Maori community and culture.
Journey South through lush rural farmland to the Hobbiton Movie Set. Hidden on private farmland near the town of Matamata, you will find the carefully created 'village' of Academy Award winning movies, the Lord of the Rings Trilogy. Enjoy a visit to the Party Marquee where a full-themed, and unforgettable, dining experience awaits!
Continue to the Pullman hotel where you will enjoy an included dinner with your fellow guests.
Accommodation: Pullman Rotorua Hotel
Meals: Breakfast, Lunch & Dinner
Hotel: Pullman Rotorua Hotel
, Rotorua, 5*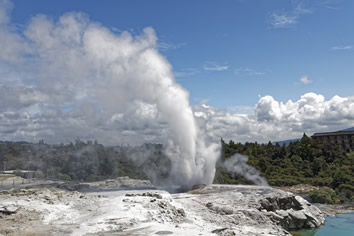 Day 4 - Thursday, March 02, 2023
Rotorua, New Zealand
Following breakfast, we venture to Hell's Gate, where the center of the earth meets the sky.
You'll gain access to world-famous attractions, Hell's Gate Mud and Sulphur Spa, and cool plunge pools. Open and clean your skin by lathering it in the unique mud, before exfoliating and cleansing with a soak in the sulphur spa. The healing properties of the thermal mud and sulphur mineral water have been used by local Maori for over 800 years.
Next, experience a kiwi bird sanctuary for an insider experience. Visit the incubation room and hatchery, the kitchen where the artificial diet for the young kiwi is prepared and the nursery room filled with "brooders"- breeding units where the kiwi chicks remain until they are large enough to be moved to outdoor enclosures. End your visit in the indoor nocturnal area where kiwi enclosures are completely open, and the kiwi and visitors can interact.
Later, depart for an evening cultural experience of storytelling and traditional Maori cuisine at Te Puia. When you visit Te Puia at night, your evening tour takes you on an in-depth experience of the customs and traditions of Maori, with a traditional powhiri and haka performance. Enjoy a traditional hangi-cooked style meal that incorporates indigenous ingredients, and contemporary Maori dishes.
Before returning to the hotel, conclude your evening under the stars with a guided viewing of Pohutu, the largest natural thermal geyser in the southern hemisphere.
Meals: Breakfast & Dinner
Hotel: Pullman Rotorua Hotel
, Rotorua, 5*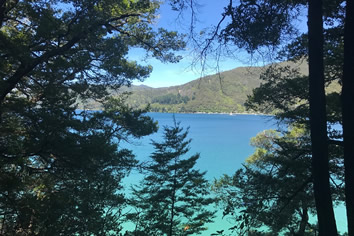 Day 5 - Friday, March 03, 2023
Rotorua / Blenheim, New Zealand
Rise and shine for an early flight to Blenheim, commonly referred to as the gateway to Wairau Valley, New Zealand's world-famous wine country. The region, often records the highest number of sunshine hours in New Zealand and the Marlborough Sounds. An idyllic, unspoilt playground it is indented by dozens of secluded bays, pristine beaches, and blue inlets. This is New Zealand's most successful grape-growing region, producing many deep-flavoured wines of international recognition.
Upon arrival we continue on to stunning Picton for an afternoon scenic delight. Departing Picton wharf, board your privately chartered vessel and enjoy the natural beauty of the Queen Charlotte Sound. Cruise near an aquaculture farm and learn about this industry in the Marlborough Sounds.
Take in the picturesque scenery as you sit back and indulge in a 2-course seafood lunch with included paired wine. Your exclusive Seafood cruise, features Regal salmon, Cloudy Bay clams and Greenshell mussels with Marlborough Sauvignon Blanc for the definitive wine/food match.
After disembarking the cruise we continue-to Blenheim where your room will be available for immediate check-in and an afternoon at leisure. Tonight, enjoy a relaxed dinner at the hotel.
Meals: Breakfast, Lunch, Dinner
Hotel: Scenic Hotel Marlborough
, Blenheim, 4.5*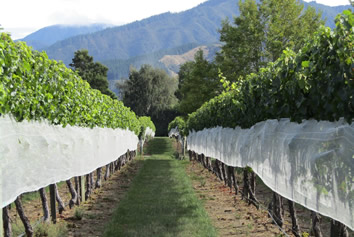 Day 6 - Saturday, March 04, 2023
Blenheim, New Zealand
Following breakfast, meet your local wine specialist and depart for a private full-day Marlborough, epicurean food and wine experience.
Start the day with an educational tour at Wither Hills winery before visiting Marlborough's Iconic winery Cloudy Bay for a tasting of the range of world renowned wines. Learn about the iconic Marlborough region, the awe-inspiring wineries, varietal of wine blends and the local people who create them.
Following lunch enjoy Forrest Estate winery and finish with a sweet treat tasting at Makana Chocolates, before returning to your hotel for the rest of the afternoon at leisure.
Tonight, join your fellow travelers for dinner at a multi award-winning local restaurant.
Meals: Breakfast, Lunch, Dinner
Hotel: Scenic Hotel Marlborough
, Blenheim, 4.5*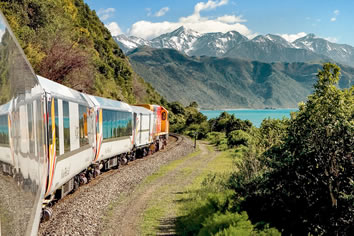 Day 7 - Sunday, March 05, 2023
Blenheim / Christchurch, New Zealand
Following a morning and lunch at leisure, transfer to Blenheim Railway Station where you will board the iconic Coastal Pacific Train, with service between Picton and Christchurch.
The Coastal Pacific takes you breathtakingly close to the Pacific Ocean, where the roaring sea meets enormous bush-clad mountains. Over your 5-hour journey you will explore the stunning Kaikoura Coastline, famous for its marine mammals and whale watching, through the idyllic Canterbury Plains, concluding in Christchurch, commonly known as the 'garden city'.
Upon arrival in Christchurch we will go directly to our hotel where your room will be available for an immediate check-in.
Following check-in, we meet back up in the lobby to proceed on foot to a local restaurant for a Chef's Table dinner in the scenic Botanical Gardens.
Meals: Breakfast & Dinner
Hotel: Sudima Christchurch City Hotel
, Christchurch, 5*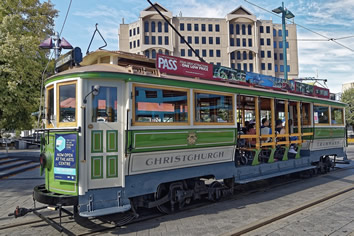 Day 8 - Monday, March 06, 2023
Christchurch, New Zealand
Rise early this morning and depart on your morning sightseeing tour of Christchurch city. Discover the fascinating history as you take in the incredible sights and its surrounds. See firsthand how this beautiful city is recovering from the devastating 2011 earthquake.
Enjoy a relaxed lunch in Cathedral Square before enjoying an afternoon and evening at leisure in Christchurch. Go punting on the Avon, ride the Gondola to the top of Mount Cavendish, visit the Antarctica Center, or kick back and relax in the stunning botanical gardens.
Meals: Breakfast & Lunch
Hotel: Sudima Christchurch City Hotel
, Christchurch, 5*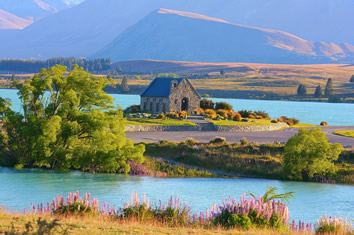 Day 9 - Tuesday, March 07, 2023
Christchurch / Queenstown, New Zealand
Following an early breakfast today, meet in the hotel lobby and set out for Queenstown! Our first stop today is Lake Tekapo, a truly remarkable turquoise colored lake set against the mountainous drama of the Southern Alps. We'll visit the Church of the Good Shepard, situated right on the shores of the lake.
Then we continue onto Lake Pukaki, the largest lake in the MacKenzie Basin area and the perfect vantage point to see Aoraki/ Mount Cook in all it's glory. After, we weave down to Wanaka, where we'll stop for an alfresco lunch in this picturesque ski town overlooking Lake Wanaka in the heart of Mount Aspiring National Park. Enjoy a scenic walk around the lake and an opportunity to see New Zealand's most famous tree.
Then sit back and enjoy the final 2-hour scenic journey through picturesque green valleys and snow-capped mountains before finally arriving at your Queenstown hotel. Your room will be available for immediate check-in and an evening at leisure.
Meals: Breakfast & Lunch
Hotel: QT Queenstown Hotel
, Queenstown, 5*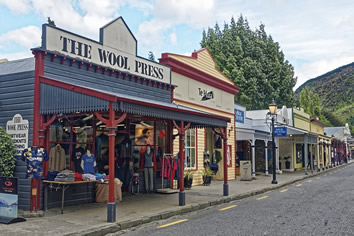 Day 10 - Wednesday, March 08, 2023
Queenstown, New Zealand
Following breakfast, we visit Arrowtown, an old goldmining settlement that retains much of its early character. It was the discovery of gold in Arrowtown which led miners by the thousands into the district and resulted in the formation of settlements adjacent to the gold diggings. From 1869 there was small community of Chinese miners living in Arrowtown.
Next, we visit the Kawarau Bungy Bridge. If you have heard of Bungy, you've heard of the Kawarau. The world's first and most infamous of bungy! If you choose to take the leap there are a variety of options; topple over backwards, forwards, with another person, spin or somersault.
Next, stop is Gibbston Valley Winery, one of the pioneers of this region's wine industry for a wine tasting. This small, sophisticated winery, set in spectacular mountain surroundings, has earned an international reputation for Pinot Noir as well as other thriving grape varieties such as Chardonnay, Pinot Gris, Riesling and Pinot Blanc. Their 2000 Reserve Pinot Noir was named the Champion Pinot Noir of the World!
Conclude your visit to Gibbston Valley Winery with an exclusive tasting in New Zealand's largest wine cave followed by a seasonal lunch including paired wines before returning to Queenstown for an evening at leisure.
Meals: Breakfast & Lunch
Hotel: QT Queenstown Hotel
, Queenstown, 5*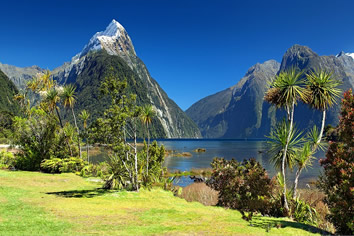 Day 11 - Thursday, March 09, 2023
Queenstown - Milford Sound, New Zealand
Today, we journey over the Devil's staircase and along the shores of Lake Wakatipu to Te Anau. We'll travel through the rainforest of World Heritage Fiordland National Park, sighting glacier and mountain ranges. Our drive through the hand-hewn Homer Tunnel provides numerous photo opportunities afforded by the Mirror Lake, Pop's Lookout, Cleddau Valley and the Chasm, Mitre Peak and Bowen Falls before finally reaching Milford Sound.
On reaching Milford Sound, join a spectacular one hour and 40-minute cruise to the mouth of the fiord on a spacious, modern vessel with excellent viewing opportunities. Keep a look out for seals basking on the rocks, dolphins, and penguins.
Enjoy scenic highlights such as Mitre Peak and Pembroke Glacier. Informative commentary explains the history and highlights points of interest during the cruise. Following the cruise, re-join your luxury coach and transfer back to Queenstown where you'll be at leisure for the evening.
Meals: Breakfast & Lunch
Hotel: QT Queenstown Hotel
, Queenstown, 5*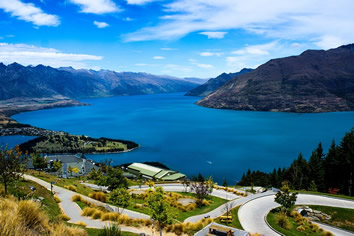 Day 12 - Friday, March 10, 2023
Queenstown, New Zealand
Following breakfast, you will be at leisure until the late afternoon.
No scheduled activities have been planned. Use this day to continue the exploration of Queenstown or choose from the endless list of optional touring*.
Tonight, join your group for a Farewell Feast at celebrated local restaurant. Choose from an extensive list of included premium beverages to enjoy with your meal.
Raise a glass to your fellow travelers and say farewell as this concludes your time spent in the lands down under, Cheers!
*Optional touring not included. A list of options and tour costs will be provided at least 30 days prior to the trip.
Meals: Breakfast & Dinner
Hotel: QT Queenstown Hotel
, Queenstown, 5*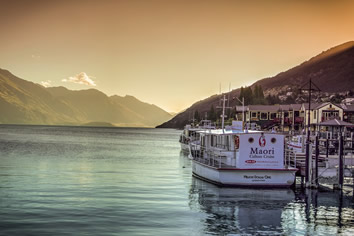 Day 13 - Saturday, March 11, 2023
Queenstown, New Zealand / Departure
Following check-out, transfer by private vehicle or coach to Queenstown airport. Proceed for check-in and boarding for your outbound flight.
Meals: Breakfast