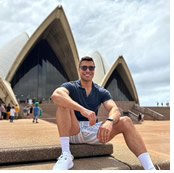 G'day and welcome to Australia, mate! A vast landscape with pristine beaches, iconic skylines and natural wonders are yours to explore on this 10-day gay adventure down under that ends with the world-famous Gay Mardi Gras in Sydney! Our adventure begins with our very own Aussie (Shane!), who will welcome you to his native home in Southeast Queensland with a real Australian 'barbie', some wildlife encounters (no, not Shane's family!), and endless white-sand beaches to check out.
After a couple of days settling in, we'll head to the red centre where we'll be introduced to the outback and the iconic 'Uluru' through the heart and soul of it's indigenous culture.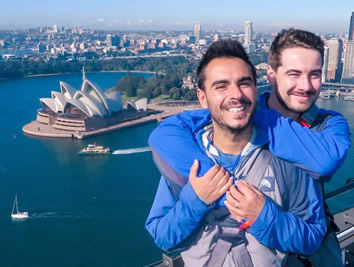 From Uluru, we head to Melbourne for 3 days to get a taste of this cultural and cuisine-fueled metropolis and its surrounds, before heading to Sydney to finish on a high with some harbour-cruising, bridge-climbing, beach-going days - all during one of the most famous Gay Pride celebrations in the world!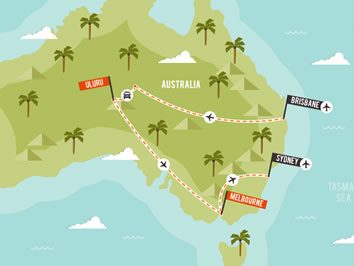 • All taxes
• Accommodations for your 10-day Australia gay tour experience
• All full breakfasts
• Three one-way domestic flights from Brisbane to Uluru, Uluru to Melbourne, and Melbourne to Sydney
• Australian BBQ with food and drinks (welcome dinner)
• Koala centre visit in Brisbane with transport
• Trip to Surfers Paradise with transfers
• Walking tour of central Melbourne
• 3 hour harbour cruise in Sydney Harbour
• Guided walks around Uluru (Ayers Rock)
• All transfers between itinerary stops
• Knowledgeable and fun gay trip leader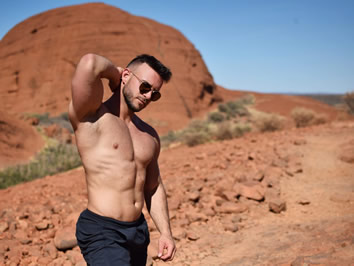 • Meals and drinks outside of those listed above
• Activities outside of the those listed above
• International Airfare to/from Australia
• Arrival/departure airport transfers
• Optional gratuities
Additional spending budget?
Your big-ticket items are included through the trip, but you'll want to budget for additional spending such as additional meals, drinks, shopping, activities, etc. These costs can vary dramatically with differing personal habits but we suggest expecting to spend an additional $900 USD at the lower end for the more budget-conscious and $1300 USD at the higher end for the splurgers. We suggest arriving to Australia with some local cash, approximately the equivilant of $200 USD.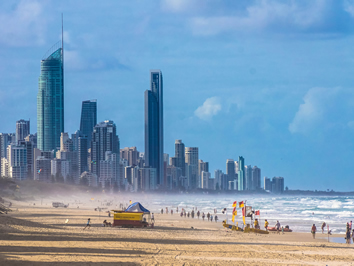 Days 1 & 2 - Brisbane, Australia
Your warm welcome to Australia begins in Brisbane, the country's third largest city (with direct international connections). Here you'll find a vibrant cosmopolitan city with laid-back country charm. Many of our travelers like to arrive a day or so early to settle in and feel rested before the group trip starts, and Brisbane is the perfect place to do just that. There are many great parks to explore along the river, great restaurants, rooftop bars, and a lively gay scene in 'the valley' to get you started. Then...
On the first day at 2:30 PM we'll meet in the hotel lobby and kick things off with your first true-blue Aussie experience; a barbie! What better way to get to know your fellow travel buddies than with an afternoon in the great outdoors enjoying delicious food and local wine - ahhhh bonza mate! OK, we'll stop with the slang now..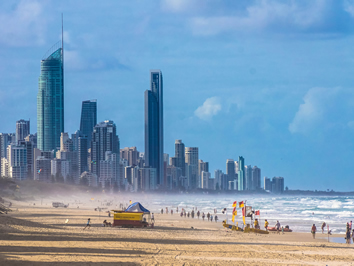 For our second day, we know you're all eager to get up close to some Australian wildlife (not the kind that's trying to kill you!) so we'll head straight to a wildlife sanctuary where you can feed, pet, and even sponsor some of your newest friends including koalas and kangaroos. Later, we'll drive (~1hr) to check out some of those famous Aussie beaches you've heard all about to take a dip and watch some surfers. Want to try surfing? We've got the perfect place for that, coming up...
Included activities:
• Welcome 'barbeque' dinner, including drinks & any transport to/from if required
• Entrance to Wildlife Sanctuary, with transfers
• Trip to Surfers Paradise with transfers
Some recommended optional activities:
• Moreton Island 4x4/sand-dune tour, Story Bridge climb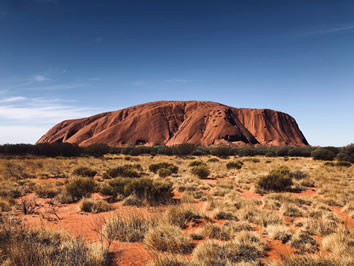 Day 3 - Uluru (Ayers Rock), Australia
Next up.. we visit the Outback to see the unique desert landscape and one of the most famous rock formations on the planet, Uluru, and be introduced to Australia's indigenous culture and its people.
Australia, as you've likely come to learn, is a VERY BIG country. In fact, if you put a map of Australia on top of a map of the USA, you might be surprised to learn that both countries are similar in size. Meaning that for us to get to the 'red centre' for our quintessential outback experience, we'll need to travel a bit. So, today (Day 3) we'll get an early start and fly to Ayers Rock Airport (via a short layover in Sydney), then be whisked through the outback 'Priscilla: Queen of the desert' -style 10 whole minutes to our stunning accommodation in the Outback.
After a bit of downtime to relax by the pool, we'll head out to the imposing and iconic Ayers Rock to explore the trails and viewpoints around it, led by a local Australian guide to give us local context and history. The evening culminates with a spectacular sunset behind the rock. As the night sky twinkles to life above the Outback, we'll gaze up (or is it gays up?) in awe of how many stars we'll see without any light pollution!
Included activities:
• Uluru guided viewpoint hike with transfers
Some recommended optional activities for the next morning:
• Sunrise hike, heli tour, indigenous art galleries and workshops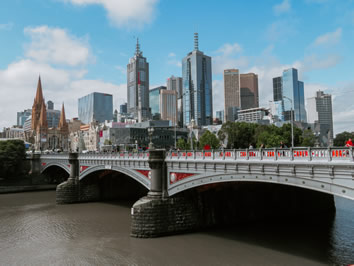 Days 4, 5, and 6 - Melbourne, Australia
This morning you're welcome to join the group to watch the sun rise over the desert before the heat of the day creeps in, or stay in bed and have a leisurly breakfast before we board our direct flight from Uluru to Melbourne (~2.5hrs) in the early afternoon. Get ready to explore one of the most multicultural cities in the world, and also one that's been ranked one of the most "liveable" in the world many time. Melbourne is Australia's mecca for all things trendy and tasty. With famous restaurants, exhilarating sports and abundant opportunities to experience art throughout the many creative laneways packed with hidden boutiques and hole-in-the-wall cafes and bars, there's no shortage of places to explore during our 3 days here. And if you're looking for the perfect caffeine-hit to fuel your days here, you're in the right place! There's an entire coffee-culture in Melbourne - they even have their own drink that you won't find anywhere else; the Melbourne Magic!
During our first morning in Melbourne, we'll kick things off with a guided walking tour. Then, you'll have lots of options for how to spend the rest of your day (& the following 2 days). You could rent a bike and explore the trails along the river, or check out the galleries and markets dotted around the CBD, or take a ride on one of the old trams (is that a euphemism for something?), or just wander through the laneways stopping in at cocktail bars and coffee shops along the way.
On your second free day here, you'll have the option to catch a hot air balloon ride (weather-permitting) over central Melbourne, the only major city in the world where commercial hot air balloons are able to fly over the CBD, or take a tour out to the Yarra valley to sample some of that famous Australian wine directly from the vineyards, or, if you don't mind a long drive, you could join a tour that will take you down along the Great Ocean Road to see the Twelve apostles, an iconic rock formation dotted along a stunningly scenic coastline.
Included activities:
• Walking tour (3 hours) includes coffee and beer.
Some recommended optional activities:
• Hot air ballooning, wine tasting in the Yarra, Great Ocean Rd tour, Phillip Island penguin day-excursion, sporting event, trams, galleries, bike rental.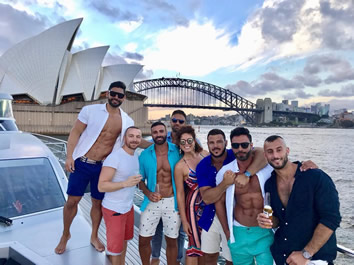 Days 7, 8, 9, and 10 - Sydney, Australia
On our 7th day, we'll board our last flight of the trip (~1.5hrs direct) to none other than ... Sydney!
There's no other city like it on Earth, with its iconic beaches, stunning harbour, vibrant gay scene, famous architechture, world-class cuisine, coffee to rival Melbourne's, galleries, shopping, cocktail bars ... it's all waiting for you, and so much more!
During our few days in Sydney, we'll get out on the harbour for a sightseeing cruise, take you down to the world-famous Bondi Beach (where Shane spent most of his 20s). Want to try surfing? Bondi's the place! There's also a stunning coastal walk you can do from Bondi. Want to climb one of the most famous bridges in the world? That's an option too (it's expensive, but totally worth it!).
The Sydney Gay & Lesbian Mardi Gras festival and parade will be going on while we're in Sydney, adding even more flavour to our evenings spent here. We'll provide more information on events and tickets when they're available. We're committed to making sure that the festivities add to your Sydney experience, not take away from it. Saturday, March 2nd (our 8th day) is when the parade and after party is.
As with all of our trips, there are no scheduled activities on the last day, so you can make travel plans from this day onwards (March 4th, 2024). Not ready to go home? We don't blame you! That's actually why we purposely end our itinerary in Sydney - so you can extend your trip if it's possible. A few more days in Sydney perhaps? Or maybe a trip up to check out the Great Barrier Reef for a few more days of fun in the sun or to unwind before heading home. Our team are ready to assist with providing advice to help with your post-trip plans and/or hotel extension needs.
Included activities:
• Harbour cruise
• Bondi Beach visit
• Sydney Mardi Gras parade
Some recommended optional activities:
• Bridge Climb, Surf lesson, Mardi Gras events (TBA), galleries, museums, transit to Bondi and/or Manly beaches.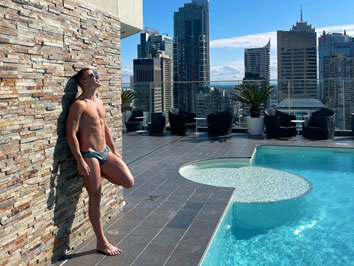 We don't like staying in smelly shacks on our vacations and we're pretty sure you don't either! You work hard to go on vacation and we believe you deserve an enjoyable, comfortable place to wind down at the end of each day. We put a LOT of time into finding the perfect accommodation for your trip. After rigorous Wi-fi signal testing, fluffing pillows, and taking a shower or two, we've narrowed down our favorite properties. Check out our approved accommodation to see where we've stayed in the past and where we'll likely be staying on your trip.
Brisbane
Capri by Fraser Hotel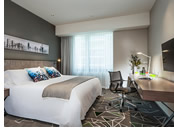 Sleek apartment hotel in a modern high-rise building located in the centre of downtown Brisbane and just a 4-minute walk from Brisbane City Botanic Gardens. Amenities include an indoor swimming pool, a sauna, and a 24/7 fitness centre. The on-site Black Fire Restaurant produce some of Australia's finest Mediterranean cuisine, serving delicious organic and fresh seasonal produce grown and sourced locally.
Uluru
Sails in the Desert Hotel

Shaded by sails and set amid the Red Centre outback, this breezy hotel is about as close as you can get to Ayers Rock, and the nicest property in the area too. There's a laid-back restaurant and a lobby bar, as well as an outdoor pool, a pool bar and a spa offering massage. The air-conditioned rooms have a minibar and tea and coffee making facilities. Each room has a private bathroom with bathrobes, a hairdryer and free toiletries.
Melbourne
Lancemore Crossley St Melbourne Hotel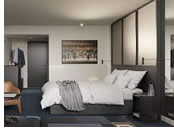 Centrally located between the Paris end of Bourke Street, Theatre District, and Chinatown, this cosmopolitan boutique hotel has a rooftop terrace featuring views of the city. There's also a 24/7 gym and a sleek lobby bar. Home to 113 art-filled accommodation rooms, with a style that is richly layered, complex and unique. At the hotel, rooms have a desk, a flat-screen TV, a private bathroom, bed linen, towels, free toiletries and an iPod docking station.
Sydney
Vibe Sydney Hotel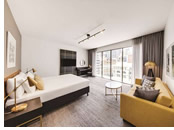 Perfectly positioned in the heart of Sydney CBD, Vibe Hotel Sydney is surrounded by Sydney's premier attractions such as Hyde Park, Chinatown, and Sydney Tower as well as minutes away from the exciting suburbs of Surry Hills and Darlinghurst. Take a dip in the rooftop pool, relax in the sauna, work out in the gym, or simply lay back and take it easy in your spacious rooms. All rooms at Hotel Vibe are air conditioned, and come with satellite TV. Tea and coffee making facilities are provided. The private bathroom includes a bathtub, shower and hairdryer.
*Please note that due to availability, these exact hotels may not all be available during all our trips. However, we will always replace these with similar hotels, and will never downgrade.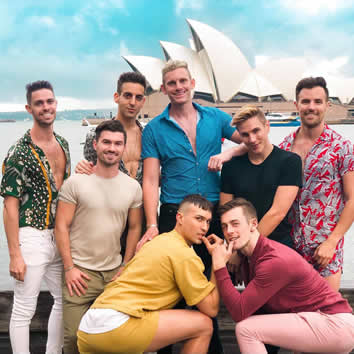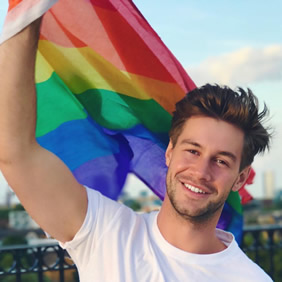 The Climate
It'll be Summer in Australia when we're there, so that means the sun will be shining, temperatures soaring and the beaches dazzling (except in the far north where it's wet season). There's no denying it - it will be hot! It's nicknamed 'the sunburnt country' after all, so you'll likely see temperatures reach the high 20's 'C / 80's 'F with some days (especially in the outback) even getting into the mid 30's 'C / mid 90's 'F. The evenings are warm as the temperature rarely drops below 20'C / 68'F.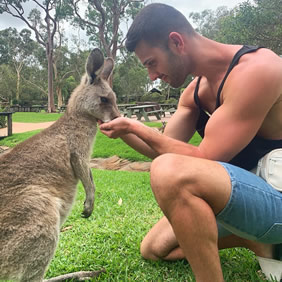 The People
Australia has a reputation where everyone's your 'mate', and you'll feel that warm genuine welcome from the minute you arrive til the moment you leave. Australia has 26.5 million people, with 30% of the population born from overseas making it one of the most multi-cultural countries in the world.
LGBT rights around Australia have advanced over the latter half of the twentieth century and early twenty-first century to make Australia one of the most LGBT-accepting countries in the world. A 2013 Pew Research poll found that 79% of urban Australians agreed that homosexuality should be accepted by society, making it the fifth-most supportive country surveyed in the world.
With its long history of LGBT activism and annual Gay and Lesbian Mardi Gras festival, Sydney has been named one of the most gay-friendly cities in the world.
Same-sex marriage has been legal in Australia since 2017.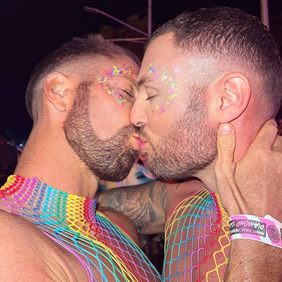 Meals
We could write a whole chapter on typical Aussie "tucker" (food), but instead we'll summarize some of the items you'll likely encounter (& should absolutlely try!) during your visit down under:
Barbeque - When you think of Australia you think of surfing, nice weather, kangaroos and... the barbecue. "Throw another shrimp on the barbie" is a quote often said even though Australians call them prawns and not shrimp! In fact, many Aussies dislike this phrase and claim that it's just another Australian stereotype. A typical Aussie barbecue will have snags (sausages), burgers, steak, fresh seafood, bread and tomato or barbecue sauce, they sometimes include salad but it's mainly about the meat and fish (and of course a few stubbies – that's beer to the non-Australians)
Vegemite - don't knock it til you try it! It's a yeast extract, served with butter/margarine on toast/sandwiches.
Fairy bread - funny name for a kids' treat, but also the perfect name for a gay bakery wouldn't you agree? This is buttered-bread with sprinkles (100's & 1000's) on it.
Tim-tams - chocolate biscuits (cookies), that have become popular around the world now, best enjoyed as a tim-tam-slam!
Meat pies - you'll find these everywhere, and they're not the same anywhere else in the world, crisp puffy pastry filled with loads of options inside (steak, chicken, veggie, etc.) Always topped with tomato sauce.
Chicken parma - Loads of pubs have a parma night where you can grab a decently priced chicken parma with a beer. A chicken parma is a chicken schnitzel topped with a tomato sauce and melted cheese on top.
Kangaroo - While visitors usually take pictures of kangaroos bouncing around. Aussies actually eat Kanagroo meat. You'll see them packed on supermarket shelves and on restaurant menus. Kangaroo is lean red meat, it's healthy and you can prepare it in many ways – steaks, burgers, sausages, and much more
Lamingtons - Made up of a deliciously, delicate soft, sponge cake, and topped with decadent chocolate topping and immersed in coconut flakes, the ole' Lamington has been a fixture on the dessert table here for generations.
We don't believe in limiting your choices by including all of your meals at pre-decided restaurants as part of the trip package. Instead, we include all of your breakfasts to start your day off as well as select meals through the trip, then encourage you to explore all of the different restaurant options available to you for other lunches and dinners. This way you can eat when you want, where you want, with whomever you want, and spend what you want! Your trip leader definitely has their favorite spots so if you'd like some advice on the best in each location, just check with them.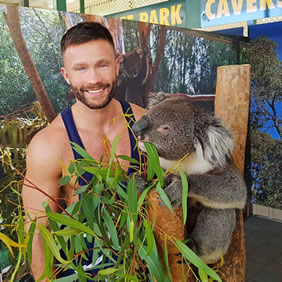 What to bring?
Our advice is simple. Pack your bag, then take half of those things out and leave them back home. It's common to hear people wishing they'd packed less stuff, but we've never heard anyone complain that they didn't bring enough. Everywhere we visit on our itinerary is convenient for grabbing any last-minute things as you go, so if you realize you forgot to pack a crucial item you can just pick it up on the trip. We'll include some trip-specific packing advice based on expected weather as part of our update email to you, sent 10 days prior to your trip.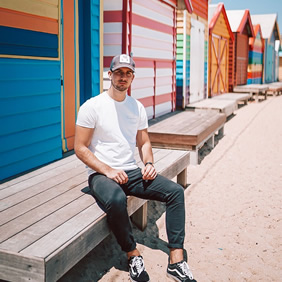 Money
Australia uses the Australian Dollar (AUD). In an effort to avoid bank fees, we suggest arriving to Australia with some local currency (around 300 AUD) and ATMs are widely available, so your debit card from home will be the most economic way to withdraw local currency as/when you need more. Credit cards are widely accepted, and you should have no problems paying for your portion of the group meal with card or cash. AMEX isn't widely accepted in Australia, mostly just Mastercard and Visa.1 USD = approx. 1.50 AUD (as of May 2023)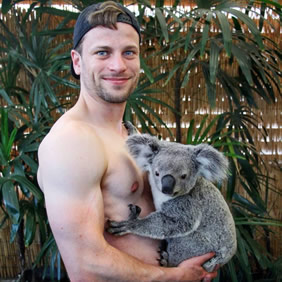 Tipping
Tipping is not considered a common practice for many industries in Australia. Restaurant and bar workers are paid more per-hour to reflect this, contrary to many other countries who have a strong tipping culture. If service you've received at a restaurant is particularly excellent feel free to leave 10% or so to show appreciation. Taxis are also not commonly tipped in Australia, although local guides within the tourism sector do expect tips which are similar to guiding tips in other parts of the world.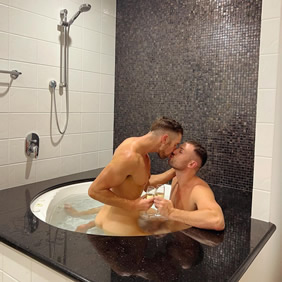 Accommodation
We have pretty high standards when it comes to choosing our accommodations, and trust us, we've done plenty of room-sniffing, pillow-patting, and bathroom inspections to make sure we stay at quality spots. To be approved as a Detours accommodations provider, a guesthouse must preferably be locally owned (to support the local community), be in an amazing location (close to the beach or other hot spots), AND be gay-owned or gay-friendly. We won't be staying in 5-star Ritz-Carltons but we also won't subject you to anything we wouldn't want to stay in ourselves. Clean, comfortable, well-located spots that'll put a smile on your face, you can count on that! Click on the "accommodations" tab to get a better idea of what accommodation we use on this trip.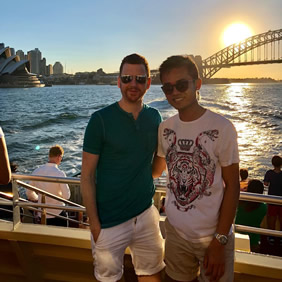 Trip Leaders
For this trip, you get not one, but two trip leaders! And they'll be there with you every day to help ensure that this is your trip of a lifetime by taking the hassle out of your trip and enabling you to experience everything you came to Australia for. Consider them like a friendly concierge that's traveling along with you. All of our trip leaders are gay and all are well-traveled and experienced in the destination they're leading in, so they'll be a great part of your experience!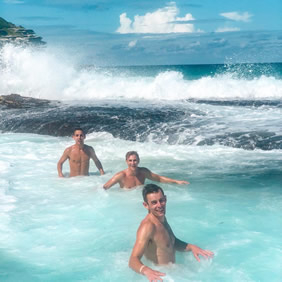 Alarm Clocks
We do absolutely everything possible to avoid needing such a mundane awakening. A world without alarm clocks is one we want to be part of! Our travel days might start a bit earlier (due to flight schedules) but for the majority of your adventure you'll be welcome to start each morning at your leisure, come on down to breakfast when you wake up and are ready to start the day. In most places your natural alarm clock will be the sound of a laughing kookaburra or magpie outside your window encouraging you to seize the day. Don't worry these are peaceful sounds and very Australian!
Extending Your Trip
For many people, 10 days in Australia just wont be enough! If you're one of the lucky ones who can stay a bit longer, or maybe you'll decide to quit your job and become a beach bum in Byron Bay with Chris Hemsworth as your neighbour, we'd be happy to offer any assistance or advice to help extend your trip. We've been all over the area, and Shane grew up in 19 different parts of Australia - so don't think twice about asking where to go or what to do after your Detours trip is complete.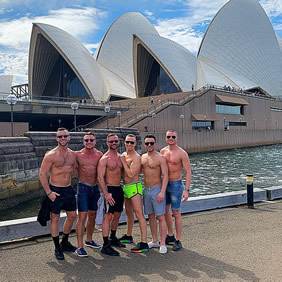 Your Group
Our Australia trip will run with a maximum of 30 travelers. Ages of group members vary but the average travelers are in their 40's to 60's. Whatever the age of the guys on our trips though, everyone's got something in common, an exciting new experience in a new country! The Australia trip will be led by 2 gay trip leaders who are there to ensure everything goes off without a hitch, allowing you to focus on having the time of your life!
A Little Bit About Modesty
Australia is quite a gay friendly place, and while most people (78% according to a recent study) are welcoming of homosexuality, there may still be people, especially in rural areas, who may not be comfortable, and so out of respect we usually suggest keeping your excitement and affection for your partner to more private locations.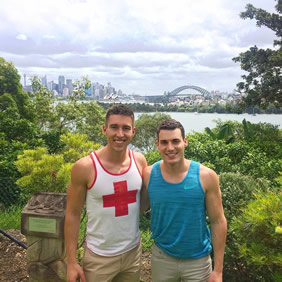 Solo Travelers
Traveling solo? No problem! About 60% of our travelers come solo and our trip will provide plenty of chances to meet great people both inside and outside of our group, including other solos. As far as your accommodations go, you've got two choices. We can either pair you up with another solo group member in a two-bed room, or you can have your own room for a reasonable surcharge.
Electrical Outlets
Australia uses only one plug shape so it's important to bring a "Type I" plug shape on your trip here. Australian electricity runs on 220-240 V and 50 Hz. Please make sure your electronics accept 220 – 240 volts (V). If your device uses 110 – 120V, common in North America, you will need a step down transformer. However, these days, the majority of items that are plugged into an outlet are built to handle varying voltage and frequency levels, but just to be sure, we suggest checking your item for its accetable range.