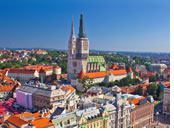 Enchanting. Spectacular. Magical. Croatia is a country spoiled by the natural beauty of cascading waterfalls and impossibly blue seas, set against medieval castles and ancient walled villages. It's a country so diverse that it's tough to describe in a nutshell. Forests, mountains, islands, reefs, and a sea that's so blue that some astronauts have described it as the bluest in the world. Add to this well-preserved ancient towns and stone-built villages populated by friendly locals and great Mediterranean food and there's no wonder why many people call this country Europe's best kept secret.
Our 11 days here in Croatia are spent getting right in there and experiencing the best nooks and crannies of it! We'll stay within the walled town center of Split, surrounded by all the ancient beauty. We'll island hop over to the cosmopolitan island town of Hvar for a few days of gorgeous island life. We'll find out why Dubrovnik was chosen as the set of so many Game of Thrones episodes, and maybe even take a trip out to Montenegro. And we'll start the trip in the capital and largest city of Zagreb with plenty of unique museums and nightlife - a perfect place to start your Croatia adventure.
Being a relatively small country means spending less time in a bus/boat on travel days between all of the diverse destinations and more time out there soaking it all in! See you in Croatia!
Our 11-day Croatia gay group trips include many of the "big ticket" items of your experience, including your domestic flight, ground and ferry transportation, breakfasts and even a guided visit to Plitvice Park! Check out our detailed list of inclusions and exclusions below.
• All Taxes
• All accommodation in hotels/guesthouses
• All ground and sea transfers between remaining destinations
• Afternoon exploring through Plitvice National Park with local guide
• City tour of Zagreb with local guide
• Welcome dinner
• All full breakfasts
• Knowledgeable and fun trip leader
• Group travel within Croatia
** - Trip prices based on twin share. Traveling solo? We'll match you up with another traveler at no extra charge, or just pay a $1,090 single supplement for your own room!
• Meals and drinks outside of those listed above
• Activities not noted above above
• Optional tips for drivers/guides
• International Airfare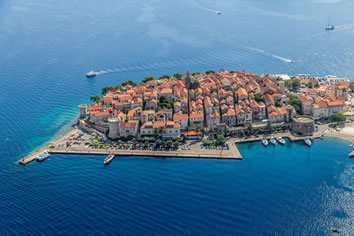 Our 11-day gay trip through Croatia bring us right into the heart of what makes it so special with stops in the mountainous national parks, the coastal walled villages, and the postcard-perfect islands. Explore, chase, sip, and taste your way through the country with us.
Day 1 - Zagreb, Croatia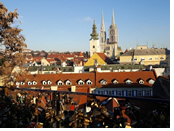 The largest city, capital city, and central hub of business, culture, and history in Croatia. This is where we all come together to start our adventure at 4:00pm on day 1! If you're flying into Croatia on this day just try to arrive in time to get to our group hotel... or if you'd prefer to arrive a day (or more!) early and you'd like some assistance with setting up any extra nights in our group hotel just let us know, we'd be happy to help.
Welcome to the capital and largest city in Croatia! We'll be starting and finishing our Croatian adventure here in the crossroads of Central Europe, Southern Europe, and the Mediterranean region. It may be the epicenter of Croatian business, culture, transport, and sports, but it's not an overwhelming city at a population of just over 1 million. The oldest settlement here dates back to the 1st century AD and showcases its long history in its many beautiful buildings and museums (our favorites are the Archeological Museum, and the unique Museum of Broken Relationships).
There's a path (or a gondola) up to a beautiful lookout point in the middle of the city for some great views over the city - a nice way to get your bearings! We have a local guide join us here for a walking tour of the city to give us an unique understanding of Croatia before we head off to the coast for the beaches, fortresses, and adventures!
Days 2, 3 and 4 - Plitvice National Park & Split, Croatia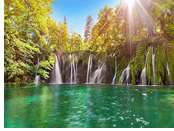 The iconic walled village and home to the famous Diocletian's Palace at the edge of the sparkling Adriatic sea. That's where we're heading on day 2, but first we're going to spice up our second day together with a visit to the incredible Plitvice National Park! This must-see park is home to some of the most amazing natural waterfall formations imaginable with water cascading in every direction off the cliffs. We'll have a local guide join us here to give us a unique insider's perspective of the large park - bring your cameras. After a few hours at the park we'll continue our way down to the coast to our first medieval home of the trip, the coastal city of Split.
While we won't be staying overnight here at Plitvice Park, it is something that we'll spend a good chunk of the afternoon of day 2 checking out - and something you'll never forget! A UNESCO World Heritage Site, Plitvice National Park is most famous for its 16 lakes which cascade into one another over stunning waterfalls in every direction. All of this is set in a densely treed karst-mountain area of the country, which completes the surreal sight. We'll spend a few hours here together with an expert local guide who's with us to ensure we get into the most beautiful corners of the park.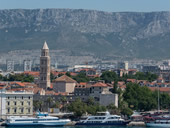 Split, a town on Croatia's Dalmatian Coast, is known for its beaches and the fortresslike complex at its center, Diocletian's Palace, erected by the Roman emperor in the 4th century. Once home to thousands, its sprawling remains include more than 200 buildings. Within its white stone walls and under its courtyards are a cathedral and numerous shops, bars, cafes, hotels and houses.
To top it off, Split has a unique setting. Its dramatic coastal mountains act as the perfect backdrop to the turquoise waters of the Adriatic and help divert attention from the dozens of shabby high-rise apartment blocks that fill its suburbs. It's this thoroughly lived-in aspect of Split that means it will never be a fantasy land like Dubrovnik, but perhaps it's all the better for that.
Days 5, 6 and 7 - Hvar, Croatia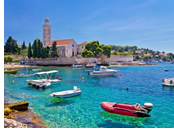 It's island time! Take the historical old town of Split, but add a cosmopolitan atmosphere and beautiful beaches! The island of Hvar is just a quick 1-hour ferry ride from the mainland to the town of Stari Grad where you'll find the laid back island life mixing with the jetsetting Europeans in a picturesque seaside town. May to September is the best season to be here for the warmest waters and best people watching.
The famously clear waters of the sea wash up on the sandy beaches, just next to the fortified main town. Hvar is known as the classiest of Croatia's islands and is a must-visit for celebrities and all "in the know" travelers to the area. An island hopping boat trip to the nearby islands is a great way to spend a day here, or stay on land and soak up some sun at the beaches, explore the shops of the old town, or even take a hike up to the hilltop fortress.
When we say "Hvar" we're talking about the island, which is covered in lavender fields and surrounded by perfectly turquoise waters. The main town here is called "Stari Grad", which is surrounded by 13th century walls and watched over by an imposing hilltop fortress. Both have a significant amount of history and are now a buzz of activity in the summer months.
Days 8, 9, 10, and 11 - Dubrovnik, Croatia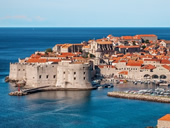 Like the icing on the cake, our last stop of Dubrovnik is likely the most famous of Croatia's cities for its fantastically preserved fortressed old town. It's really a breathtaking sight that'll have you imagining the days of long-ago battles when the locals would defend their beautiful home. There aren't many places in the world that hold so much history in such a preserved state and it's sure to be a highlight of anyone's trip here!
Dubrovnik may be a small town, but it's one of the most popular spots to visit in Croatia for the unique fortified town center, picturesque harbor, and medieval fortresses that surround it. It's a fantastic base to check out nearby Bosnia, or Montenegro which give us some fantastic day trip options, but even without leaving town there's an incredible amount of fortresses to get lost in, beaches to relax on, museums to check out, and patios to sip wine on. If the streets of Dubrovnik look familiar you may be a Game of Thrones fan. This town was used for many scenes of the popular TV show to portray an accurate medieval village.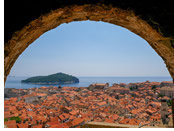 Historically, Dubrovnik was a large center for maritime trade in the Mediterranean Sea and is now continues to be a beautiful reminder of centuries past. A UNESCO World Heritage Site since 1979, this city is now an epicenter of the region's festivals and events, all within its 2-kilometer long protective stone walls.
Our time together ends here in Dubrovnik on the 11th day, so grab those last-minute souvenir fridge magnets, a last drink with your new friends, and the last breath of Croatia air before heading out on the 11th and final day. You're welcome to book your departing flight at any time on this day.
*Note that the order of stops and duration at each location are subject to change.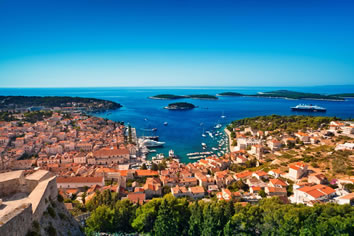 We don't like staying in smelly shacks on our vacations, and we're pretty sure you don't either! After working hard for your trip, you deserve an enjoyable, comfortable place to wind down at the end of your day. We put a LOT of time into finding the perfect accommodation for your trip so after sniffing around, fluffing pillows, and testing showers we have narrowed down our favorite properties that won't disappoint. Check out our approved accommodation to get an idea of the types of places you can expect to lay your head during your DETOURS Croatia trip.
Zagreb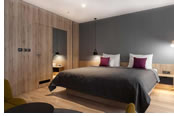 Academia Hotel

Why we love this property:
• Located in the best part of the downtown core
• The Upper Town can be reached within a short walk away
• Great breakfasts
• Modern design and conveniences
• Immaculately clean rooms
• All rooms are air-conditioned and feature a flat-screen TV and a mini-bar
Split

Cornaro Hotel

Why we love this property:
• Gorgeous rooftop jacuzzi and pool
• Modern design
• Spacious rooms
• Best location in the city
• Just a 2-minute walk from Diocletian's Palace
• A rich buffet breakfast
Hvar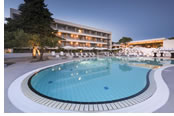 Pharos Hvar Bayhill Hotel

Why we love this property:
• Beachfront views
• Classy modern decor
• Situated in a secluded pine grove
• Beach club with beautiful pool
• Modern restaurant serving international and local delicacies
• Sleek design
Dubrovnik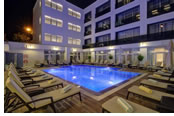 Lero Hotel

Why we love this property:
• One of the closest hotels to Old Town
• Great breakfasts
• Beautiful swimming pool area
• 2 restaurants and a wellness centre
• Classy decor
• Modernly furnished rooms
*Please note that due to availability, these exact hotels may not all be available during all Detours trips. However, we will always replace these with similar hotels, and will never downgrade.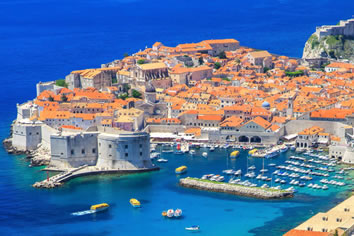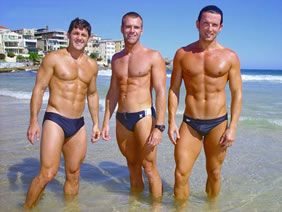 The Climate
Don't worry about getting chilly, our trips are scheduled in the warm summer months ensuring maximum warmth and sunshine! Temperatures will vary from warm to hot depending on your chosen travel month and itinerary stop. From May to September we can expect temperatures in the high 70's and 80's Farenheit (high 20's Celsius) during the day. That said, weather can sometimes be unpredictable so it's always good to pack a "just in case" outfit for the odd rainy day.
The People and LGBT Community
The people of Croatia have been through a tumultuous history of conflict and have remained a strong and proud group of people. Their language, Croatia, has several dialects in different areas of the country but is all part of a Slavic group of languages. Travelers usually find it tough to speak, but don't worry, there is a very large understanding of English in Croatia, especially in the areas we'll be visiting. We always encourage travelers to learn at least a couple words while you're here so ask your trip leader to teach you something!
The Roman Catholic church still has a sizeable influence on the country, but LGBT rights here have been advancing quite quickly in recent years with LGBT couples now with almost identical rights to those of heterosexual couples. In 2015, the International Lesbian, Gay, Bisexual, Trans and Intersex Association (ILGA) ranked Croatia 5th in terms of LGBT rights out of 49 observed European countries. The gay community in Croatia isn't as large and visible as some areas of the world, but there is nightlife in the city of Zagreb and pride festivals in Zagreb and Split.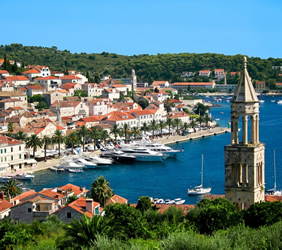 Meals
Croatian cuisine tends to change quite substantially depending on the region, with all kinds of delicious flavors reminiscent of the countries nearby. Pasta is quite popular inland, while seafood is all over the coastline. Think black pepper, paprika and garlic flavors inland, and olive oil, rosemary and sage at the coast. And to wash it all down there are hundreds of wineries all over the country offering both reds and whites, as well as many different varieties of beers. Want something stronger? Try Rakija. Detours doesn't believe in limiting your choices by including all of your meals at pre-decided restaurants as part of the trip package. Instead, we include all of your breakfasts to start your day off, then we explore all of the different restaurant options available for lunch and dinner. This way we can eat when we want, where we want, and spend what we want! Your trip leader definitely has their favorite spots so if you'd like some advice on the best in each location, just check with them.
What to bring?
Our advice is simple. Pack your bag, then take half of those things out and leave them back home. It's common to hear people wishing they'd packed less stuff, but we've never heard anyone complain that they didn't bring enough. Even if you realize you forget to pack some crucial item you can always pick up a replacement once you arrive in Croatia. We'll include some trip-specific packing advice based on expected weather as part of our update email to you, sent 60 days prior to your trip.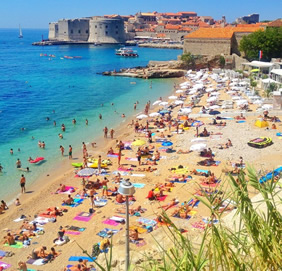 Money
These days it seems that banks find every opportunity to ding us with fees from home and at each ATM we use. That's why we suggest using a credit card with no international fee, and bring some Croatian KUNA with you, as it's actually illegal for a business to accept Euros or dollars. You still may need to use an ATM along the way, but it's best to try to minimize the number of visits. Travelers checks are a thing of the past so we don't recommend them any more.
Tipping
Tipping isn't a native Croatian custom, however, it is always appreciated by local service staff. We suggest tipping for any services that go above and beyond expectations. That extra bit on top of your dinner bill is very appreciated by the service staff.
Accommodation
We have pretty high standards when it comes to choosing our accommodations, and trust us, we've done plenty of room-sniffing, pillow-patting, bed-jumping and bathroom inspections to make sure we stay at quality spots. To be approved as a Detours accommodations provider, a hotel/guesthouse must: be locally owned (to support the local community), be in an amazing location (close to the beach or other hot spots), AND be gay-owned or gay-friendly. We won't be staying in 5-star Ritz-Carltons but we also won't subject you to anything we wouldn't want to stay in ourselves. Clean, comfortable, well-located spots that'll put a smile on your face, you can count on that!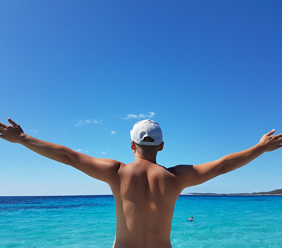 Trip Leaders
All of our trip leaders are gay, and all certified leaders must undergo a rigorous training routine that includes deep-fried cricket eating, and impromptu dancing tests. Apart from these vital skills, we require our leaders to know their stuff really, really well. Underneath their fun and quirky facades, our guides are experts and passionate about what they do. Don't hesitate to ask them about a random statue you might see along the way. Their job is to help ensure that this is your trip of a lifetime by taking the hassle out of your trip and enabling you to experience everything you came to Croatia for.
Alarm Clocks
We do absolutely everything possible to avoid needing such a mundane awakening. A world without alarm clocks is one we want to be part of, and your "rise and shine" while in Croatia should come from the sound of crashing waves or church bells in the distance. However, sometimes due to current flight schedules we are required to make early departures, but we do everything we can to minimize this.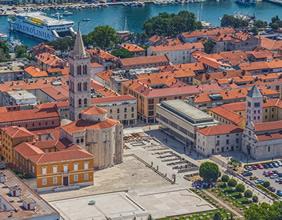 Extending Your Trip
For many people, 12 days in this part of the world just isn't enough time. If you're lucky enough to be able to stay longer, or if you decide to quit your job and become a beach bum on the Adriatic Coast for the rest of your life, we'd be happy to help you extend (or cancel!) your return flight. We've been all over the area, so don't think twice about asking where to go or what to do after your Detours trip is complete. Italy, Greece, Eastern Europe... many interesting destinations are close-by.
Your Group
Our Detours groups are run with a maximum of 15 travelers. Ages of group members vary but around 90% of our travelers are in their 30's, 40's, and 50's. Whatever the age of the guys on our trips everyone's already got something in common, an exciting new experience in a new country! Each group is led by a Detours trip leader who is there to ensure everything goes off without a hitch, allowing you to focus on having the time of your life! We welcome both men and women onto our trips although it's important to know that most groups are 100% gay men.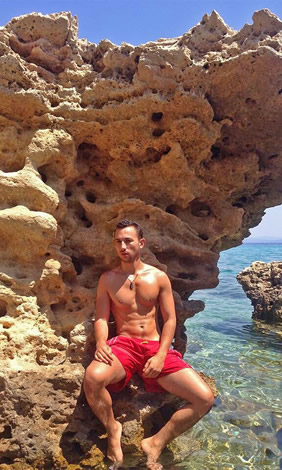 A Little Bit About Modesty
The areas of Croatia that we'll be visiting are more open-minded than the rural countryside and most people will be welcoming of homosexuality. That said, public displays of affection are not common here for the gays or the straights so as some respect for the locals we just suggest that you keep your affection for your partner to more private areas - such as your hotel. :)
Solo Travelers
No problem! Don't worry, lots of our travelers come solo and our trip will provide plenty of chances to meet great people both inside and outside of our group, including other solo travelers. As far as your accommodations go, you've got two choices. We can either pair you up with another solo group member in a two-bed room for no extra charge, or you can have your own room for a reasonable surcharge.
Communicating with Home
Relax – we won't keep you from updating your Facebook status the whole trip. There is WiFi all over the place and available at every hotel we stay at. If you're more the "E.T." type and would just rather call home, feel free to pick up a calling card at a corner store and make use of the many local payphones. Alternatively, if your mobile phone is "unlocked" you can pick up a local SIM card which is quite affordable.
Further information can be found in your "Trip Preparations" guidebook which will be available to you after your trip signup. However, if you have any further questions about your Croatian experience please visit our FAQ page or contact us.