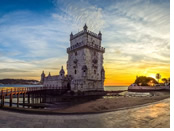 From the rolling vineyards and colonial villages of Portugal to the lively souks and dramatic vistas of Morocco, get ready for 11 days of incredible diversity. With centuries of history on display around every corner, today's Portugal is a treat whether you're coming for the world-class food and wine, the picturesque little villages with their clay roofs, or the lively social scenes in Porto and Lisbon.
Spend your days exploring a hilltop castle, boating through the Douro Valley, or tasting pasteis de belem on a patio in the sunshine, and your nights being entertained by passionate Fado singers or in the many gay bars open into the wee hours.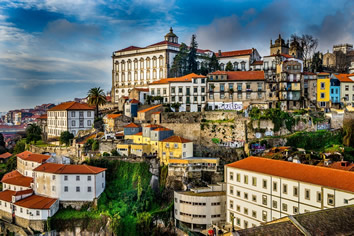 On our 7th day together we'll trade charming Western Europe for fascinating Northern Africa for a taste of something completely different in Morocco. As we explore the souks of Marrakech we'll find snake charmers in Jemaa el Fnaa square, endless colorful stalls in the marketplace, and opulent palaces hidden in the winding pathways. As a feast for the senses in every way, there's no wonder that Marrakech has been such a popular destination for both adventure-seeking and pampered travelers.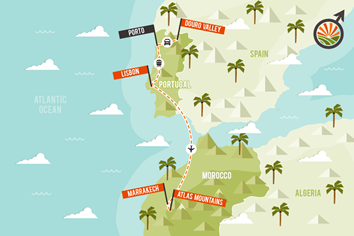 • Group travel within Portugal and Morocco
• All bus and train transportation between itinerary stops
• One-way international flight from Lisbon to Marrakech
• Accommodations for your 11-day Detours experience
• All full breakfasts
• Welcome dinner and drinks
• Food and wine tour of central Porto with local guide
• Lisbon walking tour with local gay guide
• Medina and souk tour of Marrakech with local guide
• Day trip to the Atlas Mountains with roundtrip transport
• Group cooking class in Marrakech
• All taxes
• Knowledgeable and fun Detours trip leader
** - Trip prices based on twin share. Traveling solo? We'll match you up with another traveler at no extra charge, or just pay a $1,290 single supplement for your own room!
• Meals and drinks outside of those listed above
• Activities outside of the those listed above
• International Airfare
• Optional gratuities
• Arrival/departure airport transfers (available on request)
• Visa/departure fees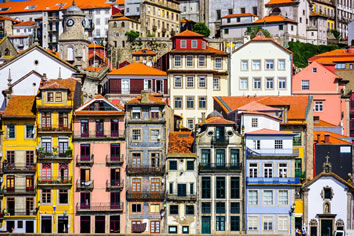 Days 1, 2, and 3 - Porto & Douro Valley, Portugal
We'll meet at our hotel near the bank of the Douro River at 4:00 pm on day 1 to start our experience together in Porto – the heart of the country's incredible culinary and cultural scene, looking like something out of a fairy tale. Surrounded by the beauty of this city, we'll be spoiled with stunning views, fabulous meals, and unique history. We'll be joined by a local guide on a food-and-wine-focused walking tour as they take us to the hidden gems for the best port and Francesinhas in town.
We'll also take a trip through the Douro Valley together to check out the region's beautiful scenery and stunning vineyards with a tour and tasting at a quaint mom and pop winery.
• Included: • Food and wine tour of central Porto with local guide • Winery tour and tasting in the Douro Valley
• Optional Activities: • Explore Gaia • 6 bridges water cruise • Port winery tasting tour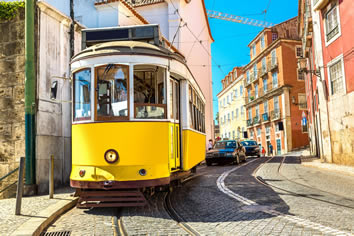 Days 4, 5, and 6 - Lisbon, Portugal
After a 3-hour train journey (which will surely be spent gawking at the beautiful Portuguese countryside) we'll arrive to the capital city of Lisbon, a colonial masterpiece along the Tagus River, full of charming neighborhoods, impressive architecture, and fabulous restaurants and bars. It's a place you'll swear you'll move to after experiencing the warmth of the community and the beauty of every new street you turn.
But with the hilltop palaces of Sintra just 30 minutes outside of the city and the beachside communities along the way it's not just the central Lisbon that you'll want to explore while you're here.
We'll rack up an impressive step-count as we explore hilltop castles and cobblestone neighborhoods, then reward ourselves with their famous custard tarts and pastries before enjoying the many nightlife options if you've still got the energy. We ensure a weekend stay in Lisbon to ensure we can take in all the nightlife opportunities here.
• Included: • Lisbon walking tour with local gay guide
• Optional Activities: • Sintra (and castles) • Day trip to Fatima and the coast • Bike tour of Lisbon • Fado Show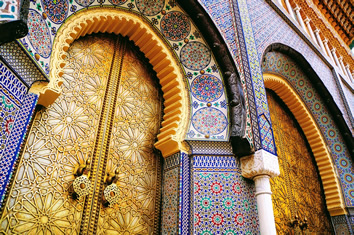 Days 7, 8, and 9 - Marrakech, Morocco
It's only a short flight over to Africa but you'll feel a world away as we arrive to Marrakech on our 7th day. Donkeys pulling carts through the streets, food stalls selling colorful snacks, snake charmers entertaining passersby, all with the call to prayer in the air several times per day. But among the action of the souks is one oasis after another of incredible beauty, from secret gardens to ornate palaces covered in gold to indulgent hammams.
Through all the unique contradictions on display across the city, the genuine welcoming culture of the Moroccans is impossible to ignore. We'll explore much of the city together with a local guide, and we'll do a local group cooking class in a beautiful courtyard then encourage you to haggle for trinkets in the Medina, visit the YSL Museum, pamper yourself at a gorgeous hammam, or take in a cultural show in the desert on the edge of the city.
• Included • Medina and souk tour of Marrakech with local guide • Group cooking class in Marrakech
• Optional Activties: • Yves Saint Laurant Museum and Gardens • ATV desert tour • Camel riding in the desert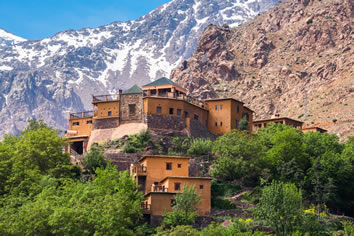 Day 10 - Atlas Mountains, Morocco
Although it's only a quick couple of hours from the action of Marrakech, the mud-brick homes, waterfalls, and clifftop villages scattered around the Atlas Mountains can't be missed. We'll do some light hiking, stop for tea in a local home, visit local craft shops, and wander remote towns, all against a backdrop of the imposing mountain peaks.
After spending the day exploring we surely deserve a stop at the incredible estate that Richard Branson has created up in the mountains - our reward for a full day of sightseeing before returning to Marrakech for our final night together.
• Included: • Waterfall hike, tea and snacks at a local home • Lunch at a local Kasbah • Tour of Atlas Mountains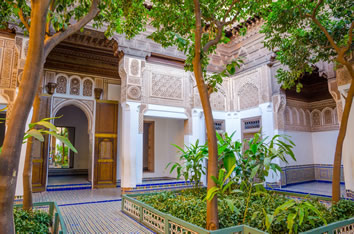 Day 11 - Marrakech, Morocco / Departure
After countless new experiences shared together through Portugal and Morocco our group time sadly comes to an end on the 11th day here in Marrakech.
You're welcome to book your departing flight from Marrakech for any time on this 11th day as there are no group activities planned. Staying later into this day or spending some extra nights here? It's a fabulous city with plenty to keep you busy! Maybe take a day trip down to the coastal town of Essaouira or take one last hammam before you go?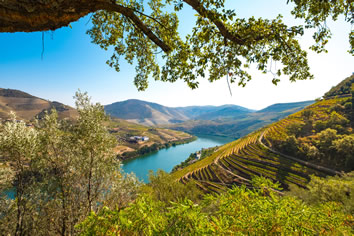 We don't like staying in smelly shacks on our vacations and we're pretty sure you don't either! You work hard to go on vacation and we believe you deserve an enjoyable, comfortable place to wind down at the end of each day. We put a LOT of time into finding the perfect accommodation for your trip. After rigorous Wi-fi signal testing, fluffing pillows, and taking a shower or two, we've narrowed down our favorite properties. Check out our approved accommodation to see where we've stayed in the past and where we'll likely be staying on your trip.
Porto, Portugal
Moon & Sun Hotel

In the heart of Porto, this 4 star hotel is ideal for discovering the heritage and gastronomy of this beautiful city. All the main attractions are nearby: UNESCO-listed old town, the famous Clérigos Tower, Galerias de Paris, Church of the Order of São Francisco, and many more! Each room features air conditioning, a room safe, complimentary wifi, and flat screen TV. Breakfast is available daily, and includes buffet, à la carte and continental options.
Lisbon, Portugal
Figueira by The Beautique Hotels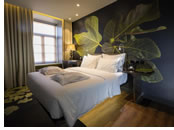 Hotel Beautique Figueira is located in the heart of Lisbon, right off of Figueira Square and only a short walk from Lisbon's iconic districs; Bairro Alto, Chiado, Praça do Comércio and Rua Augusta. With it's stylish restaurant & bar ready to cater your culinary needs, feel at home as all rooms breathe comfort, design in an atmosphere of elegance and serenity. Each room has air conditioning, complimentary wifi, minibar, and smart TVs.
Marrakech, Morocco
Palais Blanc Riad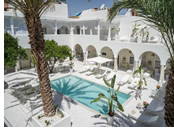 Set in the old city and just a 15 minute walk to the famous medina, sits this beautiful bright riad. This upscale mansion will be the perfect serene escape from the busy streets of Marrakech with on-site hammam & spa services as well as delicious restaurant for culinary exploration. With a centralized pool for swimming, each room faces the interior and features a private veranda with a sofa, air conditioning, room safe, satillite TV, and mini bar.
*Please note that due to availability, these exact hotels may not all be available during all our trips. However, we will always replace these with similar hotels.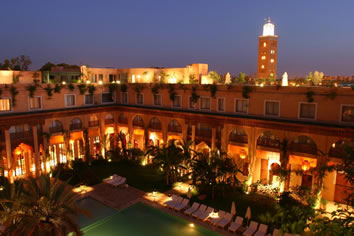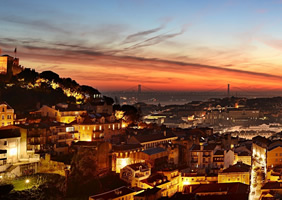 The Climate
While Morocco is known for it's hot and dry temperatures, Portugal is a country that experiences all four seasons. Our Portugal & Morocco trip starts with the milder cities of Porto and Lisbon before ending the trip with the warmer and predictably dry Marrakech and Atlas Mountains. We schedule our trips to take advantage of the best mix - not too hot and not too cold.
Portugal - If you're wanting to avoid the cooler rainy season in Portugal you'll want to avoid the November through February season. We think the best season here is April/May and September/October for nice warm dry days. Think highs of 70's F (mid-20's C) in the daytime and lows of 60 F in the middle of the night (mid-teens C).
Morocco - Here you'll likely want to avoid the crazy heat of July/August and stick to our favorite months of April/May and September/October. In these months you can expect highs in the 80's F (high 20's C) and nighttime lows around 60 F (high teens C).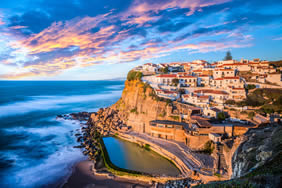 The People and LGBTQ Community
It would be hard to find more progressive and liberal people than the Portuguese. Portugal was the 8th country in the world to legalize same-sex marriage and LGBTQ people enjoy essentially the same rights as everyone else. There are plenty of gay bars and hotels in the main cities and pride festivals in Porto and Lisbon. Most churches in the main cities are not regularly used for service these days but stand in a beautiful display of architecture and a sign of past religious influence. Portugal is also known for having one of the most radical drug policies in the world once they decriminalized use and possession of all drugs in a way that moves the focus from criminal punishment to treatment.
Morocco is a different story when it comes to progressive and liberal attitudes. As a predominantly Muslim country there is not much public support for LGBTQ rights or progressive policies, which has changed a lot since the times when it was a hub of liberal attitudes, specifically in Tangier and Marrakech. Despite the overall sentiment, Marrakech is a relatively safe place for LGBTQ travelers who respect the local customs and refrain from PDA, and on every visit in Morocco we've been left with an overwhelming sense of welcoming locals.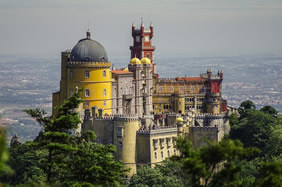 Additional spending budget?
Your big-ticket items are included through the trip, but you'll want to budget for additional spending such as additional meals, drinks, shopping, activities, etc. These costs can vary dramatically with differing personal habits but we suggest expecting to spend an additional $750 USD at the lower end for the more budget-conscious and $1200 USD at the higher end for the splurgers. We suggest arriving to Portugal with a minimum of approximately 200 Euros and 2000 Moroccan Dirham.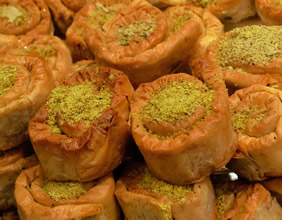 The Cuisine
Portuguese cuisine is most known for its seafood and Mediterranean influences. In fact, Portugal has one of the highest fish consumption rates in the world - seafood lovers rejoice! Olives and olive oil, cheeses, and spices such as piri piri are common on most Portuguese menus. In Porto the most well-known dish is their calorie-packed Francesinha, full of meat and cheese. And in Lisbon you absolutely need to try at least a few Pastéis de Belém - their famous custard tarts. Don't worry, we'll do a lot of walking.
Morocco's cuisine has been formed by their interactions and exchanges with many different regions including the Spanish, Arabian, and local Berbers. Think lamb, goat, or seafood, with couscous and of course tagine and plenty of unique spices. You'll find that breakfast and lunch tend to start with a series of small hot and cold salads before moving onto a larger main dish. Oh, and plenty of mint tea of course!
We don't believe in limiting your choices by including all of your meals at pre-decided restaurants as part of the trip package. Instead, we include all your breakfasts to start your day off, then encourage you to explore all of the different restaurant options available to you for lunch and dinner. This way you can eat when you want, where you want, with whomever you want, and spend what you want! Your trip leader definitely has their favorite spots so if you'd like some advice on the best in each location, just check with them.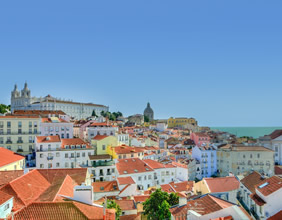 Money
Portugal uses the Euros as their only currency, while Morocco uses the Dirham. Before leaving home we encourage you to get the equivalent of at least a couple hundred USD in each currency for things that should be paid in cash along the way. Credit cards are generally accepted in most places as well, but cash is still good to have on hand. ATMs are widely available so don't worry if you're running low, your trip leader will help direct you to the closest one.
Tipping
While tipping isn't a native custom in these countries, it is an expected part of the tourism industry and we encourage you to tip in a similar way as you would in the USA or Canada, especially for any services that go above and beyond expectations. That extra dollar or two on a dinner bill or to a porter or driver is extremely appreciated by the service staff.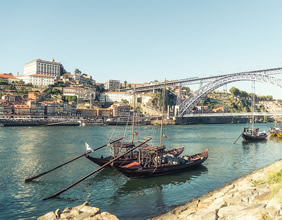 Trip Leaders
All of our trip leaders are gay, and all certified leaders must undergo a rigorous training routine that includes deep-fried cricket eating, and impromptu dancing tests. Apart from these vital skills, we require our leaders to know their stuff really, really well. Underneath their fun and quirky facades, our trip leaders are experts and passionate about what they do. Don't hesitate to ask them to teach you something along the way and remember that we'll have a local guide join us at several parts of the trip as well. Their job is to help ensure that this is your trip of a lifetime by taking the hassle out of your trip and enabling you to experience everything you came to Portugal and Morocco for.
What to bring?
Our advice is simple. Pack your bag, then take half of those things out and leave them back home. It's common to hear people wishing they'd packed less stuff, but we've never heard anyone complain that they didn't bring enough. Even if you realize you forget to pack some crucial item you can always pick up a replacement once you arrive in Porto. We'll include some trip-specific packing advice based on expected weather as part of our update email to you, sent 60 days prior to your trip.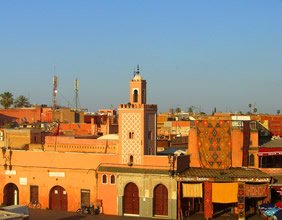 Your Group
Our Detours groups are run with a maximum of 15 travelers. Ages of group members vary but around 90% of our travelers are in their 30's, 40's, and 50's. Whatever the age of the guys on our trips everyone's already got something in common, an exciting new experience in a new country! Each group is led by a Detours trip leader who is there to ensure everything goes off without a hitch, allowing you to focus on having the time of your life!
A Little Bit About Modesty
The areas of Portugal and Morocco that we'll be visiting are quite different when it comes to being open-minded and welcoming of homosexuality. In Portugal you won't really need to think twice about being open with people. However, in Morocco you'll want to ensure you acknowledge the different culture with different expectations and laws by avoiding public displays of affection, not using "meetup" apps, and keeping your excitement and affection for your partner to more private locations.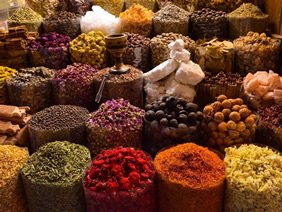 Solo Travelers
No problem! Don't worry, around 60% of our travelers come solo and our trip will provide plenty of chances to meet great people both inside and outside of our group, including other solos. As far as your accommodations go, you've got two choices. We can either pair you up with another solo group member in a two-bed room for no extra charge, or you can have your own room for a reasonable surcharge.
Electrical Outlets
Portugal and Morocco both use a "type C" and "type F" plug, the same as most European countries and several other places in the world. The voltage is 230V with 50 Hz frequency. These days, the majority of items that are plugged into an outlet are built to handle varying voltage and frequency levels, but just to be sure, we suggest checking your item for its accetable range.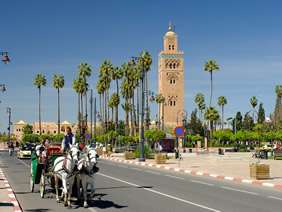 Accommodation
We have pretty high standards when it comes to choosing our accommodations, and trust us, we've done plenty of room-sniffing, pillow-patting, and bathroom inspections to make sure we stay at quality spots. To be approved as a Detours accommodations provider, a guesthouse must: be locally owned (to support the local community), be in an amazing location (close to the beach or other hot spots), AND be gay-owned or gay-friendly. We won't be staying in 5-star Ritz-Carltons but we also won't subject you to anything we wouldn't want to stay in ourselves. Clean, comfortable, well-located spots that'll put a smile on your face, you can count on that!
Extending Your Trip
For many people, 11 days in the region just isn't enough time. If you're lucky enough to be able to stay longer, or if you decide to quit your job and become a beach bum in the Mediterranean for the rest of your life, we'd be happy to help you extend (or cancel!) your return flight. We've been all over the area, so don't think twice about asking where to go or what to do after your Detours trip is complete. Other beautiful places in both Portugal and Morocco are nearby!