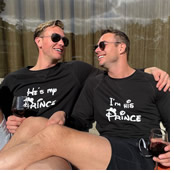 Experience the vibrant capital cities of Denmark, Norway, and Sweden and the stunning fjords surrounding Bergen on our Scandinavia gay trip! Take in the sea-front cities of Copenhagen, Oslo, Bergen, and Stockholm on this 3-country itinerary featuring scenic cruises and incredible train journeys. The cities are uniquely beautiful, with world-class dining and museums, but add to that some incredibly beautiful landscapes and outdoor activities and you're in for an unforgettable trip.
This trip as been uniquely crafted around beautiful boutique accommodation in the heart of each city, as well as an emphasis on beautiful cruise, train, and flight inclusions to ensure our travelers experience both the heart of each city as well as the incredible landscape along the way.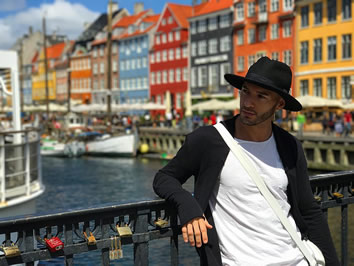 That's why, as our no-bus itinerary, we'll take an overnight cruise from Copenhagen to Oslo, a scenic train ride on the famous Bergen Railway to Bergen, and a quick flight to Stockholm to round off this pan-Scandinavia gay adventure together.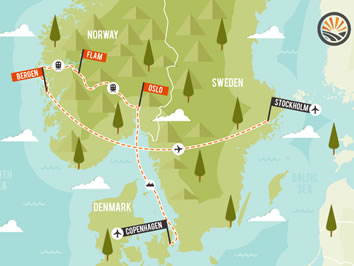 • All taxes
• Accommodations for your 11-day gay group tour experience
• All full breakfasts
• One-way international flight from Bergen to Stockholm
• Overnight ferry transport from Copenhagen to Oslo including dinner
• Bergen Railway travel from Oslo to Bergen
• Bicycle tour of Copenhagen with local guide
• Roundtrip Sognefjord fjord cruise from Bergen
• Stockholm boat tour with local guide
• Welcome dinner and drinks
• Knowledgeable and fun gay group trip leader
• Meals and drinks outside of those listed above
• Activities outside of the those listed above
• International Airfare
• Arrival/departure airport transfers
• Optional gratuities
Additional spending budget?
Your big-ticket items are included through the trip, but you'll want to budget for additional spending such as additional meals, drinks, shopping, activities, etc. These costs can vary dramatically with differing personal habits but we suggest expecting to spend an additional $850 USD at the lower end for the more budget-conscious and $1200 USD at the higher end for the splurgers. We suggest arriving to Scandinavia with some local cash, approximately the equivilant of $100 USD in each currency.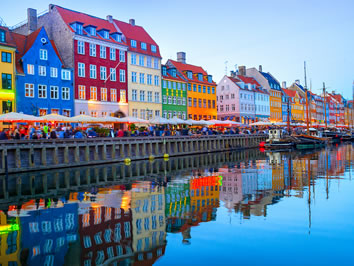 Days 1, 2, and 3 - Copenhagen, Denmark
Copenhagen, often regarded as the "happiest city in the world", is a fitting place to begin our adventure together. A city known for its unique canals, endless great restaurants, cycling culture, award-winning breweries, and scenic downtown core. It's here we'll gather for our first evening together where we'll get to know the city and our fellow group-mates. As Copenhagen is often referred to as the world's most bike-friendly city, our first evening will be spent on a private biking and dining tour as we explore the city together with a local guide.
Our second day, a full day in Copenhagen, is yours to fill with whatever interests you. Your trip leader is with you to provide suggestions and advice, coordinate logistics/bookings, and often join you and your fellow group members in the fun.
At 3:00pm in the afternoon of our third day here, we'll head down to the port and jump on board our overnight cruise to Norway! It's a very comfortable crossing with real beds and bathrooms in private cabins, excellent meals, and beautiful views from every window. There's no better way to make the trip between these two Scandinavian capitals!
Either to get over jet lag or to do some more exploring of this beautiful city, you may want to stay in Copenhagen longer than our 2 nights here. If so, just ask us to additional nights to your booking. Nice and easy.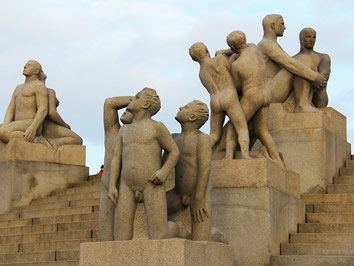 Days 4, and 5 - Oslo, Norway
On the morning of our 3rd day we'll wake up to a full breakfast buffet as we watch the Norwegian coastline turn into the urban core of Oslo. At around 10am we'll disembark into central Oslo and check-in at our group hotel then set off exploring our new home for the next couple of nights!
Oslo is a very modern, trendy city, but also retains a historic charm and small-town feel. We've got two days here to explore the beautiful parks, unique architecture, and museums (including the Viking Ship Museum, National Museum, and Munch), even a fortress and a palace, right here in the city.
Design is huge in Norway and there's no shortage of prime examples of why Oslo is regarded as one of the world's trendiest cities. It's also in one of the most progressive regions in the world, with several LGBT nightlife options to explore after a day spent enjoying the city.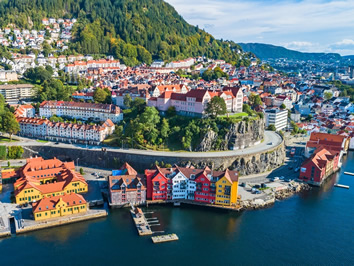 Days 6, 7 and 8 - Bergen, Norway
The 6th day is one of amazing contrasts and beauty as we depart from the capital city of Oslo on one of the world's most epic train journeys - the Bergen Railway. It's a very comfortable 7-hour visual delight as the urban center morphs into spectacular fjords, waterfalls, and rivers. Crossing the Hardangervidda National Park and up onto the Hardangervidda plateau (Europe's largest high mountain plateau) we'll be entertained in each direction while relaxing in comfortable seating, or dining at the the on-board restaurants available. And don't worry, there's wi-fi on the train too.
We'll spend the following 3 nights in Bergen, surrounded by the mountains and fjords that make Norway's scenery so famous. There are plenty of adventurous activities available here including hiking, ziplining, and paragliding, or opt for some more relaxed options including strolling through the charming old-world town center, checking out museums, taking the funicular up to Mount Fløyen, or cruising down the Sognefjord, Norway's longest and deepest fjord. We've got 3 nights here together to soak in the beauty of this regions before jetting off to Stockholm.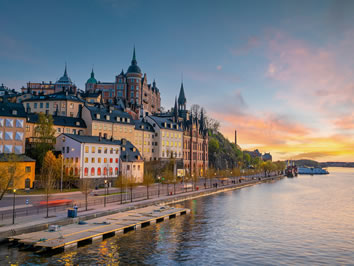 Days 9, 10 and 11 - Stockholm, Sweden
On our 9th day we'll head to the airport for our 80-minute flight to the 3rd and final country on our adventure together - Sweden! We'll arrive to the capital city of Stockholm for 2 nights together. Yet another beautiful city, but with its own unique atmosphere and charm. It's the largest of the Scandinavian capitals with plenty to see and experience while we're here.
For first-time visitors, you must have a fika (like a coffee break) while you explore the most beautiful neighborhood, Gamla Stan, and its iconic central square called Stortorget where we'll find the old colorful houses that make the best Stockholm postcards. From there, experiencing the city can be done on land checking out unique museums (like the very popular Vasa museum, or the ABBA museum!) or on water with a boat tour around the city.
On the 11th day comes the end of our adventure together as we all say our goodbyes after a ton of new experiences. You're welcome to depart from Stockholm at any time on this 11th day or, if you'd like to spend more time in Stockholm, just ask us to add extra nights to your booking!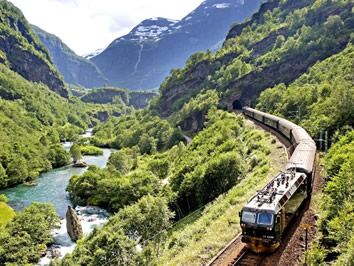 We don't like staying in smelly shacks on our vacations and we're pretty sure you don't either! You work hard to go on vacation and we believe you deserve an enjoyable, comfortable place to wind down at the end of each day. We put a LOT of time into finding the perfect accommodation for your trip. After rigorous Wi-fi signal testing, fluffing pillows, and taking a shower or two, we've narrowed down our favorite properties. Check out our approved accommodation to see where we've stayed in the past and where we'll likely be staying on your trip.
Copenhagen, Denmark
71 Nyhavn Hotel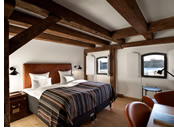 Set in a converted 1805 brick warehouse overlooking the harbor, this elegant hotel features exposed-wood beams and original artwork. All rooms come with Wi-Fi, flat-screen TVs and minifridges. There's a cozy bar as well. It's also located in the middle of the most picturesque neighborhood of central Copenhagen too, putting you right in the middle of the action.
Copenhagen / Oslo Ferry
DFDS Seaways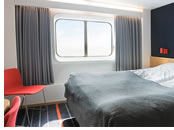 We've booked the premium "Commodore Cabins", which include wi-fi, flat screen tv's, bathroom with toiletries, hairdryers, and a seating area in addition to the comfortable bedding and full breakfast in the morning. With wonderful views of the wide open sea, the 7 Seas buffet restaurant serves a variety of delicious appetisers, hot and cold starters, main dishes, desserts and cheese.
Oslo, Norway
Christiania Teater Hotel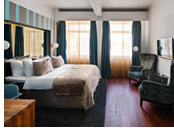 Set in a stately 1917-built property that was once a theater, this swanky downtown hotel offers warmly decorated rooms with Wi-Fi, flat-screen TVs and desks. The location of the property is excellent, right at Studenterlunden Park in the heart of the city, making walking to all the main sites very easy.
Bergen, Norway
Oleana Hotel

Set on a tree-lined boulevard, this restored, music-themed boutique hotel in the center of Bergen features funky modern rooms with complimentary Wi-Fi, flat-screen TVs and minibars, plus rainfall showers. It also has a great restaurant and is located within a short walking distance of all the town's main sites.
Stockholm, Sweden
Kungsträdgården Hotel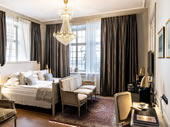 Chic rooms with eclectic French-inspired decor, some featuring chandeliers, with Wi-Fi, smart TVs and minibars. There's a hip French bistro, a lounge & a fitness center too. This property is also perfectly located, right in the middle of central Stockholm making it easy to explore this uniquely beautiful city.
*Please note that due to availability, these exact hotels may not all be available during all our trips. However, we will always replace these with similar hotels.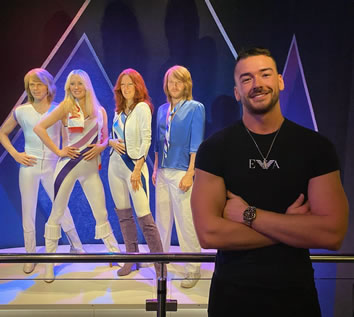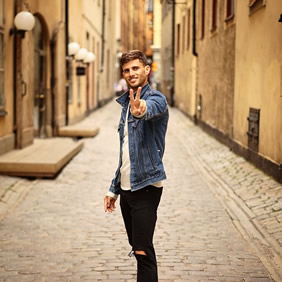 The Climate
Weather can certainly be unpredictable these days so it's a good idea to be prepared for anything although, as all of our Scandinavia trips operate in the summertime, we expect the best warm and sunny weather! Although it's good to keep in mind that Scandinavia is not known for its hot weather. Historically, these summer months in Scandinavia experience average high temperatures of around 64F / 18C to 72F / 22C and average lows around 53F / 12C to 59F / 15C. July and August are the warmest months in this area, with temperatures dropping as you get further from these months.
Based on this, your bag should be packed with warm outfits for some periods of cool weather, as well as some shorts and t-shirts for some warmer days. It's a good idea to bring some just-in-case rain gear too.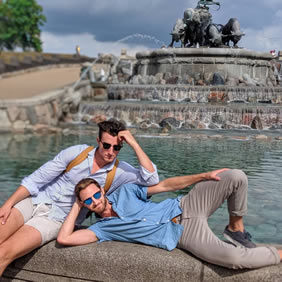 The People & Gay Community
All the countries of Scandinavia are known for being world leaders in human rights and progressive policies. Your time here will be spent in the most LGBTQ-friendly countries in the world and with that comes vibrant inclusive communities without any need to worry about discrimination. This level of LGBTQ+ acceptance means that, while there are certainly gay nightlife spots, there's also a strong sense of inclusiveness at any establishment in these cities.
The people in this part of the world are also known for being highly educated and almost everyone you meet along the way will speak English. People are friendly and welcoming and the crime rate is relatively low so, while travelers should exercise smart travel-safety strategies everywhere in the world, this is a comfortable place for relaxed travel.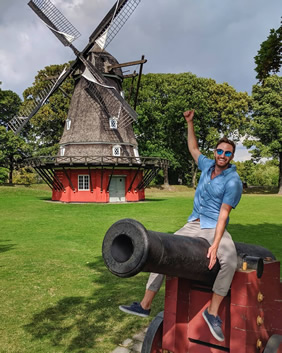 The Cuisine
Scandinavian food really runs the gamut from fruits and root vegetables to seafood (including pickled herring and gravlax salmon) to unique meat dishes. It's known for its traditionally hearty dishes such as stews and breads. It's not a region that's known for spicy foods. While this is the "traditional" cuisine of the region, these days you can find diverse internationally-inspired menus all over these cities. It's a place where dietary restrictions are easier to accommodate that many other regions of the world.
We don't believe in limiting your choices by including all of your meals at pre-decided restaurants as part of the trip package. Instead, we include all your breakfasts to start your day off, then encourage you to explore all of the different restaurant options available to you for lunch and dinner. This way you can eat when you want, where you want, with whomever you want, and spend what you want! Your trip leader definitely has their favorite spots so if you'd like some advice on the best in each location, just check with them.
What to bring?
Our advice is simple. Pack your bag, then take half of those things out and leave them back home. It's common to hear people wishing they'd packed less stuff, but we've never heard anyone complain that they didn't bring enough. Even if you realize you forget to pack some crucial item you can always pick up a replacement once you arrive in Copenhagen. Just make sure to review the climate section above and remember that our trips are run in a casual style so you can leave your tuxedos at home.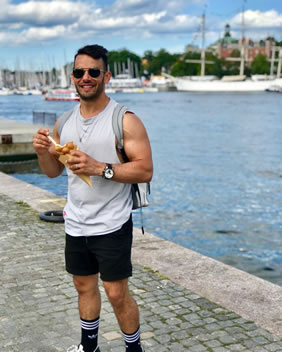 Money
All 3 countries on this itinerary use their own currency - the Danish krone, the Norweigan krone, and the Swedish krona. That's right, they don't accept the Euro in these Scandinavian countries. That said, these are countries that make it easy to pay using a credit card so, while we always suggest having some local cash on hand for things like tipping and market-shopping along the way, most of your purchases can be made with a credit card.
ATMs are widely available in all of the cities of this itinerary so it's not hard to grab some more cash along the way.
Tipping
In Scandinavian countries, the general rule, especially in the tourism industry, is that you tip if you are satisfied with a service, but not to the level of the US or some other regions of the world. In this region tipping is done by rounding up the bill (about 10% of the total bill) at a restaurant. Service staff in Scandinavia is paid at relatively good rate, but those in the tourism industry have come to expect some tips including local guides and hotel porters.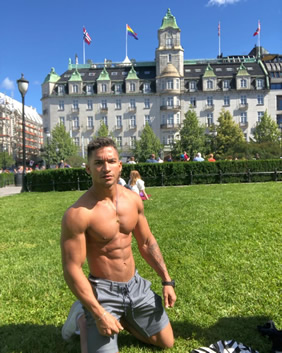 Accommodation
We have pretty high standards when it comes to choosing our accommodations, and trust us, we've done plenty of room-sniffing, pillow-patting, and bathroom inspections to make sure we stay at quality spots. To be approved as a Detours accommodations provider, a guesthouse must be in an amazing location (in the central core of the city), AND be gay-owned or gay-friendly. We won't be staying in 5-star Ritz-Carltons but we also won't subject you to anything we wouldn't want to stay in ourselves. Around 4-ish star quality is what we stick to. Clean, comfortable, well-located spots that'll put a smile on your face, you can count on that!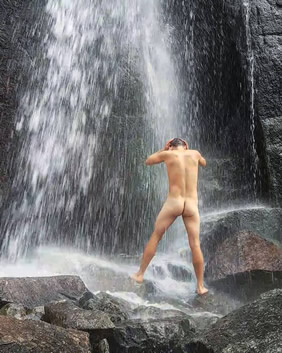 Trip Leaders
Our trips are led by one of our own gay trip leaders. They're there with you every day and their job is to help ensure that this is your trip of a lifetime by taking the hassle out of your trip and enabling you to experience everything you came to Scandinavia for. Consider them like a friendly concierge that's traveling along with you. All of our trip leaders are gay and all are well-traveled and experienced in the destination they're leading in, so they'll be a great part of your experience! In addition to your Detours trip leader, you'll also be joined by local guides along the way, who will be there to give you an even more in-depth understanding of the place you're visiting.
Alarm Clocks
We do absolutely everything possible to avoid needing such a mundane awakening. A world without alarm clocks is one we want to be part of, and your "rise and shine" while in Scandinavia should come from the smell of fresh breakfast ready or church bells in the distance. Whenever we can we avoid booking super early or super late trains and flights.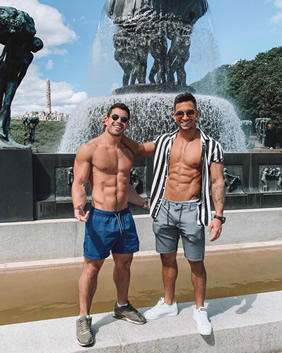 Your Group
Our groups are run with a maximum of 16 travelers. Ages of group members vary but around 90% of our travelers are in their 30's, 40's, and 50's. Whatever the age of the guys on our trips everyone's already got something in common, an exciting new experience in a new country! Each group is led by gay trip leader who is there to ensure everything goes off without a hitch, allowing you to focus on having the time of your life!
Communicating With Home
There is WiFi at every hotel we stay at and most restaurants that we eat in. Alternatively, if your mobile phone is "unlocked" you can pick up a local SIM card which is quite affordable. Ask your trip leader to help you if you'd like to get a local SIM card.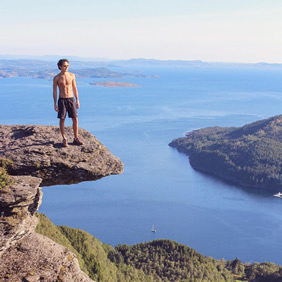 Solo Travelers
No problem! Don't worry, around 60% of our travelers come solo and our trip will provide plenty of chances to meet great people both inside and outside of our group, including other solos. As far as your accommodations go, you've got two choices. We can either pair you up with another solo group member in a two-bed room for no extra charge, or you can have your own room for a reasonable surcharge.
Electrical Outlets
These Scandinavian countries use a "type C" and "type F" plug, the same as most European countries and several other places in the world. The voltage is 230V with 50 Hz frequency. These days, the majority of items that are plugged into an outlet are built to handle varying voltage and frequency levels, but just to be sure, we suggest checking your item for its accetable range.