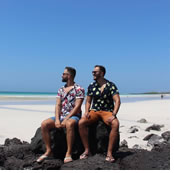 Ecuador has been for many years one of the world's most amazing destinations for travelers from all over the globe. It's beauty, history, culture and the Galapagos Islands have made Ecuador one of the top destinations in the planet. Let yourself be amazed by its culture expressed majestically in its churches, buildings and heritage cities. In Quito, discover the Best Preserve Historic Center in South America. Very much an up and coming city, here you'll find great culture, nightlife and a growing gay scene. Ecuador is one of these destinations that everyone should visit at least once in a lifetime.
Visit a unique volcano crater, experiment with gravity, put one foot on each side of the Equator Line, and enjoy a welcome dinner with a breathtaking view. Experience Quito's colonial charm and architecture, enjoy a luxurious lunch, touch the sky in a gondola lift, and dine while you ride around the city.
Fly to Galapagos and board a first class private yacht to start your exploration of the archipelago, its volcanic landscapes, mangroves, amazing fauna, and natural and historical landmarks. Galapagos biodiversity is famous worldwide, from dragon-looking iguanas to the most beautiful birds on the planet.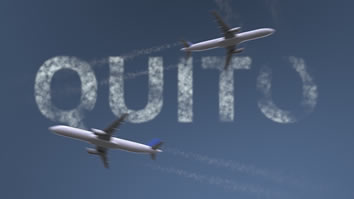 Day 1, Tuesday, May 24, 2022
Arrive to Quito's International Airport, be greeted by our team, and enjoy the ride to your hotel in private transportation.
• Arrival to Quito
Quito's"Mariscal Sucre"International Airport (UIO) is one of the busiest airports in South America, and the best one in the region at the 2018-19 World Travel Awards. It's located about 11 miles from the city.
• Welcome to Quito:
Quito is the capital and the largest city in Ecuador (population: 2.7M). At 9,350 ft. above sea level it's the highest (constitutional) capital city in the world.
• Transfer from airport to hotel:
A beautiful and strategically-located hotel in Downtown Quito awaits with free high speed wifi, in-room coffee and tea, a plush duvet, and your choice of pillows.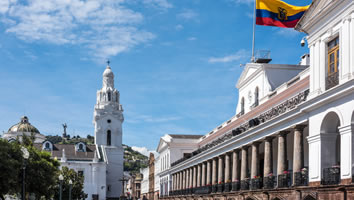 Day 2, Wednesday, May 25, 2022
Experience Quito Old Town's colonial charm and architecture during the day, and end your first full day in Ecuador with a luxurious gastronomic experience at night with a breathtaking view.
• Quito's Old Town:
Quito was the first city to be declared a UNESCO World Cultural Heritage Site because it has the largest, least-altered and best preserved historic center in the Americas. In 2019's World Travel Awards, Quito won the 1st place for Cultural Destination in South America!
• The Basilica of the National Vow:
Know as La Basilica, is the most important work of neo-Gothic Ecuadorian architecture and is one of the most representative of the Americas. It is the largest neo-Gothic basilica in the New World. The building is noted for its grotesques in the form of native Ecuadorian animals such as armadillos, iguana, and Galapagos tortoises.
• Plaza Grande:
La Plaza de la Independencia (or Plaza Grande)is the principal square of Quito where the Presidential Palace, City Hall and Cathedral are located.
• Metropolitan Cathedral of Quito:
Known simply as La Catedral, is the Catholic cathedral in Quito, which makes itthe seniormost Catholic church in the country.
• The Church of the Society of Jesus:
Known as La Compañía, is a Jesuit church best-known because of its large central nave, which is profusely decorated with gold leaf, gilded plaster and wood carvings. This is one of the most significant works of Spanish Baroque architecture in South America. It is Quito's most ornate church and (according to many) the country's most beautiful.
• Church and Monastery of St. Francis:
Commonly known as "San Francisco", is a 16th-century Roman Catholic complex. It fronts onto its namesake Plaza de San Francisco. The imposing structure has the distinction of being the largest architectural ensemble among the historical structures of colonial Latin America. The style evolved over almost 150 years of construction through earthquakes and changes in artistic fashion.
• La Ronda:
Old-world La Ronda is the most romantic and magical street in Quito. The lantern-lit streets and floral balconies enhance the romantic ambiance, making La Ronda one of the crown jewels of Quiteño culture. A series of doorways open up to a courtyard and multiple art galleries, museums, craft shops, and elegant restaurants.
• Virgin of El Panecillo:
A 45-meter-tall stone monument of a madonna which was assembled on a high pedestal on the top of Panecillo hill. Locals claim that she is the only one in the world with wings like an angel. This hill and the virgin can be seen from anywhere in Quito's Historic Center.
• Welcome Dinner:
Finish your first full day in Ecuador by enjoying a unique gastronomic experience in Neuma, one of Latin America's Top 50 restaurants, while enjoying arguably the best view of Old Town by night.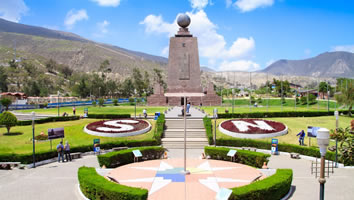 Day 3, Thursday, May 26, 2022
Ride a gondola lift to touch the sky, visit and enjoy lunch in a unique volcano crater, put one foot on each side of the Equator Line, and enjoy some of Ecuador's best seafood.
• Teleferiqo (weather permitting)
This gondola lift runs from the edge of the city centre up the Pichincha Volcano. It's one of the highest aerial lifts in the world, rising from 10,226 to 12,943 ft. The ascent takes about 20 mins. and is rewarded with the most amazing cloud-high views of Quito and the surrounding mountains, volcanoes and sky-capped peaks.
• Pululahua Crater (weather permitting):
Is one of only two volcanic craters inhabited in the world, and the only one that is farmed. The land here is extremely fertile because it is volcanic soil. The caldera of this extinct volcano is approximately 3 miles wide, one of the largest volcanic craters in the planet.
• Temple of the Sun:
Its structure resembles a castle, and is the home of a temple that reveres the Sun like Ecuadorian pre-Columbian indigenous did, and at the same time it's a museum and art repository for the famous Ecuadorian artist that constructed and owns this complex.
• Intiñan Museum:
This onsite museum located right on top or the Equator Line features interactive exhibits on how the Incas determined the middle of the Earth, plus interesting science experiments such as balancing an egg on a nail and the affects of the Coriolis force on earth.
• Middle of the World City:
The grounds of this "city" contain the Monument to the Equator, which highlights the exact location of the Equator (from which the country takes its name) and commemorates the 18th century Franco-Spanish Geodesic Mission which fixed its approximate location. The complex includes museums, interactive exhibits, restaurants, shops, etc.
• Gastronomic Experience:
Gastronomic experience at Mare Nostrum (or similar), one of the capital's most renowned seafood restaurants.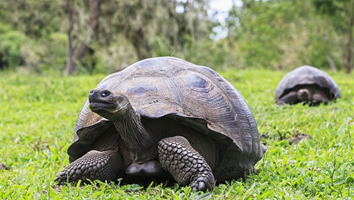 Day 4, Friday, May 27, 2022
Fly to Galapagos and board a first class private yacht to start your exploration of the archipelago, and then enjoy the beach while you visit its most long-lived inhabitants.
• Flight to Baltra, Galapagos.
Transfer to airport for flight to Baltra Island, home to Galapagos's main airport.
• Transfer to the Fragata Yacht:
The Fragata is a 75 ft, spacious and comfortable owner-operated motor yacht that accommodates 16 passengers in cozy cabins, equipped with private bath, hot water, A/C, TV. Onboard amenities include an ample sundeck, dining room, living room, bar, library, and snorkeling equipment and wetsuits that are available for rent.
• Welcome On Board
Welcome ceremony and briefing session.
• Santa Cruz Island:
Wet landing on Bachas Beach, one of the main nesting grounds for sea turtles in the entire archipelago. Its clear waters are a perfect invitation to go swimming before heading back onboard.
• Dinner:
Dinner onboard, next-day briefing session, and first night onboard our private yacht.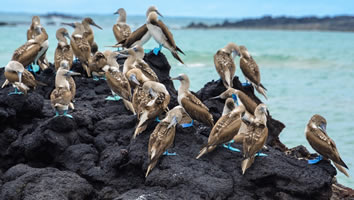 Day 5, Saturday, May 28, 2022
Galapagos biodiversity is famous worldwide, and today will showcase many native species of flora and fauna, volcanic landscapes, and unique landscapes.
• Genovesa Island:
Dry landing. Also known as the Prince Phillip Steps, El Barranco (The Cliff) is a flat lava rock formation that provides an amazing view of the surrounding habitat. You will find red-footed boobies, swallow-tailed gulls, the Galapagos dove and many other species among the Palo Santo trees and lava cacti during the 1.2miwalk.
• Lunch onboard
• Darwin Bay:
This enormous bay dominates the island and is home to colonies of frigates and a great variety of marine life.
• Dinner:
Dinner onboard and next-day briefing session.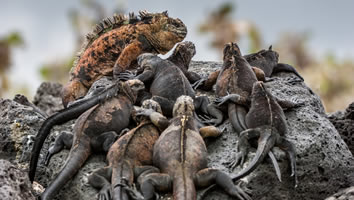 Day 6, Sunday, May 29, 2022
Enjoy the majestic views in one of the most photographed places in the world, and swim in the company of penguins and sea lions.
• Bartolome Island:
Dry and wet landings. This island features distinctive lava formations and ash-cones, as well as a 375-step wooden ladder that takes you 114 meters above sea level to the top of the volcano, were a spectacular view of the bays below awaits you. The prominent Pinnacle Rock is located on this island, and is one of the most visitedand photographed sites in Galapagos.
• Lunch onboard
• Santiago Island
Sullivan Bay is an amazing diving spotwith white sand beaches where you can share the water with penguins and sea lions!
• Dinner
Dinner onboard and next-day briefing session.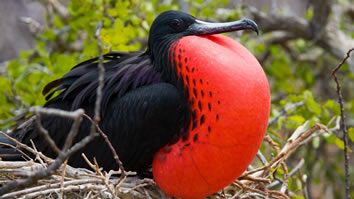 Day 7, Monday, May 30, 2022
Lava formations, giant cacti, and snorkeling amongst sea lion colonies… today is -again- wildlife paradise in the Galapagos!
• Plaza Sur Island:
Dry landing. This tiny cliff-bounded island was formed out of lava and Is now covered by the Opuntia cacti. Resting place of one of the biggest sea lion colonies In the Galapagos, as well as yellow and red land iguanas. 1.5mi hike.
• Lunch onboard
• Santa Fe Island
Wet landing. Snorkel and swim with sea lions in the turquoise waters of this island, after taking a small hike through a forest of giant cacti where you'll spot dozens of swallow-tailed gulls, petrels and lava gulls.
• Dinner
Dinner onboard and next-day briefing session.
• Last night onboard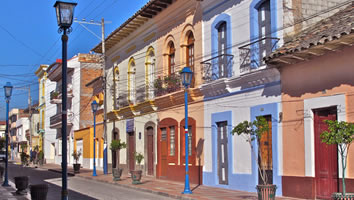 Day 8, Tuesday, May 31, 2022
Start your last day in Galapagos with sharks at sea level, adjust your watches for a different time zone, and get ready to fly high up to The Andes.
• San Cristobal Island:
Kicker Rock is a gigantic lava rock that sticks out of the Pacific Ocean's surface, and is known as "the sleeping lion". The volcanic formation is split in two, forming a small channel that creates a surreal diving spot or an exciting dinghy ride. But the real attraction is the marine life: spotted eagle rays, sea turtles, white-tipped reef, Galapagos and hammerhead sharks.
• Flight to Quito
• Cotacachi
Private transportation to hotel in Cotacachi, and gastronomic experience at world-famous Garden Hotel La Mirage (or similar).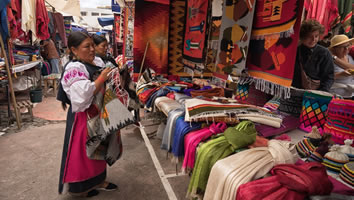 Day 9, Wednesday, June 01, 2022
Visit the world-famous Indigenous Market of Otavalo, freshen up at a magical waterfall, observe majestic condors up-close and personal, and walk the leather shops of quaint Cotacachi.
• Otavalo Indigenous Market:
One of the largest and most famous markets in South America. The indigenous Otavalo people are famed for weaving textiles, usually made of wool, which are sold at the world-famous Saturday market. In this artisan market you will find anything from jewelry, clothing, and traditional home décor to (fake) shrunken heads.
• Peguche Waterfall:
This beautiful 50 ft. waterfall originates at the foothills of Imbabura volcano and is considered an indigenous ceremonial site. It is the main attraction of this lush protected forest.
• Condor Park:
Is a non-profit wildlife refuge for owls and raptors, including the endangered condor, one of Ecuador's most important symbols. This is not only a great place to enjoy astounding 360&deg panoramic views of the San Pablo lake and the Imbabura volcano, but also to raise awareness about the importance of environmental conservation.
• Free evening for shopping in Cotacachi:
This little artisan town is famous for its leather goods and handicrafts. The city of Cotacachi holds a UNESCO medal for being free of illiteracy. In 2000 the entire canton was declared the first ecological county of South America.
• Dinner
Day 10, Thursday, June 02, 2022
Ride a boat on a turquoise lake inside a volcano crater and enjoy the companionship of the group with a waterfront farewell lunch before heading to the airport.
• Visit to Cuicocha Lake:
The name of this crater comes from the guinea pig shape of the largest island in the middle of it. These animals play a significant part in the everyday life of Ecuadorian indigenous people, as they reproduce rapidly and need a minimum of food and care to survive. They make for a high protein meal, especially for populations living in high altitude.
• Farewell Lunch:
Boat ride and farewell waterfront lunch.
• Transfer to airport:
Wow, what a ride! Your 9-night vacation in Quito, Galapagos and The Andes has come to an end. On our way back to the airport, and depending on everybody's flight times, we will surprise you with stops in one or two places along the way for some last minute photo opps.
If you're ready to start your adventure, contact us today, spaces are very limited!