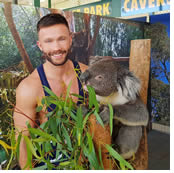 A Gay Australia Cultural Tour Down Under, including Sydney's Gay and Lesbian Mardi Gras!
What is the mystery surrounding the Great Land called "OZ?" And no, it's not the ruby slippers, although the broad landscapes, unique wildlife, and wonderful locals will combine for an experience far and away from Kansas!
On our new Gay "Down Under" tour, we will experience Australia's two largest cities, relaxed and refined Melbourne, and lively and boisterous Sydney. In between, we will explore both the culture and natural beauty of Tasmania, a gem of an island-state located south of Melbourne. With activities ranging from a tasting tour through the multi-cultured neighborhoods of Melbourne, wine tastings and a Wineglass Bay cruise or hike in Tasmania, to a backstage tour of the Sydney Opera House, discussions with an Aboriginal elder, a sunset dinner cruise on Sydney harbor, and a fabulous Gay Mardi Gras parade and celebration in beautiful Sydney, this is the trip of a lifetime!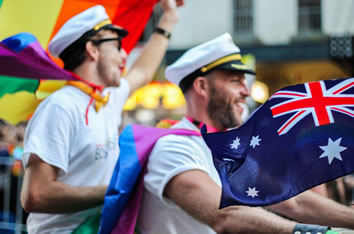 Beginning in Melbourne and ending in Sydney with a visit to Tasmania in between, we will explore a broad cross-section of Australia!
Melbourne is a sophisticated, vibrant, world-class city, filled with parks and fashionable laneways that are dotted with cafés and unique galleries. We explore by tasting our way through a few of its distinctive neighborhoods. Then we fly south to Tasmania, an island of raw beauty, rugged history, and some high culture. Hobart, once the main port for Antarctica expeditions, offers a delightful harbor with stylishly renovated warehouses. And we will stay in one that has been reimagined into Australia's first art hotel. Continuing our high-culture pursuit, we tour one of the world's top modern museums, the Museum of Old and New Art ("MONA"). The art will affect you while the architecture and setting are sure to enchant.
Adding some history, we tour Port Arthur, beautifully sited convict ruins that once housed Britain's most hardened criminals who had been transported en masse on ships halfway around the world. A drive up the east coast to Freycinet National Park, and few nights of nature delivered in a bit of luxury at our oceanside lodge inside the park, will introduce you to more of Tassie's natural beauty, and perhaps sightings of penguins, dolphins, seals, wallabies, kangaroos, and other Australian wildlife.
We conclude our journey with four nights in Sydney! While there we will sip, stroll, wander, prance, savor, sail, and SHINE our way through seductive Sydney during the weekend of Gay Mardi Gras, immersed in one of the biggest GAY parades and parties in the world!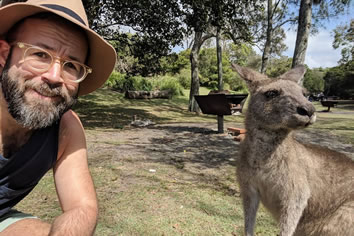 • Enjoy Australian culture, natural beauty, and Gay Mardi Gras on our new tour of OZ
• Savor the fresh cuisine and luxurious wines of Australia
• Delve into the multicultural boroughs of Melbourne, from bohemian Fitzroy to seaside St Kilda
• Fly to Australia's only island state, Tasmania, for history, culture, and natural beauty
• Witness the ruins and what must have been a brutal life in the penal colony at Port Arthur
• Immerse yourself in a unique art experience at the Museum of Old & New Art, MONA
• Sip through several wine tastings and vineyard visits
• Cruise around or Hike across Freycinet National Park, a rugged isthmus crowned by granite knobs, while looking for dolphins, penguins, seals, and wallabies
• Step backstage to tour the world-famous Sydney Opera House
• Sail across the harbor, watching the sunset across Sydney, while enjoying dinner on a private yacht
• Join big GAY fun at Sydney's magical Mardi Gras parade and a weekend of events!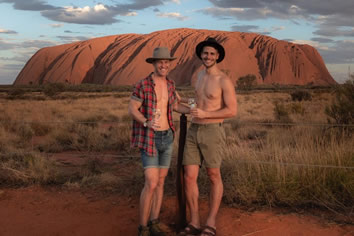 After a night in Melbourne allowing you time to relax and refresh after your long flight, the journey to Ayers Rock to see Uluru, the famous red sandstone dome standing 348 meters (about 1000 feet) above the surrounding landscape. Enjoy a magical sunrise, camel rides, and scenic flights as you explore this unique area at the center of Australia.
Day 01 - Arrival in Melbourne, Australia. Welcome to OZ!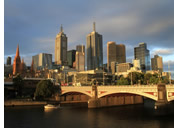 A driver will welcome you as you arrive in Melbourne and will assist you with your transfer to our luxurious hotel in central Melbourne.
Most flights from North America arrive in the early morning after a long flight. You've just jumped ahead an entire day, so you may wish to take it easy today. As your energy allows, explore the central core of Melbourne and its charming arcades and lanes, as well as its many parks and markets.
Day 02 - Outback here we come!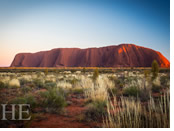 After breakfast, we say goodbye to Melbourne as we fly to Uluru / Ayers Rock for our 2-night stay in the Outback, indulging our Crocodile Dundee fantasies, and learning the mysteries of the oldest inhabitants of this unique landscape!
We will visit Uluru-Kata Tjuta National Park, including behemoth Uluru, the Aboriginal name for what many people know as Ayers Rock, one of the country's most recognizable natural icons. Learn about the local flora and fauna, find out what "bush tucker" is (it's not what you think), and the Aboriginal Dreamtime stories of the area.
Late this afternoon, we mount our sturdy steeds, camels, and ride across the red sandy plains with Uluru in the distance. (Weight limit of 220 lbs).
Day 03 - All about Uluru!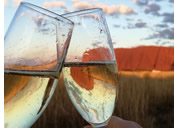 We will get up before dawn today for our guided walking tour to a special location from which to observe an amazing sunrise over Uluru. After an Outback picnic breakfast, we will learn about the Mala people and hear their stories of world creation with "Liru" and "Kuniya," two snakes often depicted in their petroglyphs. We will visit the Mutitjulu watering hole, and make our way around Uluru, before returning to our resort late morning.
Later this afternoon, we will be whisked into the air on a short scenic flight to gain a better overview of Uluru and the eroded mounds of nearby Kata Tjuta.
And then this evening, we will be transported to a remote desert location with majestic views of Uluru. Watching the last rays of sunset dancing across Uluru, we relax to the sounds of a digeridoo with sparkling wine and canapes at hand.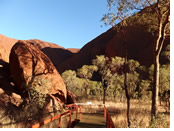 As darkness falls, our "Night in the Field of Light" begins. This art installation of 50,000 glass spheres of colored lights gently sparkles to life as we indulge in an outback-inspired gourmet buffet with Australian wines and beer. As the night ignites with countless stars, settle back and listen to our resident star talker decode the southern night sky.
Our knowledgeable host will provide insights and background to the artist and light installation that awaits you. We are then invited to immerse ourselves in the Field of Light, its pathways glistening softly with rhythms of colored light, beckoning us to explore. Take a lasting look back at Field of Light from the raised viewing area as we enjoy a sweet treat, hot chocolate, or port before returning to our hotel.
Day 04 - Return to Melbourne to Join Main Tour
Morning at leisure, then we return to Melbourne to join the first day of the main tour.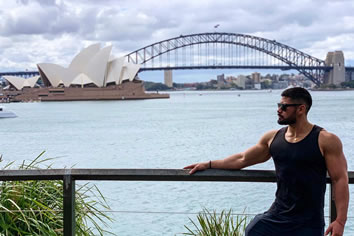 Day 1 - Arrival in Melbourne, Australia. Welcome to OZ!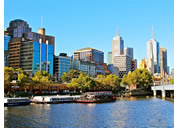 When you arrive in Melbourne, one of our representatives will greet you and assist with your transfer to our luxurious hotel overlooking St. Patrick's Cathedral and Fitzroy Gardens. Most flights from North America arrive early morning, so enjoy the rest of your day relaxing after your long flight and exploring the central core of Melbourne as your energy allows.
There is a lot to love about Melbourne – just ask the locals. This sophisticated city in the south-east corner of mainland Australia inspires a deep passion in those who live there. Ranked as one of the world's most liveable cities, Melbourne is famous for its vibrant energy, restaurants, fashion boutiques, café filled laneways, cool bars, unbeatable galleries, spacious parks, and village-like inner suburbs, each with its own special character.
Take time to rest and recover from the long journey and adjust to the time change, since you've just jumped ahead an entire day!
Day 2 - Tasting our way around Melbourne!

In the Golden Age of Melbourne, rival communities blossomed side by side. Class, nationality, religion, and tradition were often at odds, and distinctive local boroughs emerged. These differences were played out in food and architecture, on the ball field, and in the pub. Many of the oldest neighborhoods are in the midst of a renaissance, as lively now as ever before. From bohemian Fitzroy to lovely seaside St. Kilda; from Little Italy to Little Saigon, today we will travel between worlds sampling favorite treats from around the globe. On this half-day tour, discover the best of the best with local insight and plenty of backstories to guide you along the way.
The remainder of the day is at leisure for you to explore Melbourne. This evening we gather for a welcome dinner at one of Melbourne's better restaurants.
Day 3 - South to Tasmania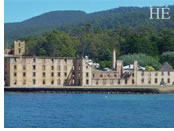 We fly south to Australia's only island state, Tasmania, covering almost 26,000 square miles. Only about one-half of the island has been settled or developed for pasture, leaving a huge swath of natural beauty in national parks, wilderness, and marine reserves, much of which has been preserved by fiercely independent and proud locals.
On arrival, we soon find ourselves in the hands of passionate guides sharing the unimaginable history and lore of Port Arthur and the men and boys banished there after being shipped halfway around the world. Located south of Hobart on the Tasman Isthmus, this facility imprisoned some of Britain's most hardened criminals in a remarkably beautiful setting and now enjoys world heritage status.
This world of isthmuses allows us to visit several geological features, such as the Devil's Kitchen, Tessellated Pavements, and Pirates Bay Lookout, not far from which are some of the highest sea cliffs in the Southern Hemisphere.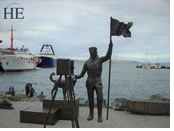 We soon arrive in Hobart, a tranquil, small city along the River Dewent and harbor. Once bustling with whalers and entrepreneurs, and as a base for expeditions to Antarctica, we quickly get a sense of place, realizing how remote this port must have been two centuries ago. The 19th-century sandstone warehouses now serve as dockside cafes, artist's studios, and restaurants, where visitors enjoy excellent cuisine and fine wines. Our hotel for the next two nights is located on the harborfront in a renovated jam factory dating from 1804, now furnished with 300 artworks and an ever-changing exhibition, a fusion of art, heritage, tradition, and nature. The hotel rooms and suites are all unique, furnished with a blend of contemporary art and the building's history at the forefront of each space.
Day 4 - Vineyard Visit and the Anti-Museum MONA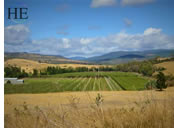 This morning we have a short trip up the River Dewent for a special visit to the Museum of the Old & New Art (MONA), the largest private art collection in Australia, with a fascinating blend of ancient, contemporary, and modern art and exhibits, not to mention a remarkable setting and architecture. Founder David Walsh, a native of Tasmania, curated the collection in his "anti-museum" to challenge and awaken the senses. Likened to both the Tate and MoMA, count on a unique art experience.
Lunch then follows at a nearby Tasmanian vineyard and a visit to the charming historic village of Richmond, nestled in the Coal River Valley, with its well-preserved colonial architecture, afterward returning to Hobart.
Day 5 - Wallabies, Pademelons, Penguins, Dolphins, and Seals – Oh My!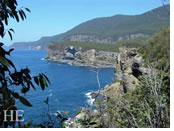 Our next destination is Freycinet, a wondrous peninsula jutting off the east coast of Tasmania, and the national park that envelopes it. En-route, we stop at a few vineyards for wine-tastings and lunch. We soon arrive at our spectacular waterfront lodge for the next two nights, just inside the park, and at the foot of the towering promontories of red granite. A world of hidden comfort, the lodge is proof that communing with nature does not have to mean roughing it. It's a place to relax and rejuvenate, to experience nature's wild harmony without sacrificing creature comforts. Natural beauty abounds. Seals laze and play along the rocky coastlines and wallabies and other uniquely Australian wildlife wander by.
Day 6 - Enjoying the Beauty of Freycinet National Park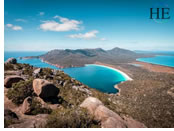 The unique geography of a peninsula allows us to choose whether to explore either by land or by sea. This peninsula is one of the state's most scenic, an isthmus jutting out into the Tasman Sea with a ridge of eroding granite knobs down the center. Rocky coasts line the shore but are peppered with crescent-shaped, sandy beaches and peaceful, azure bays. One of the most recognizable is Wineglass Bay, which we will be able to explore either by boat or on foot on one of two included options today (please let us know your choice when you book or shortly after).
By Sea – Enjoy sightseeing from the more exclusive but shared upper deck on a cruise this morning to Wineglass Bay, about 4.5 hours total. Sail by coasts that are dotted with sparkling white sand beaches, including Cooks and Bryans beaches, only accessible by water or a full-day bushwalk. Explore the inner passage of remote Schouten Island, home to little penguins and short-tailed shearwaters, before heading into the Tasman Sea towards Wineglass Bay. Look for hidden sea caves, blowholes, and waterfalls amongst the sheer granite cliffs.
Take in the sheer beauty of Wineglass Bay from the rarely seen perspective of the water, a shimmering crescent of white sand spilling into glassy turquoise waters. Uncover the rich history of the region, including aboriginal heritage and tales of early explorers and entrepreneurs. The waters surrounding Freycinet National Park are home to diverse and remarkable wildlife. Keep a lookout for sea eagles roosting on the granite cliffs, pods of dolphins surfing the bow wave and cormorants mounted on the crags of Schouten Passage, plus Australian fur seals sunning along the rugged coast. Onboard, enjoy a smorgasbord lunch in the exclusive upper deck, offering privacy, comfort, stunning views, and direct access to the bridge.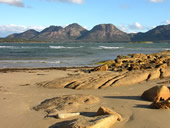 By Land and Sea: For those looking for more of a challenge, we offer a guided hike, likely in a mixed group, up and over the central granite mountain knobs and down to Wineglass Bay on the Tasman Sea, where we will enjoy a cup of tea or coffee. Then we walk across to quieter Hazards Beach and on to private bays where we enjoy a peaceful picnic lunch. Along the way, watch for unique native flora and fauna, hear of the aboriginal history, and of the unique geology and geomorphology of the area. After this hike exploring both sides of the peninsula, we hop onboard a water taxi that takes us 30-minutes along the bay to the jetty at our lodge, about 5.5 hours in full. A day pack and rain gear are provided if needed. You should be able to walk 5-6 miles on uneven, sometimes hilly, the gradient of dirt, rock, and sand, including leisurely walks along beaches.
Spend the remainder of the day at your leisure at the lodge, watch the sunset from nearby Honeymoon Beach, or explore more of the park on foot or by e-bike rental.
Day 7 - Sydney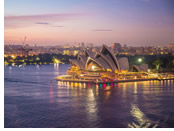 This morning, we drive back to Hobart, catch our flight, and soon arrive in Sydney for Pride party time! Once we arrive at sunny, seductive, and friendly Sydney, get ready for the celebration of a lifetime!
Mardi Gras will be in full swing, and we will be working to maximize our enjoyment of this colorful fest by including spontaneous party opportunities as they present themselves or alternative experiences if need be. Flexibility will be the key to having the most fun possible at one of the biggest parties on Earth!
There is so much to see and do in Sydney that you will have a hard time deciding. Here are some fabulous ideas:
• Ride the "Manly Ferry" across the harbor, one of several other ferries to points all over Sydney's extensive harbor, departing from Circular Quay
• Check out Sydney's many museums
• Shop at the grandly renovated Queen Victoria Building, "the most beautiful shopping center in the world" according to Pierre Cardin
• Rent a bike and ride the network of bike paths in the active-lifestyle-oriented city
• Lose yourself in the cobblestone cul-de-sacs of The Rocks or in the markets, boutiques, cafes, and pubs of Paddington
In the evenings, the gay Oxford Street district will be particularly active during Mardi Gras weekend, with lots of fun to be had!
Day 8 - Animals, Art, Opera House, and MORE!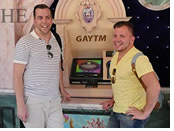 After breakfast, it's time to get up close and personal with some animals! We will start with a safari in the sky on an included cable car ride, then come down to Earth with a 2-hour tour of the Taronga Zoo, one of the most highly regarded facilities of this kind in the world.
And we're not through yet. We now take a ferry across the harbor to the most iconic of Sydney buildings, the Sydney Opera House.
Our tour there brings to life the saga behind the making of this modern masterpiece. We will go inside one of the working venues to experience the magic behind the world's most extraordinary artistic spaces. And we will stay in the Opera complex to enjoy a tasting platter for lunch.
Day 9 - Dreamtime, and Gay Australia Mardi Gras!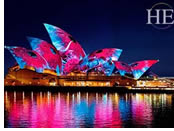 We start our day with a short trip to the Royal Botanic Gardens where we will learn how the local Aboriginal people, the Cadigal people, thrived in this bit of paradise for a thousand years on the lush variety of local bush foods, ample fresh water, and a plentiful array of seafood from the harbor. We'll touch, taste, and smell the plants as we learn about their uses. We will experience the beauty of this little cove and headland, the Wogganmagule, and hear about its rich culture. And we'll hear how the first contact by European explorers impacted these food sources and the Aboriginal culture. The traditions of these saltwater Aboriginal people share some attributes but are also quite distinct from the culture of their distant cousins in the Red Centre near Uluru.
The rest of the day will be soaking up the festival atmosphere. There's no way to describe the Sydney Gay & Lesbian Mardi Gras except with superlatives. It's the world's largest Mardi Gras celebration, Australia's biggest attraction for overseas visitors (and for locals, both gay and straight), and the world's grandest gay party. In fact, Sydney Mardi Gras is a month-long event, with gay and lesbian cultural, social, and sporting events, culminating in the festive parade and countless parties.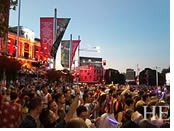 This evening, our group will enjoy premium grandstand seats for the Mardi Gras parade, an event so extravagant it draws a crowd of some 600,000 people.
The parade is followed by an official all-night Mardi Gras party with multiple dance venues, plus there are dozens of unofficial parties around the city. While grandstand seating is included, the official all-night party tickets are not included with our package, so let us know if you would like tickets and we will order them on your behalf. Tickets are limited, so please let us know soon after booking the tour if you would like a ticket, by returning your options sheet.
Day 10 - Recovery – Explore – Farewell Dinner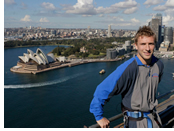 Today is for recovering from the party! Rest, relax, or lounge—it's up to you.
Optional excursion: Sydney Harbour Bridge Climb
For those interested, we offer the amazing Sydney Harbour Bridge Climb as an optional tour, scheduled during free time. It is a 3.5-hour experience, with views down onto the Opera House and across its magnificent harbor. (Be warned, you have to pass a breathalyzer scan to be allowed up!)
Harnesses, helmets, and gloves are provided. The Climb starts when you attach a strong carabiner (hook) onto a continuous metal rod that goes all the way up to the top of the bridge, and all the way down the opposite side. You walk partway out onto the bridge, climb up a ladder, then start the gradual ascent to the top. The footpath is wide enough that most people don't get too scared – but it's not recommended to spend much time looking down at the speeding cars and subway trains a few stories below!
At the top, you walk from one side of this great icon to the other, and Climb Leaders will point out key landmarks. A clear day will afford you views that stretch from the Pacific Ocean to the Blue Mountains. You then return to the starting point on the opposite side of the bridge.
Tonight, we head out on Sydney Harbor's sensational sunset dinner cruise for our Farewell Dinner! We will board our private luxury yacht and be mesmerized as the sunset reflects ever-changing light on the Sydney Harbour Bridge and the Sydney Opera House. Our cruise concludes with a shipboard gourmet barbeque dinner with 5-star service, so enjoy your evening. What a special way to wrap up an amazing adventure and celebrate with our new best friends!
Day 11 - Goodbye Mates!
After breakfast, transfers will be provided to the airport, then it's off to home.
Stay longer and join the New Zealand Vineyards and Vistas Gay Cultural Tour! March 8 -19, 2022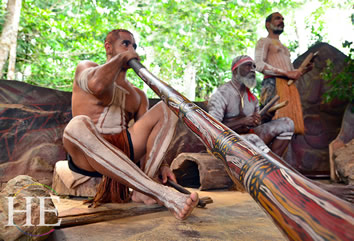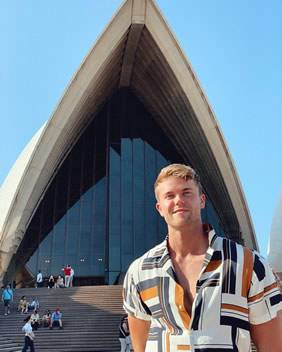 • Arrival and departure airport transfers
• Transfers for group flights;
• Group ground transportation as listed in the itinerary;
• Flights from Melbourne to Hobart, and Hobart to Sydney;
• Hotels for 2 night in Melbourne,
- 2 nights in Hobart,
- 2 nights in Freycinet National Park,
- 4 nights in Sydney;
• Your choice or either a cruise or a hiking excursion in Freycinet National Park,
• All breakfasts, 6 lunches, and 4 dinners;
• Entrance for activities & local guides as shown on the itinerary;
• Mardi Gras parade viewing tickets (seated);
• Services of a knowledgeable HE Travel tour host (with a minimum number of participants).
• HE Travel provides complimentary Medical & Evacuation Insurance for every US Resident on our group tours who does not have other coverage.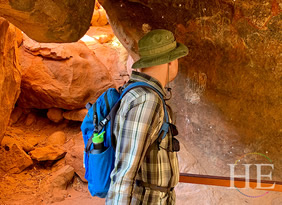 • ETA (Electronic Travel Authority) for admission to Australia (we will provide instructions shortly before the tour);
• International airfare to Melbourne, Australia, and from Sydney, Australia;
• Activities listed as Optional Tour Choices, such as the Sydney Harbor Bridge Climb;
• Mardi Gras party admissions/special events tickets;
• Souvenirs, snacks, admissions, alcohol;
• 3 lunches and 6 dinners;
• Gratuities for tour host and local guides.
Optional Tour Choices:
• Sydney Bridge Climb - $250
• Mardi Gras all-night party tickets - $160
Day 6 – Everyone is pre-scheduled for cruise on this day. If you would prefer the hike, please select this on your options sheet when you receive your paperwork.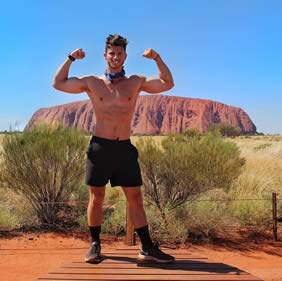 • Arrival and departure airport transfers in Melbourne and Ayers Rock;
• Guided, shared tours, camel back ride, and scenic flight, as listed in the itinerary;
• Field of Light experience and dinner;
• Flights from Melbourne to Ayers Rock to Melbourne;
• Hotel room for 1 night in Melbourne and 2 nights at Ayers Rock
• 3 breakfasts and 2 dinners;
• Services of a knowledgeable HE Travel tour host (with a minimum number of participants).
• HE Travel provides complimentary Medical & Evacuation Insurance for every US Resident on our group tours who does not have other coverage.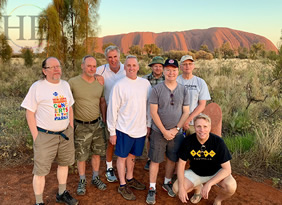 • ETA (Electronic Travel Authority) for admission to Australia (we will provide instructions shortly before the tour);
• International airfare to Melbourne and from Sydney, Australia;
• Souvenirs, snacks, admissions, alcohol;
• Meals not listed above;
• Gratuities for tour host and local guides.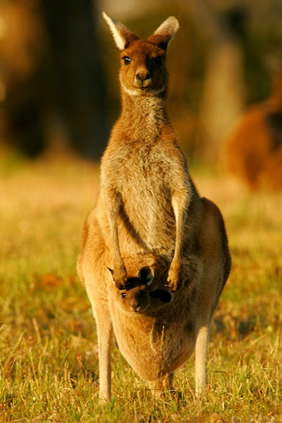 Where does the tour start and end?
This tour starts Melbourne, Australia and ends in Sydney, Australia. While we will let the hotel know of early arrivals, the hotel may not be able to get you into your room until mid-afternoon. If you arrive early in the day, which is likely for those traveling overnight from the US, and would like to be sure of your room availability on arrival, please consider asking us to reserve your room for an additional night, guaranteeing early arrival availability. Likewise, we are happy to extend your stay for extra nights in Sydney if you so desire. You can book these additional nights when you register for your tour. We may be able to obtain them for you closer to departure if there is still room availability.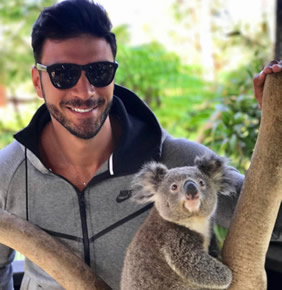 What is the Activity Level of This Tour?
This Cultural Tour of Australia requires some walking on each day, at a modest pace, often on uneven surfaces. A few boat and ferry rides are included, so you will need to be able to climb on board and feel steady on boats that may move with the swells. Someone with less mobility could still enjoy the tour but may need to sit out some of the more strenuous activities. In lieu of the cruise in Freycinet National Park on Day 6 of the tour, there is an option to hike instead. And for this adventure, you should be reasonably fit, able to hike for 5-6 hours (with stops), on a dirt/rock/sand trail, and across beaches. The hike passes up and over the ridgeline of the peninsula, so you will have some ascent and descent on the trail. Most guests will likely choose the cruise today instead of this more challenging hike, but we invite you to consider it if you it is within your usually fitness routine.
What will the hotels be like?
Each of the hotels used for our tour is one of the highest rated hotels in its area. We have chosen our deluxe hotels due to their history, convenience, and comfort – and uniqueness! Our three city hotels are in excellent locations allowing easy access to charming restaurants, cityscapes, and nightlife. And our hotel in Freycinet National Park is the only lodge in the park.
What if I am traveling alone?
Most of our trips draw more single travelers than couples. When couples do join us, it's usually because they're looking forward to interacting with a gay group; if they wanted a holiday by themselves, they wouldn't have signed up to travel with us. Furthermore, the activities included with our trips serve as natural ice-breakers. Within a day, you'll be traveling with friends. You don't need to pay the single supplement if you're traveling alone. We'll be happy to match you with a roommate. Pay the single supplement only if you want a bedroom to yourself.
Can I go to the Great Barrier Reef?
We don't include a visit to the Great Barrier Reef with this tour due to a few challenges. First, it's cyclone season in the tropical regions when we schedule this tour for Sydney Mardi Gras, so rain and weather are a common threat, if not outright evacuation concerns due to an approaching storm. Plus, jellyfish are present in the waters around Cairns and Port Douglass at this time of year. But if the weather concerns don't dissuade you. And if you don't mind wearing protection or watching for jellyfish while snorkeling, then we are happy to arrange a private trip to the area and perhaps the Daintree Rainforest before or after our main tour. Or other times of the year when you may visit.