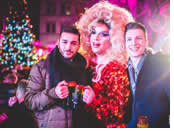 Experience THE BEST OF CHRISTMAS in Europe, from Mozart and the Habsburg Empress, Sissi's castles in Vienna, gay King Ludwig's heritage in Munich and Bavaria, the oldest and most famous Christmas market in Nuremberg, and the most beautifully-decorated fairy tale villages in the Alsace mountains and the stunning Christmas Capital Strasbourg.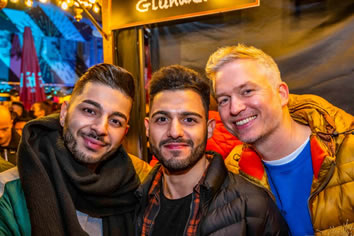 • Explore Vienna's famous Christkindlmarkt – The largest Christmas market in Austria with over 150 stalls of food, drinks, and Christmas gifts.
• Enjoy horse-drawn carriage rides and ice skating at both the Viennese Emperor's Palace or Bavaria's Baroque Palace under a canopy of Christmas decorations and festive music.
• Snack at Munich's giant Viktualienmarkt – Germany's largest Christmastime farmer's market with acres of edible treats, music, and Christmas gifts from all across Bavaria.
• Lose yourself in Nuremberg's Christkindlesmarkt – the oldest Christmas market in all of Germany with 250+ stalls of regional food, drinks, holiday music, and plentiful Christmas gifts.
• Discover Nuremberg's castle atop the sparkling city, decorated for Christmas and offering a variety of Christmas activities, such as concerts and tours.
• Immerse yourself in the largest Christmas market in France, located in Strasbourg's city center with over 300 stalls of French and European Christmas fare, drinks, music, and varied Christmas gifts.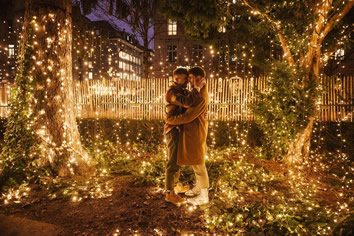 Day 1 - Arrive in Vienna, Austria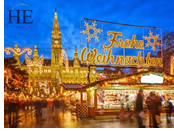 Welcome to Vienna!
Famous for its classical music and opera, Vienna is home to spectacular architecture and rich cultural offerings with an undeniable charm. Brimming with ornate palaces, traditional coffee houses, art galleries, and museums, the city is the jewel in Austria's crown – sensationally decorated during Christmas time.
Today enjoy a walking tour and a visit to our first Christmas market, Vienna Christmas World, one of the most iconic Christmas markets in the world is the Vienna Christmas World on Rathausplatz near the Rathaus, Vienna's historic city hall.
This evening we will enjoy our Welcome Dinner.
Day 2 - Markets and Mozart/Strauss Concert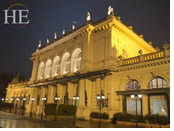 Enjoy your leisurely day, visiting over 150 Christmas market stalls, eating, listening to music, and getting lost in the joy. The city's biggest Christmas market brings the enchanting romance and nostalgia of the season to life, with around 150 colorful stalls offering handicrafts, gift ideas, confectionery, hot drinks including punch and mulled wine, sausages and snacks.
This evening we will enjoy dinner and a Mozart/Strauss concert at Kursalon.
Day 3 - Vienna, Austria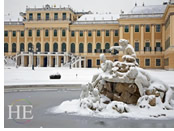 Today we will visit Schonbrunn Castle with an audio guide (Imperial audio ticket: 22 rooms, duration approx. 35 mins) + Schonbrunn Park.
Later today you can enjoy the optional excursion to the beautiful Melk monastery – one of the Foremost Baroque Ensembles in the World. Planned by the famous Austrian Baroque Architect Jakob Prandtauer in the first half of the 18th century, the Melk Abbey complex, where Benedictine monks still live and dedicate their work to culture and education, extends over 320 meters.
Afterward, the rest of the day will be at our leisure.
Day 4 - From Vienna to Munich, Germany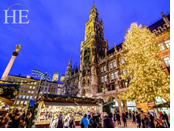 This morning we will enjoy our comfortable, 4 hours direct scenic train journey from the capital of Austria to the capital of Bavaria via first class. During our ride, you will enjoy the Austrian mountain scenery passing snowcapped mountains while sipping coffee and enjoying lunch on board.
Munich is home to some of Europe's greatest cultural treasures, packed with lovely sights, museums, and endless steins of beer. In the weeks before Christmas, Munich pulls out all the stops. Generally, it's cold enough to snow, so the roofs of all the fabulous buildings and churches are topped with a glittering cap. In the morning, icicles drip from gutters and tree branches and ice roses cover the windows. Munich opens her jewelry box and pulls out the best Christmas decorations to spread lavishly all over the city. Huge stars, angels, and Christmas trees decorate streets and shop windows, and you can enjoy over 20 Christmas markets.
We will have an afternoon city walking tour and then this evening, enjoy the famous Hotel Deutsche Eiche with complimentary access to the biggest gay sauna in Munich!
Day 5 - Munich, Germany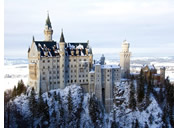 Today we will explore more of Munich with some optional experiences:
Option 1:
Trip to the famous Neuschwanstein Castle (Disney-inspired original Fairy Castle of gay King Ludwig II )
Option 2:
Trip to Dachau Museum
Option 3:
3rd Reich Walking Tour – 5-hour tour
Day 6 - Nuremberg, Germany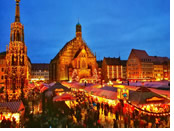 Today we will take a 1-hour high-speed train to visit Nuremberg for the day.
The Nuremberg Christkindlesmarkt is one of the oldest and most famous Christmas Markets in the world. In the wooden booths of "the little city of wood and cloth" one finds traditional, often handmade Christmas decorations and sweet treats such as gingerbread and Spekulatius almond cookies
Day 7 - Strasbourg, France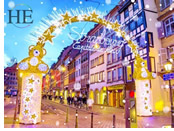 We head to Strasbourg today via the TGV high-speed train. It is a direct first-class luxury train that will bring you from Munich to Strasbourg in four hours.
Christened the Capital of Christmas by Strasbourg's deputy mayor in 1992, the French city is home to about a dozen Christmas markets in different squares throughout the city. The most iconic one has been held at the foot of Strasbourg Cathedral since 1570, when the city was part of the Holy Roman Empire of the German Nation, making it one of the oldest Christmas markets in Europe. Taking pride of place in the center of a Christmas village festooned with miles of twinkly lights is a 100-feet-tall Nordic pine. Some 300 stalls sell everything from pastries and glühwein to handmade gifts and festive decorations.
Day 8 - Free Day in Strasbourg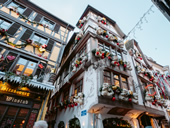 Enjoy a free day today.
The organised gay scene is limited with a couple of gay bars, a cruise club and sauna catering to gay customers. Strasbourg has a lively student scene which makes the nightlife bustling and welcoming meaning you're guaranteed to have a good night wherever you go.
Strasbourg, a unique destination, thanks to its cultural richness, its typical Alsatian architecture, its culinary specialities, its Christmas market…
Day 9 - Ribeauvillé and Riquewihr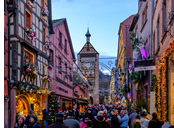 Today we will enjoy the fairy-tale villages of Ribeauvillé and Riquewihr, in the vineyards close to the Alsace mountains. Here you will be transferred into another world.
In typically Alsatian style, Riquewihr wonderfully combines the spirit of Christmas with the beauty of its architecture.
During the festivities, the magic is all around! The half-timbered façades are decked out with the finest decorations, the window boxes that overflow with flowers in the summer give way to pretty festive ornaments and a myriad of lights are strung over the village streets and alleyways. A sight for sore eyes that plunges you straight into a fairytale atmosphere!
Day 10 - Basel, Switzerland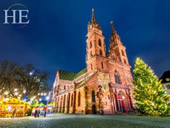 Today, we will head to Switzerland.
Lying on the border of France and Germany, the Swiss city of Basel has three main Christmas markets: the one on Barfüsserplatz in the old town is the largest with a new market next to the cathedral on Münsterplatz and a smaller one on the right bank of the Rhine on Claraplatz. The three are within easy walking distance from each other, linked by beautifully decorated streets, shop windows, and homes. The streets are lined with little wooden chalets hawking crafts, regional products, and food specialties like oozy Swiss raclette and a thin Austrian pizza called flammkuchen.
Day 11 - Basel, Switzerland Departure
Transfer to the Basel Airport, or there are optional trains to Zurich airport (90 mins)