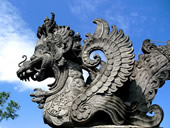 Gay Indonesia Island Hop Tour. If you love islands, sunshine, temples, monkeys and friendly people, this gay Indonesia tour is perfect for you. It is a great cultural tour with a mix of adventure. Enjoy two full weeks of touring with plenty of free time to relax. We will spend time on the islands of Java, Borneo, Flores, Labuan Bajo, Seraya, Padar, Rinca and Bali.
This tour is filled with culture and adventure as we fly from island to island. We will set foot on 7 different Indonesian Islands during our stay, all beautiful in their own ways. We will start off with our arrival into Jakarta (Java) for a night, then off to Borneo for 2 nights at the rustic Rimba Lodge. It is a truly unique experience as we stay in the middle of the rainforest each night and spend our days aboard our Klotok looking for a variety of monkeys in the wild. We will enjoy hikes to feeding stations to see Orangutans. Our journey has us back to the island of Java, this time in the central region to enjoy the sunrise at Borobudur Temple and a stop at Prambanan Temple.
Next up is the beautiful island of Bali! Here we will be submerged into the culture of woodcarving, a visit to Kintamani, with a lunch view overlooking Lake Batur and Bali's highest volcanic crater. Our next destination is the holy spring of Tirta Empul and we will finish the day off with a visit to a coffee & spice plantation. The last day in Bali will be a free day and then we will meet up in the evening for a Kecak and Fire Dance performance at the open stage of The Chedi Club.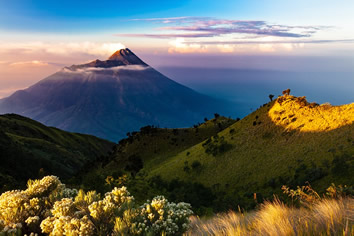 Our next flight will take us from Bali to Labuan Bajo (Flores), where we will then board a boat over to Seraya Island for the next 3 nights. Here we will have a free day and a full day of adventure as we enjoy a speedboat journey over to Padar Island for a hike with amazing views, then Pink Beach for gorgeous snorkeling and lastly Rinca Island for a chance to see the Komodo Dragons!
Our final island will be back to Bali for 2 nights at our beachfront hotel and free time to explore on your own. We will wrap up our journey with a farewell dinner before departing ways the next day.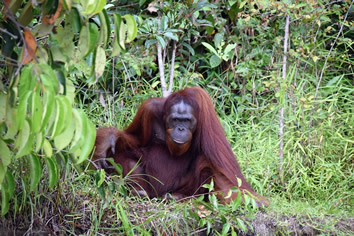 • Snorkel Pink Beach with over hundreds of varieties of corals and fish
• Explore Rinca Island and the Komodo Dragons!
• Cruise the Kumai River and watch for Macaques and Proboscis monkeys
• Visit Borobudur Temple at sunrise
• Relax on the beach and swim in the Indian Ocean
• Tour Prambanan Temple and the surrounds grounds
• Sip on coffee and tea at the coffee & spice plantation
• Enjoy a Kecak and Fire Dance performance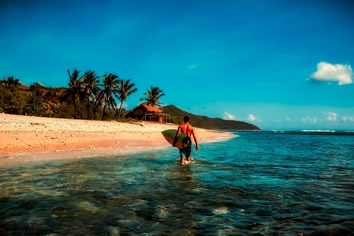 Day 1 - Arrival in Jakarta, Indonesia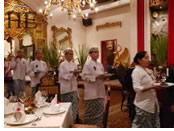 Welcome to Indonesia! Upon arrival into Jakarta, we will be transferred to our hotel to check-in and freshen up before our orientation and Welcome dinner this evening.
Jakarta, Indonesia's massive capital, sits on the northwest coast of the island of Java. A historic mix of cultures – Javanese, Malay, Chinese, Arab, Indian and European – has influenced its architecture, language and cuisine. The old town, Kota Tua, is home to Dutch colonial buildings, Glodok (Jakarta's Chinatown) and the old port of Sunda Kelapa, where traditional wooden schooners dock.
Day 2 - Off to Borneo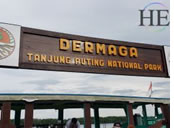 This morning we will enjoy a marvelous breakfast and head back to the airport for our amazing 3-day adventure in Borneo! Upon arrival at Pangkalan Bun airport, we will meet our local guide and transfer to Kumai River to board our Klotok (wooden riverboat). We will enjoy the views of the river and the surrounding rain forest as we cruise along the river and look for a variety of monkeys in their natural habitat.
Be on the lookout for Proboscis monkeys, Macaques and maybe even a Gibbon or Orangutan hunting for food. We will enjoy lunch on board our vessel as we make the two-hour journey to Rimba Lodge where we will stay for two nights.
The lodge is rustic but has us in the best location for our full day of exploration on Day 3. It's quite a unique experience. Macaques tend to hang around the lodge, so remember to look up to the rooftops as you are walking past buildings.
Day 3 - Pondok and Camp Leaky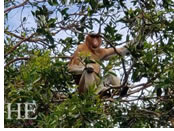 After enjoying breakfast at the lodge, we will set out for a full day of adventure. Our journey will be onboard our Klotok today as we navigate the river and enjoy a couple of stops throughout the day.
Enjoy a walk through the forest and views of the unique pitcher plants and tropical trees.
We will visit two feeding stations to watch Bornean Orangutans and if we are lucky, hopefully, a Gibbon will make an appearance.
The Bornean bearded pig also likes to show up for some free bananas. These feeding stations are very important in aid for the Orangutans to have a reliable food source as their home continues to be destroyed around them.
Day 4 - Pangkalan Bun - Jakarta - Semarang - Magelang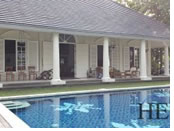 After breakfast at the lodge, we will say our goodbyes to Rimba Lodge. We will board our Klotok for the last time and cruise down Kumai River to Tanjung Puting to board our plane back to the island of Java.
Upon arrival at the island Java, we will gather our belongings and drive to our amazing accommodation outside of Magelang. Lunch will be at a local restaurant along the way and dinner will be on our own tonight at the hotel. Rest up as tomorrow will be an early morning.
Day 5 - Sunrise at Borobudur Temple – Prambanan Temple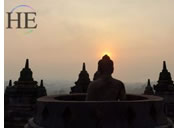 This morning will be another unique experience as we enjoy sunrise at the biggest Buddhist temple in the world. The sun will rise over Mount Merapi(weather permitting) and we will experience quiet dawn at Borobudur. On the way back to our hotel for breakfast, we will visit Pawon Temple and Mendut Temple. After breakfast and freshening up, we will make our way to Candirejo Village. This is a traditional village that we will explore by Andong(horse-drawn carriage). Here we will gain insight and knowledge of the local customs and traditions, art/crafts, traditional health drinks and the agricultural system of intercropping.
Later, we will enjoy lunch at a local restaurant before making our way to Prambanan Temple. This Hindu temple is known as the "slender virgin" and the complex of Lorojongrang. It was erected in the 9th century while Java was ruled by the Hindu Sanjayas of Old Mataram. It consists of 3 major temples/shrines in the main area. Enjoy your time walking and observing the beautiful carvings and the neighboring shrines, such as Candi Palosan and Candi Sewu. This evening we will check into our hotel and the evening is on your own to relax after this long day.
Day 6 - Yogyakarta – Bali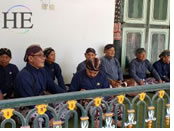 Today we will spend time at the Sultan Palace(Kraton). The grand and elegant Javanese architectural style structure lies in the center of the municipality and was built in 1970. This is an active palace and we will have the privilege of enjoying it and visiting the intriguing Tamansari(fragrant garden). Next, we will visit a Batik workshop and see the process of traditional cloth being drawn on using hot wax.
We will grab some lunch and then off to catch our flight to Bali! Upon arrival in Bali, we will transfer to our hotel in Ubud(approximately a 1.5-hour drive) After we check-in to our hotel for the next three nights, the rest of the evening is on your own.
Day 7 - Ubud – Kintamani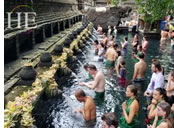 After breakfast, enjoy time at a woodcarving workshop in Mas Village. Here we can watch the woodcarvers at work and enjoy the time to shop and view some of the creations.
Next, we will make our way to Kintamani, a spectacular mountain resort overlooking Lake Batur and Bali's highest volcanic crater. We will enjoy a local organic lunch while taking in the view.
Our next destination is the holy spring of Tirta Empul, surrounded by a large shrine to honor the God Indra. There are bathing pools here that are believed to have a strong curative power. The day continues as we visit Pura Kehen Temple, a smaller yet beautiful ornamented temple.
We will wrap up the day with a visit to the coffee & spice plantation. If you are brave, give the famous Kopi Luwak coffee a try. It is made from the Asian palm civet droppings. Called a toddy cat, the animal eats coffee beans and digest it. Although Kopi Luwak is a form of processing rather than a variety of coffee, it has been called one of the most expensive coffees in the world.
Day 8 - Free Morning in Ubud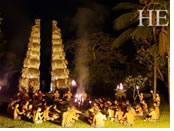 Today is yours to explore. Stay at our amazing resort and relax poolside or head into town. The hotel offers shuttles into the main area of Ubud.
This evening we will enjoy a Kecak and Fire Dance performance at the open stage of The Chedi Club. The dance involves a chorus of at least 50 men. They sit on concentric circles around an oil lamp and begin to chant. The sound they make is "cak-cak-cak' up to seven different rhythmical combinations that are interwoven, creating a tapestry of vocal sounds that accompany the dance. After the performance we will enjoy a Balinese Royal dinner at the hotel's pavilion open-air restaurant, overlooking lush rice paddies.
Day 9 - Labuan Bajo – Seraya Island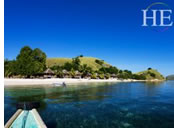 This morning we are off to a new island, actually two. We will fly from Bali to Labuan Bajo, and then board a boat over to Seraya Island for the next 3 nights.
This beach bungalow resort will be a nice place to spend the rest of the day relaxing.
Set north of Labuan Bajo, about an hour away by boat, Seraya Island has an excellent offshore reef and drop-off and a good beach for lazing on.
Day 10 - Padar Island – Pink Beach – Rinca Island (Komodo Dragons!)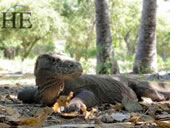 After an early breakfast this morning we are off for a full day of adventure. We will jump aboard our speedboat and make the 2.5-3 hour crossing to Padar Island. Here we will enjoy some magnificent views across the islands, bays, and beaches.
Next, we will cruise over to Pink Beach for some of the best snorkeling in the world. Or enjoy time laying back and relaxing on the beach. The beach gets the color from the red coral fragments and the water is full of hundreds of varieties of hard and soft corals and thousands of species of fish. After our refreshing dip in the water, we will enjoy lunch on board our boat as we continue to Rinca Island.
Once we reach Rinca we will enjoy a 2-hour hike with great opportunities to see dragons and their prey. We will pass by their nests and out into the exposed savannah that is studded with lontar palms. Our hike will take us to Waewaso, a permanent waterhole which has breath-taking views.
Day 11 - Seraya Island – Free Day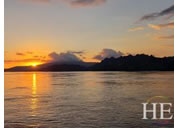 Today we are free to relax, snorkel, dive, read a book, do anything you desire.
The beach hotel has a variety of activities to choose from or you are welcome to take the shuttle boat to town for a few hours.
Charming Seraya Island – a place where chilling out on white sandy beaches, swimming in the clear, calm and turquoise water or exploring the colorful underwater world with just some goggles and a snorkel make up your daily routine.
Day 12 - Back to Bali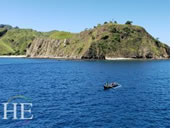 This morning we will board the shuttle boat back to Labuan Bajo and head to the airport. We will arrive back to Bali and spend our last 2 nights in the Seminyak region. This is a beach resort area at the southern end of Bali, with high-end shopping and restaurants. Sleek bars and clubs with busy sunset scenes line Seminyak and Petitenget beaches, which are wide, west-facing stretches of Indian Ocean shoreline with gray sand and good surfing conditions.
There are no activities planned for the next day and a half. Enjoy your free time exploring, maybe take in a morning yoga session. This is known as the gay place to be in Bali.
Day 13 - Farewell Dinner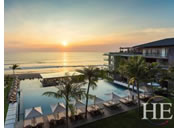 Enjoy your last day in Bali exploring.
Beautiful landscapes, sandy beaches and friendly gay scene make Bali one of Asia's most popular gay destinations. Bali is a gay haven in a country which doesn't have the best record for LGBTQ rights. The strong Hindu influence and large international tourism community has made it more relaxed and accepting than other parts of Indonesia.
Tonight we will walk the beach and enjoy our farewell dinner together before departing tomorrow.
Day 14 - Departure
Have breakfast this morning and then a transfer to the Bali airport at your designated time.