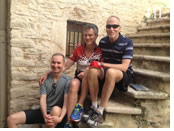 Spend a week cycling along ancient Roman lanes, coastal drives and mountain paths. Each night, relax at an authentic gay owned and operated agriturismo, enjoying a glass of wine from the villa's vineyards, gourmet meals, and a dip in the pool, with cute locals always stopping by to enjoy the festivities.
Cycle along the ancient Appian Way and lightly traveled roads through countryside that reflects centuries of pilgrims, soldiers and other travelers. Stay in a villa that has stood since the 14th century (and some parts even older), which has been restored to its ancient splendor by a gay American with deep family roots in the soil of Puglia.
During our gay Italy bike tour in Puglia, we'll have five biking days, designed in a "roller coaster" fashion, with light days in the beginning and end and harder days in the middle.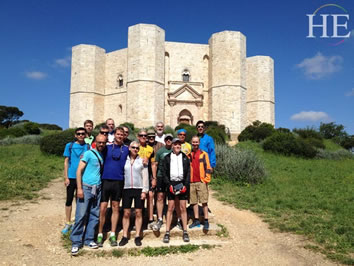 Each day you are fully supported with a van, an SUV with a bike rack and two Italian guides. Most rides take you on back roads you'd never be able to find on your own (avoiding a lot of traffic in the process), allowing you to see and enjoy the beauty of the land that few get to see. From local fishing villages to the UNESCO World Heritage Site of Castel del Monte to ancient Roman bridges, you'll experience all that Puglia has to offer. Each day, enjoy the food and wine of the region, freshly prepared in the kitchen at Villa Cappelli, or at restaurants in Terlizzi and around the area.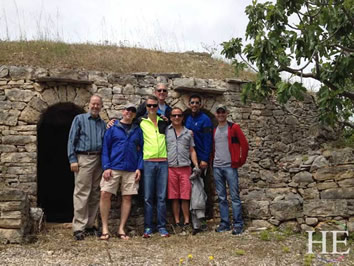 • Reside for a week in the authentic 14th century Villa Cappelli, perched next to the fabled Appian Way.
• Cycle through medieval towns and villages ranging from Adriatic coastal fishing ports to inland market towns.
• Relax by our private, clothing optional pool in the villa's courtyard and enjoy a complementary cocktail hour every night.
• Dine on local delicacies prepared in the villa's kitchen, using olive oil produced at the villa and exported to gourmet shops.
• Taste wine produced at the villa and sample the vintage of nearby vineyards.
• Meet neighbors who rarely see tourists and who enjoy mingling with the guests.
• See what "La Dolce Villa" is all about: this a very authentic Italian experience without any "tourist" traps.
• Travel with friends and request the top floor of the villa (three rooms that share a huge living room and one bath).
• Have seen Puglia? Join Biking Blue Coast in Portugal.
Leisure travelers may enjoy the Puglia Villa Culinary Experience, featuring the same delicious regional cuisine, with sightseeing to nearby towns and markets, historical and agricultural sites accomplished by van. Bicycles would be available for optional rides/sightseeing.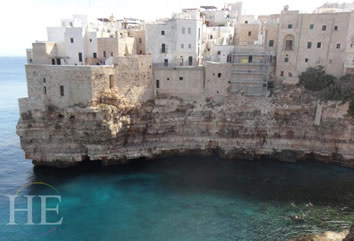 Day 1 - Welcome to Puglia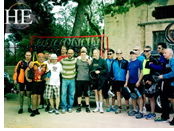 All travelers should plan to arrive in Bari today. Upon arrival at Bari airport or the Terlizzi train station (connecting in Barletta), a transfer will be provided to Villa Cappelli, located on a quiet portion of the ancient Appian Way, a few kilometers inland from the Adriatic Sea.
After settling into our rooms, a light lunch will be available for those arriving early enough for lunch.
In the afternoon we will check out and adjust our bikes so that we'll be ready to go in the morning. The rest of the afternoon will be free to explore the grounds, then later to enjoy snacks and some local wine. We will enjoy our welcome dinner tonight at the villa, sampling the olive oil and other delicacies of the region.
Day 2 - Ruvo di Puglia Necropolis & Molfetta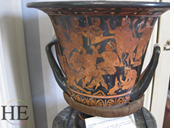 Today we ride to few neighboring towns. First, a morning bike ride through the serene countryside, orchards and vineyards to the necropolis of Ruvo di Puglia and the Jatta Museum, famous for its Grecian Urns. Many of Ruvo's Urns are on display in the Greco-Roman Galleries at the Metropolitan Museum in New York City.
Then, it's off to Molfetta. Here, bikers, if so wishing, can dip their toes in the Adriatic. After Molfetta, we lunch together in a delightful seafood restaurant right on the water.
After lunch, we'll take a quick ride to the seaside town of Giovinazzo and explore the quaint seaport and the magnificently restored medieval town center with a quick walking tour. Then we ride back inland to Villa Cappelli. For dinner tonight, we'll enjoy a local Terlizzi restaurant together.
Day 3 - A Gravina we will go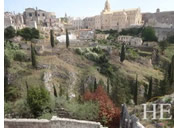 We might need a shot of espresso with the locals to get us ready for today: one of our longer rides, from the practically "undiscovered" town of Gravina. We will bike through La Murgia with beautiful fields of grain and trulli covering the countryside.
Gravina itself features a large ravine with some spectacular views and an ancient Roman bridge is right out of a postcard. After touring the city, we will ride back to the villa, stopping for a picnic lunch halfway and enjoy dinner tonight at the villa.
Day 4 - Holy Cow, It's the Holy Grail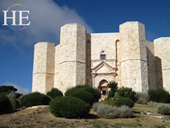 Today we will ride in the van to first visit Castel del Monte, a UNESCO World Heritage Site that is featured on the back of the Euro penny. Built in the 13th century by the Swabian Emperor, Frederick II, Castel del Monte is perched atop a hill, overlooking all of Puglia and the Adriatic.
The castle is featured in many myths and historic accounts, including the legend of the Holy Grail. After a tour of the castle, we will hop on our bikes to ride back to the villa, stopping along the way to visit some sights. Mostly downhill, the ride features some truly beautiful scenery. We will enjoy lunch at the villa, and then dinner is on your own tonight in Terlizzi.
Day 5 - Polignano a Mare & Bari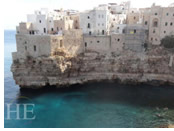 This will be our off-day from biking, offering a chance to visit the seaside town of Polignano a Mare and Bari, the capital of Puglia.
We'll travel by mini-bus and have a chance to walk the winding ancient streets of Polignano a Mare as it juts out into the sea. Then we'll head to the nearby capital of the Puglia, where we can grab some lunch and enjoy some sites (including the church where Santa Claus, Saint Nicolas, is buried — don't tell the kids!) and do some shopping.
We'll return to Villa Cappelli to relax and enjoy and pizza party for dinner, featuring pizzas cooked right in the villa's own ancient wood-burning pizza oven.
Day 6 - Mama Mia, Matera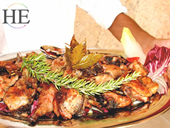 Today we jump back into the van for a quick ride to Matera. We'll walk the winding ancient streets of this town so well preserved that it has been used as a movie set. One part of the town spills down a hillside, and another features homes, restaurants, and hotels built in caves in the soft "tufa" rock.
After our morning tour here, we'll lunch at a nearby agriturismo and then bike back to the villa through some more of the amazing countryside.
Day 7 - Trani — no not that kind

Today on our final bike trip, we head to the beautiful seaport of Trani.
Traveling through the backroads full of olive trees, we'll stop to admire some of the sites along the way. In Trani, we'll tour the giant cathedral that sits right on the sea. After lunch in Trani, we'll head back to the villa for our final farewell dinner.
Day 8 - Homeward Bound
Today we bid farewell to our friends and to Puglia. A morning group transfer will be offered to Bari Airport for flights back to Rome and beyond. Please note that for some flight routings, an overnight stay in Rome will offer the most choices of flights heading home.
Have seen Puglia? Bicycle in Portugal!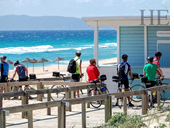 Starting near Lisbon, our gay Portugal cycling trip takes us along quiet roads from the seaside hills of the Blue Coast through the agricultural region of Alentejo to the brilliant beaches of the Algarve. While hugging the Atlantic Coast, we'll pass charming windmills, historic nautical sites, and quaint fishing villages. Experience the beauty and warm hospitality of Portugal!