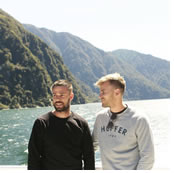 A Gay Travel New Zealand Cultural Tour. Experience epic natural beauty and rich cultural heritage on our Vineyards and Vistas gay tour of New Zealand. We enjoy all three of its main cities, visit multiple vineyards, enjoy tasting tours, sail on an America's Cup racing vessel in Auckland harbor, travel through beautiful vistas, along scenic coastlines, between towering mountains, and across grand glacial lakes, not to mention learning of Maori culture and enjoying backstage treasures in the finest museum of the region.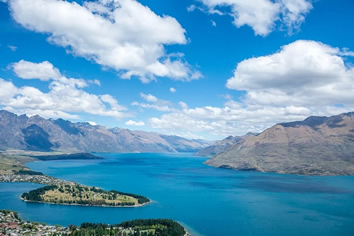 We start our journey sailing in an elite yachting regatta and jump right into the delectable world of New Zealand wine & olive oil tasting on charming Waiheke Island.
Then, in Wellington, our harborfront hotel gives us quick access to an immersive, behind-the-scenes tour into the culture and treasures of the native Maori. We will also explore hidden culinary treasures and artistic personalities on a walking tour of the city center.
After crossing by ferry through the Marlborough Sounds to the South Island, we stay in a serene oceanside hamlet, hoping to view seals, dolphins, and maybe even whales, if not from shore then by flight.
Our third city, Christchurch, has rebounded from the earthquakes a decade ago, now a new dynamo that retains much of its English charm, framed by peaceful parks.
We arrive in Wanaka not long after flying across the Southern Alps, to enjoy a soul-nourishing culinary tour of a different type, in nature while wandering across the hills, where we visit a deer farm.
The unrivaled landscapes of this region, and in Queenstown, are ever-present as we explore both areas by boat on two glacially formed lakes, visit gardens, have small nature hikes, and enjoy yet more wine, all while soaking up some of the most beautiful landscapes in the world!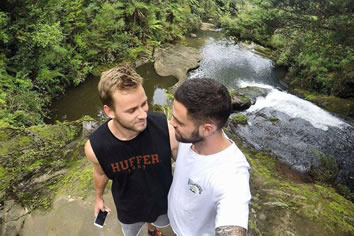 • Sail with America's Cup elite yachting regatta.
• Savoir the delicious offerings of wine and artist platters throughout New Zealand.
• Taste our way through Wellington's unique gourmet shops and craft eateries
• Cruise through the Marlborough Sounds
• Spot for dolphins, fur seals, and whales
• Punt along the Avon River
• Visit deer farms and huge sheep stations with panoramic views
• Ply the mighty glacial lakes in Wanaka and in Queenstown.
• Explore small boutique towns full of rich culture.
• Venture into vast gardens and take in the greenery.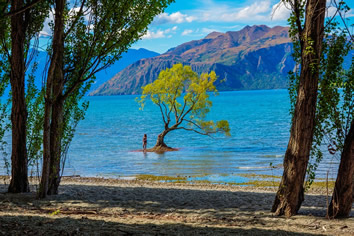 Day 1 - Sailing in Auckland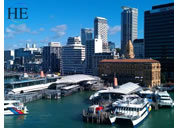 After we touch down in Auckland and get settled in our hotel, we are off to the races! Today enjoy a unique opportunity to participate in America's Cup Sailing Experience. The America Cup is the world's oldest sporting trophy, a truly elite yachting regatta. This is our chance to take the helm of one of their Grand Prix racers and really feel like part of the action. Alternatively, you can sit back and enjoy the ride down the Auckland harbor.
This evening, enjoy a nice walk to a local restaurant where we will enjoy a three-course meal for our Welcome dinner.
Day 2 - Waiheke Island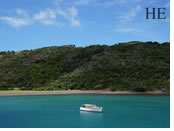 Today we head to the Downtown Auckland Ferry Terminal to go on a lovely 40-minute cruise to Waiheke Island through the picturesque Hauraki Gulf. Waiheke Island has over 92 square kilometers of beautiful beaches, vineyards, olive groves, native bush, and relaxing seaside villages. Upon arrival, we will be met by a local island tour guide who will provide entertaining and interesting commentary throughout our stay.
We will visit an award-winning olive oil mill and at least two vineyards, including a nice lunch at one of the vineyards, celebrating the fresh produce, lovely herbs, and excellent meats all grown here in New Zealand.
Day 3 - On to the Capital, Wellington

This morning we fly to the southern tip of the North Island, to the country's capital, Wellington. Situated on a beautiful harbor, the city is known for its boutique café and gourmet restaurant culture, its vibrant arts scene, and an outdoor lifestyle. Packed onto the waterfront, the city is surrounded by mountains. Homes perch precariously as they climb ever higher on the hillsides. But the central core of the city is easily walkable. While there is a strong Victorian influence in architecture, giving truth to it long being the center of political life, remarkable older buildings abound, include the Government Building that was built in 1876, perhaps the second largest timber building in the world. Modern architecture also makes its mark, especially in the Civic Center and in New Zealand's national museum, Te Papa, located across from our hotel, which we visit tomorrow.
We may make a sightseeing stop overlooking the city if time allows as we drive from Wellington Airport to our hotel located near the waterfront. This afternoon, we discover fresh tastes in New Zealand's café capital as our local guide and gourmet guru introduces us to the city, its local tastes, products, and people. Stroll behind the scenes at some favorite Wellington food places, taste hidden culinary treasures, and meet some of the people behind a selection of the city's best food.
Wellington has a small gay scene, so this evening a few of us may go out and visit with the locals.
Day 4 - Wellington, Taonga Maori Tour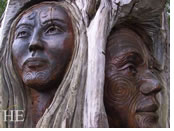 Relax until late morning when we will make our way to Te Papa, New Zealand's national museum, for a unique hosted cultural tour that will tell us the story of the Maori people through the public exhibits. And then we go behind the scenes, where museum specialists will share remarkable Maori taonga (historical treasures) and impart their deep spiritual significance. This tour, not open to the public, gives us a unique opportunity to engage directly with museum staff. Afterward, we have light refreshments while reflecting on the collection with our generous hosts. The afternoon is free for you to continue your visit to the museum, to enjoy the waterfront, or, perhaps take the tram up to the botanical gardens.
This evening we gather for dinner at one of Wellington's best restaurants.
Day 5 - Across the Cook Strait & Through the Marlborough Sounds to the South Island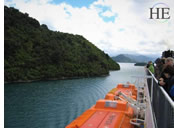 After an early breakfast, we catch the morning ferry for a three-hour crossing to the top of the South Island. Enjoy the view from your superior club lounge access with complimentary food and beverages. About the last hour of the crossing finds the ship cruising through various channels between the forested hills of the Marlborough Sounds. On arrival in Picton, our driver escorts us southward, through the largest wine region in New Zealand, traditionally known for sauvignon blanc, and we will stop for a tasting.
Then we pass along the rugged east coast beside the Pacific Ocean, enjoying a few sights. Soon, we arrive in Kaikoura, a small but beautifully sited fishing port. While a tall ridge of mountains emerges from the sea, creating a dramatic landscape, underwater we have oceanic trenches merging, one from the north with warm waters and another from the south, with cool, nutrient-rich waters. Merging just offshore, the riches from these trenches bring with them an abundance of marine life. The sights on and offshore are truly unique, with hundreds of fur seals sunbathing on the rocky shore, spectacular leaping dolphins in the bays, and the most awesome of mammals, the sperm whale. You might even catch sight of an albatross among the many sea birds here. There is evidence that the Maori settled in Kaikoura nearly a thousand years ago with historic pa sites (earthen forts) obvious on the hillsides. Our hotel is along the waterfront to allow you to wander and enjoy as you wish.
Day 6 - Dolphins, Seals, and Whales, then on to Christchurch

This morning we invite you to take a flight above Kaikoura to get a bird's eye view of the area, sighting hundreds of Dusky dolphins and hopefully a majestic whale just before he dives, usually Sperm Whales, but also occasionally Southern Right, Humpback, Fin, Pilot, and others. Flying over Kaikoura Peninsula, we can see evidence of Maori fortifications, the township of Kaikoura, and New Zealand Fur Seals relaxing on the rocks. During favorable conditions, we might enjoy a spectacular flight over the 9,000 feet high Seaward Kaikoura mountain ranges.
Afterward, we transfer about three hours south to Christchurch, the Garden City. Christchurch features majestic trees and extensive parks and gardens, the most notable of which is expansive Hagley Park in the heart of the city. Bordering the park, you will find the botanical gardens and the Gothic revival building that houses the Canterbury Museum.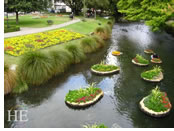 Visitors to Christchurch today will witness a virtual rebirth of the city rebuilding following the 2010 and 2011 earthquakes, with an urban city center full of new secrets to discover. There is immense street art, cocktail bars, and bustling restaurants, laneways, and green public spaces. The city's harbor at Lyttelton is where English settlers arrived by ship in 1850 to establish New Zealand's first city.
On arrival, we will relax in the city center on the Avon River. Do nothing but sit back in the boat and enjoy as an Edwardian-dressed punter guides us past trailing willows, woodlands, and the leafy banks of the Botanic Gardens or through the rebuilding city center of Christchurch onboard a classic Punt.
Day 7 - Christchurch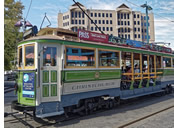 Our morning is filled with sightseeing, exploring the charm, history, and culture of the Garden City, and discovering how it gained that name, experiencing many of its wonders along the way, including lunch.
The afternoon is free for you to explore. And we will be happy to provide suggestions.
Day 8 - Across the Southern Alps to Wanaka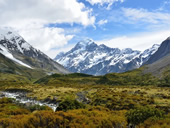 If the skies are clear, you will appreciate the views of the mountainous terrain we fly over en route to the glacial lake region in the southwest. We spend the next two nights in our guide's favorite alpine township, Wanaka. Located on the shore of a huge glacier lake of the same name, this town is all about outdoor activities and natural beauty. Mt Aspiring National Park can be seen across the lake, and nothing but rugged, wild, hard-to-traverse wilderness exists between here and the fjord-laden west coast.
Before arrival in Wanaka, we experience a soul-nourishing guided culinary exploration across the elevated hills of Criffel Station with a local expert who will uncover the hidden delicacies only visible to a deeply knowledgeable forager and chef.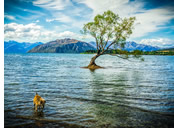 As we journey along the dramatic countryside, taking in views of awe and wonder, we will stop for occasional land-inspired tasting breaks and small curated meals. Central Otago is a region well known for its unrivaled landscapes, innovative artisans, and world-renown producers. The diverse, and at times extreme, climate is ideal for growing crops iconic to the area, from grapes to cherries to nuts, to name a few. Our tour will also include a visit to a working deer farm & a stone fruit orchard. Lunch will be a picnic hamper platter lunch with local bread, cured meats, fruits & condiments.
Our accommodation is central, located lakeside, and has balconies with views over Lake Wanaka and Mount Aspiring National Park, with individual laundry facilities.
Day 9 - Lake Cruise and Nature Walk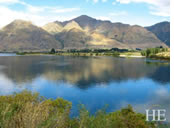 You will have some free time today. For the other half of the day, we cruise along natural Lake Wanaka, 26-miles long and over a thousand feet deep, m carved by huge glaciers eons ago. We dock at a magical island nature reserve, now predator-free, and home to the rare, flightless Buff Weka, which has been extinct in non-protected areas since 1920. We'll hear about the ecological disasters that wiped out so many of New Zealand's amazing bird species. Learn about the flora and remaining birdlife as we walk about half an hour up the island, where we find another lake on top of this island in a lake. Here, we'll have high tea and drink in the vibrant birdsong and panorama of the Southern Alps spread out before us. You will be invited to plant a native tree to mark your visit to this magical place.
Dinner tonight is at one of Wanaka's best, a country Italian gem not far from our lodging.
Day 10 - To Queenstown & Surrounds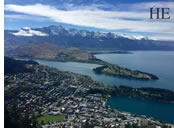 This morning we are traveling to Queenstown, an alpine small city known the world around for its perfect location on glacial Lake Wakatipu, and the towering peaks around it, including the Remarkable Range, which truly lives up to its name. And for its numerous cafes, restaurants, bars, galleries, shops, and all things outdoor extreme, from bungy jumping to surfing through class IV rapids with a helmet and a kickboard. We spend two nights here.
But before we arrive, we will stop for an award-winning garden visit. Nested in the heart of the Wakitipu basin & surrounded by majestic snow-covered mountains lies a 40-acre property that includes 12 acres of mature gardens, that has been curated to ensure visitors have a special experience. Including, among many others, a large native garden, a Mediterranean garden, a meadow of wildflowers, sculptures, and perennial beds. Our guide will share some favorite sights and stories, and will then give us time to wander and enjoy.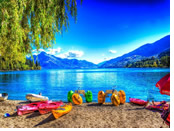 Later this afternoon, we arrive at our hotel in central Queenstown. Wander through the town, along the boardwalk, visit the artist market, and watch the historic Earnslaw steamship arrive and depart several times each day. Gaze across this glacial lake, longer than Lake Wanaka, that has a mysterious phenomenon causing the lake to vary several inches in depth every few minutes, giving credence to a Maori legend of an ancient Taniwha (demon) still breathing beneath the surface.
Sometime during your stay, be sure to take advantage of a gondola ride, giving you a view high above the town. We include a ticket for you to enjoy the Skyline Gondola, which will whisk you smoothly up 450 meters to Bob's Peak, as Queenstown drops away below you. From the top, enjoy breath-taking views that extend almost 360 degrees from Coronet Peak around to the Remarkables and on to Cecil and Walter Peaks on the other side of Lake Wakatipu.
In the evening, enjoy the romantic and peaceful style, as well as exclusive service, of our designer, boutique lodge.
Day 11 - Lake Wakatipu and Remarkable Vistas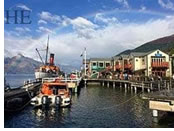 Once again, we find ourselves enjoying the peacefulness of morning as we cruise across a huge glacial lake. Disembark at a high country farm on the western shores of Lake Wakatipu and soak in panoramic views from one of New Zealand's largest high country farms. Join the farm guide and follow the journey of merino wool in a fun and interactive environment – from mustering sheep to the creation of Icebreaker clothing. Watch sheep being moved by the farmer's dog and meet and feed working animals used on the farm while learning about daily farming life. Then journey deep into the heart of New Zealand's high country in a 4WD vehicle. Sit back as the landscape unfolds. We get off the beaten track to spectacular vantage points. Return to the woolshed and enjoy a freshly prepared Farmers Platter Lunch served with tea and coffee before the return cruise to Queenstown.
This evening we celebrate our Kiwi adventure together at our farewell dinner in Queenstown.
Day 12 - Farewell Queenstown
Today is the day we say goodbye to this beautiful country. We'll be collected from our hotel and transferred to Queenstown Airport.