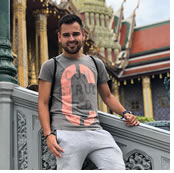 Our friendly gay Thailand tour will have us visiting several lush and historic regions of this diverse land. Explore Bangkok, a national park along the River Kwai, Chiang Rai, Chiang Mai, and many other amazing locations including a verdant jungle hideaway near Phuket. Wander among ancient temples, markets, and ruins all while lodging in amazing hotels that reflect the character of their surroundings.
Extend your stay on our optional 2-night extension near Phuket's beautiful beaches and gay-friendly nightlife.
Our gay Thailand tour focuses on cultural aspects while still enjoying a hike and canoe ride in Khao Sok National Park. We will visit a Railway market, a floating market, the JEATH War Museum commemorating the soldiers who built the bridge over the River Kwai (and into Burma), the Bang Pa-In Summer Palace, the White Temple and so much more. There is a lot of culture to soak up in Thailand. We will enjoy river cruises, local cuisine, elephants, and gorgeous scenery.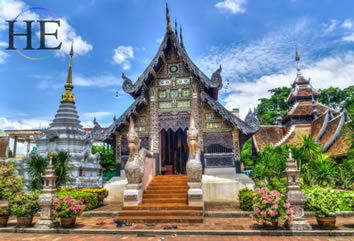 • Ride across the River Kwai bridge, built by prisoners of war
• View the gorgeous Erawan Waterfall
• Cruise the Mae Kok River and enjoy the mountain scenery
• Tour Doi Suthep Temple, the pride of Chiang Mai
• Visit the Mae Taman Elephant Nature Park
• Hike Khao Sok National Park
• Canoe the scenic Khao Sok River
• Enjoy numerous markets and river cruises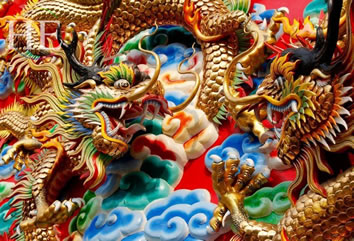 Day 1 - Arrival in Bangkok, Thailand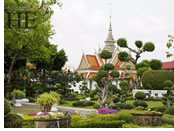 Welcome to Bangkok, upon arrival a local guide will meet you at the airport and transfer us to our hotel.
Since most flights arrive in the evening, there are no scheduled activities on this day.
However, if you arrive early, we can arrange some pre-tour sightseeing if you wish.
Day 2 - Bangkok Temples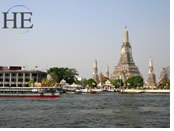 After breakfast, we will make our way to the amazing Grand Palace, home of Thailand's king. We will also visit the Temple of the Emerald Buddha and its jade Buddha statue. We will wrap up the afternoon with a visit to Wat Pho to see more of Thailand's rich Buddhist heritage.
This afternoon we will explore the Klongs (canals) of Thonburi. Our first stop is at the impressive Wat Arun, named for the Indian goddess of dawn. We then follow narrow canals through neighborhoods where the canal serves as the main "road". Next, we'll visit Chinatown and sample some local delicacies.
Tonight we will enjoy a Welcome Dinner cruise in Bangkok. Enjoy the City of Angels' cultural contrasts by night over the Chao Praya River. Take in the views of the Temple of Dawn, Royal Barges House, Grand Palace, and other splendid temples.
Day 3 - Damnoen Saduak – Kanchanaburi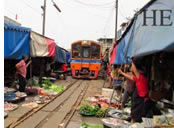 Today we will head south from Bangkok to the garden province of Samut Songkhram. We will spend time walking along the famous Maeklong Railway Market and immersing ourselves in the local culture. Then we will continue to Damnoen Saduak floating market and climb aboard a long-tail boat for a canal cruise. We will have the opportunity to view how the Thai people live, including observing farmers working in the salt fields.
In the afternoon, we will drive west to Kanchanaburi, site of the original "Bridge over the River Kwai". We will pause to reflect at the Kanchanaburi War Cemetery and JEATH War Museum, a realistic depiction of prisoner of war living quarters, including detailed memorabilia dating from WWII. The name honors the Japanese, English, Australian, American, Thai and Holland soldiers who served in the strategic region that straddles the Thai and Burmese borders. The prisoners of war built the Thai-Burma Railway, often called the "Death Railway" because of the many lost lives during its building.
Day 4 - Erawan National Park – Saiyok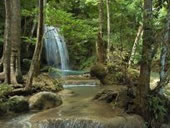 This morning we will enjoy a bamboo rafting adventure along the River Kwai. Then we will set off to visit the Hellfire Pass Memorial Museum, located where the railroad was cut into a cliff.
This afternoon we will enjoy the largest and most amazing waterfall in the region, Erawan Waterfall, located on the bank of the Kwai Yai River in Khao Salop National Park. Enjoy some peaceful, serene time here surrounded by countless species of plants and flowers.
We will have time to relax and enjoy our natural surroundings before heading to Saiyok for the rest of the afternoon.
Day 5 - Ayuthaya – UNESCO site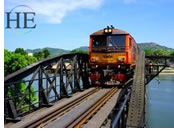 Today's adventure starts by taking a local boat from our hotel to a nearby station where we board a train for a 45-minute ride on the rail line originally built by the prisoners.
Later we will travel to Ayutthaya, Thailand's former capital. It is known for the ruins from its prestigious past and is listed as a World Heritage Site by UNESCO.
This afternoon we will visit Wat Phra Si Sanphet, a royal sanctuary, and Wat Chaiwatthanaram, built by King PresatThong in 1630 with images such as Buddha preaching to his mother in heaven.
Day 6 - Wat Phananchoeng – Chao Phraya River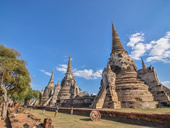 This morning we will see the diversity that made Ayutthaya a strong kingdom and major trading center. Our stops will include a Buddhist temple in the old Chinese quarter, the Japanese Village, and the Muslim Quarter where we can sample local cuisine such as candy floss roti. Surprisingly, there is also a Dutch Settlement, Baan Hollanda, from which trade with Europe was carried out.
For lunch, we will board a traditional teak rice barge and drift along the majestic Chao Phraya River, the River of Kings. Onboard we will enjoy a delicious selection of Thai food as we cruise around Ayutthaya and its old capital. This afternoon we will visit Bang Pa-In Summer Palace. Built in the 1600s as the summer residence for the Royal Family, this palace is an impressive collection of gardens and majestic mansions.
Day 7 - Bangkok / Chiang Rai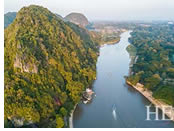 After breakfast, we will drive to Bangkok airport and take our flight to Chiang Rai.
Upon arrival, we will meet up with our local guide to transfer to our long-tail boat for a cruise on the Mae Kok River. The ride is more about the journey than the destination – the spectacular mountain scenery and opportunity to visit hill-tribe villages along the way make this one of the most enjoyable river trips in Thailand.
Day 8 - Golden Triangle – Chiang Rai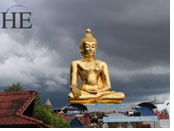 This morning, we depart to Santi Khiri, founded in 1960 on a lovely mountain. It was built by Chinese Kuomintang peasant-soldiers expelled from Burma, where they had gone after losing China to the Communists in 1949.
We will also visit ethnic villages and stroll through a bucolic tea plantation.
Next, we will climb onto an I Tan, a vehicle used to transport rice after harvest. We will visit a village of the Akha ethnic group. This village is under the King's patronage for planting fruit trees and vegetables to replace the drug trade that used to be a major source of income here in the "Golden Triangle".
After lunch, the rest of the day will be at leisure back at our Chiang Rai hotel.
Day 9 - Chiang Mai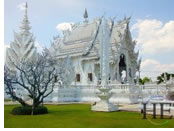 Today we will visit Chiang Rai's amazing White Temple, a masterpiece of Thai architecture. It was founded in 2000 by renowned Thai artist Chalermchai Kositpipat and it is made of white concrete and several thousand small mirrors.
Afterward, we will drive to Chiang Mai and visit Wat Phra That Doi Suthep, one of the most important Chiang Mai's landmarks where sacred Buddha relics are preserved in a golden stupa. The panoramic view of Chiang Mai is absolutely fantastic.
This evening, we will head to the cultural center for a Khantoke dinner! Enjoy the northern customs, consisting of several tasting dishes, while enjoying traditional music with dancers.
Day 10 - Elephant Nature Park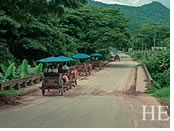 After breakfast, we will head north to Mae Taman Elephant Camp. Here we will observe elephants in their daily life: working, training, and bathtime!
Then we will walk for about an hour through the mountainous jungle to the river, ending with an ox-cart ride to a spot where we will have lunch.
In the afternoon, we will visit a garden of orchids and admire over 150 amazing species with different sizes, diversity, and beauty.
Day 11 - Phuket – Khao Sok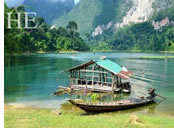 Today we fly from Chiang Mai to Phuket Airport, from which we will transfer to Khao Sok National Park.
In the afternoon, we will enjoy a canoe ride down the Khao Sok River, to spot flora and fauna, a limestone cliff and evergreen mountains along the way.
We will enjoy a cup of coffee or tea made in a bamboo stick and served in bamboo cups while we soak in the beautiful nature surrounding us.
We'll spend the next two nights in a unique eco-lodge with air-conditioning inside and decks outside from which you can listen to the nocturnal sounds of the jungle.
Day 12 - Cheow Lan Lake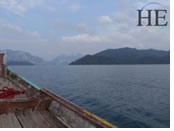 After breakfast, we will depart for Cheow Lan Lake. Here we will take a long tail boat and enjoy a scenic ride exploring. Enjoy the beautiful scenery of the crystal clear water of the lake.
Then we will change the atmosphere to the jungle walk. We will view enchanting plants, flowers, butterflies, birds, squirrels, reptiles, etc. Next, we will take a short walk to 500 Rat Lake where we will board a bamboo raft to cross the 500 Rai Lake to the Pakarang Cave (Coral Cave). The stalagmites here have a similar shape to coral which is how the cave came to be named. We will enjoy some time here exploring the cave.
Lunch will be at a floating restaurant today. Then this afternoon, we will start the boat ride back to our hotel and enjoy some time at leisure.
Day 13 - Khao Sok National Park – Phuket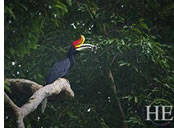 Today we will depart for Khao Sok National Park for around three hours of hiking. It will be another opportunity to view plenty of plants, flowers, butterflies, birds, squirrels, reptiles, and more. Our local guide will explain how native plants were used in many ways throughout history.
Then we'll return to our eco-lodge to clean up, pack and transfer to a deluxe hotel just off of Phuket's Patong Beach for our farewell dinner.
After dinner, you may want to check out the gay nightlife just up the hill from our hotel.
Day 14 - Departure
After breakfast, you will have the morning free. We will fly from Phuket to Bangkok today. You can relax at our hotel and enjoy a late morning flight back or a flight later this evening (Depending on your flight time out of Bangkok). Please schedule your departure flight out of Bangkok for 3 PM or later. We can help reserve a Bangkok Airport hotel if your flight is during the night or the next day.
Or to spend a couple more days on this amazing tropical island with wide beaches and a thriving gay community, join our Phuket Extension!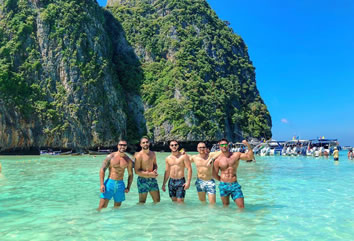 Day 14 - Phuket's Patong Beach Free Day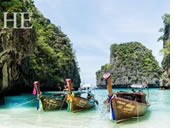 Enjoy breakfast today at your leisure and then spend the day as you would like. You are free to choose from any of the half-day excursions offered to all clients today. (Subject to Availability and not included in tour price).
Day 15 - Phuket Free Day
Today is another free day to relax, hit the beach or take in some sights.
Day 16 - Departure
After breakfast, you will be transferred to the airport in time for your flight. If flying through Bangkok we recommend booking your flight from Bangkok no earlier than 3 pm.