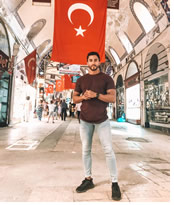 A Gay Travel Turkey Cultural Tour. From Istanbul to the ancient city of Ephesus, and the beautiful Turquoise Coast to the mysterious landscape of the Anatolian heartland. On this gay travel Türkiye tour, we'll explore the best of this fascinating crossroads of civilization. Enjoy stunning city sites, archaeological wonders and a boat ride along the coast in a classic vessel on our gay tour of Türkiye.
Turkey: the only country that occupies two continents. Turkey: a land of so much diversity of seacoasts, mountains, and plains that it could be one continent by itself. Türkiye: home to well-preserved archeological sites that show the vast expanse of the ancient Greek and Roman empires. Turkey: a cradle of Christian civilization harking back to the days when Istanbul was called Byzantium and Constantinople.
Turkey: home to the Ottoman Empire that extended far beyond the borders of today's nation. Turkey: a primarily Muslim country in which secular government has long been enshrined in its constitution. Join us to explore this amazing land with our articulate Turkish guide!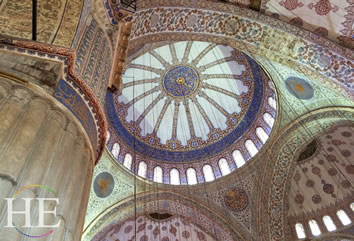 • Tour Hagia Sofia, the Blue Mosque, an Ottoman Palace and the Grand Bazaar in the city known as Istanbul, Constantinople, and Byzantium.
• Take in vistas of Istanbul from a cruise along the Bosphorus.
• Be dazzled by Istanbul's dizzying nightlife.
• Experience a traditional Turkish bath (hamam).
• Explore Ephesus, one of the largest and best-preserved ancient sites in the world.
• Relax on a comfortable Turkish gulet (yacht) for one full-day cruise and one half-day cruise to experience the variety of landscapes along the Turquoise Coast.
• Walkthrough history at Myra, Perge, and Aspendos near Antalya.
• Visit the home of the Whirling Dervishes in Konya.
• See the otherworldly sandstone formations and forgotten cave churches of Cappadocia.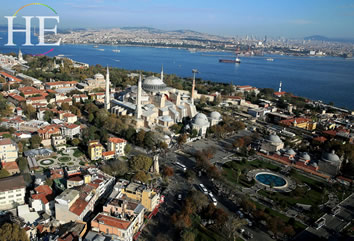 Arrive Early and Join our Italy Unveiled Tour!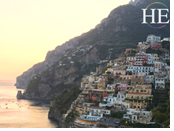 An exquisite gay cultural tour of Italy with a congenial gay group exploring the Amalfi Coast, Capri, and the enchanting regions of Basilicata and Puglia. We'll delve into the history of Pompeii, and delight in the natural splendor of the region, admiring the tenacity with which ancient residents settled the cliffs and islands of the Mediterranean.
Days 1 - 3 - Istanbul, Turkey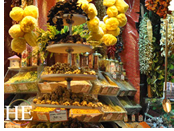 We will arrive in Istanbul and be transferred to our first hotel. Later this evening, we will meet with our tour guide and enjoy our welcome dinner and orientation.
We'll spend the next two days exploring the city, which is dramatically situated upon three waterways: the Bosphorus, the Sea of Marmara, and the Golden Horn. Istanbul's exotic flavor comes alive in its magnificent mosques with their minarets, bustling bazaars, and boulevards and bridges. We'll have ample time to soak in the atmosphere of the city and enjoy its many exciting vistas.
We'll start at Hagia Sophia, known for its magnificent dome, then tour the Sultan Ahmet Mosque, more familiarly known as the Blue Mosque, with its magnificent paneling of over 20,000 blue Iznik tiles.
After lunch, on our first full day in Istanbul, we'll wind down with a visit to a traditional Turkish Bath (hammam).
No stay in Istanbul is complete without an unforgettable boat excursion through the Bosphorus, the winding strait that separates Europe and Asia and connects the Mediterranean and Black Seas. We start our second full day in Istanbul with a boat ride, then we'll take a leisurely visit to either the Dolmabahce Palace, the grand administrative center of the Ottoman government overlooking the Bosporus, or the Topkapi Palace Museum, a former residence of the Ottoman Sultans and now a museum filled with Chinese porcelain and extraordinary jewelry.
After lunch at an elegant seafood restaurant, we'll visit the Grand Bazaar, exploring a labyrinth of streets and passages where more than 4000 merchants will vie for our attention.
Day 4 - Cappadocia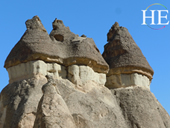 From Istanbul, we will fly to Cappadocia, where we'll check into our hotel for the next three nights. Over centuries, soft volcanic rock has been sculpted by wind, rain, and erosion into magnificent columns and fantastical shapes, creating one of the most interesting landscapes in the world.
On our first afternoon in the Cappadocia region, we will descend to the remarkable underground city of Ozkonak. This underground City is an ancient city built into the northern slopes of Mt. Idis about 14 km northeast of Avanos in Nevsehir Province, in the Central Anatolia region of Turkey.
In the afternoon, we'll enjoy a pottery-making demonstration by a local artist, then stop for a wine tasting and learn more about what makes this region ideal for vineyards. We'll conclude our tour with a three-night stay in this other-worldly destination.
Day 5 - Goreme, Red Valley, Esentepe and Uchisar Castle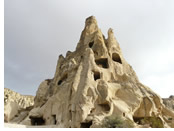 We will ascend from Derinkuru and check into our unique lodgings at a cave resort, where we will have a first-hand experience of the unique characteristics of cave dwellings. We'll conclude our tour with a three-night stay in this other-worldly destination.
Today we'll visit the open-air museum of Göreme whose steep cliffs hide many tiny churches dating from the 9th century when Christians fled here to escape persecution. We'll visit a 180-foot-high fortress carved out of a natural hill dominating the area, for a breathtaking view of the surrounding Cappadocia formations and other sights.
Day 6 - Zelve – Pasabag Valleys, Cavusin and Avanos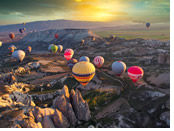 Today starts at 5 am for anyone who would like to arrange for an optional hot air balloon ride over the vast sandstone landscape.
Later in the morning, we'll visit the region of Zelve, including the Pasabag Valley, Cavusin, and Avanos, where we will have lunch in a cave restaurant.
This evening we will enjoy a Turkish Night Show with a performance and dinner.
Day 7 - Do All Dervishes Whirl?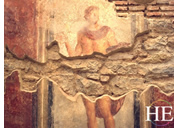 After breakfast, we drive for about four hours from Cappadocia to Konya, enjoying the views along the way.
We will have lunch upon arrival in Konya, then in the afternoon, we will tour the city, including a visit to Mevlana Museum to see the cells of the dervishes, fine drawings by famous calligraphy artists, and the tombs of the Sufi and other male dignitaries.
Most tourists get a quick glimpse of the Sufi tradition and then move on, but we are going to slow down and spend one night here so that you will have a chance to see what makes this unique spiritual center so special.
Day 8 - Perge, Aspendos, and Antalya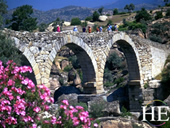 Today we explore the ancient sites around Antalya. One stop will be the ancient city of Perge, which was founded after the Trojan wars, and was first mentioned in 334 BC when Alexander the Great passed through. Later Perge was where the apostle Paul and Barnabus began their first mission in Anatolia.
Further along, the ancient Pamphylian city of Aspendos is noted for its Roman and Byzantine ruins, and in particular a well-preserved Roman theater. A wide range of coinage from the 5th century BC onward attests to the city's wealth, which was based on trade in salt, oil, and wool. Aspendos was occupied by Alexander the Great in 333 BC and fell under Roman rule in 133 BC.
This evening we will enjoy an Antalya old city tour by night.
Days 9, and 10 - Kalkan – Bodrum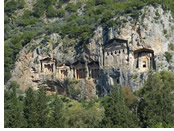 Enjoy a tour of Myra before our drive to Kekova. We'll enjoy a 4-hour Gulet Sail from Kevkova to Ucagiz with lunch on board, then enjoy our evening in Kalkan.
The following day we will explore the Ancient City of Xanthose before enjoying lunch at the port city of Fethiye, one of the best sailing harbors of the Mediterranean. We will then make our way to Bodrum, one of the most beautiful locations along Turkey's Lycian Coast.
Day 11 - Sailing the Turquoise Coast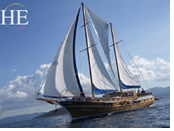 In contrast to our busy day the day before, we devote a day to relaxing on an all-day ride on a gulet, a charming and comfortable wooden sailing vessel.
Tonight, we will stay in Bodrum and enjoy a free evening.
Day 12 - Home of the Ephesians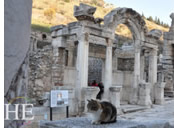 This morning we will drive to the ancient Roman site of Ephesus, one of the largest and best-preserved ancient cities in the world. A walk down the well-preserved wide marble streets lined with columns offers a vision of the ancient Hellenistic and Roman empires, complete with theaters, temples, and baths.
After touring Ephesus we'll have lunch at a local restaurant, then drive to our hotel in Kusadasi. Tonight we will enjoy our Farewell Dinner before departing the next morning.
Day 13 - Istanbul Return & Departure Day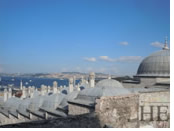 From Kusadasi, we will provide a transfer to the airport for a morning flight to Istanbul to connect with flights home or to your next destination.
For those who would like to spend more time in Istanbul, our local partners can also arrange transfers and lodging to extend your stay.
Prolong your visit - for Culinary Tour of Puglia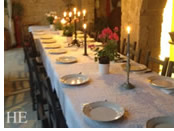 Savor the bounty of the rich traditions of Italy's Adriatic coastal region of Puglia. By day explore mountain towns, seaside villages, Swabian castles and cave homes that pre-date the Renaissance. Then each evening relax in our authentic 14th century villa over a dinner featuring produce, meat and fish from the region, and olive oil and wine from the villa's own fields.