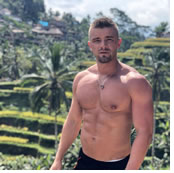 Bali is a true paradise – boasting lush jungles, white-sand beaches, and stunning sunsets. Connect with nature and yourself through yoga, exercise, spas and wellness activities. In addition see the famous landmarks of Temple Tanah Lot and Ubud Palace. For nature there are waterfalls and caves, as well as a visit to the Sacred Monkey Forest Sanctuary. Accommodation is in 5 star hotels with spa facilities too. A great way to relax after a day of activities.
Bali is an utterly unique destination where you can escape from it all, or lose yourself in the chaos with legendary beach parties, uber-luxurious resorts and a small-but-fun gay scene filled with queer travelers from all other the world.
Even the faintest whisper of Bali conjures up thoughts of bliss and beauty with a rich cultural heritage, many astonishing vistas, and truly wonderful locals whose generous and genuinely warm attitudes complete the appeal of this island.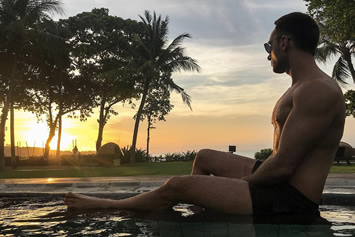 Gay Bali, famed as a surfing paradise with exquisite beaches, ancient cliff-top temples, and mountainous rice paddy fields. Bali is one of Asia's most desirable destinations for a gay holiday.
It's true Bali deserves every bit of its paradise reputation. Bali's culture allows for gay visitors to be accepted across the island. Gay Bali is focused around a group of bars located in Seminyak on Jalan Camplung Tanduk Road. Seminyak is South Bali's trendy neighborhood, located north of Kuta. The area is filled with luxury beach resorts, chic restaurants and trendy bars.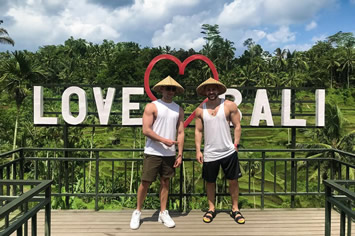 Day 1
Arrival in Denpasar, Bali
• Warm welcome at Denpasar International Airport (DPS) in Southern Bali
• Transfer to your hotel in Seminyak
• Check-in hotel in Seminyak
• Seafood BBQ dinner at Jimbaran Bay
Dine in luxury with a welcome drink and a three-course meal. Sit back and enjoy your choice of a range of fresh seafood with spectacular views over Jimbaran Beach. You'll enjoy bringing in the end of the day at a candlelit dinner overlooking the sunset.
• Gay bar tour in the evening
Bali's gay bar scene is relatively small but growing. Jalan Camplung Tanduk (sometimes referred to as Dhyana Pura) in Seminyak is the center of Bali's gay nightlife. The handful of bars are located next door to each other making the area perfect for bar hopping. As you travel between the bars expect drag shows, international pop, inside smoking and plenty of Indonesian working men.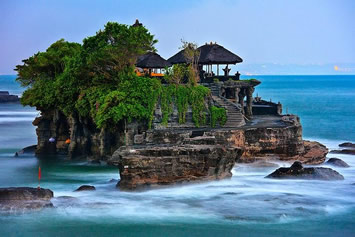 Day 2
Seminyak, Bali
• Tanah Lot Temple
Tanah Lot Temple is one of Indonesia's most popular religious attractions. Commonly referred to as the "temple of the rock," this temple off the coast of Bali is set upon a black-stone peninsula that juts into rippling waters. Incredible ocean views, clear mountain air, and a deep spiritual connection draw visitors to this unique sight.
• Zero Waste Bali Shop
Zero Waste Bali is plastic-free grocery store with over 700 organic and non organic healthy food and eco products. A healthy food store and organic grocery store with a focus on supporting the local community of suppliers and artisans with some import specialty items.
• Bajra Sandhi Monument
In a popular park in the heart of Denpasar, the Bajra Sandhi Monument stands 148 feet (45 meters) tall, an impressive tribute to the struggles of Balinese people throughout history. The ground floor houses a 3D-trick-art museum, the second floor is home to dioramas, and the top floor offers sweeping views across the city.
• TeMAN Gay Spa
TeMAN Spa is an executive spa for men by men. Its mission is to provide its clients with a professional, high standard spa service in a Bali themed spa setting. TeMAN Spa is designed with the best possible service in mind, from individual treatment room (including a couples room) with private showers, to the treatments themselves.
• Garuda Wisnu Kencana Cultural Park with Fire Show at 6 pm
Visit the Garuda Wisnu Kencana (GWK) Cultural Park and witness the lavish Indonesian cultural heritage. See the prowess of Vishnu on a Garuda, designed to be one of the world's largest & highest monumental statue. Have an unforgettable journey through the unique themed area of GWK Cultural Park - the top cultural icon in Bali.
• Gay bars in the evening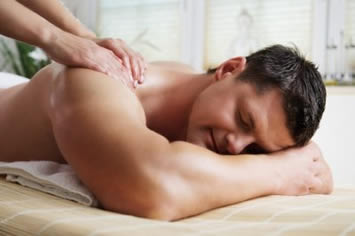 Day 3
Seminyak, Bali
• Gourmet Massage (choice of massage + lunch) 10 am to 2 pm
Team of professionally-trained, all-male practitioners offer a unique massage typified by long, firm strokes and rhythmic, consistent pressure. Come in with an ache here, a pain there. Leave with a feeling of wholeness, of renewed ease in your entire body. And with the new-found deep relaxation and comfort in your body, you will also experience a profound emotional comfort, an easing of the stresses accumulated during a year that has been difficult for everyone.
• Craft visits in the afternoon
– Batik Factory
– Celik Silver Smith Village
– Batuan village famous for its artwork & painting
Indonesia has a rich textile tradition dating back many hundreds of years, and if there's one fabric that's found across all the archipelago's thousands of islands, it's batik. The repeating patterns worn across sarongs and shirts are a national symbol, while Javanese batik experts can deduce what city and social class an individual comes from by the pattern they are wearing.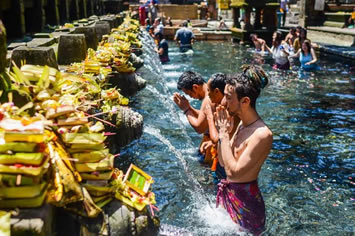 Day 4
Seminyak to Ubud
• Drive to Ubud
• Check-in hotel in Ubud
• Ubud Palace
Home of Ubud's royal family since the late-19th century, Ubud Palace (Puri Saren Palace or Puri Saren Agung) sits in the heart of downtown Ubud near the traditional art market. Explore the pavilions and gardens. There are also traditional Balinese dance performances in the courtyard each evening, a must for any visitor to Indonesia.
• Sacred Monkey Forest Sanctuary
A Balinese Hindu site, the Sacred Monkey Forest Sanctuary is populated by some 700 long-tailed Balinese macaques that live in and around the forest. The monkeys are believed to protect the area and the three Hindu temples within—Pura Dalem Agung, Pura Beji, and Pura Prajapati—from evil spirits.
• Tirta Empul purification water temple
Bali's most popular sacred spring, Tirta Empul Temple dates back more than 1,000 years. Travelers from around the globe flock to its holy waters to bathe beside Balinese pilgrims; accept blessings from healers, priests, and shamans; or simply soak up the atmosphere. The temple is northeast of Ubud in Tampaksiring, not far from Gunung Kawi.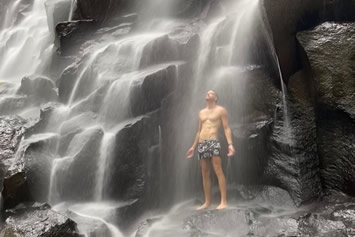 Day 5
Ubud, Bali
• Yoga class (90 mins) am
• Gunung Kawi Temple
At the bottom of a lush river valley running through the little town of Tampaksiring just northeast of Ubud, lies one of Bali's largest ancient temple complexes, the Candi Gunung Kawi. Comprising a collection of ancient 'Candi' or shrine reliefs carved directly into the face of a rock cliff, this is definitely one of the most stunningly unique archeological sites besides being an important sacred place for the Balinese.
• Elephant Cave
With a history dating back more than 1,000 years, one of Bali's holiest Hindu sites (and most popular attractions) is a grotto covered in carvings of mythological creatures. While Goa Gajah (Elephant Cave) has uncertain origins, it's believed that Hindu priests dug it out by hand to use as a hermitage.
• Kanto Lampo Waterfall
Kanto Lampo Waterfall referred to by locals as Air Terjun Kanto Lampo. This is a hidden gem in Bali where you can soak in the pristine water, and take pictures on the insta-famous rock.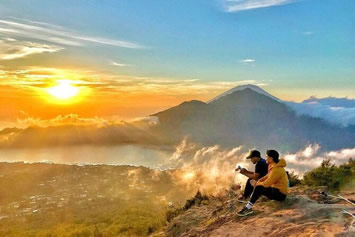 Day 6
Ubud, Bali
• Mount Batur Sunrise Hike
Watch the sunrise from the top of Mount Batur on an early morning hike up Bali's most emblematic mountain. Experience the stunning views from the active volcano near the village of Kintamani. Bali is known for it beautiful beaches, but the interior has its own appeal. Here you'll find one of the region's most active volcanoes, Mt. Batur (Gunung Batur), rising 5,633 feet (1,717 meters) above sea level In the highlands of Kintamani.
• Coffee plantation visit
Leaving the rice terraces, head to a nearby coffee plantation where you'll get an introduction to the island's local blends. Sample some Bali beans including the island's famous "Kopi Luwak" made from coffee fruit that has been eaten and passed by the civet cat. After collecting and cleaning the beans, they're then processed into a gourmet brew that is highly prized among coffee aficionados.
• Hot Springs at Lake Batur
Bali island has plenty of spots for natural hot springs. Most visitors in Bali, when they think about hots spring, will immediately think about Kintamani! The local people predict the hot spring comes from aquifers at a depth of 635 meters from the ground surface. The warm water temperature when reaching out to the surface measure around 50 degrees Celsius (122 Fahrenheit).
• Ubud Spa
Spas in Ubud are very popular and relaxing. The spa is a fabulous experience that genuinely helps you recharge. With treatments such as manicures, pedicures and even a decadent 90-minute 'Serayu' experience that helps de-age your appearance with a mix of body massages, facials and nail polishing.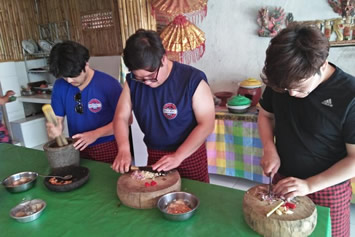 Day 7
Ubud, Bali
• Bali Cooking Class which includes:
– Hotel pickup at 8 am
– Klungkung Market
– Garden/Paddy field trekking
– Cooking/Preparing traditional Balinese dishes
One of the best ways to experience a place is through its cuisine. You'll get the chance to learn about Balinese culture and tradition during this fun cooking class in a Balinese home. Balinese food is unique, and very different from other Indonesian and Asian cuisines. Learn why, and get the chance to practice the techniques you'll need to recreate Balinese dishes at home. You'll also visit a local market and rice fields for a whole sightseeing experience.
• Swimming in the nearby river
Day 8
Bali Departure
Farewell at your hotel
Denpasar International Airport (DPS) transfer
Stay longer and join our Flores, Komodo & Padar 7 Days Clothing Optional Indonesia All-Gay Cruise
April 29 - May 05, 2024