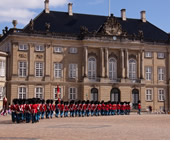 The gateway to Scandinavia. The Kingdom of Denmark is known for its legendary architecture, progressive attitude and welcoming gay scene. Chart-topping contentment and quality of life, blockbuster dining and design, and a cheerful emphasis on hygge – explore (and envy) what makes Denmark tick. It's heart-warming to know there's still a country where the term 'fairy tale' can be used freely – from its most enduring literary legacy to its textbook castles. Denmark is one of the most gay-friendly countries in Europe and was one of the first to embrace same-sex marriages.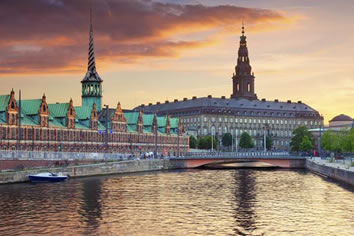 • Individual & Small Group suggested tour
• Featuring: Copenhagen - Aarhus - Hindsgavl - Odense
• Visit the outstanding Copenhagen, voted one of the most LGTB Friendly cities on Earth with a vibrant outdoor life and modern architectural buildings
• Explore Aarhus, the Danish Capital of Culture
• Visit the Medieval Historical Old Town of Aarhus for a memorable walk
• Admire the Viking UNESCO Heritage Site of Jelling
• Superior Castle visit with overnight in a modernized room in historical settings
• LGBT Friendly Tour Guide for Gaily Tours and Excursions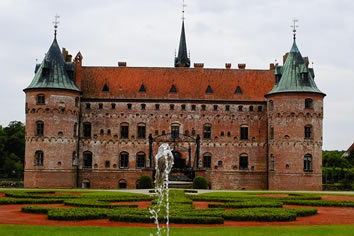 Day 1 - Welcome to Copenhagen, Denmark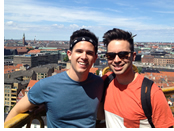 • Arrival transfer from airport to your hotel.
• Accommodation and free time for shopping and dinner.
• Overnight at your hotel.
One of the world's most gay friendly cities where anyone is always welcome anywhere, there is a lot more to love about Gay Copenhagen then just its queer spirit and admirable history of promoting gay rights.
Copenhagen today is one of the worlds most sought after travel destinations defined by a gastronomical revolution fuelled by New Nordic cuisine, Danish design that embraces simplicity, detail and minimalist beauty, and of course, there is all the museums and cultural treasure stretch back to the Viking for tourists to marvel over.
There may, however, be no greater city in the world for homosexuals to visit than Copenhagen thanks to its tolerant and open communities and vibrant gay scene – and as a gay man here you can visit straight bars with no problems, or walk home holding your lover's hand. And did we mention how absolutely gorgeous the Danes are...
Day 2 - Copenhagen Gay Tour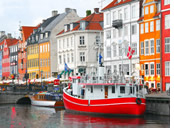 • Buffet Breakfast and explore together with our LGBT Friendly Tour Guide the spectacular city of Copenhagen, a little fishing town which turned into being the capital of Denmark. The city is known as a cultural capital, a hub of design and experimentation and a land of fairy tales.
• Start this walking tour from the worldwide famous Nyhavn, "new harbour", which is still popular among the locals, who as soon as weather permits occupy numerous outdoors bars and restaurants by the canal. It was here that the famous Danish writer Andersen wrote his first fairy tale in the house number 20 in 1835 and where he spent and ended his life.
• Afterwards reach the Royal Opera and the Royal Palace of Amalienborg.
• Finally arrive to the famous Little Mermaid Statue, close to Kastellet.
• After our amazing tour, you will finally learn why the Danes are considered the happiest people in the world!
• Lunch on your own.
• In the afternoon be ready to live a very special LGBT tour of Copenhagen. Learn more about its LGBT history and society.
• Explore Copenhagen City Court, Knabostræde, the seat of The National League for Gays, and continue to Christiansborg palace. Then stroll around the old city reaching Ørstedsparken, which is also known as the most popular outdoor cruising place of the city.
• Continue the tour to Hans Christian Andersen Fairytale House to discover the secrets behind his most famous fairy tale, "The Story of the Little Mermaid". In fact in some letters written to his beloved young friend Edvard Collin in 1835, let many critics suspect that Andersen was gay. Discover the fantastic world of Andersen, see how his childhood in Odense unfolded, his moving to Copenhagen where he spent much of his adolescence, and of course his many journeys which served as inspiration for his many fairy tales.
• Afterwards continue to the pedestrianized main shopping street of Copenhagen, the Strøget, where the gay scene is mainly concentrated.
• Dinner on your own and overnight at your hotel in Copenhagen.
Day 3 - Copenhagen - Aarhus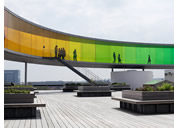 • Buffet Breakfast and departure by private Car or Minibus to Odden.
• Once there board on your ferry to Aarhus.
• Lunch on your own.
Aarhus (oar-hus) has long laboured in the shadow of consummate capital Copenhagen, but transformation is afoot. Denmark's second-largest city is busy staking a claim for visitor attention, and building a reputation as an emerging European destination for savvy city-breakers, festival-goers, art and food fans, and those looking beyond the capital-city conga.
• Transfer to your hotel and free time.
• Dinner on your own and overnight at your hotel in Aarhus.
Day 4 - Aarhus Gay Tour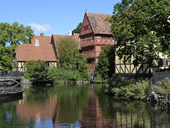 • Buffet Breakfast and enjoy a special LGBT Friendly Tour of Aarhus.
• Aarhus is a great little city that for centuries has been the center for Jutland's sprawling business, food and culture. You will learn ancient legends, the great urban stories and cultural facts which make Aarhus to the city it is today.
• Lunch on your own.
• Free time in the afternoon for individual visits and shopping.
• Dinner on your own and overnight at your hotel in Aarhus.
Day 5 - Aarhus - Silkeborg - Hindsgavl - Middelfalt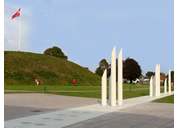 • Buffet Breakfast and departure via Silkeborg (Sky Mountain, Himmerlbjerget) to Jelling Viking Monument, recognised as Europe's finest Viking monuments and enjoy UNESCO World Heritage patronage, and to Hindsgavl Castle, a modern business Castle. Today, Harald's magnificent Viking monuments are centrally located in the town of Jelling. You can enjoy views of the area from the top of the 10-metre barrows, which have a diameter of 70 meters. From the top of the barrows you can see hundreds of newly erected white concrete pillars that encircle the entire site, marking the approximate location of the original wooden stockade.
• Lunch and dinner on your own.
• Overnight at your hotel in Middelfalt area.
Day 6 - Middelfalt - Odense - Køge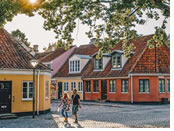 • Buffet Breakfast and transfer from Hindgavl to Odense.
Pronounced o-thn-se (or ohn-se if you're local), Funen's millennium-old hub is Denmark's third-biggest city, a buzzing place undergoing a very major revamp. The birthplace of fairy-tale writer extraordinaire Hans Christian Andersen, there's a profusion of Andersen-related attractions, including museums, a children's centre and sculptures interpreting his most famous stories. Even the lights at pedestrian crossings feature Andersen in silhouette.
• Lunch on your own.
• Free time in the first afternoon before leaving the city and reaching Køge.
• Dinner on your own and overnight at your hotel in Køge.
Day 7 - Køge - Copenhagen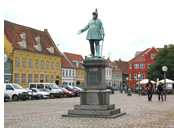 • Buffet Breakfast and free time in Køge.
• The city has some nice old squares (the central marketsquare is the largest townsquare in Denmark outside Copenhagen), pedestrian streets with cafes and small stores. The old harbour still has some atmosphere and a newer area with a marina and more modern restaurants.
• Lunch on your own.
• In the afternoon transfer to Copenhagen and free time in the city for shopping and individual visits.
• Dinner on your own and overnight at your hotel in Copenhagen.
Day 8 - Copenhagen Departure
• Breakfast in the hotel and transfer to the Copenhagen airport.