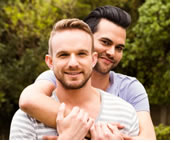 A small island with a big reputation: breathtaking landscapes and fascinating, friendly people, whose lyrical nature is expressed in the warmth of their welcome. Everything you've heard is true: Ireland is a stunner. The locals need little prodding to proclaim theirs the most beautiful land in the world, and can support their claim with many examples. Given the sometimes old-fashioned reputation of the country, it is normal to wonder about the state of Gay Travel in Ireland. Travel in Ireland is generally problem-free, whatever your sexual orientation or identification might be as long as you are as safety-conscious as you would be in any foreign city or country.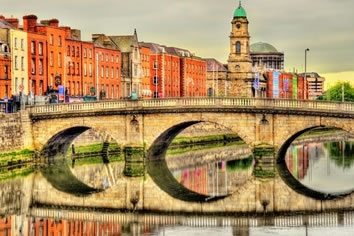 • Individual & Small Group suggested tour
• Featuring: Dublin - Belfast - Cork - Galway
• Discover the secrets behind Oscar Wilde's life
• Visit the ancient library at Trinity College in Dublin
• Re-live the history of Titanic Experience in Belfast
• Explore the Kilkenny Castle
• Marvel at the Cliffs of Moher
• Tour the amazing cities of Cork and Galway
• LGBT Friendly Tour Guide for Gaily Tours and Excursions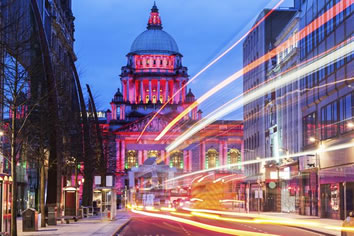 Day 1 - Welcome to Dublin, Ireland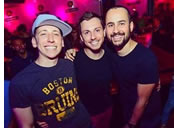 • Arrival transfer from airport to your hotel.
• Accommodation and free time for shopping and dinner.
• Overnight at your hotel.
Dublin, capital of and gateway to the beautiful island of Ireland. A city of history, culture and friendly people.
Gay Dublin is a unique, vibrant and welcoming city—one of Europe's fastest-growing destinations for LGBTQ tourists looking for alternatives to the normal Berlin, Amsterdam, London etc scene. But like any tourist to Dublin will discover, there is so much more to the Dublin's gay scene than just the traditional gay bars and club events.
There is so much to do here – but we found our favorite memories were tasting Irish whiskey in a small pub, exploring historic castles or getting lost only to find beauty in the strangest of places.
Day 2 - Dublin Gay Tour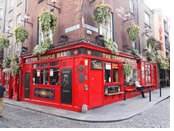 • Buffet Breakfast and enjoy the attractions of this vibrant town.
• This morning be ready for a LGBT Tour of Dublin, exploring gay history from the medieval period right up to modern day.
• Follow the steps of Oscar Wilde from his childhood home to his statue in Merrion Sq. you'lllearn about his early days in Dublin, his works, life in London's social scene, imprisonment and death.
• Continue to Irish Parliament Building - Leinster House. Here we'll talk about the laws addressing homosexuality, from the law tracts of early medieval Ireland, to 20th Century Ireland.
• Discover more about the General Post Office's Rising, Irish fight for Independence and Sir Roger Casement, one of the key figures in Ireland's independence movement, human rights advocate who authored the first report detailing atrocities committed in King Leopold's Congo Free State, and was executed in London for his participation in the Easter Rising (rumours and contested evidence of his homosexuality likely played a deciding role in his death sentence).
• Afterwards have an overview of the Irish LGBT modern history, a country which became the first country to legalise same-sex marriage by popular referendum. During the tour you will admire all the historical sites of Temple Bar, Dublin Castle and more. The walking tour shows off the usual Dublin stops, with the added layer of queer history. From monks to revolutionaries, Dublin will not look the same afterwards.
• Lunch on your own.
• In the afternoon continue on your own to other special attractions of this cosmopolitan capital. Don't miss Trinity College, the most famous university in Ireland founded in 1592 by Queen Elizabeth 1st of England and the scholarly home to many classical and contemporary Irish writers. Here you will see the world-famous Book of Kells, an early Christian illuminated manuscript, handwritten and beautifully decorated by Irish monks. The magnificent old library hall "The Long Room" will also impress you.
• Make sure you don't miss the world-famous Guinness Brewery. The Guinness Storehouse offers a unique experience where you will discover what goes into making a pint of Guinness. Glass walled lifts whisk you from floor to floor, through a fascinating exhibition that uses words, music, images, sounds and smells to bring to life the rich splendor of the Guinness story. Finish with a pint in the breathtaking view of the Gravity Bar, the highest bar in Dublin, which gives a 360-degree view across Dublin and its surroundings.
• Dinner on your own and overnight in Dublin.
Rainbow Tips: Live the vibrant atmosphere of the Temple Bar, which has preserved its medieval street pattern, with many narrow-cobbled streets. The area comes alive after dark, with many pubs, restaurants and nightclubs to choose.
Day 3 - Dublin - Belfast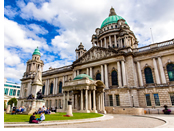 • Buffet Breakfast and departure to Belfast with your LGBT friendly driver.
• After arrival, accommodation and free time for lunch on your own.
• Then enjoy a walking tour of all the highlights of this vibrant city including the famous shipyard of Harland & Wolff where the "Titanic" was built, the historic Queen's University, The Linen Hall Library and Belfast Castle.
• See the new developments along the Lagan River with the Waterfront Hall and the impressing Odyssey Complex.
• You will also see Belfast's famous City Hall, home of the Belfast County Council and a fine example of Classical Renaissance style of Portland stone with a most ornate dome, a grand staircase, an oak furnished Council Chamber.
• Don't miss to have a drink in the famous Crown Liquor Salon the most perfectly preserved Victorian pub interior in the province and a landmark in this city. The pub is also the only pub owned by the National Trust.
• Dinner on your own and overnight at your hotel in Belfast.
Rainbow Tips: Live the vibrant Gay Athmosphere in Union Street Bar, Maverick Bar and Boombox Bar, and dance the night away in Kremlin and Taboo Clubs.
Day 4 - Belfast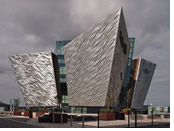 • Buffet Breakfast and free day in Belfast.
• Explore on your own this exciting city and enjoy the Titanic Museum (entrance fee included). Titanic Belfast, located at the heart of Titanic Quarter - only a short walk from Belfast's city centre, is not only an architectural triumph for the city, but it houses the world's largest Titanic visitor experience. The self-guided Titanic Experience extends over nine interpretive and interactive galleries, which explore the sights, sounds, smells and stories of RMS Titanic, as well as the city and people who made her.
• Lunch on your own.
• In the afternoon don't miss the opportunity to take a tour to see the political murals for which the city is known.
• Dinner on your own and overnight in Belfast.
Day 5 - Belfast - Kilkenny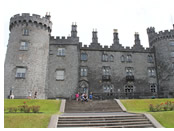 • Buffet Breakfast and departure to the medieval city of Kilkenny.
• Explore the Kilkenny Castle, a 12th century castle remodelled in Victorian times and set in extensive parklands which was the principal seat of the Butler family, Marquesses and Dukes of Ormonde. Due to major restoration works, the central block now includes a library, drawing room, and bedrooms decorated in 1830s splendour as well as the beautiful Long Gallery. The old Castle kitchen operates as a tea room during the summer. A suite of former servants rooms is the Butler Art Gallery, which mounts frequently changing exhibitions of contemporary art.
• Lunch on your own.
• Afterwards also visit the Kilkenny Design Centre and see some of the artisanal crafts for which this town is known.
• Dinner on your own and overnight in Kilkenny.
Day 6 - Kilkenny - Cork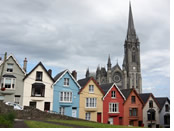 • Buffet Breakfast and departure to Cork.
• Enjoy this delightful vibrant city. See famous sights like St. Finbarr's Cathedral, St. Anne's Shandon, Cork City Gaol, English Market, Grand Parade, Custom House and the City Hall.
• Lunch on your own
•. Afterwards enjoy some free time in Cork City where you shouldn't miss the old English Market, a covered market for fish, fruit, meat and vegetable. The origins of the market can be traced back to James 1st in 1610. The present building dates from 1786.
• Dinner on your own and overnight at your hotel in Cork.
Day 7 - Cork - Cliffs of Moher - Galway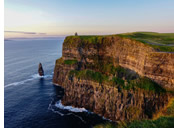 • Buffet Breakfast and departure to famous Cliffs of Moher, one of Ireland's most spectacular sights.
• Standing 230 metres above the Atlantic Ocean at their highest point and stretching for 8km along the rugged coastline, the Cliffs boast one of the most amazing views in Ireland. On a clear day, the Aran Islands are visible in Galway Bay as well as the valleys and hills of Connemara. A walk along the cliffs is not to be missed.
• You will then travel through the magnificent landscape of the Burren. This fascinating lunar like landscape is an area of sedimentary limestone and shell. The unusual geological formation has produced an astonishing botanic variety harbouring some 2000 species of rare plants and flowers, some unique to the Burren.
• Continue to Galway a medieval city, which is a whirlwind of activity with pubs and restaurants, arts, crafts and culture, full to bursting with things to do and people to meet.
• Lunch and dinner on your own. Overnight at your hotel in Galway.
Day 8 - Galway - Dublin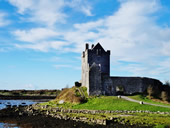 • Buffet Breakfast and be ready to explore Galway with our LGBT walking tour.
• Lunch on your own.
• In the afternoon travel back to Dublin.
• On the way visit Kilbeggan Distillery situated in the heart of Ireland. This old distillery, which had closed in 1954, is now once again distilling and maturing whiskey and is open to visitors all year round. It is the oldest continually licensed distillery in Ireland and has enjoyed the good times, but also the tough times for Irish whiskey, over its 250 year history.
• Enjoy a guided tour and see the many artefacts of the distillery are the 19th century water wheel, still in use, and the steam engine, which is still fired up on special occasions.
• The tour ends with a complimentary sample of Kilbeggan Irish Whiskey.
• Arrival in Dublin.
• Dinner in your own. Overnight at your hotel in Dublin.
Day 9 - Dublin Departure
• Breakfast in the hotel and transfer to the Dublin airport.