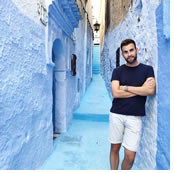 Moroccan Souks & Sand - A gay cultural tour of Morocco and Marrakech! Journey from Casablanca to Marrakech through moody desert landscapes, kasbahs, and villages on our signature all-gay Morocco tour. Picnic in mountain gorges, learn to cook the perfect couscous, and immerse yourself in labyrinthine souks. You'll also discover the ruins of a Sultan's city that was built to mimic Versailles, stay in a hotel made of Saharan sand, and find tranquility in a traditional riad surrounded by the frenzy of a medina. All-in-all, the sounds, smells, and flavours of North Africa will infuse your memories for years to come.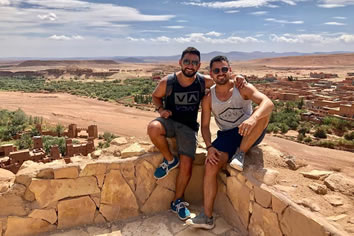 • Explore a phenomenal mosque in Casablanca
• Get caught up in the energy of Marrakesh
• Discover the magic and artistry of The Blue City
• Weave through the twisting alleys of Fes' medina
• Enjoy a sunset camel ride through sand dunes
• Stay in a wide range of accommodations, from a traditional Berber desert cam in the Sahara to five-star luxury hotels
• Learn the secret to cooking perfect couscous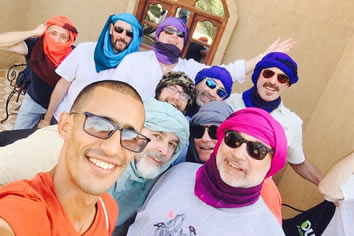 Day 1 - Arrive Casablanca, Morocco
Mrehba! Welcome to Casablanca.
Our trip begins with a group meeting at 6PM, followed by an included Welcome Dinner at Rick's Café—a tribute to the bar made famous by Bogart and Bergman in the classic film, Casablanca.
Hotel: Kenzi Tower Hotel
, Casablanca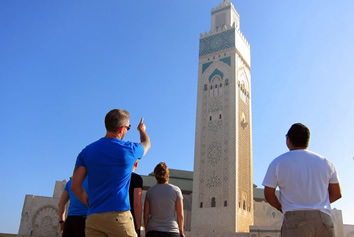 Day 2 - From Casablanca to Chefchaouen (The Blue City)
For our tour's first full day, we visit the grand Hassan II Mosque—the largest in Africa—then hit the road towards the Rif Mountains and Chefchaouen, aka The Blue City.
After checking into our hotel, we'll enjoy an orientation walk and learn about the Blue City's Andalusian history and how it got its namesake coat of blue paint.
Finally, we'll end the day with dinner at a local restaurant.
Hotel: Dar Echchaouen Maison d'hôtes & Riad, Chefchaouen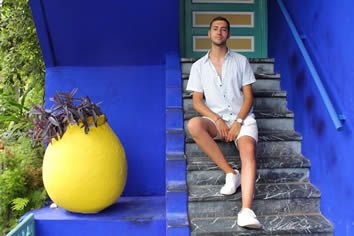 Day 3 - Chefchaouen (The Blue City)
We'll begin the day with a relaxed breakfast at our accommodations before heading to the city's beautiful medina for a guided tour. It is here we'll indulge in the sights, sounds and smells of the city's famous district. We may even taste some local goat cheese.
After an included lunch at another local favourite, you'll have the afternoon free to explore. May we suggest a hike through the surrounding hills towards Akchour falls?
Hotel: Dar Echchaouen Maison d'hôtes & Riad, Chefchaouen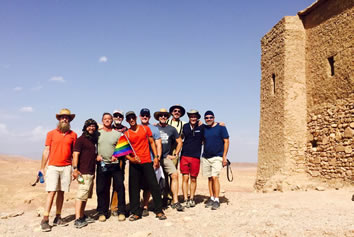 Day 4 - From Chefchaouen to Fes
We'll rise early for a quick breakfast at our accommodations. Then it is off to Fes vis-a-vis UNESCO-listed Volubilis, a partly-excavated Berber city.
After arriving in Fes you'll have plenty of time to unpack, get acquainted with the city or just indulge in our stunning hotel. Loosen your belt buckles because tonight we'll enjoy a memorable, included meal.
Hotel: Sahrai Hotel
, Fes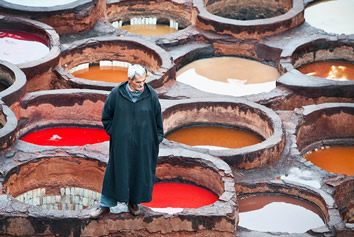 Day 5 - Fes
Today, a local guide will introduce us to the incredible Medina of Fes, the spiritual heart of Morocco. We'll but scrape the surface of this mysterious place, as we explore just a few of its 10,000 streets. Laden with souks, markets, and handicrafts quarters, the potential for discovery is limitless.
This will be followed by free time in the afternoon. To round out our day, we'll enjoy a fabulous home-cooked dinner with a local family. This is the perfect opportunity to get to know Moroccan culture and customs.
Hotel: Sahrai Hotel
, Fes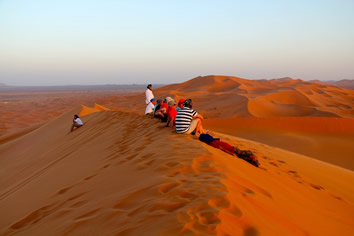 Day 6 - From Fes to Merzouga
Arm yourself with a good book because today we take the 9-hour journey to Merzouga in a private transfer.
On the way we will stop for an included local lunch in Midelt, a charming town located in the high plains with stunning views of the Atlas mountains.
Our boutique hotel in Merzouga, beautifully situated, is nestled into the sandy surrounds. After check-in, you can strip down to your swimsuit and luxuriate by the pool. Our day ends with a delicious dinner.
Hotel: Riad Madu, Merzouga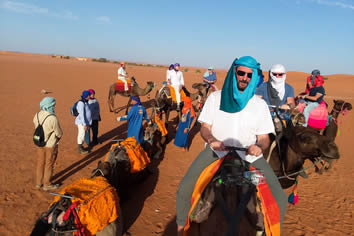 Day 7 - Merzouga
A big day awaits as we jump aboard 4WDs to visit the Merzouga desert, the village of Hassilabiad and the very popular village of Khemlia. Khemlia is populated by a nomadic group that arrived in Morocco in the 15th century from sub-Saharan countries like Ghana. You'll have time to enjoy their music, dance and unique fashion before a Madouna lunch—a local bread stuffed with meat (optional), veggies and herbs.
Tonight we'll saddle a caravan of camels and ride into the desert sunset for one of the most memorable evenings of the tour. Finally, back at our desert camp we'll enjoy another included dinner.
Hotel: Madu Luxury Desert Camp, Sahara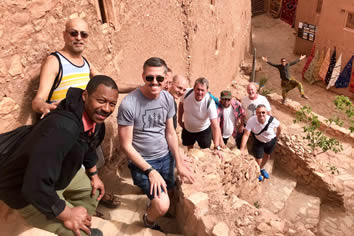 Day 8 - Ait Benhaddou
Today we travel towards Ait Benhaddou with a stop en route at Kasbah Amerhidil, part of the oasis town of Skoura.
We'll have lunch here before continuing to Ait Benhaddou where we'll check in to our comfortable hotel located near the old kasbah.
Hotel: Riad Ksar Ighnda
, Ait Benhaddou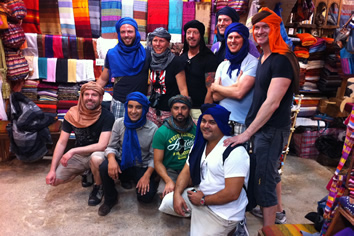 Day 9 - High Atlas Mountains / Marrakech
Today is defined by a spectacular drive across the High Atlas Mountains. Driving through the Tizi n' Tichka pass—the highest in Morocco at 2,260m/7,400ft—our final destination is Marrakech.
Once there, you'll be able to enjoy the comforts of our centrally located accommodations. A Moroccan feast awaits for dinner at a beautifully restored riad—in fact, one of the oldest riads in the city!
Hotel: 2Ciels Luxury Boutique Hotel & Spa
, Marrakech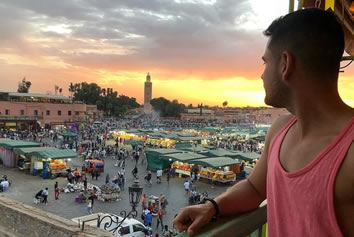 Day 10 - Marrakech
Rise and shine, Habibi. After a simple breakfast we head to La Maison Arabe for an informative Moroccan cooking class where we'll discover the secrets to North African cuisine.
Lunch is included today followed by a guided tour of Marrkesh's wonderful Medina, or Arab Quarter. We'll explore hidden shops, secret courtyards, lush Islamic gardens and Bahia Palace, a splendid mansion built by a former slave who rose to power within the government.
Dinner and the rest of the day is at your leisure.
Hotel: 2Ciels Luxury Boutique Hotel & Spa
, Marrakech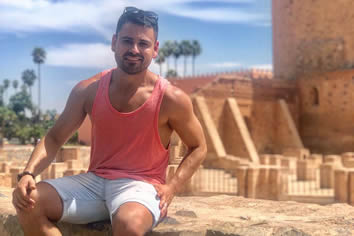 Day 11 - Marrakech
For our final full day together, we'll venture into Marrakech's serene Majorelle Gardens, originally owned and tended to by the French painter Jacques Majorelle. The tropical gardens are also where the ashes of Yves Saint-Laurent were scattered in 2008. Speaking of whom, we'll spend an hour or so at the Yves Saint-Laurent museum, appreciating the gay icon's contributions to the world of fashion.
The adventure finally ends with a Farewell Dinner at one of Marrakech's most popular restaurants, where we can reminisce over the 11 past days before we part ways.
Hotel: 2Ciels Luxury Boutique Hotel & Spa
, Marrakech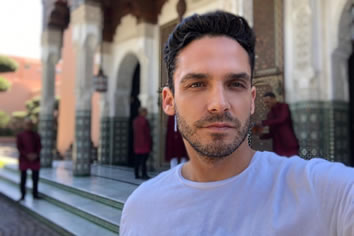 Day 12 - Marrakech Departure
There are no activities planned today, so you are free to depart at your leisure. Thank you for joining our gay Morocco tour!
Your local guide will help arrange your included departure transfer to the airport. Safe journey!