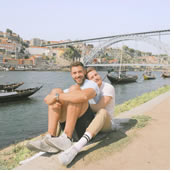 Our luxurious gay Portugal tour ventures through one of Europe's oldest and westernmost nations with a focus on food and wine. We'll spend time with locals that range from an esteemed Countess to hard-working fishwives. We get to know Lisbon over several days on a private tram ride, by speedboat, and in a famous food market.
If you're up for a challenge, and want to see more of the country, you can even start your visit with our all-gay Portugal Azores Islands Adventure Tour (it ends the day this tour begins).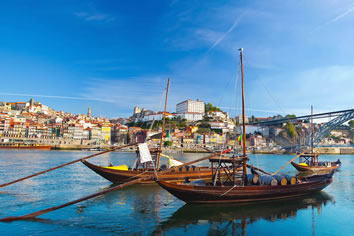 • Experience Portugal with a group of like-minded LGBT jet setters
• Climb the Porto Bridge – a top attraction in the city
• Sip the country's famous wines and ports in the Douro Valley
• Try your hand, er, feet at grape stomping
• Learn to cook Portuguese cuisine with 'The Countess'
• Taste local life with the fishwives of Nazaré
• Stroll Sintra, a UNESCO World Heritage Site
• Experience a speedboat tour of Lisbon's coast
• Enjoy a private tram ride – with pastries – through historic Lisbon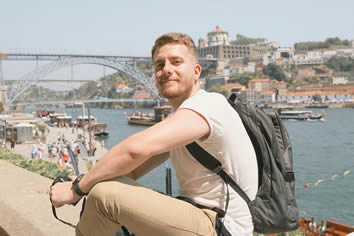 Day 1 - Porto, Portugal
Olá, and welcome to Porto!
Look for your Out Adventures rep after collecting your luggage at the airport, then transfer to the hotel.
All we've planned today is our Group Meeting at 5:30pm, followed by a Welcome Dinner at DOP. Run by the awarded Chef Rui Paula and located in the historic city centre, the restaurant focuses on classic Portuguese cuisine.
Seeing as it's Saturday, night owls may want to consider checking out the Porto's gay scene.
Hotel: PortoBay Flores Hotel
, Porto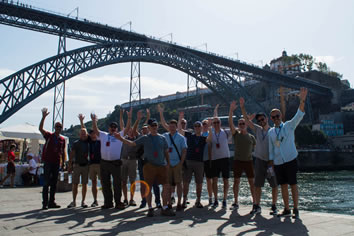 Day 2 - Porto, Portugal
On our first full day we'll delve into Portugal's second largest city. We'll visit Cais da Ribeira (a riverside promenade), monuments like the 19th-century Stock Exchange Palace, and St Francis Church. Our walking tour concludes with lunch at a fantastic local restaurant.
This afternoon, challenge yourself to climb Porto's iconic bridge: the Ponte da Arrábida. When it opened in 1963, it had the longest concrete arch bridge span in the world. Today, the climb makes it a top attraction. You'll be kitted out with proper gear, strapped to a safety line, and make your way up to admire the Douro River views.
The remainder of the afternoon will be at your own leisure.
Hotel: PortoBay Flores Hotel
, Porto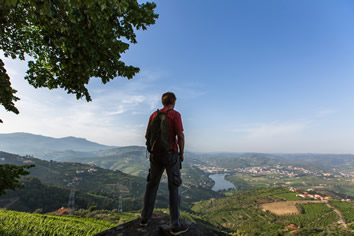 Day 3 - Porto & Douro Valley
Off to wine country! Located 97km/60mi from Porto, Douro Valley is a UNESCO World Heritage Site and home to about 600,000 acres of vineyards that produce equal volumes of wine and port.
We'll visit a family-run winery, peruse the property, and – depending on the harvest – possibly roll up our pant legs and stomp some grapes in an authentic lagar. Before leaving, we'll enjoy lucnh at the vineyard.
This afternoon, unwind with a refreshing Port Tonic as we cruise aboard a traditional 'rabelo' boat. Finally, we'll make a quick stop at Pinhão port to admire the train station's glazed tilework.
Our day ends with check-in at our hotel, and we have no evening plans aside from an optional group dinner.
Hotel: Lamego Hotel & Life
, The Douro Valley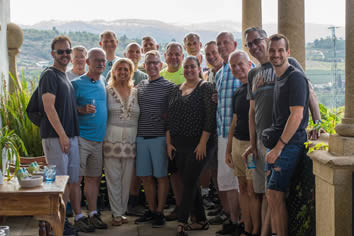 Day 4 - Douro Valley
Get ready to meet one of Portugal's biggest personalities and a friend of Out Adventures, 'The Countess'. We'll arrive at her estate early to savour stories of her family's rich history before rolling up our sleeves for a Portuguese cooking class. Try working with ancient cookware on wood-burning stoves. After the lesson, lunch will be served in one of the estate's dining rooms or al fresco on the patio.
Bidding the Viscountess goodbye, we return to Lamego and explore the town. Make sure to save some energy for the 686 steps to the Santuário de Nossa Senhora dos Remédios (Shrine of Our Lady of Remedies), a baroque church built between the 18th and 20th centuries.
Enjoy the night on your own, or join an optional dinner.
Hotel: Lamego Hotel & Life
, The Douro Valley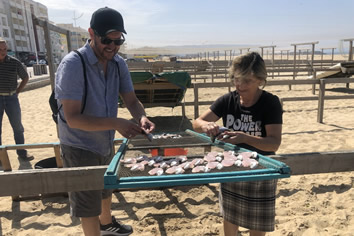 Day 5 - Nazaré & Lisbon
Bid the valley farewell – we're off to the fishing village of Nazaré. Meet 'fishwives' in the market, learn to prepare the fish, then take it to the beach to dry in the sun.
After a fresh seafood lunch in a village restaurant, you'll take the furnicular to Sítio, perched on a promotory high above the town. From here, you can admire some epic views of the coast.
Finally, Lisbon awaits – our home base for the second half of the tour.
Hotel: BessaHotel Liberdade
, Lisbon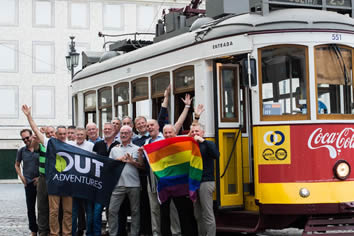 Day 6 - Lisbon
A walking tour introduces us to Lisbon's Bairro Alto district. Known as the city's bohemian district, Bairo Alto is a picturesque working-class quarter with centuries of history. Together we'll navigate through a maze of narrow streets and alleyways playing host to colourful façades, an array of restaurants and Fado houses, and a selection of bars and artisans shops.
Our tour ends at Time Out Market, one of Europe's largest food markets. Everything has been chosen, tasted and tested by an independent panel of experts. Nothing sold rates less than 4/5 stars, making it the perfect spot for lunch.
Enjoy a leisurely afternoon on your own before we reconvene for a private ride on one of Lisbon's old trams. During the journey through Lisbon's historical quarters you'll be treated to delicious Pastel de Nata and a glass of port.
Hotel: BessaHotel Liberdade
, Lisbon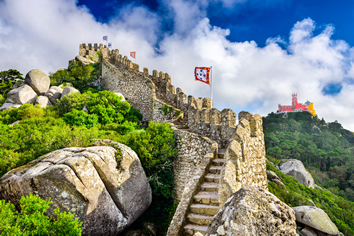 Day 7 - Lisbon & Sintra
Lace up your walking shoes for an eventful day in the resort town of Sintra, a UNESCO World Heritage Site, only a short drive from Lisbon. The "fairy-tale city" is known for its Romantic monuments, ancient narrow streets, handicraft shops and cafés.
After wandering the small downtown centre, we'll make our way to the top of the mountain to admire Pena Palace and Park* (exterior visit only). We'll stroll the wonderfully-curious grounds, take in the eclectic mix of architectural styles of the multi-coloured palace and discover the unique features of the garden.
From here, descend to Guincho Beach for an excellent view of Cape Rock, the westernmost point of the European continent, before continuing to the fashionable fishing village of Cascais for lunch at leisure.
Then it's back to Lisbon for an evening on your own.
* Please note that Pena Palace is not suitable for clients with walking difficulties. As an alternative, clients can visit the National Palace of Sintra, a former Royal residence, with a variety of architectural styles and interior decorations.
Hotel: BessaHotel Liberdade
, Lisbon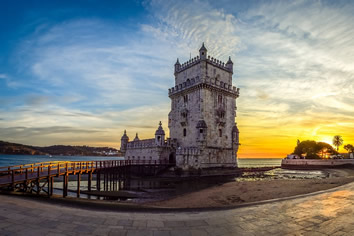 Day 8 - Lisbon - Belém
Bom dia! For our final full day together we'll explore the Belém district with its magnificent Jerónimos Monastery, an extraordinary example of Portugal's 'Manueline' style of architecture.
Next, we'll visit Torre de Belém (Belém Tower), one of Lisbon's most iconic buildings and symbols of Portugal's Age of Expansion.
We'll finish our tour with a thrilling speedboat ride taking in the city's many landmarks, including São Jorge Castle, the Alfama, the Christ the King statue, 25th of April Bridge, and Lisbon Cathedral.
Afterwards, you'll have some free time to pick up any last minute souvenirs before we reconvene for a delicious farewell dinner.
Hotel: BessaHotel Liberdade
, Lisbon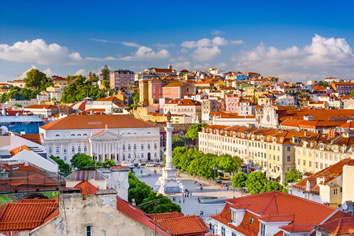 Day 9 - Lisbon / Departure
As the last day of our tour, there is nothing planned. Thank you for joining our gay Portugal tour.
Please confirm departure transfers with your trip leader, and safe travels home.