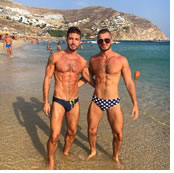 Cruise between Greece's glistening Cyclades Islands, enjoying stops in Athens, Santorini, Mykonos, and many more. It doesn't take the oracle's foresight to know you'll fall in love with Greece aboard our Gay Cruise. Kicking off in ancient Athens, this Mediterranean adventure is equal parts hedonistic and historical. On the hedonist side, you'll delight in the flavors, fashions, and fabulous festivities of modern Greece – especially on stylish Santorini and uber-gay Mykonos. Historically speaking, you'll enjoy private tours of the Acropolis, Akrotiri, Ermoupolis, and other ancient sites throughout the Cyclades. Stand by for fun, feta, and perhaps one-too-many shots of ouzo. Opa!
Athens and the Acropolis at sunset. The beautiful Cyclades, Paros, Santorini, Mykonos and the neighboring UNESCO-protected archaeological isle of Delos. The crystal blue waters " hidden gems of the Aegean Sea. Each day you will discover a new port of call, a hidden cove with crystal blue waters to cool you, a glimpse of ancient history to amaze you and rich cultural diversity to intrigue you. Experience our Greek Islands Boutique all-gay cruise!
It's worth mentioning that this cruise can be paired with our Italy Tuscan Decadence & Roman Resplendence gay tour which finishes a few days before the cruise starts, or it could be paired with our Croatia Gay Dalmatia Cruise afterwards.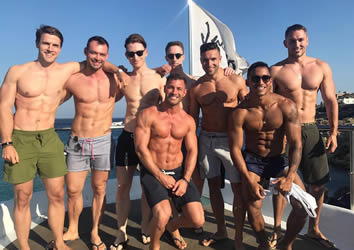 • Indulge in Mykonos' famously fabulous nightlife
• Dive off our private yacht into the balmy Aegean Sea
• Stroll Santorini, photographing its striking stucco architecture
• Enjoy walking tours through some of Greece's most noteworthy archeological sites including the Acropolis, the ruins of Akrotiri, and Ermoupolis
• Make lifelong friends with your fellow passengers during indulgent onboard meals
• Nibble your way through traditional Greek tavernas, tasting mezze and sipping ouzo on a private food tour
• Forget the real world while kicking back on pristine beaches or shopping for tchotchkes in local shops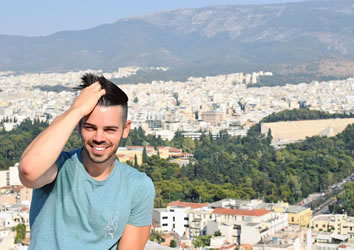 Day 1 - Athens, Greece
Ya Sou! Welcome to Athens. Upon arrival at the airport, you'll be transferred to our joining point hotel.
Feel free to spend the day exploring the country's capital which boasts more layers of history and culture than a slab of baklava.
At 5:00pm we'll meet in the hotel lobby for our Welcome Meeting.
After everyone has gotten acquainted, we'll sit down for our official Welcome Dinner.
Hotel: New Hotel
, Athens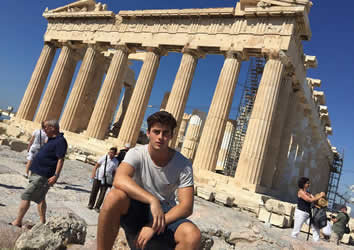 Day 2 - Athens & Poros
Rise and shine! We have a big day starting with a private tour of the ancient Acropolis.
After an optional lunch in Athens, we'll shuttle to Marina Zea port to board the Galileo, our home for the next week.
Upon embarkation, we'll have a safety briefing, meet our crew, and enjoy welcome drinks. Feel free to explore the yacht and settle in before our first Greek dinner on board.
Afterwards, we'll sail to Poros where we'll spend a few hours exploring. In the evening we'll set sail to Poliegos, anchoring midway and spending the night at sea.
Accommodation: Variety Cruises Galileo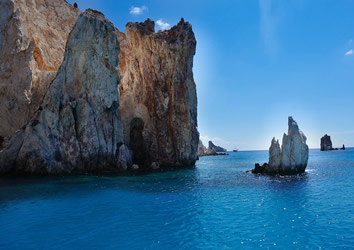 Day 3 - Poliegos & Folegandros
Early this morning we'll arrive at the uninhabited island of Poliegos, known for its picture-perfect beaches and plentiful goat population.
We'll enjoy a swim stop in Poliegos' azure waters followed by a BBQ lunch on deck.
After lunch, we sail to Folegandros, one of the lesser-known islands, where we'll stay overnight.
Upon arrival, we'll take a local bus to the charming Upper City, where you are free to wander on your own and nibble your way through its many Greek tavernas before returning to the ship.
Accommodation: Variety Cruises Galileo
Day 4 - Santorini
Feel free to take your coffee on the upper deck as we sail to stylish Santorini.
Upon arrival, we have a half-day tour planned beginning with a cable car ride up to the island's capital, Fira. It's here we'll stroll the city's narrow streets.
We'll then board a bus and take a scenic drive through the countryside, passing the village of Pyrgos en route to the archaeological site of Akrotiri. This ancient city was frozen in time by layers of ash from an eruption 3,600 years ago. Excavation has unveiled a sophisticated and ancient city with excellent frescoes and elaborate architecture.
From here we head further north to picturesque Oia, which sits comfortably above the striking caldera. Our local guide will lead us through the town, pointing out its famous domed buildings as well as giving us insights into the city's architecture and culture.
Finally, we'll head back to the Galileo for a late "Greek Night" dinner on board. Expect ouzo, meze (Greek appetizers), seafood, and other local delicacies. To toga or not to toga? That is the question.
Accommodation: Variety Cruises Galileo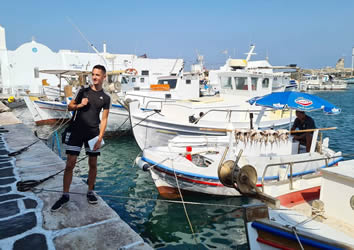 Day 5 - Paros
After breakfast we set sail for Paros with a swim stop in the enchanting bay of Antiparos and a BBQ lunch on board.
In the afternoon you are welcome to join our optional culture and history tour. We'll begin at one of the most important Byzantine monuments throughout Greece, the church of Ekatontapiliani.
Explore the villages of Lefkes and Marpissa (known for their whitewashed houses), Venetian architecture, windmills, and dovecotes. Our guide will lead us through the folklore museum before taking us to Naoussa, a fishing village that has blossomed into a chic city full of shops, taverns, bars, and nightlife.
After some free time to pick up knick knacks, we'll head back to the ship.
This evening grab dinner at a local restaurant on your own.
Accommodation: Variety Cruises Galileo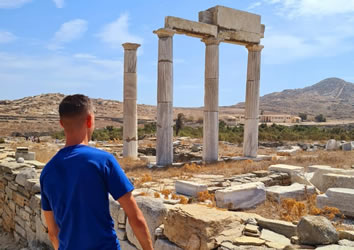 Day 6 - Mykonos & Delos
After breakfast, we arrive in magical Mykonos, one of the gayest holiday destinations in all of Europe, if not the world.
But before you sashay your way over to the nude beaches and beloved gay bars, you're welcome to join us on a short optional excursion to UNESCO-listed Delos. This teeny, uninhabited island is just a quick ferry ride from Mykonos. On this private excursion, our guide will point out Hellenistic houses, the Sanctuary (Apollo's temple), and the guardians of the Sacred Lake: five marble lions from the 7th century BC. Finally, we'll visit the Theatre and the Roman quarter, where Dionysus' ancient statues await.
Tonight we'll enjoy dinner on board before a free evening. Perhaps hit up one of the town's many gay bars (or clubs).
Accommodation: Variety Cruises Galileo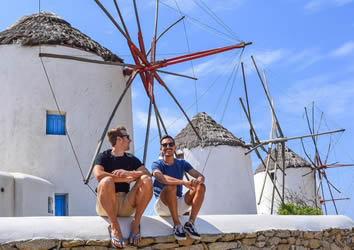 Day 7 - Mykonos
Don't worry. After last night's festivities, we have no planned activities today. Meaning you have the option of sleeping in, relaxing on the island's beloved gay beaches, hitting the island's many shops, or heading out on a self-guided food tour.
Lunch isn't included today, so we'll reconvene for dinner on the ship while we sail towards Syros.
Accommodation: Variety Cruises Galileo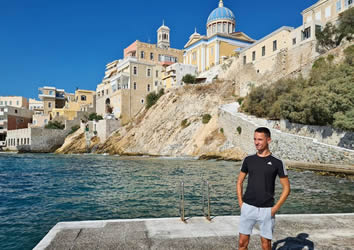 Day 8 - Syros & Athens
This morning we'll wake in Ermoupolis (Town of Hermes) on the island of Syros.
On an included group tour we'll stroll the marble streets, learning about the island's unique history. During the Renaissance, Syros took a different architectural path from most of Greece. It now has distinct Neoclassic, Byzantine, and Venetian vibes.
We'll visit the impressive Town Hall, the Apollo Theatre, the Captain's Quarter, and visit a local market. It's here we'll grab a table at a family-run taverna and taste authentic Cycladic cuisine.
Back on board, we'll have some light snacks followed by another refreshing swim stop.
Finally, we'll sail past Cape Sounion and view the temple of Poseidon from our ship.
In the evening we'll enjoy our Farewell Captain's Dinner back in Athen's Marina Zea.
Accommodation: Variety Cruises Galileo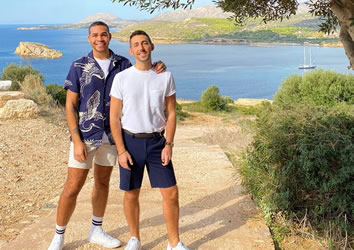 Day 9 - Athens, Greece Departure
Sadly, we will disembark early this morning.
Your trip includes a complimentary departure transfer which will be confirmed by your group leader. It can either transfer you to the airport or a hotel to continue your time in Greece on your own.
Thank you for joining our Greece: Aegean Sea Gay Cruise. Antio sas for now!