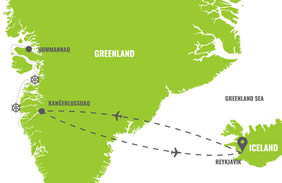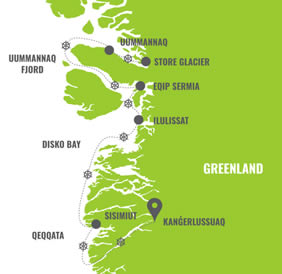 • Breakfast daily, 8 lunches, 10 dinners
• All onboard meals, snacks, soft drinks and juices
• Onboard beer and wine during dinner; and coffee, tea and cocoa available around the clock
• Roundtrip chartered flight between Reykjavik, Iceland and Kangerlussuaq, Greenland
• Credit of $300 for additional drinks and on-board purchases
• Out Adventures dry bag
• Quark Expeditions parka
• A pair of waterproof expedition boots on loan for landings and Zodiac cruising excursions
• Shore landings per the Greenland: West Coast Gay Cruise program
• Flightseeing: one 10-15 minute helicopter supported activity thanks to two helidecks along with two twin-engine helicopters on the Ultramarine (weather permitting)
• An Out Adventures Host from beginning to end of tour and experienced expedition leaders throughout the voyage
• Photographic journal of the expedition
• Onboard emergency evacuation insurance to a maximum benefit of US$500,000 per person. This does NOT include any other form of travel insurance including basic medical coverage, which is required for all our travellers.
• Group transfers to and from starting hotel and ship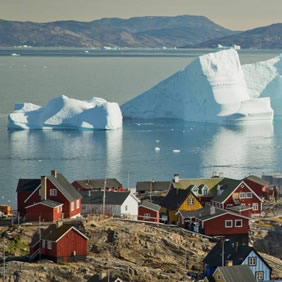 • Arrival & departure transfers to/from joining/finishing point hotel. Detailed arrival and departure instructions will be provided.
• International airfare
• Passport and visa expenses
• Government arrival and departure taxes not mentioned above
• Mandatory waterproof pants for Zodiac cruising, or any other gear not mentioned
• Laundry, bar, beverage and other personal charges unless specified
• Phone and Internet charges (connectivity may vary by location)
• Adventure Options and any other optional activities, meals, and drinks not outlined in itinerary
• Gratuities for the ship and expedition crew (we recommend $200 per passenger)
• Travel insurance (medical & repatriation coverage is mandatory for all travellers. Emergency evacuation coverage is provided by the Ultramarine ship, with limitations.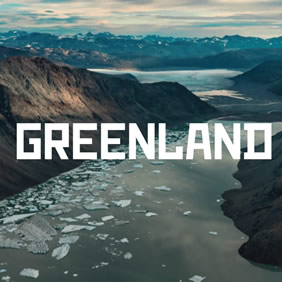 Gay travellers are warming up to one of our most remote destinations ever.
Part of the United Kingdom of Denmark, the world's largest island is a place of paradox. Gay rights are among the world's best, but there isn't a major queer community. You can explore the country's Viking history or beautiful geography. Go dog sledding or whale watching. And enjoy natural phenomena like the Midnight Sun in the summer and Northern Lights in the winter.
Culture Shock
Greenland is the world's least populated nation on earth by a wide margin. Rest assured the people you do meet will be warm and welcoming.
Visas
Most citizens of Canada, the USA, and Europe do not need a visa for short-term visits to Greenland or visits under 90 days to Iceland and the Schengen Area. There may be exceptions, and all visas are the traveller's responsibility.
Local LGBT Scene
While Greenland has some of the best LGBT rights in the world. In fact, with less than 60,000 residents, the entire population is smaller than some gaybourhoods. In Iceland the scene is small, and centred around Reykjavík. Being gay or lesbian in Iceland is a complete non-issue (they've already had a lesbian prime minister).
Weather
Don't let the name deceive you. This island can be frosty. Winter temperatures can plunge to -58°F/-50°C. Even in the summer, when we visit, you can expect average temperatures below 50°F/10°C.
Required Vaccinations:
Based on the entry requirements for Greenland and Iceland, there are no mandatory vaccinations. To determine if you should take preventative measures to reduce the risk of illness, consult your doctor or a travel medical clinic. We cannot provide vaccination recommendations.
Electricity
You will need an international travel plug/adapter for Type C, F, E and K sockets.
Connectivity:
You'll have solid Wi-fi and Cell service in Reykjavik. But once we hit Greenland, connectivity can vary greatly by location.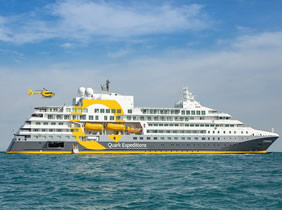 The newest ship in our fleet, Ultramarine, is designed to go beyond the familiar in polar exploration, to discover new places, and to immerse you in the best the region has to offer.
Equipped with two twin-engine helicopters, Ultramarine offers the most robust portfolio of adventure activities in the industry, the most spacious suites in its category, breathtaking public spaces, and more outdoor wildlife viewing spaces than other expedition ships its size. It also features an innovative mix of sustainability features that exceed all industry standards.
With all this and more, Ultramarine is set to deliver the ultimate polar expedition experience.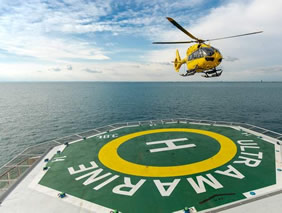 Ultramarine, the newest, ice-strengthened polar tour ship designed specifically for navigating the Arctic and Antarctic, with a priority on maximising guest experience in this part of the world.
The MV Ultramarine can hold a maximum of 199 passengers (200 people is the maximum number that can leave any ship at the same time in the Antarctic according to IAATO regulations) and 140 crew, so not only does it pass this important passenger limit rule, there's substantial staff available to cover all needs and requirements for high-end cruise executions.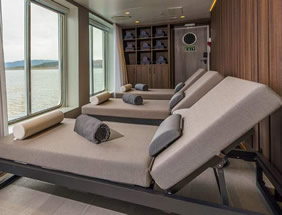 With a focus on environmentally responsible tourism, Quark ensured that the Ultramarine also utilises the most sustainable tech available to operate, including special systems to convert waste to energy, minimise fuel consumption and navigate narrow passages without impacting the land or seabed.
Luxury is paramount onboard, and every corner blends spacious functionality with high-end amenities and tasteful decorations.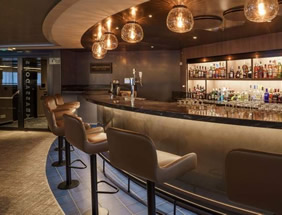 There are 8 decks with different style cabins, lounge, two bars, two restaurants, presentation room, gym, spa, reception, ready room and a fully-stocked store.
The newest addition and arguable highlight is the two twin engine helicopters that allow for off ship experiences such as scenic flights and landings in places few people have ever seen.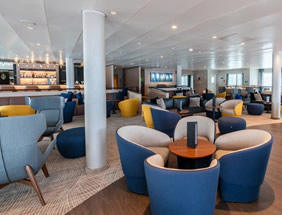 Located at the bow on Deck 7 is the Panorama Lounge, the ultimate social hub on the Ultramarine. It's perfect place for guests to relax and unwind at the end if a big day's exploration or to chill in the morning with a cup of coffee while watching the landscapes pass by.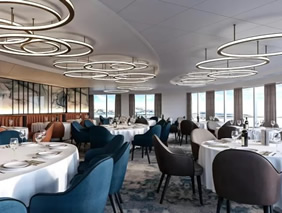 The main restaurant on the ship is the Balena Restaurant located on Deck 5, there's two sections to the Balena Restaurant – the front section which is more like a lounge and the bright, back section which has more of a diner feel.