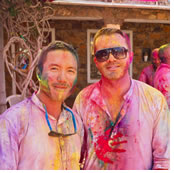 Our annual India Holi Festival gay tour is a royal journey through Rajasthan. India—and especially the province of Rajasthan—is chaotic and colourful. While the country is laden with lavishness, it can also exasperate and confound the unprepared traveller. This all-gay tour of India fills a decadent 12 days with a 7th Wonder of the World, the Pink City of Jaipur and huge clouds of colour that define the world-famous Holi Festival. Please stand by for fiery feasts, local accommodations and a truly unique culture.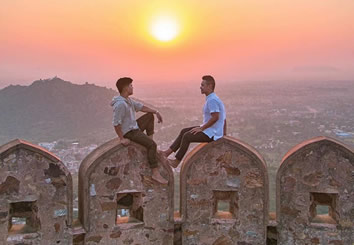 • Celebrate Holi, the Festival of Colour!
• Witness the lighting of the Holika (huge bonfire) on the eve of Holi at Udaipur's City Palace
• Marvel at (and photograph) the Taj Mahal twice: in the afternoon and again at sunrise
• Appreciate India's glorious architecture including India Gate, Agra Fort, Chand Baori and Mehrangarh Fort
• Discover the madness of India's famous bazaars
• Learn about Rajasthan's sweeping history during walking tours of Delhi, Jaipur and Jodhpur
• Enjoy a slew of Indian and Rajasthani dinners
• Learn about, and visit with, the region's nomadic Bishnoi tribes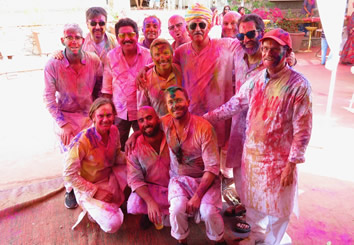 Day 1 - Arrive New Delhi, India
Namaste! Welcome to New Delhi. Rebuilt seven times over the centuries, today Delhi marries modern hustle with historic highlights.
After clearing customs and immigration at DEL Airport, an Out Adventures rep will transport you to our hotel, where a traditional Indian welcome awaits. We'll have a kickoff meeting this evening at 5PM, followed by a decadent Welcome Dinner.
Hotel: The Leela Palace New Delhi Hotel, Delhi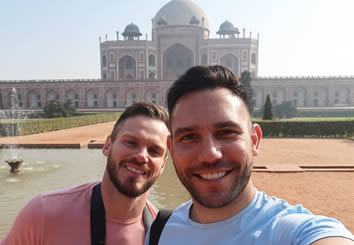 Day 2 - Delhi
For the first full day of our tour we'll begin in Old Delhi with a visit to Jama Mosque. One of the world's most beautiful Muslim temples, it was built by Shah Jahan in 1656.
We'll enjoy a walking tour as well as briefly drive past Red Fort. With our appetites revved up, a traditional Kashmiri lunch awaits, then we'll hit up Humayun's Tomb in New Delhi before enjoying another walking tour.
We'll be sure to swing by Presidential Palace (Rashtrapati Bhawan) and India Gate (this war memorial honours 90,000 Indian soldiers who lost their lives in WWI).
This evening we meet with a prominent journalist and LGBT activist at the hotel, then he joins us for an optional dinner.
Hotel: The Leela Palace New Delhi Hotel, Delhi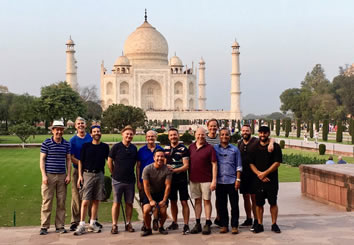 Day 3 - From Delhi to Agra
The day kicks off with a 4.5-hour drive to Agra, the second capital of the Mughal Empire.
After checking-in and grabbing a bite, we're off to Agra Fort, an imposing structure nearly two miles long. Featuring palaces, audience halls and mosques within, it flaunts both Islamic and Hindu architecture.
Today's final stop is the world's ultimate tribute to love. Lacy white and mesmerizing, the Taj Mahal was built by the Shah Jahan for Mumtaz Mahal, his favourite wife.
Tonight we head out for an included Indian dinner!
Hotel: ITC Mughal, A Luxury Collection Resort & Spa
, Agra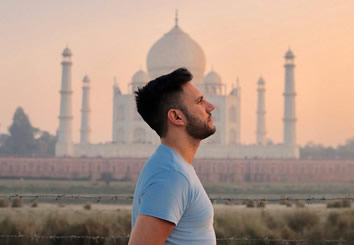 Day 4 - From Agra to Jaipur
So magical is the Taj Mahal we'll return to view it this morning as the sun rises.
After breakfast and checking out, we'll drive to Jaipur stopping along the way for lunch and an incredible photo opportunity at Chand Baori, the largest stepwell in the world. It was originally built in honour of the Goddess of Joy and Happiness.
This evening we'll enjoy a group dinner at the hotel followed by free time to explore.
Hotel: The Leela Palace Grand Villa Jaipur Hotel, Jaipur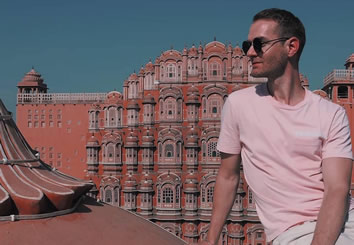 Day 5 - Jaipur
Enjoy a full day in the Pink City of Jaipur (the rosy glow arose thanks to a visit from King Edward VII in 1876 – almost all of the city was freshened up with a coat of paint).
We'll take a guided tour this morning, visiting City Palace where we'll even get to enter the royal family's private chambers. Other stops can include the city's Observatory as well as Hawa Maha and the Johari Bazar.
This evening we discover the city's main attraction: Amer Fort. Overlooking Maoto Lake, the fort is famed for its decorative Hindu style and immaculate landscaping. We'll arrive at dusk to ensure epic photos of the structure lit up.
After we've explored the landmark we head off for a delicious al fresco dinner.
Hotel: The Leela Palace Grand Villa Jaipur Hotel, Jaipur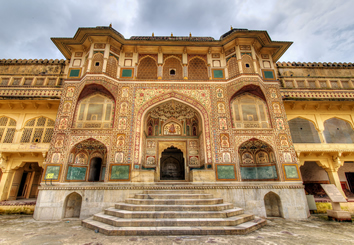 Day 6 - Jaipur
Enjoy a leisurely morning before we depart the hotel to visit the stunning Nahargarh & Jaigarh Forts nestled atop the Aravalli range. From here, cast your view on the city below, and imagine yourself as a Maharaja centuries ago.
We'll return to the hotel in time for an optional lunch and free time. This is a great opportunity to get some shopping done in the city.
Early this evening we'll have dinner at the hotel and rest up for our long journey tomorrow morning.
Hotel: The Leela Palace Grand Villa Jaipur Hotel, Jaipur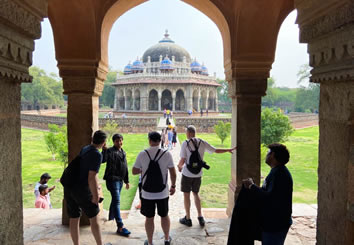 Day 7 - From Jaipur to Jodhpur
Today we journey to Jodhpur, about an 8-hour drive away.
After checking in to our 5-star hotel, you'll have some time to relax before dinner at the hotel.
Hotel: Taj Hari Mahal Hotel
, Jodhpur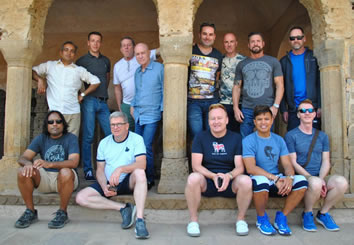 Day 8 - Jodhpur / Rohet
A full day of sightseeing awaits, beginning with a visit to the royal cenotaphs (tombs) and Jaswant Thada, a memorial to Maharaja Jaswant Singh II, on the banks of a nearby lake. To wrap up the morning we visit the majestic Mehrangarh fort, where we'll enjoy an optional lunch after the tour.
We'll have a bit of free time at the hotel before driving approximately one hour to Rohet where we'll learn more about the Bishnoi tribes on a village safari, even visiting their homes and partaking in their customs. Dubbed the 'Premier ecologists of the world', the Bishnoi have protected nature for more than 500 years, and have ensured the survival of species like the Black Buck antelope.
We'll enjoy an exclusive and private dinner tonight in the dunes, with local folklore to accompany the night's sky.
Hotel: Taj Hari Mahal Hotel
, Jodhpur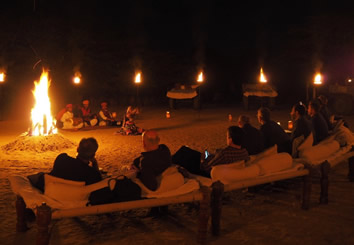 Day 9 - From Jodhpur to Narlai
Today we journey to Narlai, just 3 hours away. This afternoon you are free to enjoy the peaceful surroundings of this tranquil village.
Tonight we are treated like royalty as we visit an ancient stepwell and feast on a lavish dinner, surrounded by the twinkling lights of lamps and the stars above us.
Hotel: Rawla Narlai Luxury Heritage Hotel
, Narlai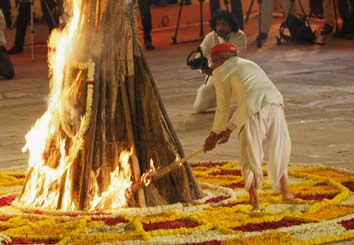 Day 10 - From Narlai to Udaipur via Ranakpur
We're off to Udaipur, with a visit to Ranakpur Jain Temple en route. This massive monument on the Magai River was built between the late-14th and mid-15th century AD. It has over 1444 marble pillars—carved in exquisite detail—with no two pillars the same.
We'll have an included lunch, then continue to our hotel on the outskirts of Udaipur (a former palace) where we'll check in and get ready for tonight when we'll bear witness to the Holika Dahan, a bonfire ceremony that represents the triumph of good over evil.
Dinner will follow tonight—at the palace, no less.
PLEASE NOTE: On occasion the local authorities in Udaipur change the dates for Holika Dahan and Holi. In this event the itinerary will be adjusted to fit with the new dates.
Hotel: Aurika Udaipur – Luxury by Lemon Tree Hotels, Udaipur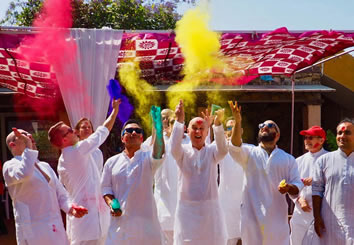 Day 11 - Udaipur Holi
Today is the highlight of our holiday: Holi, the festival of colour! We celebrate the festival at a local Indian family's private home.
Lunch will be served before we let loose—Holi is a free-for-all where participants run around and shower each other with coloured powders and water.
After this unicorn of a battle is over, we'll unwind poolside at the hotel before enjoying an incredible Farewell Dinner.
Hotel: Aurika Udaipur – Luxury by Lemon Tree Hotels, Udaipur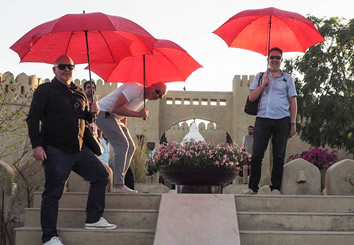 Day 12 - Udaipur Departure
Today is our final day and we wish everyone safe travels home. From the whole Out Adventures team, we'd like to extend a royal thank you for joining us in India.
Your local guide will help arrange your included departure transfer to the airport. Safe journey!