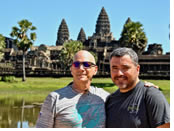 Experience Luang Prabang, Phnom Penh, Siem Reap and Angkor Wat on this all-gay Southeast Asian journey. This Southeast Asian gay adventure tour kicks off in old Asia's newest hotspot, Luang Prabang. It is in this serene city where we'll immerse ourselves in deep traditions like the Buddhist's daily alms-giving. We'll then fly to the capital of Cambodia, Phnom Penh, to learn about the country's turbulent past before indulging in its emerging queer nightlife. Our journey ends in Siem Reap, where we'll temple hop our way through Angkor Archaeological Park a la Angelina Jolie circa Tomb Raider.
As part of our new Flex Tours theme, you can expect plenty of free time and extraordinary optional activities on this epic escape.
Combining the magnificence of the Khmer Empire with lively Phnom Penh, this luxurious tour to Laos & Cambodia is the perfect way to get acquainted with the countries, all with other gay travellers. Witness the grandeur of ancient Angkor Wat, see the enigmatic faces of the Bayon, confront the tragedy of the recent past and delight in the hopes for the future on this classic Cambodian adventure. It is recommended to combine this trip with our Thailand Temples & Beaches Luxury Gay Tour.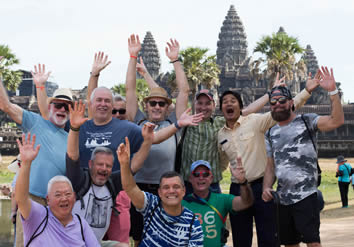 • Temple hop around Angkor Archaeological Park a la Lara Croft
• Wade in the crystal pools of Kuang Si Waterfalls and visit the nearby sun bear sanctuary
• Savour optional activities like a Laotian cooking class at The Tamarind School
• Witness the daily Alms Giving ritual in Luang Prabang
• Receive a water blessing from an actual Buddhist monk
• Experience Cambodia's spectacular circus, Phare—trust us, this is no ordinary circus!
• Tip local drag queens at one of our favourite gay bars in Cambodia
• Enjoy a private tour of lovely Luang Prabang, a timeless UNESCO-listed city
• Learn about the devastating Khmer Rouge Regime during a sobering visit to the Tuol Sleng Genocide Museum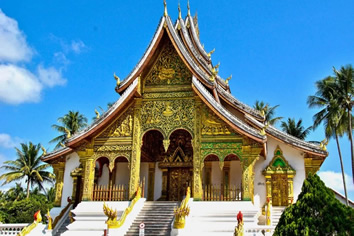 Day 1 - Arrive Luang Prabang, Laos
Sabaidi! Welcome to Luang Prabang. Upon arrival at Luang Prabang airport, a private car and guide will transfer you to the hotel for check-in. Freshen up, then join us at 6PM for our Welcome Meeting.
Tonight's Welcome Dinner specializing in Laotian family cuisine, the food transports you into the past with traditional flavours.
Hotel: Villa Maly Boutique Hotel
, Luang Prabang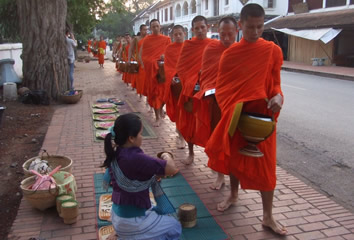 Day 2 - Luang Prabang, Laos
For our first full day we'll explore the UNESCO-listed streets of Luang Prabang. Our tour begins in the former Royal Palace, which now houses the National Museum. We'll then walk to Wat Mai, a temple renowned for golden bas-relief, and the dazzling facade of Wat Sensoukarahm. Our final stop is revered temple Wat Xieng Thong. Built in 1560, it's famed for its carvings and mosaics.
Enjoy some downtime by the pool in the afternoon, before a completely optional Laotian cooking class. The culinary school's lakeside locale is a fine place to learn about—and taste—local flavours.
Hotel: Villa Maly Boutique Hotel
, Luang Prabang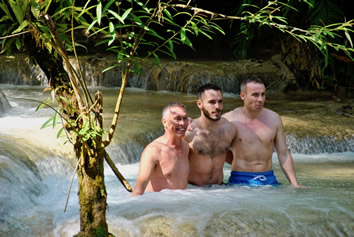 Day 3 - Luang Prabang, Laos
Rise and shine! This morning we partake in the daily 'Alms Giving', where saffron-clad monks collect offerings from the faithful (Laos is the last Buddhist nation to practice this ritual).
After breakfast, you have the option of further exploring gorgeous Luang Prabang on your own or joining the group on an excursion to Kuang Si Falls. If you do choose to join, we'll venture into the countryside with rice fields, rolling hills, and viewpoints en route. After a stop in a local ethnic village, we arrive at Kuang Si Falls where waters cascade from pool to pool. From here, you can take an excursion to a nearby bear sanctuary, then we'll stop at the magnificent Kuang Si Butterfly Park on our way back to town.
The rest of the day is free to enjoy, and you may join us for an optional dinner.
Hotel: Villa Maly Boutique Hotel
, Luang Prabang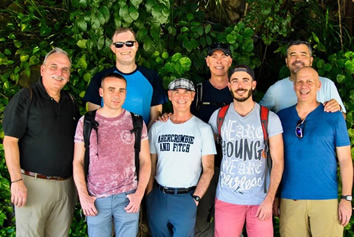 Day 4 - Phnom Penh, Cambodia
This morning we have an early flight to Phnom Penh via Bankgok. Once the Orient's most beautiful city, Phnom Penh retains colonial charm despite a turbulent history.
After check-in, unwind, then join us for dinner at a restaurant where former street children learn the art of hospitality. The restaurant features a lovely garden and is in a gorgeous restored colonial building.
To wrap up the day, why not join us at one of our favourite gay bars for drinks and a drag show?
Hotel: Aquarius Hotel & Urban Resort
, Phnom Penh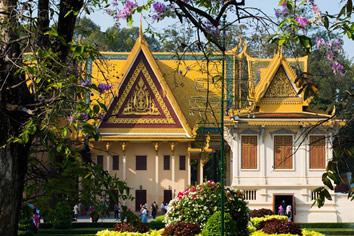 Day 5 - Phnom Penh, Cambodia
Our morning begins with a sobering tour of the Tuol Sleng Prison Museum, which tells the tragic tale of the Khmer Rouge legacy. A former school, it's estimated over 20,000 people were held and tortured here.
The rest of the day is free for optional activities such as a deeper dive into the Khmer Rouge on a guided tour of the Killing Fields. Alternatively, wander the country's gorgeous Royal Palace grounds, explore the National Museum, shop for crafts in the Russian Market, or take a sunset stroll along Sisowath Quay.
Grab one of the local coffees…it's strong, delicious, and distinctly Phnom Penh.
Hotel: Aquarius Hotel & Urban Resort
, Phnom Penh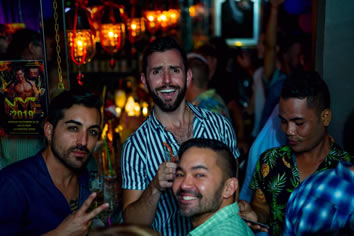 Day 6 - Siem Reap, Cambodia
This morning you may sleep in, sunbathe, or hit the local market. Just check-out by 11am, as we fly to Siem Reap in the afternoon.
Built between the 9th and 13th centuries, this town is home to Angkor Wat, where perfectly-balanced temples represent the cosmic world.
We'll walk through the Royal Gardens tonight, then enjoy dinner at a restaurant where disadvantaged youth receive hospitality training. We'll also be joined by a member of the local gay community who will discuss Cambodia's emerging LGBT movement.
Hotel: FCC Angkor by Avani Hotels, Siem Reap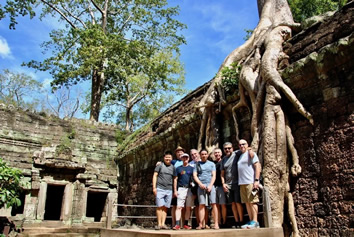 Day 7 - Angkor Wat
For the ultimate Angkor Archeological Park experience, rise early and join us at sunrise underneath Angkor Wat.
After the sun has fully risen we'll begin our private guided tour of this incredible site. To conclude our morning tour, a Buddhist monk will perform a water blessing on those interested. A gorgeous Khmer lunch awaits at a boutique farm where the majority of the restaurant's produce is grown.
In the afternoon we'll visit Ta Prohm, which was made famous in Angelina Jolie's Tomb Raider. Finally, our day concludes with visits to Angkor Thom—the 'Great Royal City'—as well as Bayon temple, famed for its 200 smiling carved faces and 50 gothic towers. The intricate bas-reliefs and architecture here offer ample fodder for aspiring photographers.
Tonight you are free to relax on your own or join the group for an optional dinner and a visit to the city's popular gay bar, Bar Code.
Hotel: FCC Angkor by Avani Hotels, Siem Reap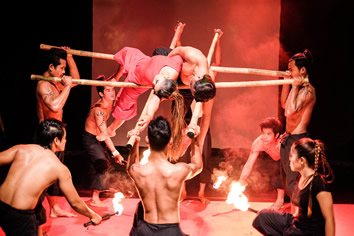 Day 8 - Siem Reap
It's our final day together and a slew of optional activities await you. For example you can enjoy a sunrise boat tour on Tonlé Sap Lake where the region's famous floating village awaits. Alternatively, we can arrange an unforgettable helicopter ride over Angkor Archeological Park or a personal vespa tour of the nearby countryside.
Finally, an afternoon poolside could be the ultimate way to relax before flying home.
Tonight we'll gather one last time for our atmospheric Farewell Dinner followed by a unique performance by Phare, the Cambodian circus. But note, "circus" does not do this show justice. Trust us!
Hotel: FCC Angkor by Avani Hotels, Siem Reap
Day 9 - Departure
There are no activities scheduled, so enjoy the day at leisure (check out time is noon, unless you've extended your stay).
Departure transfers must be booked/arranged separately.