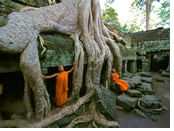 A luxurious gay group tour of Luang Prabang, Phnom Penh, and Siem Reap. This tour kicks off in old Asia's new hotspot, Laos, a charming country surrounded by more developed neighbours, where we'll immerse ourselves in deep traditions like the Buddhist's daily alms-giving. We'll then fly off to Cambodia's Phnom Penh, once the Orient's most beautiful city, to experience the city's colonial charm and learn about its turbulent past. Our journey ends in Siem Reap, where we'll explore spectacular Angkor Archaeological Park over a couple of days.
Combining the magnificence of the Khmer Empire with lively Phnom Penh, this luxurious tour to Laos & Cambodia is the perfect way to get acquainted with the countries, all with other gay travellers. Witness the grandeur of ancient Angkor Wat, see the enigmatic faces of the Bayon, confront the tragedy of the recent past and delight in the hopes for the future on this classic Cambodian adventure. It is recommended to combine this trip with our Thailand Temples & Beaches Luxury Gay Tour.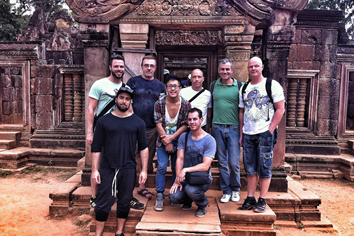 • Half day tour of Luang Prabang
• Evening cooking class at The Tamarind School
• A visit to the Kuang Si Waterfalls
• Witness the daily Alms Giving ritual
• A sobering visit to the Tuol Sleng Genocide Museum
• A visit to Phonm Penh's Royal Palace and the Silver Pagoda
• Days spent exploring Angkor Archaeological Park
• Great seats to Phare, The Cambodian Circus
• Half-day tour of Siem Reap
• Boat ride on Tonle Sap Lake
• Monk blessing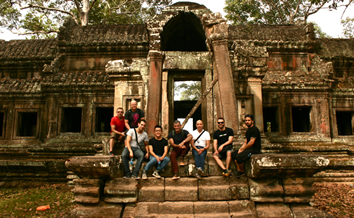 • Arrival & departure transfers to/from accommodation booked through us
• Group leader from beginning to end of tour
• Airconditioned vehicle
• Flight from Luang Prabang to Phnom Penh
• Flight from Phnom Penh to Siem Reap
• Boat trip on Tonlé Sap Lake
• Hotel for 8 nights
• 8 Breakfasts, 5 Dinners
• International Airfare
• Arrival and departure transfers
• Meals & Activities not mentioned in itinerary
• Optional activities
• Gratuities for Group Leader
• Gratuities for drivers, hotel staff, porters
• Travel Insurance (medical, trip interruption & baggage loss)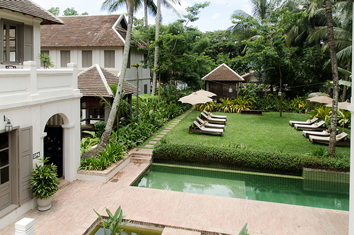 4 Star Hotels (8 nights)
We have carefully chosen these gay-welcoming properties with you in mind. They have the right balance of comfort while still being locally owned.
Joining Point Hotel
Satri House Hotel, Luang Prabang
(or similar)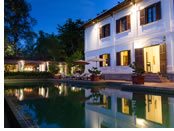 Satri House
is one of the most exquisite places in this ancient city, designed with a style inspired by Lao culture and set in a truly relaxing environment. Here you can enjoy private moments to yourself and really unwind or sit and watch the everyday life of local people from your balcony.
The 28 Rooms and 3 Suites are furnished with superior crafted wood furniture, oversized balconies, spacious bath rooms with rain shower and separate toilet room. Facilities include a restaurant, garden bar, library, outdoor swimming pools and spa. In Room Facilities: personal safe, WIFI internet, hair dryer, individual air conditioning and ceiling fan with flat screen TV available on request.
Finishing Point Hotel
Shinta Mani Shack Resort, Siem Reap
(or similar)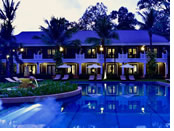 The Shinta Mani Shack
is a boutique resort centrally located in the leafy French Quarter between The Royal Gardens and the Old Market Area just 15 minute from the Angkor Wat. The courtyard-style resort's 62 rooms enjoy a surprisingly different "Bensley twist" with direct access or first floor balcony views over the stunning swimming pool and flourishing tropical gardens. Four additional suites have views over the leafy streetscape.
Rooms enjoy "a Bensley twist" including mirrored feature wall, custom designed iron bed and hand crafted light fittings. Accommodations are available in King or Twin-share and include a wall mounted LCD TV/soundbar, blue tooth and complimentary wireless internet access. Rooms feature artwork exclusively created for Shinta Mani by Bensley Design Studios, Bangkok.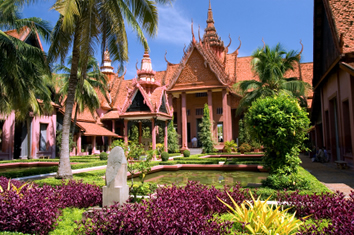 Day 1 - Arrive in Luang Prabang, Laos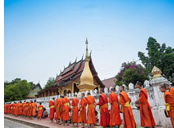 Sabaidi! Welcome to Laos.
Upon arrival at Luang Prabang airport, a private car and guide will transfer you to the hotel for check-in. Freshen up, then join us at 6PM for our Welcome Meeting.
Tonight's Kickoff Dinner is at Manda de Laos. Specializing in Laotian family cuisine, the food transports you into the past with traditional flavours.
Day 2 - Luang Prabang Sightseeing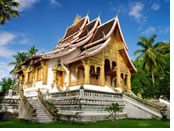 After breakfast, we explore this UNESCO World Heritage site. Our tour begins in the former Royal Palace, which now houses the National Museum. We'll then walk to Wat Mai, a temple renowned for golden bas-relief, and the dazzling facade of Wat Sensoukarahm.
Our final stop is revered temple Wat Xieng Thong. Built in 1560, it's famed for its carvings and mosaics.
Enjoy some downtime in the afternoon, perhaps by the pool, then get set to cook up a storm in a private class for dinner. The Tamarind School's lakeside locale is a fine place to learn about – and taste – the flavours of Laos.
Day 3 - Luang Prabang / Kuang Si Waterfalls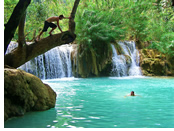 Today we partake in the daily 'Alms Giving', where saffron-clad monks collect offerings from the faithful (Laos is the last Buddhist nation to practice this ritual).
After breakfast, we'll venture into the countryside with rice fields, rolling hills, and viewpoints en route. After a stop in a local ethnic village, we arrive at Kuang Si Falls, where waters cascade from pool to pool. From here, you can take an excursion to a nearby bear sanctuary, then we'll stop at the magnificent Kuang Si Butterfly Park on our way back to town.
The rest of the day is free to enjoy, and you may join us for an optional dinner.
Day 4 - Luang Prabang / Phnom Penh, Cambodia

It's another early day, with a morning flight to Phnom Penh via Bankgok.
Once the Orient's most beautiful city, Phnom Penh retains colonial charm despite a turbulent history.
After check-in, unwind, then join us for dinner at a restaurant where former street children learn the art of hospitality. The restaurant features a lovely garden and is in a centrally-located, restored colonial building.
Day 5 - Phnom Penh Sightseeing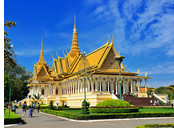 A somber morning begins at the Tuol Sleng Prison Museum, which tells the tragic tale of the Khmer Rouge legacy. A former school, it's estimated over 20,000 people were held and tortured here.
This afternoon, things cheer up with a walk through the Royal Palace grounds, where the spectacular Silver Pagoda awaits.
The rest of the day is free for optional activities like a visit to the National Museum, shopping for crafts in the Russian Market, or a sunset stroll along Sisowath Quay. Grab one of the local coffees... it's strong, delicious, and distinctly Phnom Penh.
Day 6 - Phnom Penh / Siem Reap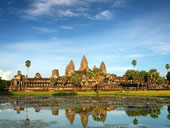 This morning sleep in, sunbathe, or hit the local market. Just check-out by noon, as we fly to Siem Reap later today.
Built between the 9th and 13th centuries, this town is home to Angkor Wat, where perfectly-balanced temples represent the cosmic world.
We'll walk through the Royal Gardens tonight, then enjoy dinner at a restaurant where disadvantaged youth receive hospitality training. We'll also be joined by a member of the local gay community, who will discuss Cambodia's emerging LGBT movement.
Day 7 - Siem Reap / Angkor Complex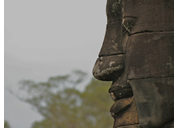 This morning we set out for world-famous Angkor Archaeological Park. The intricate bas-reliefs and architecture here offer ample fodder for aspiring photographers.
Tonight, Phare, The Cambodian Circus awaits. Young artists tell tales through art, acting and music. This show is a real privilege to experience, considering the Khmer Rouge decimated the educated and artistic classes in the late 1970s.
Day 8 - Siem Reap / Angkor Complex

For the ultimate Angkor Wat experience, rise early and join us for sunrise.
After breakfast, we'll head for the countryside and visit Banteay Srei, a Hindu temple devoted to Shiva and the jewel of Angkorian art. The morning ends at a local pagoda for a special water blessing by the monks. We'll then visit the 9th century's Bakong Temple before embarking on a boat across Tonlé Sap. The largest freshwater lake in Southeast Asia, Tonlé Sap is also a UNESCO Biosphere Reserve.
It's our last full day, so we'll celebrate with a Farewell Dinner featuring Khmer cuisine.
Day 9 - Siem Reap / Departure
There are no activities scheduled, so enjoy the day at leisure (check out time is noon, unless you've extended your stay). Departure transfers must be booked/arranged separately, and we wish you safe travels home.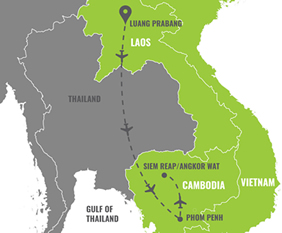 How We Travel
OUT Adventures is all about good times with likeminded guys. Whatever's on the itinerary - from fireside camping to five-star decadence - our goal is to make the experience magical. To ensure authenticity we hire local guides, stay in locally-owned accommodations whenever possible, and seek out local cuisine. It's a great way to immerse yourself in the culture while supporting the communities we visit.
Laos Visa
Can be organized either in advance or on arrival. Check with your embassy or consulate, and allow about three weeks for processing. There may be exceptions, and all visas are the traveller's responsibility.
Cambodia Visa
Can be organized either in advance or on arrival. Check with your embassy or consulate, and allow about three weeks for processing. There may be exceptions, and all visas are the traveller's responsibility.
Culture Shock
When visiting Cambodia and Laos you'll see both good and bad. Poverty is widespread, but the friendly locals make up for it. Since English speakers can be hard to find, arm yourself with a phrase book and a sense of humour!
Local LGBT Scene
Cambodia and Laos aren't gay hotspots, but's there's an impressive amount of nightlife in Phnom Penh and Siem Reap. Luang Prabang doesn't have much of a scene, but gay travellers are welcome.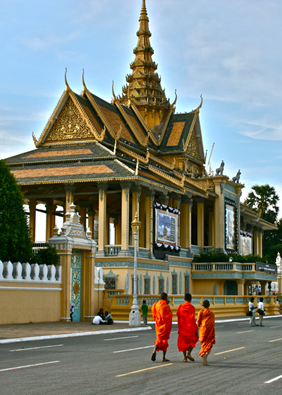 Weather
December and January are the best months to travel to this region. Rain is rare and the humidity less oppressive. Travel with a light sweater and jacket, but keep summer essentials handy: midday temperatures can eclipse 30°C/85°F.
Required Vaccinations
Based on the entry requirements, there are no vaccinations needed for entry. To determine if you should take preventative measures to reduce the risk of illness, consult with your doctor or a travel medical clinic. OUT Adventures cannot provide vaccination recommendations.
Electricity
In Cambodia, sockets are type A, C and G. In Laos, sockets are type A, B, C, E, and F.
Connectivity
All of our hotels will have Wi-Fi access. Feel free to check email and post away on social media.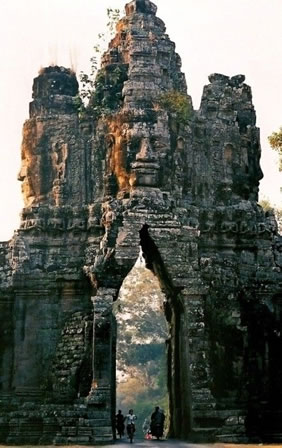 Travel Insurance
For everybody's peace of mind, medical travel insurance is required on all Out Adventures tours. At a minimum, your travel insurance must provide cover against personal accident, death, medical expenses, emergency repatriation and personal liability, with a minimum medical coverage of US$50,000. We offer OUT Adventures comprehensive travel insurance. Here's what's covered:
• Unlimited Trip Interruption
• Up to $50,000 Emergency Medical plus up to $300,000 for ambulance transportation, up to $5,000,000 CAD with valid GHIP coverage.
• Baggage Loss or Damage up to $1,500
• Baggage Delay up to $500
• Flight Accident up to $100,000
• Travel Accident up to $50,000
Your Guide
All OUT Adventures are led by gay (or gay-welcoming) guides. Whenever possible, we hire destination locals, and will connect you with people if you'd like to delve deeper into the local culture. If you're pleased with your guide, we recommend a tip of $5-10 USD per person, per day (they'll certainly appreciate it).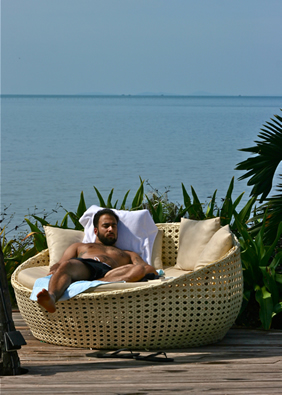 Fellow Adventurers
OUT Adventures are a great way to meet people from all walks of life. Bear in mind that everybody's there for a good time, so mutual respect will go a long way. Please be on time for any meet ups, empathetic to the needs of others, and ready to roll with whatever the adventure brings.
Although we can't tell you about fellow travellers for privacy reasons, we can tell you many great friendships began on an OUT Adventure. We're also not gay-exclusive: friends and family are always welcome to join!
Flying Solo
If you've never travelled on your own, it's an amazing way to learn about yourself while making new friends. We can arrange for you to share a room with someone in your age range (at no charge), or you can pay a supplement for your own room. If there's an odd number of solos, we'll rotate a single room on a random basis to keep things even.
Itinerary Disclaimer
The itinerary is correct at time of publishing. If anything, it will only improve with feedback from travellers and our own research. Please reference your final trip documents, rather than our website, for final details and any changes that may affect your departure.
Optional ActivitiesEvery OUT Adventure offers optional excursions that are not included in price of this trip. Please see your daily itinerary in your final pre-trip packet to see what's available.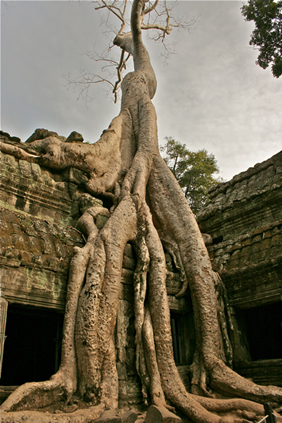 Meals
To keep things flexible, not all meals are included in the trip price. While we typically dine together so everybody can taste everything, feel free to explore restaurants on your own...your guide will always have solid recommendations.
Tipping
If you are happy with services throughout your trip, a tip is recommended. Tipping details will be provided in your final trip documentation, however we recommend budgeting approximately $150 USD.
Money
Laos:
The local currency is the Laotian Kip (LAK). Credit cards are accepted at most hotels and upscale shops, but restaurants and bars prefer cash.
Cambodia:
The local currency is the Cambodian Riel, however USD is widely accepted. We recommend carrying local currency or USD bills for small purchases, however credit cards are accepted at most upscale restaurants and hotels.
NOTE:
We recommend carrying approximately $400 USD to be used in case of an emergency, or if your credit/ATM cards are placed on hold. This should be in addition to any spending money.
What to Bring
Most OUT Adventures entail carrying your own luggage on occasion. And while you'll never schlep far, things can quickly get costlier than a celebrity breakup if you don't keep your baggage under 20kg/44lb thanks to costly surcharges on domestic flights. You should also bring something smaller for day trips to carry water, your camera, and any souvenirs you find along the way.
Groups Within Groups
We love when groups of friends join us on an OUT Adventure, whether you're celebrating a major milestone, or you just love to travel together. However, since we have travellers that will be flying solo, or as a couple, we would love your help ensuring everybody feels welcome and has an epic time.