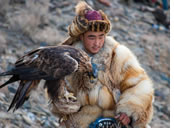 From the Gobi Desert to the Golden Eagle Festival. Feel like a nomad on our Mongolian expedition as we traverse the North Asian country by foot, camel and horseback. Together we'll make sand dunes 'sing', haggle with vendors in chaotic markets and witness eagle hunting competitions during the Golden Eagle Festival. Mix in some extraordinary hikes, a few nights of glamping, a swig of fermented mare's milk and you've got a grand adventure on your hands.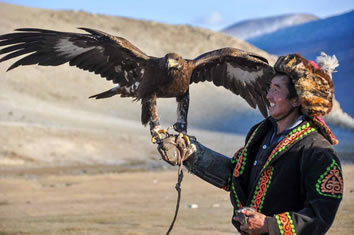 • Enjoy eagle hunting competitions, Khazak clothing shows, throat singing and regional delicacies during the country's famous Golden Eagle Festival
• Experience Mongolia's famously rugged landscape during invigorating hikes
• Track wild horses in Khustai National Park and learn to ride tame horses in Bayan-Ulgii
• Unleash your inner-childhood wonder at the site Roy Chapman Andrews unearthed the world's first intact dinosaur egg fossils
• Enjoy a couple of humps on a Gobi Desert camel ride
• Haggle with local artisans in Ulaanbaatar's Black Market
• Make sand dunes 'sing' while exploring the Khongor sand dunes, a particularly photogenic region of the desert
• Slumber in traditional gers like a true Mongolian nomad
• Hike the colourful Yol Valley
• Discover Ulaanbaatar on a private walking tour that includes the Mongolia Museum of Natural History and the Gandan Buddhist Monastery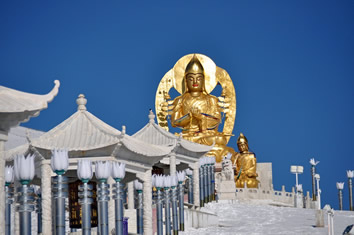 Day 1 - Arrive Ulaanbaatar, Mongolia
Sain uu - Hello in Mongolian! After arriving in Ulaanbaatar a private driver will transport you to our joining point hotel. At 5PM meet your fellow adventurers for a group meeting, and then we'll have our official Welcome Dinner.
Hotel: Hotel Nine
, Ulaanbaatar
Day 2 - Ulaanbaatar, Mongolia
After an energizing breakfast, we've dedicated today to touring Ulaanbaatar. Our local guide will point out buildings of interest as well as tour us through popular sites such as Mongolia's Gandan Buddhist Monastery. At an ideal time, we'll stop for a relaxed nibble for lunch.
If time allows we may visit the National History Museum or Chingiss Khan Museum.
Later in the day we'll also have the opportunity to see a traditional folk concert. The evening is yours to catch some Zs as we have an early flight tomorrow.
Hotel: Hotel Nine
, Ulaanbaatar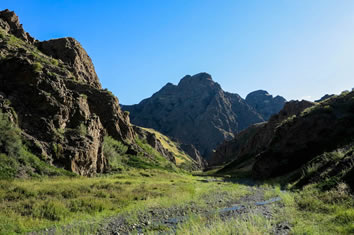 Day 3 - Gobi Desert
Rise and shine, Gentlemen! We have an early flight to the south Gobi.
After touching down we'll immediately make our way to the Yol Valley (Yolyn Am)—a particularly beautiful valley characterized by the creek cutting through it. You'll likely see the valley's namesake vulture, as well as altai snowcocks, bighorn argali sheep, wild ibex rams and potentially wolves and foxes. There have even been reports of snow leopard tracks! It's here we'll enjoy our first hike, a breezy 2–3 hour trot through the scenic valley.
With our appetites revved, we'll head to our ger camp for lunch. Gers—sometimes referred to as "yurts"—are traditional Mongolian structures that are easily transportable and popular among nomads. We'll get to enjoy a number of these unique accommodations throughout the journey.
After lunch you have plenty of free time for a power nap or to take it easy. In the evening, we'll enjoy dinner at our camp before a short hike to watch the desert sunset.
Accommodation: Tourist-style ger camp. 2 ppl/ger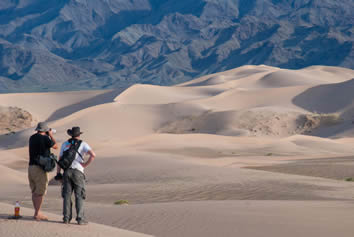 Day 4 - Gobi Desert
After a leisurely breakfast our journey continues south towards the Khongor sand dunes. These beautiful dunes tower over 200m/655f high and stretch for over 100km/62mi. Locally, they're known as "the singing dunes" due to the whistling sound they emit when strong gusts of wind shift sand down the slopes. We'll likely climb one of the dunes ourselves and make them sing by shifting the sand with our feet.
After lunch we have an exciting two humped Bactrian camel ride awaiting us. Another beautiful sunset awaits as well as a late dinner and some free time back at camp.
Accommodation: Tourist-style ger camp. 2 ppl/ger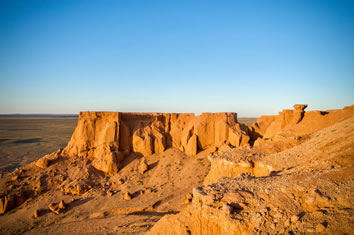 Day 5 - Gobi Desert
Get ready for a time warp beginning with a visit to Khavtsgait, an area containing bronze age petroglyphs. It's here we'll trek 40 minutes uphill to reach the ancient carvings before our guide regales us with stories of Gobi life during this fascinating period.
From the Bronze Age we jump further back in time to the Jurassic Period at a world-famous dinosaur fossil site known as the Flaming Cliffs. Roy Chapman Andrews—whom some believe Indiana Jones was modelled after—discovered vast amounts of intact dinosaur bones and fossilized dinosaur eggs here. As you wander the aptly named Flaming Cliffs, keep your eyes peeled for geodes and fossils—many are still being unearthed today!
In the afternoon, we'll head back to the ger camp for lunch, free time and eventually dinner.
Accommodation: Tourist-style ger camp. 2 ppl/ger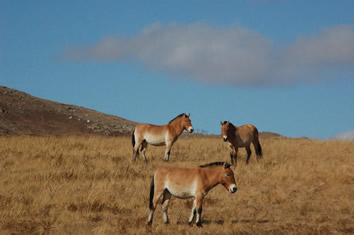 Day 6 - Ulaanbaatar and Tsonjin Boldog
Early in the morning, we will drive to the airport where we will take an early flight back to Ulaanbaatar.
Upon arrival we'll collect our bags and head towards "Tsonjin Boldog", a 130-foot statue of Genghis Khan made of stainless steel surrounded by flat land and rolling hills. On the way we'll have lunch at a nearby ger camp, then take a short drive to the statue and monument. While visiting this impressive monument we'll have the chance to enter the top of the statue to view the surrounding area.
Later in the afternoon we'll head to our simple but comfortable hotel on the outskirts of Ulaanbaatar where we'll have an early dinner so you are well-rested for our early morning flight tomorrow.
Hotel: Taij Resort Hotel, Ulaanbaatar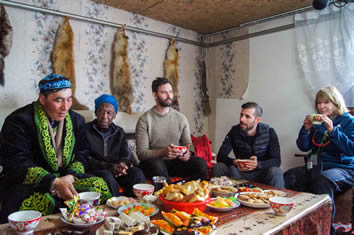 Day 7 - Bayan-Ulgii
After breakfast, we'll catch a flight to the western province of Bayan-Ulgii. The region sits right on the border of Kazakhstan and many local people retain Kazakh customs.
Upon arrival we'll head directly to our host family's private gers. We'll meet with the family and have local delicacies while learning about their way of life.
This will be a pretty busy travel day so after our included dinner at the ger camp you'll likely want to relax.
Accommodation: Host-family ger. 4 ppl/ger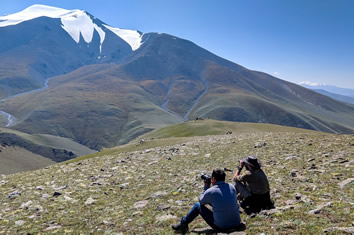 Day 8 - Bayan-Ulgii
Today is dedicated to learning the Kazakh way of life. Be prepared to meet our host's whole family—and we mean the whole family!
Ulgiis are famously hospitable, so expect a warm welcome. We'll also get to meet their magnificent golden eagles and enjoy a private eagle hunt demonstration.
Depending on how the group feels we can also enjoy an optional hike through the mountainous landscape or even saddle up some horses. Tonight we'll dine with our hosts.
Accommodation: Host-family ger. 4 ppl/ger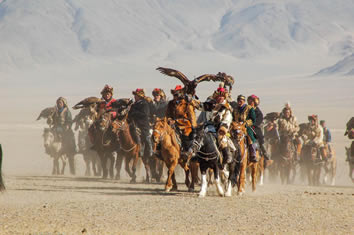 Day 9 & 10 - The Golden Eagle Festival
The pinnacle moment of our adventure has arrived: The Golden Eagle Festival! We have a drive of approximately 2 hours from our host family to the Golden Eagle Festival. On arrival we'll get acquainted with the area, then to kick off the spectacular event we'll have the privilege of entering the festival with our eagle hunter hosts.
The festival opens with a parade of the locals wearing traditional Kazakh clothing followed by the hunters on horseback bearing majestic golden eagles. After some opening speeches, the competitions will begin.
Together we'll watch the games and learn about the eagle competitions. We'll also get to see various tests of horsemanship as well as other amusing contests. There will be plenty of opportunities to taste local delicacies and interact with the local people.
As there are no accommodations in the area, we'll be staying at Pamuk resort ger camp near the capital of the province.
On the second day we'll embark on a full day hike to explore the incredible beauty of this remote area. Be prepared for approximately 6 hours of hiking.
Accommodation: Tourist-style ger camp. 2 ppl/ger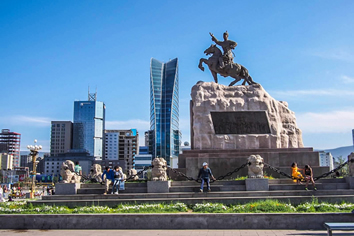 Day 11 - Ulaanbaatar
After an extraordinary couple of days at the Golden Eagle Festival, we fly back to Ulaanbaatar where our upscale hotel awaits—likely a welcome change of pace from all the gers!
This afternoon you have the option of enjoying the hotel amenities or touring one of the city's fascinating museums. Alternatively, we can also head to a shop to purchase some Mongolian cashmere.
To cap off this unforgettable adventures we'll share our favourite moments over our farewell dinner.
Hotel: Best Western Premier Tuushin Hotel
, Ulaanbaatar
Day 12 - Ulaanbaatar Departure
Sadly, our adventure has come to an end.
There are no activities planned today, so you are free to depart at your leisure. Thank you for joining our gay Mongolia tour!