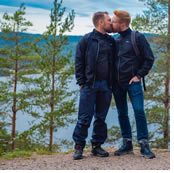 A challenging gay tour through Earth's adventure playground. Over the last decade we've led countless fellows on a slew of sensational adventures. But few of our tours have required the brawns necessary to tackle our Norway Gay Expedition. The tour begins in coastal Bergen where we'll get a glimpse of it's UNESCO-listed harbour. From here we'll ferry into the heart of fjordland to surmount mountains, kayak fjords and trek glaciers. On this tour we guarantee for every blister earned you'll walk away with a new friend and at least triple the memories. Are you in?
• Hike some of the world's most famous mountain trails including Mount Preikestolen and Mount Kjerag
• Photograph Bergen's UNESCO World Heritage harbour
• Enjoy dinner al frescoe from the plataeu of Mount Preikestolen
• Kayak between Norway's imposing fjords
• Immerse yourself in urban Scandinavian culture in modern Oslo
• Close your eyes and take a bite of some local "delicacies" such as brown cheese
• Stroll across Norway's third largest glacier
• Sleep in a range of truly unique accommodations, from a 1750's repurposed farm house to an award-winning architectural hotel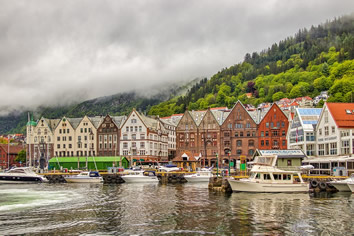 Day 1 - Arrive Bergen, Norway
Hei der! Welcome to Bergen! Our trip kicks off with a Group Meeting in the hotel lobby at 6PM.
After we get acquainted we'll head out for an included Welcome Dinner.
And if the group is up to it, maybe even a nightcap at a local gay-welcoming bar.
Hotel: Zander K Hotel
, Bergen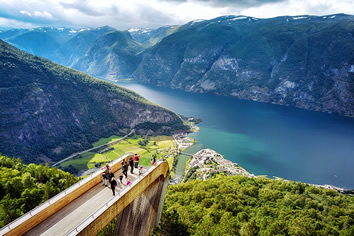 Day 2 - Bergen / Aurland
Our day begins with a visit to the UNESCO-listed Bergen harbour. From here we'll catch a ferry heading towards the glorious Aurlandsfjord.
After disembarking we begin our first invigorating hike up Mount Prest. Some parts of the trail might feel exposed, but we guarantee the view from the top is worth it. In fact, it's from this magnificent vantage that you'll get your first glimpse of Norway's world-famous landscape.
If the weather is nice, we will eat a boxed lunch enroute that you'll have prepared yourself after breakfast. If the weather is less-than-pleasant our local guide will find a suitable place to eat.
Tonight we'll enjoy one of our most unique accommodations on tour: a restored 1750's farmhouse with lush garden surrounds.
A traditional Norwegian dinner will be prepared by the on-site chef using only Norwegian ingredients.
Hike ascent: 700m/2295f
Distance: 6–7km/3.7–4.3mi
Approximate hiking time: 3–4 hours
Hotel: Vangsgaarden Gjestgiveri Hotel
, Aurlandsfjord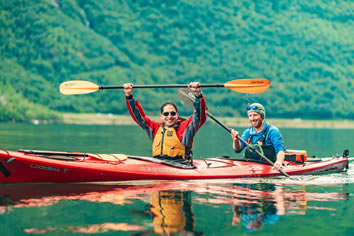 Day 3 - Aurland
Rise and shine! This morning we suit up for an invigorating paddle across the Aurlandsfjord—no previous kayaking experience required. From the water we'll be dwarfed on all sides by gorgeous fjordland, verdant forests and plenty of coastal birds.
Our final destination is the tiny town of Undredal. If you happen to think this picturesque town is 'straight out of a fairytale', then you'll be absolutely right—Underdal was the visual inspiration behind Disney's box office behemoth Frozen.
After a tour of the town we'll indulge in a tasting of a regional specialty known as 'brown cheese' as well as find a spot to enjoy our packed lunches.
After lunch we'll drive back to Aurland for some R&R before an included dinner at the guesthouse.
Approximate kayaking time: 4–5 hours
Hotel: Vangsgaarden Gjestgiveri Hotel
, Aurlandsfjord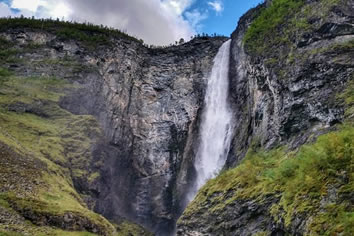 Day 4 - Jotunheimen National Park
Today we bid Aurland adieu and head towards Jotunheimen National Park. Enroute we will get a taste of Norway's famous countryside and exquisite scenery.
Upon arrival at Hjelle in Årdal, we'll gather our daypacks and begin a 10km/6.2mi hike towards famous Vettisfossen, Northern-Europe's highest unregulated waterfall.
The accommodation for the evening is a rustic farmhouse. This accommodation is uniquely situated between the mountains. The facilities are simple, but the views and crisp country air are worth it.
Please note: we will leave the majority of our luggage on the bus and hike approximately 2.5km/1.5mi with a 350m/1150f ascent up a mostly paved path to the guesthouse. Also, this guesthouse has shared dormitories, hot showers and outhouses.
Tonight we dine at the guesthouse.
Ascent: 700m/2300f
Descent: 400m/1300f
Distance: 10-11km/6.2–6.8mi
Approximate hiking time: 5-6hrs
Hotel: Avdalen Gard Mountain Lodge
, Jotunheimen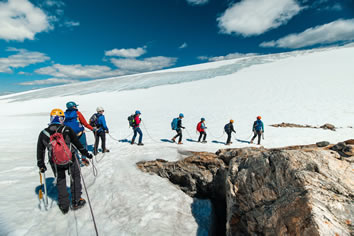 Day 5 - Hardangerfjorden
We start the morning with an early breakfast before taking a private transfer towards Rosendal and Hardangerfjorden.
Enroute we stop at Folgefonna for a full day's glacier walk. We'll enjoy a boxed lunch during the hike.
Folgefonna is Norway's third largest glacier and is situated in Folgefonna National Park. Hiking on the glacier plateau is not particularly hard, but it is a truly staggering experience knowing you're standing on a 350m/1150f thick carpet of ice. If Mother Nature is on our side and the weather is favourable, we will be granted spectacular views of the surrounding fjord landscape.
After the hike we'll head toward our hotel where dinner awaits.
Ascent: Variable
Descent: Variable
Distance: 5-6km/3–3.7mi
Approximate hiking time: 4-6hrs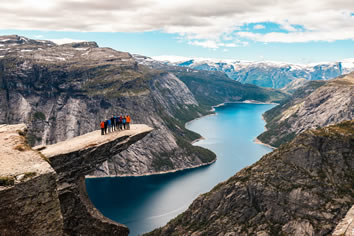 Day 6 - Trolltunga
Today the Troll's Tongue awaits! After an early breakfast we'll begin a steep ascent to the famous site.
The Troll's Tongue is a spectacular mountain formation situated 1100m/3600f above sea level, and 700m/2300f above the lake of Ringedal. This is a long hike (10-12 hours) that will require an early start and a late finish. Even though the hike is tough it is both doable and worth it.
We will have time to relax at the top, enjoy the view, and take unforgettable photos on the plateau. This formation in particular inspired many of Norway's most notable art, especially pieces from the Romantic era.
It has been a long day, so a well-deserved dinner awaits us in the local village of Odda. After dinner we'll head to Rosendal where our quaint hotel awaits.
Ascent: 1000m/3300f
Descent: 1000m/3300f
Distance: 22km/13.6mi
Approximate hiking time: 10-12hrs
Hotel: Rosendal Turisthotell
, Rosendal, Trolltunga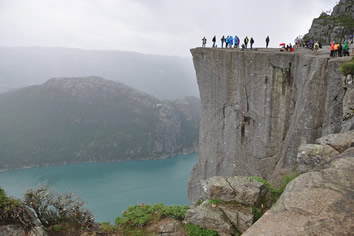 Day 7 - Preikestolen
Good morning, Hikers! Another day of unforgettable trekking awaits.
From our hotel we will drive approximately 4 hours through the beautiful coastal scenery between Folgefonna and Preikestolen where we will drop our bags at our award-winning hotel.
Because the trekking route is quite famous, we'll actually kick back until the late afternoon when crowds are thinner and a fiery sunset is on the horizon.
Our guide will bring a pre-cooked meal to enjoy al fresco on the plateau.
Ascent: 350m/1150f
Descent: 350m/1150f
Distance: 6km/3.7mi
Time: 3-4hrs hiking
Hotel: Preikestolen Mountain Lodge, Mount Preikestolen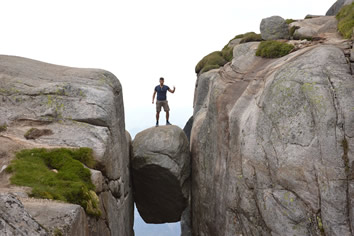 Day 8 - Mount Kjerag
Today's agenda includes one last well-known trekking destination. We start by taking a morning ferry to Lysebotn—the innermost part of Lysefjorden.
From here we head for Mount Kjerag. It is situated 1000m/3600f above the Lysefjord, and the round trip itself takes approximately 6 hours.
At this time of year, it might also be an excellent chance to meet the base jumpers who often take the death defying plunge off the mountain.
After the hike, we'll kick back on a private transfer to our hotel where dinner awaits.
Ascent: 500m/1650f
Descent: 500m/1650f
Distance: 11km/6.8mi
Approximate hiking time: 6hrs hiking
Hotel: Dalen Hotel
, Mount Kjerag, Tokke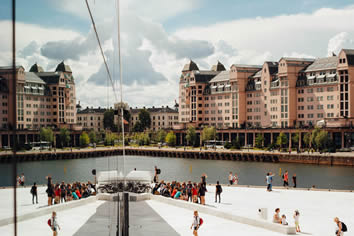 Day 9 - Oslo
Rise and shine! Today we'll get started a bit early ensuring we arrive in Oslo with plenty of time to explore.
On our way into the cosmopolitan capital we'll visit the striking ski jump before dropping our luggage at our centrally-located hotel. From our hotel we'll enjoy a private 2-hour walking tour of the city centre.
The afternoon is yours to pick up any last-minute souvenirs before we reconvene for our big Farewell Dinner.
If the group is interested, we may even head to a local gay bar for one last pint.
Hotel: Bristol Hotel
, Oslo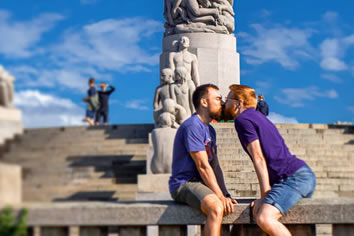 Day 10 - Oslo Departure
Congratulations! You survived our industrious Norway Gay Expedition.
There are no activities planned today, so you are free to depart at your leisure.
Your local guide will help arrange your included departure transfer to the airport. Safe journey!