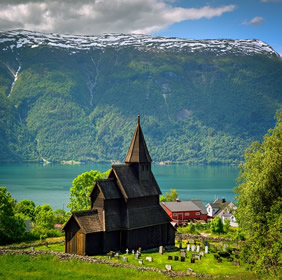 How We Travel
Out Adventures is all about good times with like-minded guys. Whether we're sitting around a campfire or indulging in five-star decadence our goal is to make the experience magical. We also support the communities we visit by hiring local guides, staying at locally-owned accommodations whenever possible, and seeking out authentic local cuisine. It all adds up to a great way to immerse yourself in the culture.
Norway Visa
If your passport is from the USA, Canada, or Europe you can stay up to 90 days without a visa. There may be exceptions and all visas are the traveller's responsibility.
Culture Shock
Norway is one of the safest countries in the world to visit, and it comes with all the comforts of home. However, Scandinavians aren't renowned for being chatty, so don't be offended if the locals don't engage you in small talk.
Local LGBT Scene
Like almost all of Scandinavia Norway is assuredly gay friendly. Same sex marriage and adoption are legal – a given really – and it's home to some of the world's oldest anti-discrimination laws for our community. Gay tourists will feel comfortable across the country but the community congregates primarily in the capital city of Oslo. That's where this tour ends so why not stick around an extra couple days?
Weather
Despite the extra-long days in the summer, temperatures remain cool around here so pack accordingly. Expect highs of 16C/61F with lows of 7C/45 F. You can also look forward to fewer tourists since the vacation rush will be over.
Required Vaccinations
The WHO suggests immunization against Hepatitis A and B, rabies, and influenza before visiting Norway. To determine if you should take preventative measures, talk to your doctor or a travel medical clinic as we cannot provide vaccine recommendations.
Electricity
You will need an international travel plug/adapter for F-type sockets.
Connectivity
We hike through some remote parts of the country, with cellular signals to match, but most of our accommodations will have, at the very least, Wi-Fi service so feel free to tweet, post and pin.
Meals
All breakfasts and dinners are included on this trip, as are most packed lunches for our hikes.
Physical Preparedness
All guests must have a good level of health. All tours involve uneven steps, stairs, walking, and you will be required to carry your own luggage. Unfortunately, we are not able to accommodate individuals with limited mobility on this tour. It is also your responsibility to advise us of any pre-existing medical conditions or hospitalization within the past two years that could warrant medical attention, or that could put your safety at risk, and/or affect the normal conduct of the tour and enjoyment of the tour by other participants.
Travel Insurance
For everybody's peace of mind, medical travel insurance is required on all Out Adventures tours. At a minimum, your travel insurance must provide cover against personal accident, death, medical expenses, emergency repatriation and personal liability, with a minimum medical coverage of US $50,000.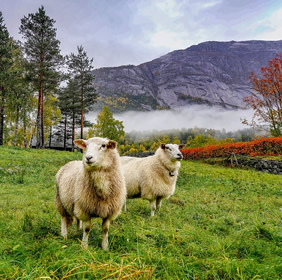 Starting Point
Zander K Hotel, Bergen

Standard check-in time is after 3PM. We are unable to arrange early check-ins, however you may store your luggage if you want to get out and explore the area while you wait. If you want to guarantee an early check-in, you'll need to reserve an extra night of accommodation.
Finishing Point
Thon Hotel Bristol, Oslo

This elegant hotel is half a kilometer from Oslo Central Station and a 2-minute walk from the main street Karl Johans gate. It has free Wi-Fi, along with free gym and sauna access.
Tipping
We even want to keep who we tip a mystery, so we've covered all gratuities for included activities and meals. You'll only need to offer a tip for the Group Leader and any extra drinks or services you buy on the trip (budget roughly $150 USD).
Money
The local currency is the krone (NOK). Norway is considered the world's first cashless society, so credit cards and electronic payment methods are widely accepted. However we recommend you bring about $400 USD in case of an emergency, or if your credit/ATM cards are placed on hold.
Flying Solo
If you've never travelled on your own, it's an amazing way to learn about yourself while making new friends. We can arrange for you to share a room with someone in your age range (at no charge), or you can pay a supplement for your own room. If there's an odd number of solos, we'll rotate a single room on a random basis to keep things even.
Itinerary Disclaimer
The itinerary is correct at time of publishing. Please reference your final trip documents, rather than our website, for final details and any changes that may affect your departure.
What to Bring
Most Out Adventures entail carrying your own luggage on occasion. And while you'll never schlep far, things can quickly get costlier than a celebrity breakup if you don't keep your baggage under 20kg/44lb thanks to costly surcharges on domestic flights. You should also bring something smaller for day trips to carry water, your camera, and any souvenirs you find along the way.
Groups Within Groups
We love when groups of friends join us on an OUT Adventure, whether you're celebrating a major milestone, or you just love to travel together. However, since we have travellers that will be flying solo, or as a couple, we would love your help ensuring everybody feels welcome and has an epic time.