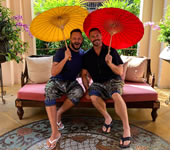 The Land of Smiles awaits on this exquisite Christmas and New Year 2022 Celebration deluxe gay holiday. Our festive foray begins in bustling Bangkok where we'll wander the Grand Palace, devour the street food and indulge in the raucous revelry and gay nightlife of the Silom district. We'll then explore the famous temples of Northern Thailand and luxuriate in our superb hotel. Christmas day will be an unforgettable affair spent at a world-renowned elephant sanctuary. Instead of riding the friendly giants, we'll help bathe, feed and play with them.
From Chiang Mai we fly south to swim, snorkel and explore the tropical islands of Krabi with extra time built in to enjoy the pristine beaches.
Finally, we'll take a private transfer to the booming beaches on Phuket. It's here we'll ring in NYE 2022 with a festive dinner and gay street party. To wrap up this once-in-a-lifetime tour we'll kayak through Phuket's elaborate cave system before releasing our own krathong (biodegradable candle boats) into the sea.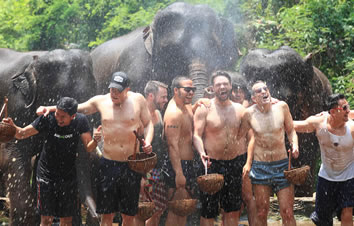 • Savour authentic Thai on a Bangkok street food tour
• Explore the Grand Palace, home to the King of Siam
• Spend Christmas get acquainted with Asia's friendly giants at an elephant sanctuary
• Celebrate NYE with a festive dinner followed by late-night shenanigans in Phuket
• Swim, snorkel, sunbathe and explore Krabi's tropical islands and beaches by private speed boat
• Immerse yourself in the famed nightlife of Silom
• Cook your own three-course meal in Chiang Mai
• Witness sunset from Doi Suthep Temple
• Enjoy an afternoon kayaking through Phuket's elaborate cave system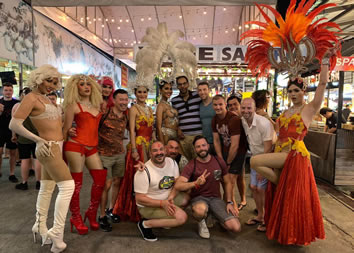 Day 1 - Bangkok, Thailand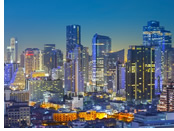 Sawadee Krap! Welcome to Thailand.
Our trip begins with a Welcome Meeting at 4pm in the hotel. After introductions, we'll take a short ride via BTS Skytrain to a street food tour to fuel the many adventures ahead.
We then head for Silom – the financial district that lets its hair down after sunset – to scope out the gay scene.
Day 2 - Bangkok, Thailand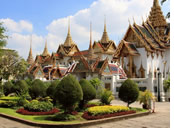 Bangkok is even more breathtaking from the river, our unusual avenue to the gleaming spires of the Grand Palace by local river boat.
Here, the Emerald Buddha awaits, highly regarded as the Palladium of the Kingdom of Thailand.
We'll then venture to Wat Pho to marvel at the majesty of the Reclining Buddha, and feast on a local lunch before some free time by the infinity pool.
Day 3 - Bangkok / Chiang Mai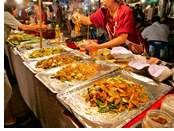 We have a busy day ahead beginning with an early flight to Thailand's peaceful Northern city of Chiang Mai.
After checking into our luxury hotel we'll enjoy a local lunch and visit a Buddhist temple.
Then things get cooking with a culinary lesson that turns into a dinner to savour over sunset.
Enjoy the rest of the evening in solace, or join us out for drinks.
Day 4 - Chiang Mai / Christmas Day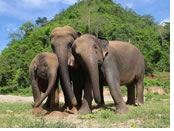 Happy Holidays! To celebrate this gorgeous green Christmas we'll enjoy a leisurely breakfast at our hotel.
After we're fully fuelled we'll be transferred by private coach to the Chiang Mai Elephant Jungle Sanctuary.
It's here we'll get the meaningful opportunity to learn about Thailand's noble elephants before helping feed, bathe and play with them. This is one of our most popular activities and a magical way to celebrate the holiday (if you celebrate, that is!).
Day 5 - Chiang Mai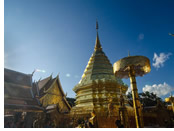 After yesterdays big day at the elephant sanctuary, feel free to take the majority of today to yourself.
We'll reconvene around 5pm to get a taste of the Lanna Period at Doi Suthep temple, replete with chanting monks.
After exploring the temple, we'll enjoy an included dinner before strolling the Chiang Mai Night Bazaar for some friendly haggling and souvenir-hunting.
Finally we'll sashay over to Chiang Mai's notorious cabaret for a drag-tastic performance.
Day 6 - Chiang Mai / Krabi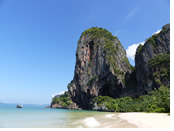 Lather on the SPF because we're off to the tropical province of Krabi for some proper rest and relaxation.
Upon arrival we'll be transferred to our luxury hotel before enjoying free time to soak up the sun.
The only activity today is dinner at our hotel's lauded restaurant.
Day 7 - Krabi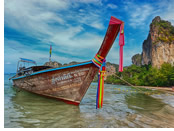 After a leisurely breakfast we board a private speedboat to explore the limestone monoliths and lush islands that define the region.
We'll swim, snorkel and sunbathe off the coast of four distinct islands before enjoying more time on the powdery beaches.
The evening is yours to enjoy.
Day 8 - Krabi

Our final day in this remote oasis. Take your time exploring on your own or basking in the sun.
Even through the gay scene of Krabi is underdeveloped, it is a popular holiday destination among gay travellers. Ao Nang and Railay Beach are the most popular areas with tourists.
Apart from swimming and sunbathing, Krabi offers many outdoor activities including Kayaking, trekking, scuba diving, fishing and of course rock climbing in Railay peninsula.
Day 9 - Krabi / Phuket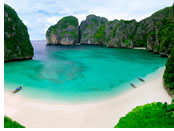 A 3-4 hour private land transfer awaits us this morning as we make our way to lively Patong.
This gorgeous resort town is located on Phuket Island and is a major highlight for beach enthusiasts that aren't bothered by crowds.
Upon arrival we'll enjoy an orientation walk and visit to Patong beach.
While it's not included, your local guide may suggest a group dinner followed by drinks at Patong's lively gay bars.
Day 10 - Phuket / New Year's Eve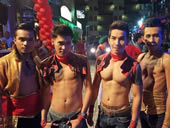 Another free day to enjoy the beach or do some last minute souvenir shopping.
We suggest keeping your itinerary low-key today as we'll be convening for a glorious New Year's Eve dinner tonight.
Pack your party pants, because after dinner we'll ring in the New Year amongst the crowds and crazyness of Phuket. Happy New Year!!!
Day 11 - Phuket / New Year's Day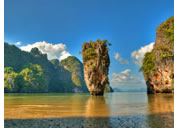 Escape the hustle and bustle of Patong Beach on our final excursion.
We'll transfer to the other side of the island to explore the sea caves of Phang Nga Bay by sea kayak. No experience is necessary, as you'll be captained by an expert local. We'll explore hidden bays and caves and even make our own krathong (buoyant, all-natural decorated baskets).
Launched after sunset, they may even stir up the bioluminescent plankton, causing the water to glow gorgeously.
After heading back to land, we'll freshen up for Farewell Drinks.
Day 12 - Phuket / Departure
There are no activities planned today, so you are free to depart at your leisure. Your local guide will help arrange your included departure transfer to the airport. Thank you for spending the holiday season with us in Thailand!