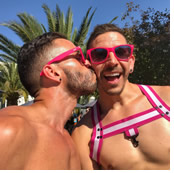 Madrid Pride, also known as Orgullo Gay Madrid, is the biggest gay pride in Spain and one of the biggest in Europe, attracting more than 2 million people over the five days of Pride. Madrid is already preparing to be the capital of Madrid Gay Pride 2023 from June 28 to July 02. That is why we want to offer you these special packs to enjoy the celebration in the best way possible. Madrid Gay Pride is simply the best city pride in Europe. The event is one of the largest of its kind with a stunning parade, amazing parties and is open to all.
Madrid is one of the most gay friendly and welcoming cities in the world. The district of Chueca is the epicentre of gay life in the city and home to some of the busiest bars and clubs. Madrid Pride features one of Europe's largest pride parades. The parade runs long into the night ending with a huge street party. Parties are held across the city in the lead up to the final weekend and parade.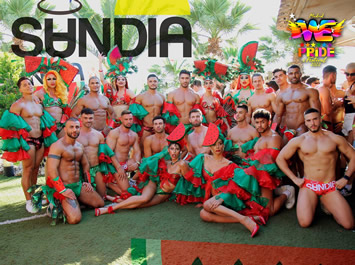 The WE Party is one of the biggest circuit party organizers in the world and Madrid is its home base, so expect one amazing festival of pool parties, dance parties and cultural events taking place alongside Madrid Gay Pride.
Events include some of the most epic pride parties in Europe including several pool parties, the We Pink Party and more. We Party Festival Madrid takes over some of the city's hottest clubs and venues. The production values are top-notch. Expect to be wowed, WE Style!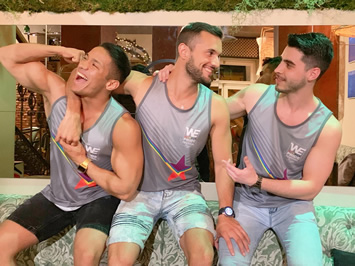 Day 1 - Wednesday, June 28, 2023
Arrive Madrid, Spain
• Arrival to Madrid Barajas Airport (MAD) and transfer to the hotel. Welcome and enjoy the rest of the day at your leisure to start exploring the city.
Madrid is a vibrant city that doesn't sleep and it's not uncommon to see last nights' partiers walking home at 8am in the morning while grandma is going for her morning walk. We'd argue it's perhaps the gayest capital city in Europe, or at least contending with Berlin and London. Chueca is the center of the LGBT community in Madrid where you'll find the highest concentration of gay bars and night clubs.
• Pride Proclamation:
Pride Celebrations Get Officially Underway. Events take place in Plaza Pedro Zerolo.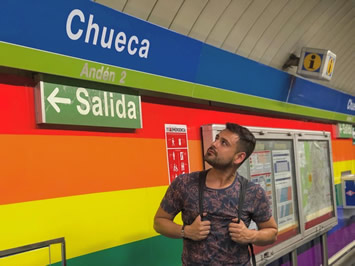 Day 2 - Thursday, June 29, 2023
Gay Madrid
• Free morning
Gay Chueca Tour
Learn about the transformation of the marginal neighbourhood of Chueca, which today is one of the most cosmopolitan and avant-garde neighbourhoods of the capital. Visit places and monuments that are part of the history and origin of the district and which normally go unnoticed by many visitors. This tour is perfect for an introduction to Madrid life and to get all the info about the best places to eat, drink, party and "misbehave".
Madrid Pride Festival Concerts
Wednesday, June 28th, 2023 – July 2nd, 2023 - The 'cultural' stages of the Pride Festival will be in Plaza De España, Plaza Pedro Zerolo, Plaza del Rey and Plaza de Callao featuring Live musical performances on multiple stages.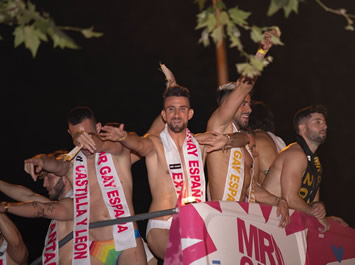 Day 3 - Friday, June 30, 2023
Fun Day in Madrid
• Free day to continue discovering Madrid Pride 2023. We will provide you with a complete program and you can choose different options and activities.
• Included: Entrance to the Thyssen – Bonermisza National Museum and its LGBTQ+ themed tour "Amor diverso"
• Mr Gay Pride Spain
The 16th Edition Mr. Gay Pride España, on the stage of Plaza de España.At the final gala, where Mr Gay Spain 2023 will be chosen from among the representatives of the 14 finalist autonomous communities, there will also be guest DJs and artists. The event takes place at Plaza de Callao and will also feature international DJs and guest appearances by pop artists.
• In the mood to sweat it out in a gay sauna, or hot spanish sex in Madrid? There are many gay saunas in Madrid. The Sauna Center is open 24 hours a day; Sauna Octopus is busy because it's close to major bars and clubs, and sauna Paraiso - Madrid's largest gay sauna - is another favorite. The thriving fetish scene in Madrid offers up plenty of cruise and gay sex bars and clubs to check out. One of the most famous - and popular - is Strong Center: you can drink, dance and have fun over several zones.
Attack, The Ring and Naked Bar are also popular gay cruising venues in Madrid. Naked is a great option should you like to get your kink on as the venue regularly hosts themed parties, but with one simple rule: be naked! Be sure to check out their website for the gay party schedule. Lastly, Boyberry in Chueca is another must: it's a gay bar, sex club and shop, and is always busy. Spread across different areas, Boyberry has a main cruising area, which comes complete with cabins, spy holes, glory holes, and a play area. Freshen up at the bar, and find Mr. Right for the night.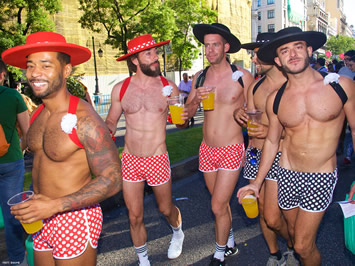 Day 4 - Saturday, July 01, 2023
Madrid Gay Pride 2023
• Free schedule to contintue discovering the Madrid Pride events.
• Madrid Gay Pride 2023 Parade
Madrid Pride's biggest party is set to take place on Parade day in Plaza de Colón. The main Gay Pride Parade is the highlight of Madrid Gay Pride. The centre of Madrid literally comes to a standstill as a million people line the streets to watch the parade. The Madrid Pride Parade leaves the Carlos V roundabout at 7:00 p.m. and will end in Plaza de Colón. The parade is made up of 50 huge colorful floats, party buses and walking groups representing sponsors, associacions, charities and bars. The streets are a sea of colourful rainbows. With almost perfect weather guaranteed in July, the party atmosphere in the street is truly phenomenal and continues late into the night!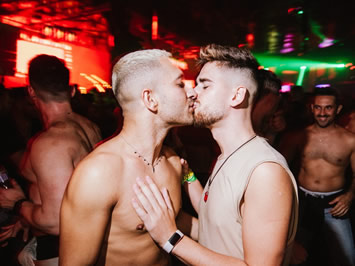 Day 5 - Sunday, July 02, 2023
Departure Day
• Free day for optional tours.
• Hotel check-out and return trip home.
• We hope you enjoyed the Madrid Gay Pride 2023!
• Want to stay longer? Enquire about extra nights! *Subject to availability.