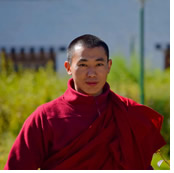 Bhutan is the land of mountain legends, nestled high in the eastern Himalayas, between India and Tibet. Bhutan is one of the few areas of the world that hold modern access to untouched ancient civilizations. Join us for our Small Group Luxury Gay tour through Bhutan. Take this journey on its own or add it as an extension to our India and the Colors of the Holi Festival luxury gay tour.
Bhutan opened its doors to outsiders in the 1970s and still has a strict sustainability policy in place with respect to tourism. As a result, it has retained a deep cultural authenticity and has preserved its environment admirably, making it one of Asia's most beguiling and unforgettable destinations..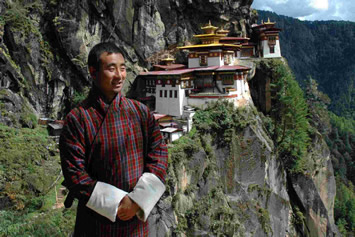 Visitors to Bhutan will feel the tangible spiritual energy of Buddhism throughout the land. With intricately carved monasteries colorfully emerging out of the majestic mountains. Highlights include incredible forts and temples perched on sheer mountain cliffs, a rich predominantly Buddhist culture, and spectacular scenery – ranging from temperate sub-tropical plains and valleys cloaked with dense forest, to lofty sub-Alpine mountains capped with snow. The lure of new luxury retreats makes it possible to travel to Bhutan in style.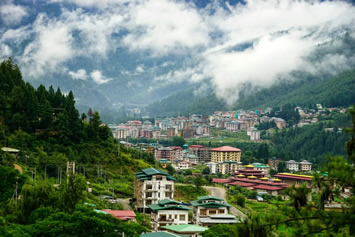 Day 1 - Sunday, March 12, 2023
Arrive in Thimphu, Bhutan
Arrive in Thimphu (PBH) transfer to Taj Tashi Hotel.
The afternoon is at your leisure but we'd suggest visiting the spectacular 15th century Tango Gompa or the imposing, stately 350-year-old Tashicho Dzong Fortress is currently used as the administrative centre of the county and is also the king's office. Visitors can explore the gold-spired Memorial Chorten, a revered Buddhist shrine; see the intricate frescoes and slate carvings at Simtokha Dzong, and discover the Bhutanese way of life through exhibits and folk dances at the fascinating National Folk Heritage Museum.
Hotel: Taj Tashi Resort Hotel, Thimphu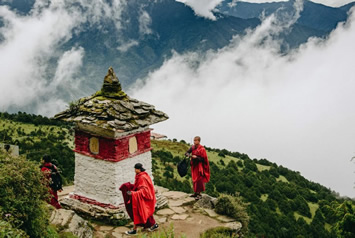 Day 2 - Monday, March 13, 2023
Thimphu, Bhutan
Thimphu is the capital city of Bhutan and is known for its spectacular scenery and rich culture. It is also the largest city in the country. The city is known for historical architecture and ancient traditional elements that juxtapose with contemporary buildings. We will start our day with a tour of Thimphu with stops at the National Memorial Chorten, Bhutan's National Library, The Institute of Arts and Crafts, The Folk Heritage Museum, The Institute of Traditional Medicine Practices, The National Textile Museum, and the handicrafts Emporium.
Following lunch, at the hotel, we will visit the Tashichhodzong and Thimphu markets. Tashichhodzong is situated on the banks of Wang Chu. It is home to the National Assemble and the summer residence of the capital's venerated monastic community.
Hotel: Taj Tashi Resort Hotel, Thimphu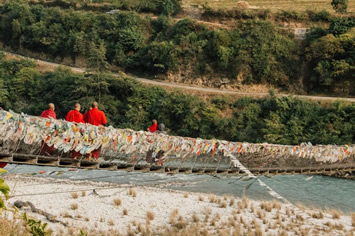 Day 3 - Tuesday, March 14, 2023
Punakha, Bhutan
This morning we will drive to Punakha via the spectacular Dochula Pass with some of the most enchanting views of Bhutan. On arrival, check-in at COMO Uma Punakha Hotel.
During the afternoon, walk alongside the river over a suspension bridge downstream and contours through lush farmland and homesteads up to Bale Lhakhang, a tiny temple with sweeping views down the valley past Uma Punakha. As you walk up alongside the Mo Chhu River you will see a large building called Botakha Palace. It was built during the 1950s by the late Third King. When the capital of Bhutan was shifted to Thimphu it lay empty. The palace gardens are full of mature fruit trees and the local farmers still pay homage to a mythical serpent by offering it rice from each harvest.
Hotel: COMO Uma Punakha Hotel
, Punakha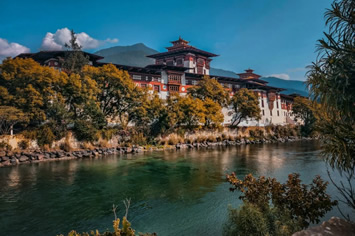 Day 4 - Wednesday, March 15, 2023
Punakha, Bhutan
Guests have the option to enjoy the facilities at the hotel or to explore the surrounding hills via a hike.
Guests can hike along the banks of Mo Chhu through terraces of rice, chilies, and cabbage, to the Khamsum Yuelley Namgyal Chorten, a three-story monument housing beautiful and complex paintings built by the Queen of Bhutan.
Hotel: COMO Uma Punakha Hotel
, Punakha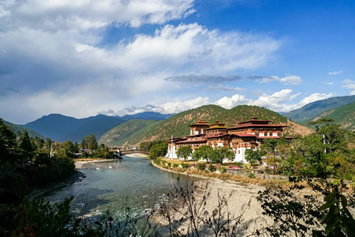 Day 5 - Thursday, March 16, 2023
Paro, Bhutan
Transfer by road to Paro which is approximately a 4 hours drive. On arrival, check-in at COMO Uma Paro Hotel.
After checking in to your room, enjoy a sightseeing tour of Paro city visiting Zurig Dzong, Rinpung Dzong, Ta Dzong, and Paro market. While walking, you'll wind through pine forests to the beautiful grounds of the fortress-like monastery of Zuri Dzong. Enjoy Ta Dzong and explore Bhutan's National Museum. Afterward, take in the magnificent views over Paro, and hike down to visit Rinpung Dzong – 'Fortress on a Heap of Jewels'. The trail then leads across Paro Chhu (river) via a traditional covered bridge (Nyamai Zam) and then past the main archery ground, Ugyen Pelri Palace, and into Paro town.
Hotel: COMO Uma Paro Hotel, Paro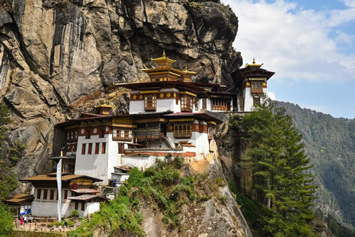 Day 6 - Friday, March 17, 2023
Paro, Bhutan
Today we will hike the Taktsang Walk and Kyichu Lhakhang. This moderate to hard guided hike will take us to one of the most amazing and important pieces of architecture in Bhutan, Taktsang Goemba.
We will be hiking early to the famous Tiger's Nest viewing point. Legend has it that this cliffside was where Guru Rinpoche (Padmasambhava) landed on the back of a flying tigress, bringing Buddhism to Bhutan from Tibet. After viewing the Tiger's Nest we will Descend steeply, and then climb up to the monastery, passing a waterfall. We retrace our steps and head further up to several remote temples and monasteries. Later we pay our respects at Kyichu Lhakhang one of the oldest temples in Bhutan with its magic orange tree which bears fruit all year round.
Hotel: COMO Uma Paro Hotel, Paro
Day 7 - Saturday, March 18, 2023
Paro, Bhutan Departure
Transfer to Paro International Airport (PBH).