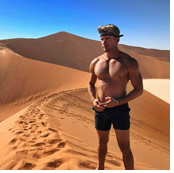 An experience of breathtaking beauty where adventure meets awe-inspiring landscapes. Namibia is the soul of Africa and a land of great contrasts – the ocean, dunes, mountains, and deserts. On this exclusive small gay group journey, we will experience awe-inspiring sand dunes of Sossusvlei, ancient vistas, and breathtaking wildlife. Under impossibly blue skies, we'll track rare desert wildlife and rhinos in Damaraland, witnessing the heritage of rock art created by stone-age artists. Together, we will explore the iconic Skeleton Coast, named after the many shipwrecks that sank over the centuries.
We'll find endless possibilities for adventure in Namibia. From hot air balloon rides over the surreal Sossusvlei sand dunes to dining under the immense starry skies, Nambia is a land that ignites your imagination and stirs the spirit. Best of all on this exclusive gay group tour, we'll be traveling by private plane, staying in remote luxury lodges, and experiencing the best in Namibian hospitality.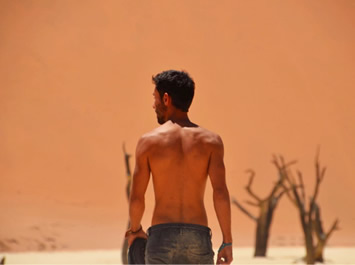 Experience the best of Namibia with our signature luxury tour, designed exclusively for a small group of travelers. Indulge in award-winning lodges, handpicked by us, to ensure you receive the finest accommodations and expert local guides. Our all-inclusive lodges provide exceptional meals, drinks, activities, and laundry services, with dietary requests always accommodated. Join us and discover the true beauty of Namibia with fellow travelers on this exclusive gay group safari experience. Our Namibia tour promises to be an inspiring adventure every day.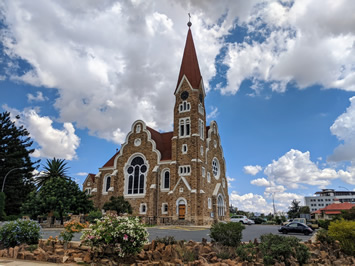 Day 1 - Wednesday, April 10, 2024
Arrive in Windhoek, Namibia
We begin our journey in the heart of Namibia, the cosmopolitan city of Windhoek, where we'll arrive at the elegant Olive Grove Guesthouse, surrounded by tranquil gardens and wide-open skies. Our private road transfer from Hosea Kutako International Airport will ensure a smooth start to your stay. Here, we will savor a delicious breakfast and settle into our rooms, with its large veranda, perfect for al fresco dining.
We'll embrace the exclusive excursions and sights that await, including Windhoek's fascinating mix of historical architecture and modern buildings, like the Alte Feste fort, the Christuskirche Christ Church, and the Supreme Court.
Hotel: Olive Grove Guesthouse, Windhoek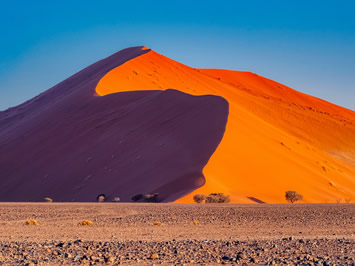 Day 2 - Thursday, April 11, 2024
Sossusvlei, Namibia
Get ready for an unforgettable adventure as we arrive at the Wilderness Little Kulala Lodge, our luxurious desert retreat in the heart of Sossusvlei.
After a private charter flight from Windhoek, we'll soar over the iconic red sand dunes of the Namib and land in the midst of this awe-inspiring natural wonder.
With exclusive private concession access and the camp's convenient location, we'll be able to enjoy early morning dune visits and capture the beauty of the dunes at their best.
Spend the rest of the day with your fellow travelers exploring the majesty and mystery of the Namib Sand Sea with nature drives and guided walks, or relax and unwind at the lodge's pool or spa.
Hotel: Wilderness Little Kulala Lodge, Sossusvlei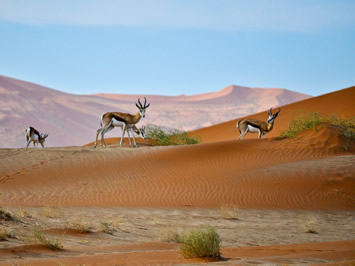 Day 3 - Friday, April 12, 2024
Nature Drives & Guided Walks
We wake up to the stunning desert landscape and the sounds of nature. Today, we'll have the opportunity to explore the Namib Sand Sea with a nature drive, where we'll encounter a variety of unique desert-adapted wildlife, including oryx, springbok, and the occasional brown hyena. Alternatively, we will offer a guided walk with a knowledgeable local guide, who will provide insight into the area's flora, fauna, and fascinating geological formations.
In the afternoon, let's all relax at the lodge and take in the breathtaking views of the surrounding desert. Or for a truly unforgettable experience, join those who opt for an optional hot air balloon excursion.
Hotel: Wilderness Little Kulala Lodge, Sossusvlei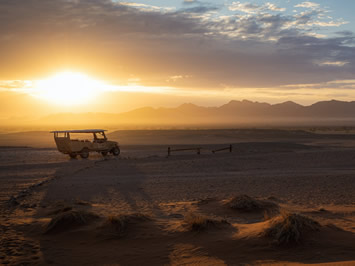 Day 4 - Saturday, April 13, 2024
Departure from Sossusvlei
As our Sossusvlei adventure ends, we will wake up early to capture the beauty of the dunes at sunrise. Some may opt to enjoy a final nature drive or guided walk before departing from Wilderness Little Kulala Lodge.
From here, we will continue our journey to Twyfelfontein to explore more of Namibia's natural wonders.
After departing from Wilderness Little Kulala, we'll take a scenic flight over the expansive dune sea that extends to the Skeleton Coast, offering a bird's-eye view of Namibia's breathtaking landscape. Upon arrival at Wilderness Damaraland Camp, we'll each be provided one of the ten spacious and elegantly appointed adobe-style thatched suites, each with a large private viewing deck.
We will spend the rest of the day exploring the stunning geological formations and ancient rock art of Damaraland with guided nature drives and walks. Or join others who choose to relax and take in the breathtaking views.
Hotel: Wilderness Damaraland Camp, Damaraland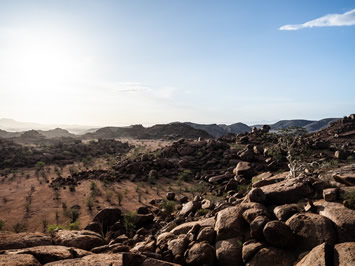 Day 5 - Sunday, April 14, 2024
Exploration of Damaraland
Today, we embark to the stunning Twyfelfontein, nestled in the Kunene Region of northwestern Namibia.
Twyfelfontein is famous because of its many rock paintings and rock engravings (Petroglyphs) of the San (Bushmen) of which 2500 were counted. Specifications about the age of the engravings fluctuate and a period of 1000 – 10000 years is stated. Remarkable is that the engravings were made without the use of metal tools. It is presumed that quartz tools were used instead as many quartz chips were found here.
Hotel: Wilderness Damaraland Camp, Damaraland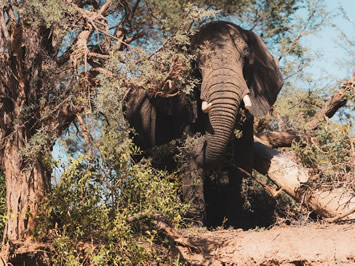 Day 6 - Monday, April 15, 2024
Rock Art & Wildlife Adventure
We wake with a delicious breakfast before setting off on a day of adventure in Damaraland. We'll visit the world-renowned rock art at Twyfelfontein, a UNESCO World Heritage Site boasting over 2,500 prehistoric engravings. Next, we'll visit the mesmerizing Burnt Mountain, where fiery colors come to life at sunrise and sunset.
In the afternoon, we'll embark on a 4WD vehicle excursion into the breathtaking landscape of the ephemeral Aba Huab River valley in search of elusive desert-adapted elephants and other wildlife.
Come dusk, we will return to the camp for a relaxing evening, together marveling at the stunning night skies.
Accommodation: Wilderness Damaraland Camp, Damaraland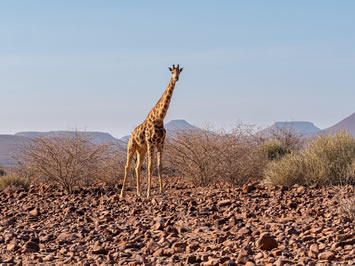 Day 7 - Tuesday, April 16, 2024
Community Visit
On the final day in Damaraland, we'll have the opportunity to meet members of the local village on a community visit and learn about the inspiring story of how Wilderness Damaraland Camp came to be.
Afterward, we'll say our goodbyes and depart for three days at Hoanib River.
Hotel: Wilderness Damaraland Camp, Damaraland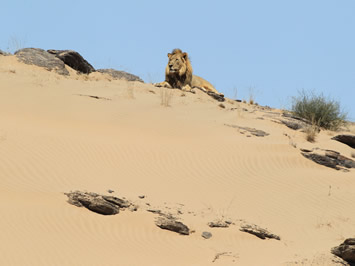 Day 8 - Wednesday, April 17, 2024
Exploration of Hoanib River
A once-in-a-lifetime experience awaits as we journey from Damaraland to the Hoanib River, an oasis in the western part of Namibia.
Our arrival at the breathtakingly remote Wilderness Hoanib Skeleton Coast Camp will mark the start of an exceptional adventure in one of the world's last untouched wildernesses.
Together, we will enjoy the stunning desert landscape, and the unique wildlife, including elephants, lions, and rhinos, all of which call this region home. We'll spend the day exploring the camp's surroundings, with a four-wheel drive through the desert landscape, adventurous hikes, or some can choose to climb the massive rock formations, all under the guidance of experienced local guides.
Hotel: Wilderness Hoanib Skeleton Coast Camp, Skeleton Coast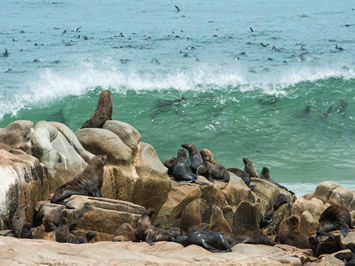 Day 9 - Thursday, April 18, 2024
Wildlife Encounters & Desert Adventures
Wake up to the tranquil sounds of the Hoanib River and get ready for a day filled with unmatched wildlife encounters and desert adventures. Take a four-wheel drive through the stunning desert landscape, observing unique and even rare wildlife such as the elusive desert-adapted giraffe, mountain zebra, and hyena.
In the afternoon, we will explore the eerie shipwreck remnants and noisy seal colonies, and bask in the desolate beauty that gives the Skeleton Coast its name. Of course, it's always an option to simply relax at the camp and take in the breathtaking views.
Hotel: Wilderness Hoanib Skeleton Coast Camp, Skeleton Coast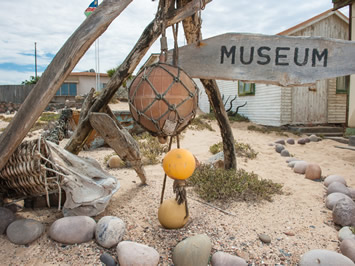 Day 10 - Friday, April 19, 2024
Skeleton Coast
On the final full day of our journey, we'll visit the local village and learn the inspiring story of how Wilderness Hoanib Skeleton Coast Camp came to be.
Afterward, we'll say our goodbyes and depart from the camp cherishing the unforgettable memories of Namibia's stunning natural beauty, and unique wildlife encounters, and focus on sustainable tourism.
Hotel: Wilderness Hoanib Skeleton Coast Camp, Skeleton Coast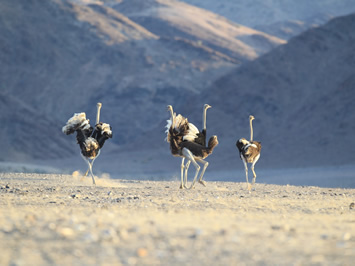 Day 11 - Saturday, April 20, 2024
Hoanib Departure
After breakfast, transfer to Doro Nawas Airstrip for our private charter flight back to Windhoek for our International flight.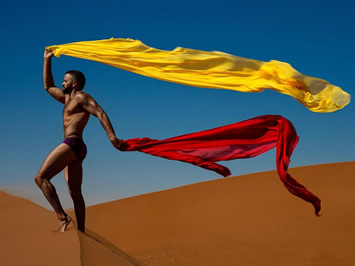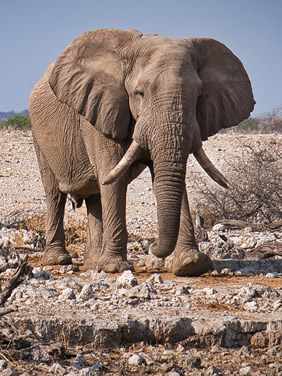 • Discover Southwest Africa's great Wildlife of lions, cheetahs, elephants, giraffes, zebras, rhinos, and more
• Scenic flight along the Skeleton Coast viewing shipwrecks, seal colonies, and giant sand dunes
• Stay in African desert lodges set in genuinely remote locations, accessing them with ease on private chartered flights
• Track desert-adapted elephants and rhinos, visit a remote Himba camp
• Connecting with local authentic communities who live in the Bush
• Walking along the spectacular sand dunes of Sossusvlei with sandboarding
• Hot Air Ballooning over the colorful sand dunes of Sossusvlei
• Small Gay Group Journey limited to 14 travelers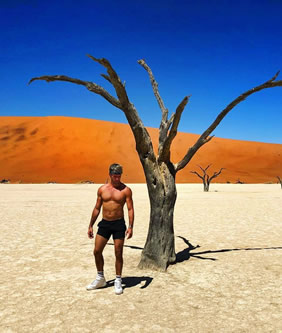 • 1-night Luxury Hotel in Windhoek
• 9 nights of Luxury Accommodations in luxury lodges that offer unique experiences
• Private safari game drives with experienced guides through national parks and private reserves
• Relevant Park and Entrance fees
• Private Chartered Flights within Namibia
• Laundry services at the Lodges
• All meals are included at Lodges that have award-winning cuisine
• Airport transfers in Windhoek and throughout the journey
• Fully escorted gay group tour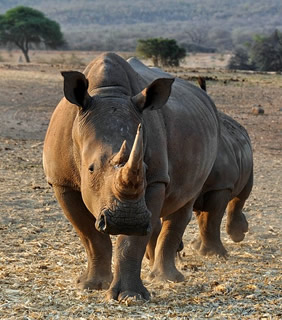 • International Flights
• Meals not specified in the itinerary
• Covid Test Expense (If required)
• Travel insurance – comprehensive travel insurance is mandatory
• Personal Expenses
• Gratuities
• Visa Expenses
• Departure Airport Taxes (If required)
• Optional activities such as Hot Air Balloon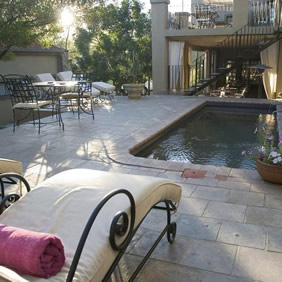 Olive Grove Guesthouse, Windhoek
Olive Grove Guesthouse is a quiet oasis where guests can unwind in lush and tranquil surroundings. Conveniently situated near Windhoek's bustling city center, this delightful retreat has an emphasis on simplicity and elegance.
An open-air terrace and flourishing gardens invite guests to unwind beneath Namibia's starlit skies. Slip into the coolness of the plunge pool with a refreshing sundowner — the perfect way to relax after a busy day of sightseeing.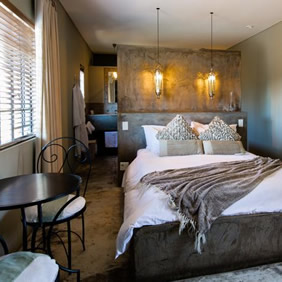 The sitting room is tastefully decorated with comfortable chairs and a cozy fireplace. Elegantly furnished and decorated in natural colors with rustic touches, the air-conditioned rooms come complete with free WiFi, a seating area, satellite TV, a mini-bar, and a safe.
At Olive Grove, the refurbished open plan kitchen serves home-cooked meals and offers an à la carte menu. The upper deck has a private dining corner, with two Moroccan-style sections, for guests to relax on large pillows and enjoy the ambiance and view from the top.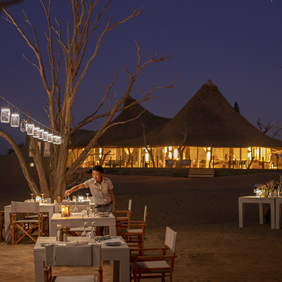 Wilderness Little Kulala Lodge, Sossusvlei
Tucked away in the private Kulala Wilderness Reserve, Little Kulala Lodge treats guests to unmatched desert luxury. Cool, serene, and sheltering, the lodge is a natural oasis in the midst of the stark desert beauty.
The lodge's elegant entertainment area offers a library, wine cellar, craft boutique, lounge, and dining area, all set beneath thatched roofs. Neutral colors, tactile textures, and the careful use of natural light reproduce the soothing pastel tones of the desert.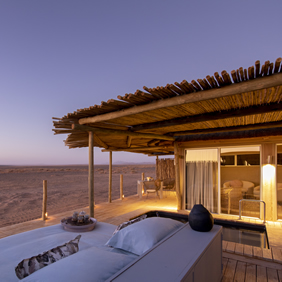 The expansive African night sky makes dining under the stars a spectacular way to spend your evenings. Little Kulala features eleven thatched "kulalas" that merge impeccably into the timeless desert landscape. Each villa has a private bleached deck complete with its own plunge pool. They also each have both indoor and outdoor showers.
Guests are invited to take advantage of the night sky on their own private rooftop "sky bed", where they can indulge in romantic stargazing and sleep under the stars.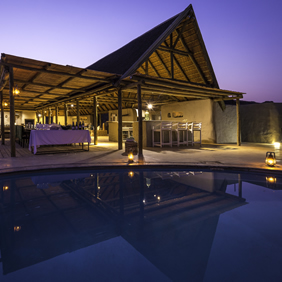 Wilderness Damaraland Camp, Damaraland
Wilderness Damaraland Camp is situated in the Huab River Valley in one of the best wilderness areas in Namibia, offering endless vistas across stark plains, ancient valleys, and a stunning ochre-purple mountain backdrop.
Simply beautiful, relaxed, and open to the desert, the camp is a model for community-based conservation initiatives. The camp is built in a way that is environmentally sound and offers luxury while blending into its surroundings.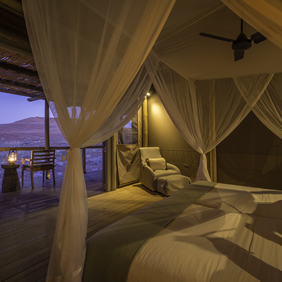 Cool off in the pool, enjoy the large wooden viewing decks, or relish a fireside boma evening of cultural cuisine, song, and dance, canopied by countless stars.
The ten spacious and raised adobe-style thatched suites have large decks that offer unforgettable vistas across the geologically extraordinary plains and ancient valleys. Simply beautiful and open to the desert, the camp has much to excite and delight.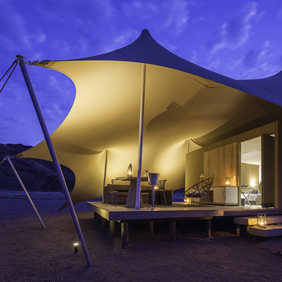 Wilderness Hoanib Skeleton Coast Camp, Skeleton Coast
Scenically nestled in the valley where the two tributaries of the Hoanib River meet, the Hoanib Skeleton Coast Camp offers guests chic luxury in a startlingly rugged and isolated, ancient landscape. The camp's architecture achieves a seamless aesthetic in its adaptation to the desert starkness.
Soaring canvas shade cloth, the color of sand, stretches in peaks and valleys over stilts set on wooden decking to house an indoor dining area, bar, and lounge. A large contemporary fireplace adds warmth and a cozy ambiance on chilly desert evenings, while an adjacent plunge pool provides daytime relief.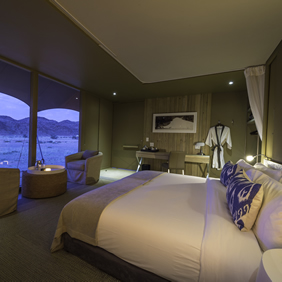 The camp's eight pale olive tents are spacious and modern in style, sensitively designed to maximize the comfort of their occupants while unobtrusively complementing the camp's overall design. En suite facilities provide a shower with a magnificent view, and the living space is further enhanced with a shaded well-furnished deck.
The camp looks out over stunning, starkly beautiful scenery and offers guests all the luxuries and amenities for an unforgettable stay.