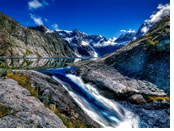 A Source Adventure in the Land of the Kiwis. New Zealand is blessed with perhaps the world's largest concentration of stunning natural wonders, including majestic peaks, dense forests, and deep fjords. Starting in picture-perfect Queenstown, 'the adventure capital of the world', you'll begin by soaking of the magnificent natural beauty and enjoying welcome dinner with the backdrop of the Remarkable Mountains.
Fly over the Southern Alps and take a boat ride in majestic Milford Sound. Take a jet boat up a glacier-fed river into the remote wilderness and enjoy a private gourmet wine lunch at one of New Zealand's finest vineyards. Enjoy a leisurely bike ride around Lake Wakatipu or take the Queenstown Gondola to enjoy even more spectacular views and adventure experiences.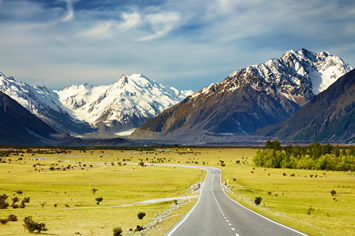 Drive of the West Coast of New Zealand, enjoying the stunning scenery of wild rugged beaches by the Tasman Sea, and lambs frolicking on bucolic farm landscapes. Take a trek to Franz Josef Glacier, and for even more adventure, choose from activities such as bungy jumping and heli-hikes, and zip-lining – the choices are endless.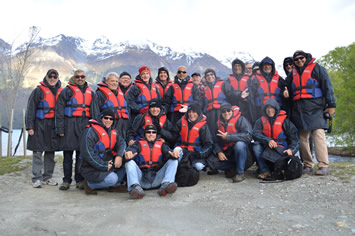 This journey of a lifetime continues with one of the world's great train journeys on the TranzAlpine Railway from Greymouth to Christchurch. Along this journey, experience epic vistas, travel the edges of the ice-fed Waimakariri River, traverse the Southern Alps, and see miles of native beach forest.
With stunning scenery, epic adventures, and some of the world's most friendly people, it's no wonder that New Zealand is so high on most traveler's bucket lists.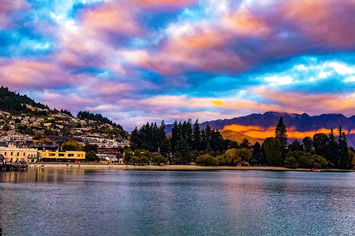 Day 1 - Saturday, October 17, 2020
Arrive in Queenstown, New Zealand
Upon arrival into Queenstown Airport (ZQN), you will be met by our local guide and transferred via private coach to Hotel St. Moritz.
Enjoy Welcome Dinner.
Arrival: 12:00pm
Hotel: St Moritz Queenstown Hotel - MGallery by Sofitel
, Queenstown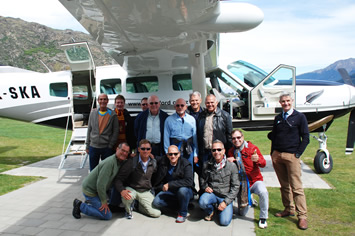 Day 2 - Sunday, October 18, 2020
Queenstown - Milford Sound
After Breakfast, we depart for our Milford Sound tour. This excursion is a Fly-Cruise-Fly tour and is weather dependent. The flight to Milford sound is in a Cessna caravan aircraft. Enjoy a scenic flight over New Zealand's captivating mountains and fiords. On arrival into Milford Sound, board a spacious vessel for a tour of the awe-inspiring scenery, sailing the southern fjords amid towering cliffs, viewing sparkling waterfalls and watching for the wildlife onshore. Keep a lookout for seals basking on the rocks or dolphins frolicking in the water.
Hotel: St Moritz Queenstown Hotel - MGallery by Sofitel
, Queenstown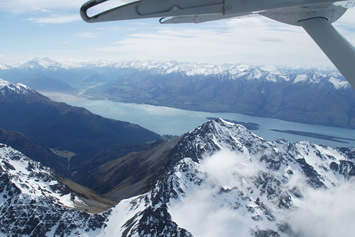 Day 3 - Monday, October 19, 2020
Queenstown - Arrowtown - Gibbston Valley
Begin your tour with a visit to the picturesque Arrowtown, an old gold mining settlement that retains much of its early character. It was the discovery of gold in Arrowtown which led miners by the thousands into the district and resulted in the formation of settlements adjacent to the gold diggings. From 1869 there was a small community of Chinese miners living in Arrowtown.
You then visit the Kawarau Bungy Bridge. If you've heard of Bungy, you've heard of the Kawarau. The world's first and most infamous of leaps is still going strong, with tens of thousands of Bungy jumpers each year. If you choose to take the leap there are a number of options; topple over backward, forwards, with another person, spin or somersault.
Next, stop at Gibbston Valley Winery, one of the pioneers of this region's wine industry for a wine tasting. This small, sophisticated winery, set in spectacular mountain surroundings, has earned an international reputation for Pinot Noir as well as other thriving grape varieties such as Chardonnay, Pinot Gris, Riesling, and Pinot Blanc. Their 2000 Reserve Pinot Noir was named the Champion Pinot Noir of the World. Enjoy a private tour including an exclusive tasting in New Zealand's largest Wine Cave and a delicious lunch with paired wines.
Hotel: St Moritz Queenstown Hotel - MGallery by Sofitel
, Queenstown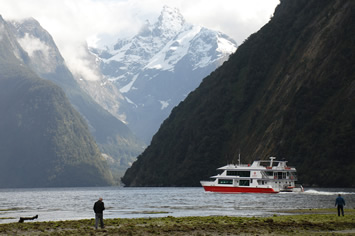 Day 4 - Tuesday, October 20, 2020
Queenstown - Glenorchy - Mt Aspiring National Park
Depart Queenstown for Glenorchy to commence your exciting adventure. Driving time Queenstown to Glenorchy is approximately 45 minutes. Your Dart River Wilderness Jet tour is an exhilarating and spectacular journey deep into the heart of the world-renowned Mt Aspiring National Park with this being the only jet boat operator allowed on the Dart River. The sheer diversity of what's on offer means you experience a unique combination of breathtaking scenery matched with exciting jet boating on braided, glacier-fed rivers. Highly informative guides add a personal touch, talking about the area's history, the Greenstone trail, and Maori legends. Walk amongst ancient beech forest unchanged for 80 million years and view the scenic backgrounds for many Middle Earth movie scenes. This is an authentic New Zealand experience in an untouched world.
Hotel: St Moritz Queenstown Hotel - MGallery by Sofitel
, Queenstown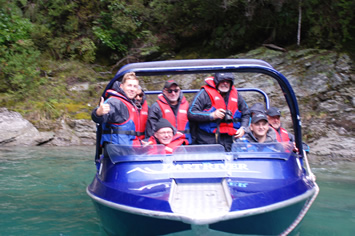 Day 5 - Wednesday, October 21, 2020
Franz Josef
Following a leisurely breakfast, meet our tour guide and group in the lobby and transfer by private coach to Wanaka, a picturesque ski town surrounded by snow-capped mountains. Take a walk along the shores of Lake Wanaka, pausing to admire the Wanaka Tree, one of the most photographed spots in all of New Zealand.
Continue deeper into the heart of the spectacular West Coast along one of the most scenic drives on the South Island and directly to your luxury accommodation in the quaint alpine town of Franz Josef. Enjoy time relaxing at your Retreat before meeting for a special 4-course tasting dinner this evening.
Hotel: Te Waonui Forest Retreat
, Franz Josef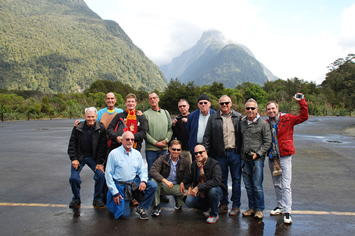 Day 6 - Thursday, October 22, 2020
Franz Josef Glacier
Following breakfast, meet your Tour Director and group in the lobby to embark on your morning of sightseeing. Today, experience the Franz Josef Glacier at its most dynamic, during a three-hour private glacier walk led by your specialist hiking guide. Follow the glacier's path through the remarkable landscape for an up-close look at the giant sheets of ice that form its forward face. Learn about the glacier's history, see what this majestic giant leaves behind, and learn the legend of Ka Roimata o Hinehukatere. Near the terminal face, after a brief climb, you will be rewarded with spectacular views of the glacier's rapidly changing terminal face.
This afternoon experience the Optional scheduled/shared Franz Josef Heli-Hike 3 hour experience. Franz Josef Glacier is 12km long and fed by a massive 20 square km snowfield at the top of the Southern Alps. It features ice pinnacles as high as multi-story buildings, deep crevasses, and stunning, pristine blue ice. First, witness the majesty of the beautiful ice formation from the air as your helicopter takes to the skies above the glacier. Then descend onto the glacier itself and set foot on the ice. Equipped with glacier boots and crampons, your Heli Hike guide will then lead you through some of the most stunning ice formations and pinnacles, immersing you in the world of the Franz Josef Glacier. To touch the ice and breathe in the fresh alpine air is a unique experience and one which you will never forget.
Hotel: Te Waonui Forest Retreat
, Franz Josef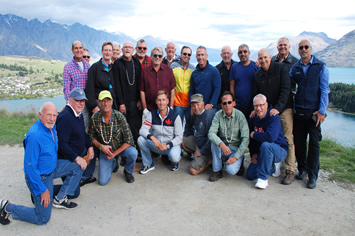 Day 7 - Friday, October 23, 2020
Christchurch
This morning meet our Tour Guide and group in the lobby and transfer by private coach to Greymouth via Hokitika where you'll stop at a traditional Jade Carving workshop for a demonstration by some local artisans. Continue onto the riverside town of Greymouth, a place proud of its history, brewery and broad-minded attitude to drinking hours that sprang from gold rush days of the 1860s. You can toast the Coaster's independent attitude at Monteith's Traditional Brewery where you'll enjoy lunch and a pint! Following lunch, depart on The TranzAlpine, one of the world's great train journeys, traveling coast to coast through forests and farmland, over the spectacular Southern Alps.
Upon arrival into Christchurch at 6:30 pm, re-join your coach and transfer to your luxury boutique hotel overlooking the Botanical Gardens. Later, meet in the lobby and proceed on foot to the Curator's House. Enjoy a Chef's Table dinner and some homemade Sangria at this stunning restaurant, situated in the scenic Botanical Gardens.
Hotel: Sudima Christchurch City Hotel
, Christchurch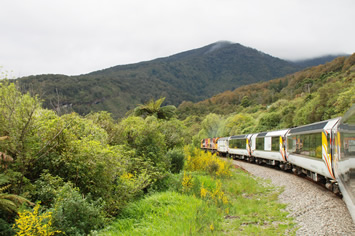 Day 8 - Saturday, October 24, 2020
Christchurch Departure
Depart on our International flights Home.
Departure: 10:00am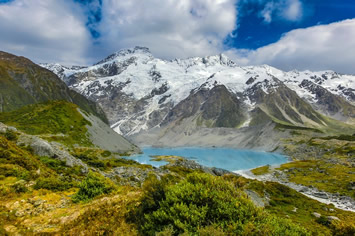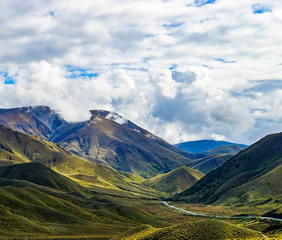 • 5 Star Luxury Accommodations Throughout
• Daily Breakfast
• Welcome Dinner
• All transfers
• All tours as described in the program
• Scenic Flight Milford Sound
• Scenic Cruise Milford Sound
• Wine Country Tour including Lunch
• Dart River Wilderness Jet tour
• Scenic drive to Wanaka including a walk along the shores of Lake Wanaka
• Dinner at Te Waonui Forest Retreat
• Train Journey on the TranzAlpine
• Dinner at Curator's House in Christchurch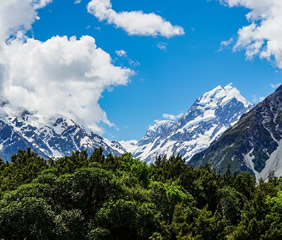 • Meals not mentioned in the itinerary
• Personal Expenses
• International Flights
• Heli Hike Tour
• Gratuities for guides and drivers
• Travel insurance – highly recommended
St Moritz Queenstown Hotel - MGallery by Sofitel
, Queenstown
Situated in the heart of Queenstown, with views overlooking Lake Wakatipu and The Remarkables mountain range, Hotel St Moritz Queenstown features a restaurant, bar, fitness centre, and garden with hot tub.
Each room and suite is appointed with modern essentials, including a 40-inch LCD TV, iPod docking station, in-room movies, and satellite TV. Free WiFi is also provided.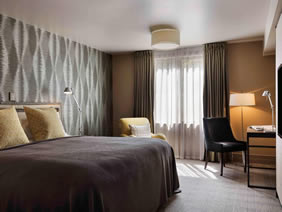 All rooms at Hotel St Moritz Queenstown - MGallery Collection have a separate en suite bathroom, pair of reading chairs, writing desk, tea/coffee making facilities and a minibar.
Lombardi Restaurant features a brasserie-style dining room and offers superb views of the lake, mountains and town centre. Guests can enjoy wine, cocktails and other drinks at Lombardi Bar.
Te Waonui Forest Retreat
, Franz Josef
Surrounded by natural rainforest on New Zealand's West Coast, Te Waonui Forest Retreat is a short drive from Franz Josef Glacier. Guests enjoy free WiFi.
This five star retreat offers luxuriously appointed rooms which include organic cotton bed sheets, pillow menu and large private bathrooms.
Sudima Christchurch City Hotel
, Christchurch
New in 2019, this 5-star boutique hotel is ideally located on Victoria Street in the city of Christchurch, amongst a variety of cafes, restaurants and bars. Sudima Christchurch City is just a short walk from Hagley Park and Christchurch's CBD.
At the hotel, every room offers a complimentary mini bar pack, along with free movies to enjoy throughout your stay. In addition, all rooms are equipped with a fridge, wardrobe and a flat-screen TV as well as private en suite bathrooms. For your comfort, rooms are also fitted with air conditioning.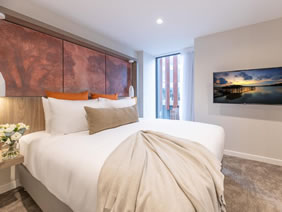 Sudima Christchurch City works to be as environmentally sustainable as possible, with a focus on sourcing local products of the highest standard. Therefore, all room amenities are environmentally friendly and sustainably sourced. The Vices & Virtues Restaurant and Bar focuses on high quality cuisine, created from locally sourced produce.
Also featured at the property is a luxurious day spa, Moss, featuring a number of treatments in a relaxing and inviting space. Guests also have access to a nearby fitness centre, free of charge. Staff are available 24 hours to assist with any queries.