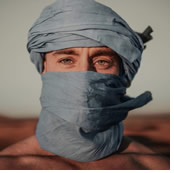 Exotic and spicy North Africa. Morocco is a gateway to Africa and a country of dizzying diversity. Here you'll find spectacular seaside vistas, epic mountain ranges, sweeping deserts, and ancient cities bursting with fabulous markets and warm hospitality. From Saharan sand dunes to the peaks of the High Atlas Mountains, Morocco is tailor-made for travelers. Lyrical landscapes carpet this slice of North Africa like the richly colored and patterned rugs you'll lust after in local bazaars. There are rugged coastlines, waterfalls and caves in forested hills, and the mighty desert.
Morocco's cities are some of the most exciting on the continent. Lose yourself in their ancient hearts, from the winding maze of the Fes Medina to the carnival-like street theatre of the Jemaa El Fna square in Marrakesh. Enter walled fortress kasbahs in the rocky desert and traverse the thick sea walls protecting port cities. Walking through these storied places transports you back in time to understand the history and culture of these wonderful people.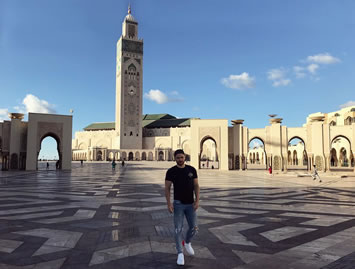 Moroccans are immeasurably friendly and hospitable. Moroccan cuisine is held in high regard worldwide, and this is certainly not the place to diet. Morocco is truly a feast for both the eyes and the palette.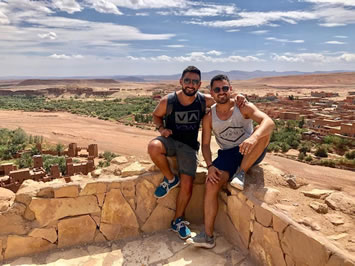 There is something intangibly magnetic about Morocco. This has been proven over and over by the numbers of people who have chosen it as a second home, or who visit it regularly. It is the inspirational playground of distinguished writers, sophisticated bohemians, artists, showbiz stars, and great film directors.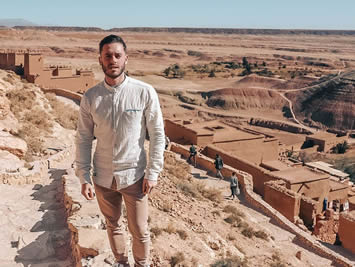 Toto Tours has hosted previous magical journeys to Morocco, but this departure includes many new places providing even repeat visitors a distinctive and exclusive experience in this exotic land. Answer the sensual, alluring call of the kasbah to visit a setting lifted straight out of the tales of the Arabian Nights! You'll have an "Absolutely Fabulous" adventure!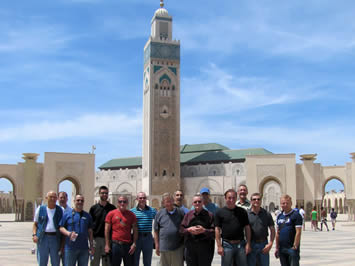 Day 1 - Monday, October 31, 2022
Arrive in Casablanca – Welcome to Morocco
Arrive today at the Mohammed V International Airport in Casablanca. Use the code CMN when searching for flights (round trip). A group transfer from the airport to the hotel is included today. We can help you arrange a private transfer if you choose to arrive a day early. Please let us know on your reservation form if you plan to arrive one day early in order to relax and recover from jet-lag before the tour commences.
We convene at the hotel bar this evening for drinks and introductions before our Welcome Dinner at the hotel.
Meals: Welcome Cocktail & Dinner
Hotel: Le Casablanca Hotel
, Casablanca, 5*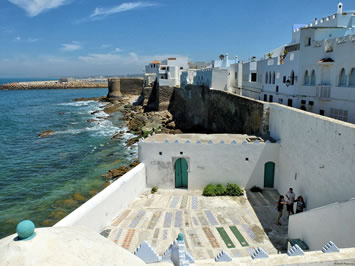 Day 2 - Tuesday, November 1, 2022
Casablanca / Asilah / Tangier
This morning we visit the magnificent Hassan II Grand Mosque, one of only two mosques which can be visited in Morocco. The mosque is among the largest in the world and can house as many as 25,000 worshipers. The mosque's minaret is the tallest religious structure in the world. Next we head to Asilah, a picturesque coastal city lusted over by both Portugal & Spain. Take a walk through the old town with its narrow streets to learn about Asilah's fascinating history.
Our final destination today is Tangier, a cosmopolitan city that dominates the north of Morocco and lies just a few miles across the Strait of Gibraltar from Spain. This melting pot evinces Moroccan, African, and European cultural influences. Henri Matisse named it a "Painter's Paradise" and several foreign artists such as Paul Bowles, Truman Capote and William Burroughs fell in love with the city and chose it as their home. For about three decades when Tangier was an International Zone it was a haven for gay men who were able to live their lives openly.
We'll enjoy two nights at an elegant hotel in the Medina which has been the hideaway for movie stars such as Rex Harrison, Rita Hayworth, Rock Hudson, Jean Claude Van Damme and many more.
Meals: Breakfast & Lunch
Hotel: El Minzah Hotel
, Tangier, 5*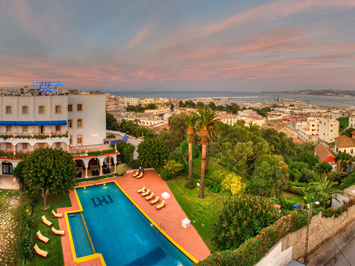 Day 3 - Wednesday, November 2, 2022
Tangier
Your day starts at The Perdicaris Park, a beautiful green haven that spans an area of 70 hectares between the sea and the mountains. Next, head to Cape Spartel, often referred to as the northernmost point of Africa. Near Cape Spartel is Spartel Bank, and it is here that some believe you can find the legendary underwater city of Atlantis.
We proceed to the Mendoubia Garden, the famous Kasbah which is located at the highest point of the Medina and is the site of the former Sultan's Palace. Called Dar el-Makhzen, it was built in 1684 by King Moulay Ismail. While here, we visit the Kasbah Museum of Antiquities and Moroccan Art which is within the walls of the old palace.
Then, stroll through the narrow streets of the Medina to the Jewish quarter where we visit the Jewish Synagogue and the Jewish Cemetery.
Moving on to Achakar, in the West of Tangier, we see the ancient Caves of Hercules, carved out naturally by ocean waves. Returning to the Medina, we visit the American Legation, famous as the first American property outside America. Here we see the works of famous American writers who once lived in Tangier, such as Paul Bowles, William Burroughs, Tennessee Williams, and many others.
Before heading back to our hotel, enjoy fresh mint tea at Le Petit Socco, a local hangout for many of the aforementioned writers and artists.
Meals: Breakfast
Hotel: El Minzah Hotel
, Tangier, 5*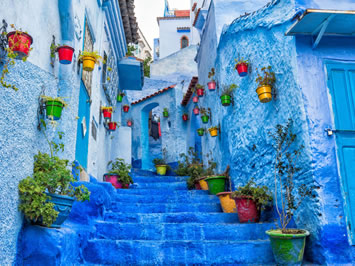 Day 4 - Thursday, November 3, 2022
Tétouan / Chefchaouen / Fes
On the eastern side of the land mass forming the Strait of Gibraltar we find Tétouan, Morocco's second major port city, at the feet of the Rif Mountains. It is renowned as a cultural and arts center, and a highlight of our visit will be the Academy of Traditional Arts and Crafts which has produced some of Morocco's best artisans.
From here we head into the Rif Mountains to the stunning, lavender-hued village of Chefchaouen. Its dramatic mountain setting, Andalusian architectural style, and brightly painted Medina have brought it world-wide attention – including a mention in the New York Times.
After a break for lunch and a walking tour we continue to our final destination today, magical Fes – the cultural heart of Morocco. Dinner is included tonight at our hotel.
Meals: Breakfast & Dinner
Hotel: Sahrai Hotel
, Fes, 5*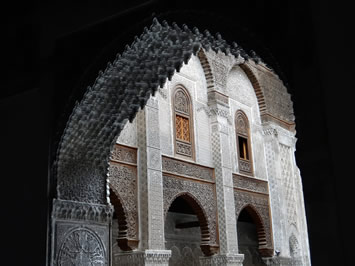 Day 5 - Friday, November 4, 2022
Fes Medina / Volubilis Roman Ruins
The Medina of Fes is considered the world's largest living medieval city. We begin our visit with an exterior view of the Royal Palace before plunging into the narrow lanes, alleys and souks that make up the labyrinth of the city's old quarter. The Madrasa (or University) of al-Qarawiyyin was established in 857. It is the oldest existing and continually operating degree-awarding educational institution in the world according to UNESCO and Guinness World Records. See also Madrasa Bou Inania, built in 1350–55. It is widely acknowledged as a high point of Marinid architecture and of historic Moroccan architecture generally.
Proceed for a visit to the historic tanneries and then on to Nejjarine Square, whose centerpiece is a beautiful fountain made up of mosaics and elaborate tilework. The nearby Fondouq (Caravanserai) has now been converted into a museum of carpentry artefacts.
After lunch at Riad Nejjarine we leave the city for a visit to the UNESCO World Heritage Site of Volubilis, the largest and best-preserved Roman ruins in Morocco. With its triumphal arches, basilicas and capitols, the Volubilis skyline is peppered with examples of Roman architecture.
However, the greatest treasures of Volubilis are the superb mosaic floors, which have been excellently preserved and left in situ. We return to Medina tonight for a festive dinner with entertainment at the historic Dar Anebar Hotel
.
Meals: Breakfast & Dinner
Hotel: Sahrai Hotel
, Fes, 5*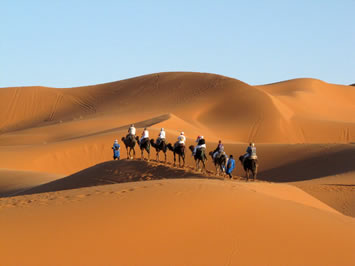 Day 6 - Saturday, November 5, 2022
Desert Adventures / Luxury Camping
We climb today through the imposing Middle Atlas Mountains with a stop along the way for lunch. Arrive at Erfoud where our four-wheel-drive vehicles await to transfer us to Merzouga and the warm and mysterious sands of the Sahara.
A thrilling ride across the dunes brings us to our private luxury tented camp settled in the middle of nowhere. This is glamorous camping (glamping) since each tent is decorated with traditional Moroccan crafts and handmade carpets, and feature a large bed and private bathroom with hot running water! Enjoy a reception of mint tea and pastries before setting off by camel to marvel at a spectacular sunset over the sand dunes of Erg Chebbi while sipping a sundowner drink.
After returning to the camp, take time to settle into your nomadic tented accommodation before savoring a mouth-watering dinner served with traditional Berber hospitality and entertainment. A sparkling starry sky will be lighting the way as you retire to your tent and let the sounds of the Sahara lull you to sleep.
Meals: Breakfast & Dinner
Hotel: Merzouga Luxury Desert Camp
, Erg Chebbi, 4*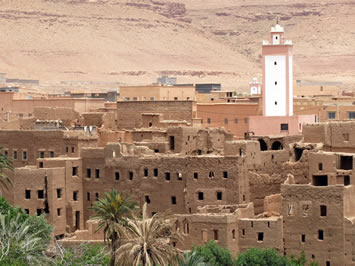 Day 7 - Sunday, November 6, 2022
Through Mountains and Valleys to Ouarzazate
Today we travel approximately 230 miles to Ouarzazate, with many fascinating sights along the way as we pass through a gorge and along the southern slopes of the High Atlas Mountains and into a valley with flourishing crops, irrigation canals and centuries-old palm groves.
At Erfoud we visit the impressive fossil quarry where you can collect souvenirs that are millions of years old. At Tinghir we visit Ksar Khorbat Museum and enjoy lunch.
We continue through the little city of Skoura, nestled in a gorgeous palm grove, and then finally reach our hotel in Ouarzazate. Ouarzazate was built as a French garrison in the 1920s. Today it is a regional trade center known for pottery and carpets, and as the headquarters of the Moroccan film industry.
Meals: Breakfast, Lunch & Dinner
Hotel: Le Berbere Palace Hotel
, Ouarzazate, 5*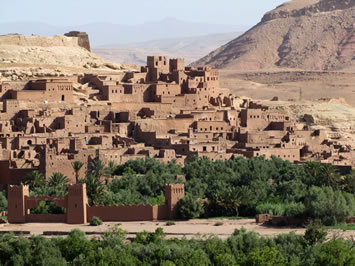 Day 8 - Monday, November 7, 2022
Ait Benhaddou Kasbah / Marrakech
Today, travel through the stunning Atlas Mountains to reach the thrilling and colorful city of Marrakech.
En route, stop in the fortified village of Ait Benhaddou, the most exotic and best-preserved Kasbah in the whole of the Atlas region. The village has starred in an array of movies, such as Lawrence of Arabia, Jesus of Nazareth, Gladiator, and The Mummy. Continue over the Tizi n'Tichka Pass, the highest in the region at a height of 7,415 feet, and stop to marvel at the panoramic views.
As your journey continues, take note of the picturesque villages, passing by travelers going from one village to the next on foot. Admire the lush green eucalyptus trees, contrasting with the red hues of the rocky hills. Notice the exotic smell of chwaya (grilled meat) and Berber tagines, beautifully displayed with a tomato on the top.
Finally we arrive into Marrakech, the beating heart of Morocco, where palaces and monuments of unrivalled refinement sit calmly alongside snake charmers and Gnaouan drums, pulsing constantly from Jemaa El Fna Square - the most exuberant marketplace in the world.
Meals: Breakfast
Hotel: Le Jardins de la Koutoubia Hotel
, Marrakech, 5*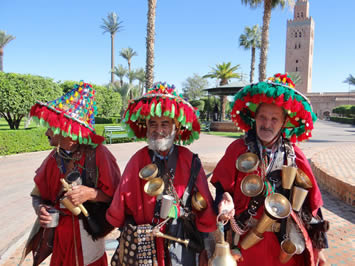 Day 9 - Tuesday, November 8, 2022
Marrakech
Today, discover the Mysteries of Marrakech and the city's architectural attractions, the majority of which are located inside the Medina. We explore the labyrinthine souks, a maze of colorful alleys and small squares that are home to a bewildering array of stalls and ateliers devoted to specific crafts.
Next, explore Jemaa El Fna, the city's main square, which is home to a multitude of street-artists and food stalls. Over the years the square has become the beating heart of Marrakech, where fire-eaters, acrobats, snake-charmers, and street musicians perform at every turn.
Continue on to the Koutoubia mosque, an emblem of Marrakech. It is not possible to enter the mosque, but its beauty can be admired from the gardens and the square. Built in the 12th century, the Koutoubia's minaret represents the pinnacle of Islamic architecture in North Africa.
Finally, admire the Bahia Palace, a remarkable example of Arab-Andalusian architecture where the use of marble, stucco and mosaics is prevalent in the apartments, opening onto courtyards filled with fountains and plant life. Tonight, we return to the medina for an exclusive party in a private riad.
Meals: Breakfast
Hotel: Le Jardins de la Koutoubia Hotel
, Marrakech, 5*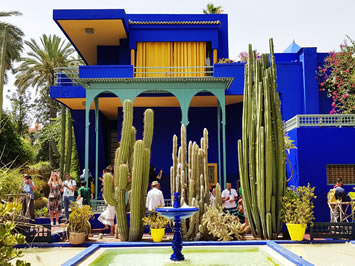 Day 10 - Wednesday, November 9, 2022
Majorelle Gardens / Essaouira
Visit Majorelle Gardens, originally designed in 1924 by French artist Jacques Majorelle. After taking up residence in Marrakech, Majorelle transformed the property's existing garden into a tropical paradise, surrounded by vivid cobalt blue buildings with verdant exotic groves, lily-covered pools, and enormous sculptural cactuses.
Near the Majorelle Gardens, is the Yves Saint Laurent Museum, where the most precious YSL works are gathered. Yves Saint Laurent and Pierre Berge fell in love with the colors of Marrakech and resided here for some of the most beautiful years of their lives.
After a lunch break, we transfer to the beautiful Atlantic coast driving through a region that produces Argan oil, famous throughout the world for its cosmetic and culinary uses.
En route, stop at a woman's cooperative to learn about how this precious oil is produced. Continue to our seaside resort hotel, steps from medina of the historic fortified port city of Essaouira, where we spend the final two nights of our adventure.
Meals: Breakfast
Hotel: Le Medina Essaouira Thalassa Sea & Spa Hotel
, Essaouira, 5*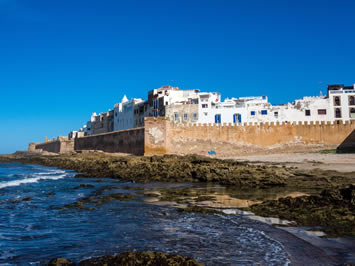 Day 11 - Thursday, November 10, 2022
Essaouira / Farewell Festivities
Essaouira is rich in history. Its islands were inhabited as early as the 7th century BC. Pottery found here proves the presence of both Carthaginians and Phoenicians. The Portuguese built an impressive fortress here in the 16th century and named the city Mogador.
Discover evidence of these cultures as we explore the ramparts, the harbor, the fishing port and the Skala - the great sea bastion on the edge of the northern cliffs. This fortress is famous as the setting for the 1949 Orson Wells film: Othello.
Strolling in the whitewashed Medina with its blue doors is an amazing way to spend the afternoon. Discover Thuya Wood workshops and marvel at impressive items made with this aromatic timber. The city also boasts wonderful art galleries worth visiting.
As the day comes to a close, we visit the ramparts one last time to enjoy a farewell party hosted in a private riad overlooking the walls and the sea. From here we proceed to a seaside restaurant for our Farewell Dinner.
Meals: Breakfast & Dinner
Hotel: Le Medina Essaouira Thalassa Sea & Spa Hotel
, Essaouira, 5*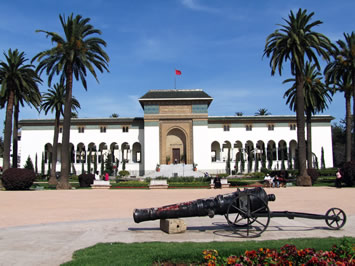 Day 12 - Friday, November 11, 2022
Transfer to Casablanca / Departure
We bid a sad farewell to Morocco today as we transfer together from Essaouira to the Casablanca International Airport (CMN).
The drive will take approximately six hours with a lunch stop. Please do not book any flights departing before 6pm tonight as you need to arrive three hours prior to flight time to meet security requirements.
For those who cannot arrange an evening flight tonight, we can provide accommodation at an airport hotel for an overnight stay if your flight departs on Saturday, November 12th. Please let us know on your reservation form if you wish to extend your stay for one night in Casablanca near the airport.
Upon arrival at the airport we are met by a local representative who will assist us through check-in formalities. This marks the end of our tour services, and we wish you a safe and pleasant homebound journey!
Meals: Breakfast