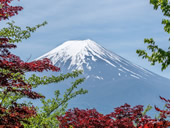 Exploring Japan Farther Afield! For May 2023 we're excited to introduce this new gay group itinerary in Japan that will differ entirely from the very popular tour that we've been running since 2014. Starting from Tokyo and finishing in Osaka this 10-night program will shows us Honshu — Japan's main island — in greater depth than the standard highlights type of tour. Japan will provide you with a wonderful feel for the country's various highlights and reveal the intriguing nature of today's Japan — so modern and yet heavily steeped in its traditions.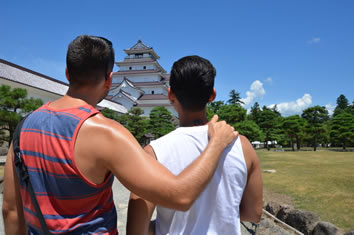 • The national park and resort area of Hakone, an easy day trip out of Tokyo, with lovely mountain scenery, a pretty lake, a world-class museum, and Mt. Fuji presiding over it all.
• Kanazawa, known for one of the best gardens in Japan, along with beautifully preserved samurai and geisha districts and a wonderful market
• Extensive and impressive contemporary art collections in gorgeous natural settings on the island of Naoshima.
• The former shipping port of Kurashiki, now a picturesque place with its willow-draped canals, converted historic warehouses, and laneways lined with old wooden houses and shops.
• A visit to a working pottery studio specializing in the art of ancient Bizen ceramics dating from the 12th century.
• Reflections on a tragic past in Hiroshima, a sobering but necessary experience taking in the Peace Memorial Park and the Atomic Bomb Dome.
• Lovely Miyajima island with its iconic "floating" torii gate, a UNESCO World Heritage Site.
• Feasting our eyes on the colorful human parade of Osaka's Dotombori district, a city where "eat till you drop" is practically its motto.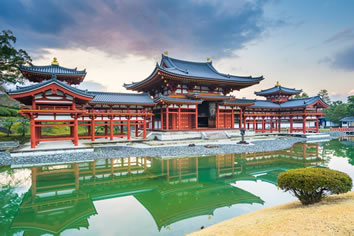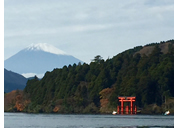 Hakone – A day trip out of Tokyo, Hakone boasts world-class art museums, walking trails, and gorgeous mountain and lake scenery with sacred Mt. Fuji dominating over the whole. Hakone Open-Air Museum is home to a rich assortment of 19th and 20th century sculptures and installations by leading Japanese artists as well as Rodin, Miró, Picasso, and Henry Moore. We get around, in part, with a gondola ride in the hills and a cruise on Lake Ashino.
Kanazawa – A feudal-era capital that in its heyday rivaled Kyoto as a center for the arts, a vibrant artisan tradition is still present here along with one of Japan's top gardens — Kenroku-en — dating from the 17th century. Kanazawa also has an excellent contemporary art museum; a rich food culture that draws heavily from the nearby Sea of Japan; beautifully preserved samurai and geisha districts; and a wonderful market. It also produces 98 percent of Japan's gold leaf.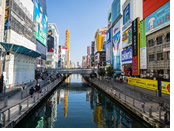 Osaka – Japan's third-largest city (Yokohama is second but it's rather an extension of Tokyo) Osaka is an urban extravaganza with locals who are known to be more approachable than Tokyoites. A dazzling nighttime sensory experience with neon lights, animated signage, and flashy video screens awaits. And oh, the food – the city's unofficial slogan is kuidaore (eat until you drop), and its most famous street food is takoyaki (grilled octopus dumplings) –yum!
Himeji-jo – Reputedly one of Japan's most magnificent castles, one of the rare originals dating from the 16th century, Himeji-jo is big and well-preserved. The white plaster facade and generally elegant appearance have earned it the nickname of White Egret Castle, and it has starred in its fair share of roles in Japanese movies.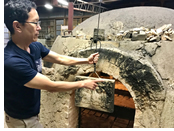 Bizen Pottery – A historic ceramic-making center Bizen has been renowned for its pottery since the Kamakura period (1185-1333). We stop at a hospitable artisan family, with deep roots in the area, who show us their kilns and explain the process of creating this highly prized pottery with an opportunity to purchase their beautiful creations.
Kurashiki – This town possesses a well-preserved atmospheric merchant quarter and picturesque willow-draped canal. Small lanes are lined with old wooden houses and shops. The Ohara Museum of Art houses a fine collection of mostly Western paintings, prints, and sculpture and was established by a local textile magnate in the early 20th century.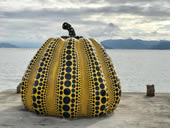 Naoshima – A rural island that has now become a world-class center for contemporary art Naoshima has hosted many of Japan's well-regarded architects who have contributed their work, designed to enhance the island's natural beauty. It's a captivating blend of avant-garde and gorgeous natural settings. Museums and numerous outdoor sculptures dot the island, and creative types from around Japan have set up small businesses here.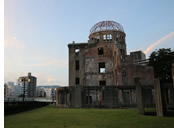 Hiroshima – Visiting the excellent Peace Memorial Museum, while sobering, is an important history lesson that bears repeating. The adjacent park, designed by noted modernist Tange Kenzo, offers opportunities for reflection. Despite its tragic past the cosmopolitan city is very much forward-looking, alive, and is known for its good food, including okonomiyaki (delicious savory pancakes).
Miyajima – This small charming island is a UNESCO World Heritage Site, its star attraction being the 50-foot-tall vermilion torii gate which seems to float at high tide – often described as one of Japan's best views. Mt. Misen, considered sacred, has a 360-degree view of the mainland and the islands of the Seto Inland Sea from the summit, which is reached by gondola.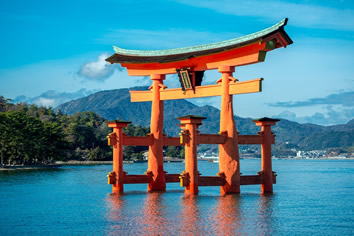 This program is subject to change. While the broad stroke of the itinerary will not be altered, we reserve the right to revise some of the specific sights visited at each destination.
Day 1 - Tuesday, May 9, 2023
Arrive in Tokyo, Japan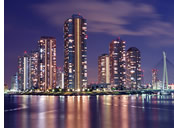 With your own air arrangements you'll arrive at one of the Tokyo airports (Narita NRT or Haneda HND) and then make your way to our group hotel in the city center near Tokyo Station. There are numerous options for getting into the city - with a very wide range of costs for these services - so we have not included the cost of a private transfer in the tour price. Please see "Arrival & Departure Logistics" for information regarding transfer options and costs.
We'll come together in the early evening and enjoy a welcome drink, get to know our fellow travelers, and have a trip briefing before heading out for our welcome dinner.
Please Note: If you would like us to arrange any pre-tour nights at the group hotel in Tokyo, please let us know. We will not be visiting any sights in Tokyo itself, so you may want some extra days here. Additionally, it would be helpful toarrive a day or two beforehand to shake off jet lag and/or to add a buffer in case of any travel hiccups
Meals: Welcome Drink, Dinner
Overnight in Tokyo
Day 2 - Wednesday, May 10, 2023
Hakone, Japan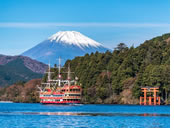 We jump on a "bullet train" for the quick ride to Hakone (about 30 minutes) where we'll meet a private bus that will take us around the Hakone area for the day. This hot springs resort area is a good place for a view of Mt. Fuji (assuming the clouds cooperate).
The day is spent visiting the Hakone Open-Air Museum (with a fine collection of 19th-and 20th-century Western and Japanese sculpture); a short cruise on Lake Ashi; riding a gondola to take in the mountain views. Historically, Hakone was an important checkpoint on the route between imperial Kyoto and the shogun in Edo (now Tokyo).
Return to Tokyo by bullet train.
Dinner this evening is open, and there's no shortage of good restaurants in Tokyo to choose from!
Meals: Breakfast & Lunch
Overnight in Tokyo
Days 3 & 4 - Thursday & Friday, May 11 & 12, 2023
Kanazawa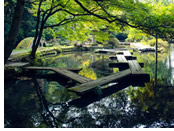 Again we board a bullet train, this time to the city of Kanazawa (approximately 2½ hours) over on the Sea of Japan side of the country.
Note: There is scarcely any space on Japanese trains (even the bullet trains) for large suitcases. This is why luggage delivery services are so common here. We will do as the Japanese and have our main luggage forwarded to Osaka, where we'll be reunited with it two days later. This means you have to prepare a small bag to take with you to Kanazawa for two nights. This bag should be light enough to place above your seat in the overhead luggage rack on the train and easy enough to walk to the train station from our hotel.
Kanazawa represents the union of Old Japan with a modern trendsetting city. We'll stroll the former samurai quarter with its picturesque canals and 300-year-old buildings as well as the wooden facades of the former geisha district with its lovely old homes and present-day shops. We also spend time in what is considered one of Japan's best gardens: Kenroku-en. This historic garden covers some 25 acres. The translation of the name means "Garden of Six Qualities," those being spaciousness, artistic merit, majesty, abundant water, extensive views, and seclusion. (The last quality is questionable nowadays.)
Renowned for traditional crafts such as gold leaf, dyed silk, lacquerware, and pottery, Kanazawa can also boast the impressive 21st-Century Museum of Contemporary Art. We'll also visit a gold-leaf workshop.
Meals Day 3: Breakfast, Lunch & Dinner
Meals Day 4: Breakfast & Lunch
Overnights in Kanazawa
Days 5 - 7 - Saturday - Monday, May 13 - 15, 2023
Kyoto / Naoshima Island / Okayama / Kurashiki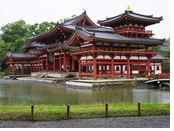 We board a train bound for Kyoto (no bullet train on this route) with travel time around 2¼ hours. A bus will meet us for a transfer to lunch, which will be followed by a visit to the Byodo-in temple - one of the loveliest Buddhist structures in Japan and an 11th-century UNESCO World Heritage site whose image graces the ¥10 coin. The landscaped garden and pond reflect the paradise of the Amida Buddha whose large statue sits in the temple, viewing those below him. Lunch will be in the area.
After our visit we continue by bullet train to Okayama, where we get to settle in for three nights. Dinner is included this evening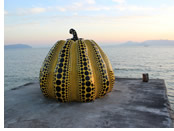 Day 6 takes us to Naoshima Island (by private bus and ferry). This little island in the Seto Inland Sea has successfully placed itself on the contemporary art world map, hosting three major contemporary art museums (all designed by internationally renowned architect Ando Tadao) as well as an installation art project scattered among various structures that had been abandoned when residents left the island for an urban life — and all of this in a lovely natural setting. There are also numerous works of outdoor sculpture dotting the island, including Yayoi Kusama's Yellow Pumpkin, which has become a symbol of the island.
Note: We will not be able to see all the museums, and the specific program for the day has not been determined at the time of publishing this itinerary.
After a full day on the "art island" we return to our hotel in Okayama. Dinner is open this evening.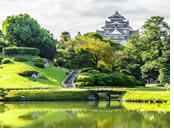 On Day 7 we'll start with Korakuen Garden right in Okayama, considered one of the three most beautiful gardens in Japan. The 32-acre park, alongside the Asahi River with the Okayama Castle as a backdrop, is delightful. Completed in 1700 the park has charming tea arbors, lawns, ponds, and hills— even a small tea plantation and rice field.
We then head to Kurashiki (45 minute ride), which was a vital shipping port from the 17th through 19th centuries. Nowadays the historic center of town is charming with its willow-draped canals, old buildings, restaurants, and shops as well as some fine museums. One stop for us in Kurashiki is the Ohashi House, a beautifully restored residence from 1793, which belonged to one of the city's wealthiest merchant families. Lunch will be in Kurashiki, and there will be some free time for strolling and shopping in the town center
After returning to Okayama dinner is on your own this evening.
Meals Day 5: Breakfast, Lunch & Dinner
Meals Day 6 & 7: Breakfast & Lunch
Overnights in Okayama
Days 8 & 9 - Tuesday - Wednesday, May 16 - 17, 2023
Bizen Pottery / Hiroshima / Miyajima Island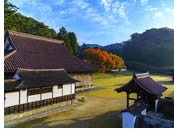 This morning we check out of our hotel in Okayama and take a private coach to a small town famous for its traditional pottery in the Bizen area, renowned for its ceramics since the Kamakura period (1185-1333). "Bizenyaki" is one of the most famous Japanese traditional potteries. We're fortunate to drop in at a small family-run studio where one of the artists will explain Bizen pottery to us and show us the kilns. Their shop is filled with beautiful pieces.
After lunch we return to Okayama where we'll board a bullet train with destination Hiroshima for two nights. We'll enjoy a group dinner this evening.
The next morning is devoted to remembrance. Note that while a visit to the Peace Memorial Park and Museum is a serious and sobering experience, many foreigners who come to Hiroshima are surprised at how lively and modern the city is today.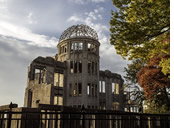 We'll see the excellent Peace Museum — intense to be sure — but most visitors appreciate the time spent here. There are displays of charred fragments of clothing, melted ceramic tiles, lunch boxes, watches, and photographs that tell the story of Hiroshima's destruction by USA atomic bomb in August 1945.
Around the museum is the Peace Memorial Park where we'll see various monuments. It's both the physical and emotional center of Hiroshima. These include the A-Bomb Dome, the remnants of a building that despite being directly below the bomb blast did not collapse into rubble like the rest of the city.
There is also the Flame of Peace, meant to be extinguished only when the world is free of nuclear weapons. The Pond for Peace is a symbolic offering for the victims who were not able to quench their thirst after the detonation and subsequent radioactive fallout. The Children's Peace Monument with display cases of paper cranes is dedicated to all the children who died in the blast or from radiation sickness after. And the Cenotaph contains the names of 260,000 individuals who perished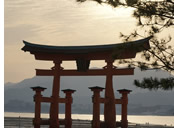 From here we'll board a boat for the trip out to charming Miyajima Island. The island's majestic torii gate gives the illusion that's it's floating when the tide is in — one of Japan's iconic scenic images. Nearby this "sea gate" is the elegant Itsukushima Jinja shrine, founded in AD 593, but the present structure dates from the 16th century. The village itself is a pleasant place to stroll and shop.
We'll then return to Hiroshima where dinner is open this evening.
Meals Day 8: Breakfast, Lunch & Dinner
Meals Days 9: Breakfast & Lunch
Overnights in Hiroshima
Day 10 - Thursday, May 18, 2023
Himeji Castle / Osaka / Farewell Dinner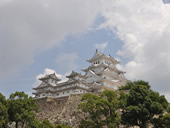 Departing Hiroshima this morning the bullet train will take us to the city of Himeji, home of Himeji Castle. Also known as White Egret Castle this is one of the universally beloved castles in Japan. One of the few original castles still extant in Japan it was built in 1333 as a fortress, was altered at the beginning of the 1600s, and has remained the same since. It appeared in Kurosawa's movie Ran. Afterwards we'll have lunch in Himeji.
Then we bullet again to Japan's other great metropolis: vivacious Osaka, Tokyo's friendly competitor. (Osaka is actually the third-largest city in Japan, after Yokohama, but the latter is contiguous to Tokyo.)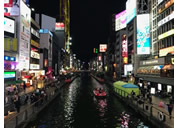 Osaka has been known as "Japan's Kitchen" since the 17th century. After settling in at our hotel for a bit we'll reconvene and stroll the nearby Dotomburi quarter – the heart of Osaka's pulsing nightlife in all its blazing neon glory and also a culinary treasure trove. Here we'll enjoy our farewell dinner recounting some of the highlights of this awesome Japan adventure. We'll make our way back to the hotel — or you may wish to extend your evening at one of the many bars in the district.
Meals: Breakfast, Lunch & Dinner
Overnight in Osaka
Day 11 - Friday, May 19, 2023
Departure
Sayonara!
Osaka has two airports — Kansai International (KIX) and Itami (ITM) — with Kansai providing direct flights to the United States. Or you could fly from either of those airports back to Tokyo and then connect onward.
Meals: Breakfast