Bhutan Gay Tour
The perfect post-trip to our India vacation
View our India Holi Festival Trip,
February 27 - March 09, 2023
The mountain kingdom of Bhutan remains one of the old world's last few strongholds, as yet unspoilt by civilization. In the charmed isolation of the Himalayan heights, Bhutan's ancient and alluring ways of Mahayana Buddhism continue richly intact to this day, and permeate every aspect of Bhutanese life and culture.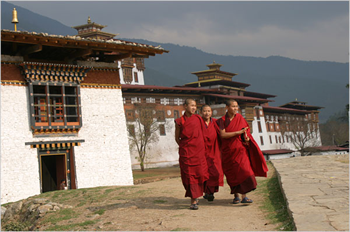 • Accommodations at the finest 5 star hotels in Bhutan.
• Services of a Zoom Concierge throughout your trip.
• Services of an accompanying English speaking local tour guide for the entire duration of the itinerary.
• Professionally guided tour of the the King's Memorial Chorten, built to promote peace and prosperity.
• Walking excursion to the Tiger's Nest (Taktsang Monastery), perched on the side of a cliff above Paro.
• Enjoy a cooking demonstration to learn about Bhutanese cuisine.
• See the temple that marks the introduction of Buddhism in Bhutan.
• Professionally guided tour of the Fortress of The Glorious Religion, built without nails or architectural plans.
Pre-Trip to Nepal
February 25 - 27, 2023
Read more!
India Holi Festival Gay Tour
February 27 - March 09, 2023
Read more!
Day 1 - Thursday, March 09, 2023
Paro / Thimphu, Bhutan
Arrive at Paro International Airport. Meet and greet by a Zoom Vacations airport representative and enjoy a scenic drive to Thimphu, the modern capital town of Bhutan.
Afternoon:
Check in at Taj Tashi Hotel and enjoy a relaxing lunch. After lunch we will visit King's Memorial Chorten continuously circumambulated by people, murmuring mantras and spinning their prayer wheels. Construction of this landmark was the idea of Bhutan's third king, His Majesty Jigme Dorji Wangchuk ("the father of modern Bhutan") who wanted to erect monument to promote world peace and prosperity. Completed in 1974 after the King's untimely death, it serves both as a memorial to the late King and as a monument to peace.
Evening:
Visit to Trashichhoedzong, "fortress of the glorious religion"; This is the center of government and religion, the site of the monarch's throne room, and seat of Je Khenpo or Chief Abbot. Built in 1641 by the political and religious unifier of Bhutan, Shabdrung Ngawang Namgyal, it was reconstructed in the 1960s in traditional Bhutanese manner (without nails or architectural plans).
Dinner at hotel.
Accommodations: Taj Tashi Hotel,
, Thimphu, 5 Stars
Meals Included: Lunch and Dinner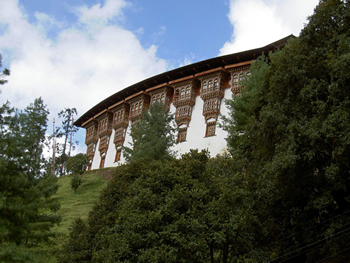 Day 2 - Friday, March 10, 2023
Thimphu, Bhuthan
Buffet Breakfast at leisure in hotel.
Morning:
We take an excursion to Tango Goemba. This monastery was founded by Lama Gyalwa Lhanangpa in the 12th century and the present building was built in the 15th century by the 'Divine Madman', Lama Drukpa Kunley. In 1616 Shabdrung Ngawang Namgyal visited Tango and meditated in a cave near the monastery. His meditation helped ensure the defeat of an invading Tibetan army. The head Lama, a descendent of Lama Drukpa Kunley presented the Goemba to Shabdrung, who carved a sandalwood statue of Chenrezig which he installed in the monastery. The picturesque three-storey tower and several surrounding buildings were built in the 18th century by the eighth Desi, Druk Rabgye and Shabdrung Jigme Chogyal added the golden roof in the 19th century.
Enjoy a one hour walk through shaded rhododendron forests to reach the monastery situated north of Thimphu.
Afternoon:
Return to hotel for lunch.
After lunch we visit the National Library, housing an extensive collection of priceless Buddhist manuscripts; The Institute for Zorig Chusum (commonly known as the Painting School) where students undergo a 6-year training course in Bhutan's 13 traditional arts and crafts. Later visit Textile and Folk Heritage Museum, a fascinating testimony of the Bhutanese material culture and living traditions.
Evening:
Visit the government-run Handicrafts Emporium and local crafts shops to browse through examples of Bhutan's fine traditional arts. Here you can buy hand-woven textiles, thangkha paintings, masks, ceramics, slate and wood carvings, jewelry, and other interesting items made from local materials.
We will have a cooking demonstration with a Chef from Thimphu who will explain about Bhutanese delicacies and their preparation.
Dinner at hotel.
Accommodations: Taj Tashi Hotel,
, Thimphu, 5 Stars
Meals Included: Breakfast, Lunch, and Dinner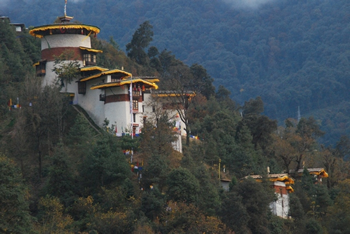 Day 3 - Saturday, March 11, 2023
Thimphu - Paro
Breakfast at leisure in hotel
Morning:
Scenic drive to Paro, check-in at hotel.
Afternoon:
Lunch at hotel.
After lunch we visit Ta Dzong, originally built as a watchtower, it now houses a national museum. The extensive collection includes antique thangkha paintings, textiles, weapons and armour, household objects and a rich assortment of natural and historic artifacts.
Then we walk down the trail to visit Rinpung Dzong, meaning "fortress of the heap of jewels", which has a long and fascinating history. Along the wooden galleries lining the inner courtyard are fine wall paintings illustrating Buddhist lore such as four friends, the old man of long life, the wheel of life, scenes from the life of Milarepa, Mount Sumeru, and other cosmic Mandala.
We will have a unique opportunity to visit with a local Bhutanese family - learning about their customs and ways of life, while enjoying coffee and tea within their traditional home.
Dinner at hotel.
Accommodations: Uma Paro Hotel,
, Paro, 5 Stars
Meals Included: Breakfast, Lunch and Dinner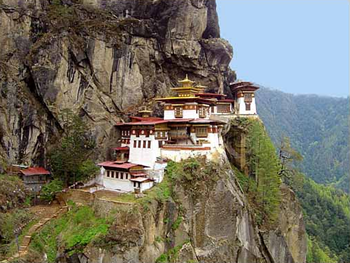 Day 4 - Sunday, March 12, 2023
Paro
Breakfast at leisure in hotel
Morning:
Today we have a fantastic walking excursion to Taktsang Monastery. It is one of the most famous of Bhutan's monasteries, perched on the side of a cliff almost 3000 feet above the Paro valley floor. It is said that Guru Rinpoche arrived here on the back of a tigress and meditated at this monastery and hence it is called "Tiger's Nest". This site has been recognized as a most sacred place and visited by Shabdrung Ngawang Namgyal in 1646 and now visited by all Bhutanese at least once in their lifetime. In 1998 a fire severely damaged the main structure of building, but now this Bhutanese jewel has been restored to its original splendor.
Afternoon:
Lunch at the hotel.
After lunch we drive to Drukgyel Dzong, a ruined fortress where Bhutanese warriors fought Tibetan invaders centuries ago. The snowy dome of sacred Chomolhari, "mountain of goddess" can be seen in all her glory from the road approaching the Dzong.
Along the way, we visit the 7th century Kyichu Lhakhang, one of the 108 temples built in the Himalayas by Tibetan King, Songtsen Gampo. The construction of this temple marks the introduction of Buddhism in Bhutan.
Dinner at hotel.
Accommodations: Uma Paro Hotel,
, Paro, 5 Stars
Meals Included: Breakfast, Lunch and Dinner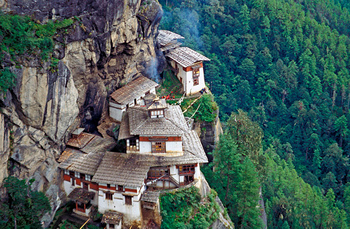 Day 5 - Monday, March 13, 2023
Paro
Breakfast at leisure in hotel
Morning:
Travel to Paro International Airport for our flights back home.
Meals Included: Breakfast
Thimphu, Bhutan
Taj Tashi Hotel *****
2 nights
Set in the heart of the Thimphu Valley, the Taj Tashi
, is a gateway to a land steeped in mythology and magic.
In keeping with the enchanting surrounds, the hotel is a blend of Bhutan's Dzong architecture and modern design. Adorned with classical hand-drawn Buddhist murals, its 66 elegant guestrooms afford guests striking highlights of the region's art and colour. Besides breathtaking views of the mountains that rise above the Thimphu valley.
Continuing the journey into mystical Bhutan at the Taj Tashi, guests can sample Bhutan's fiery cuisine, gaze at the mesmerising prayer wheels through its panoramic windows, make short but rewarding forays into the vibrant local markets, or find yet more ways to relax with a special 'Bhutanese Hot Stone Bath' at the Jiva Spa.
Taj Tashi's
location in the capital city of Thimpu, makes it the ideal base from which to explore the tiny kingdom's spectacular monasteries, centuries-old street festivals, scenic mountain passes and pristine wilderness, all within easy reach.
Paro, Bhutan
Uma Paro Hotel *****
2 nights
Reflecting an understated philosophy of quiet comfort in a unique, culture-rich location, this inland retreat is also dedicated to activity and adventure. Uma Paro Hotel,
sits on a tree-clad hill overlooking Paro.
Just 10 minutes from Bhutan's only airport, Uma Paro perches proudly by the Himalayan mountainside, flanked by thick pine forest. One of the remote kingdom's only boutique hotels, it offers the pampering pleasures of a Como Shambhala spa amid mind-bendingly beautiful scenery. The landscape is dramatic with pine tree valleys and snow-tipped ranges.
Uma Paro
comfortable rooms overlook the pine forests and feature handpainted traditional Bhutanese wall designs and a well-appointed bathroom.
A warm, round space encased in glass, Bukhari restaurant centres on a wide brick pillar fitted with twin log fires. The chef offers a choice of Indian or Bhutanese set dinners, as well as more complex a la carte options. Portions are generous.