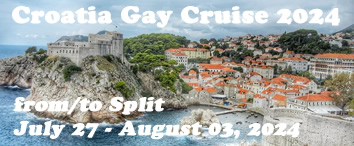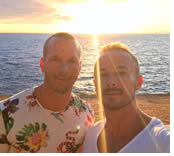 Enjoy seven unforgettable days cruising on the southern Adriatic Sea from one island to another with the small ship cruiser. Relax and let the captain, the crew and our tour manager, take care of you. Mornings you can relax on spacious decks and sunbathe or refresh yourself in the Adriatic Sea. Afternoons and evenings are carefully planned for you to explore Croatia's finest destinations with local experts.
With only 40 passengers on board, this is a relaxing gay cruise experience within a very friendly atmosphere. Intention of this cruise is to show beauty of Croatia islands and thousand year old cities and their rich history, to present Croatian lifestyle and heritage.
Description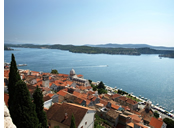 For this trip all you will need is to book your flights to and from Split Croatia, pack and get ready to enjoy seven unforgettable days cruising on the southern Adriatic Sea from one island to another with the small ship cruiser. Relax and let the captain, the crew and a tour manager, take care of you. Mornings you can relax on spacious decks, sunbathe beside the mini pool or refresh yourself in the Adriatic Sea. Afternoons and evenings are carefully planned for you to explore Croatia's finest destinations with local experts.
Newly built luxurious ship MV Riva, is the new deluxe vessel with supreme technology, comfort, and latest trends in small ship construction, Riva will offer the best possible Croatia cruise experience.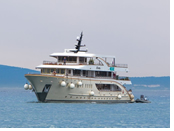 MV Riva offers a maximum capacity of 38 passengers in 19 twin or double cabins, guaranteeing an intimate setting for all guests. Cabins built by up-to-date standards, fully equipped with A/C, safe deposit box, fire alarm and audio system for announcements by the captain or Tour Director. Bathrooms are equipped with toilet, shower, washbasin and hair dryer.
A fully air-conditioned upper deck dining room can accommodate all passengers at once, yet offer a great degree of privacy for each guest. The restaurant includes the bar area with LCD TV, with a corner table for buffet breakfast. A portion of the dining area extends outdoors as a lounge area, offering sweeping panoramic views of the surroundings. Free wireless internet access (Wi-Fi), hot tub.
Price includes:
• Arrival and departure transfers from Split airport to Split harbor; 7 nights cruise in deluxe cabin with en-suite bathroom;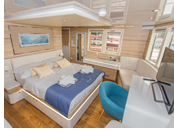 Welcome reception & cocktail; Daily buffet breakfast; 9 meals – lunch or dinner as specified in the itinerary and including: 1 drink with lunch & 1 l water per person daily, Captain's dinner with live entertainment, Spectacular evening dinner cruise along the old town city walls of Dubrovnik, Croatian wine tasting in Bol, Authentic Croatian Village party visit & dinner on Pelješac peninsula, Abundant fresh fruit; Professional Tour manager, Guided walking tours of towns: Dubrovnik, Hvar, Korcula, Split; One way bus transfer from Dubrovnik port to Old town Dubrovnik for sightseeing; Dubrovnik cable car fee, Mljet National Park entrance fee, Luggage handling, Daily cabin service, Free wi-fi onboard, and more!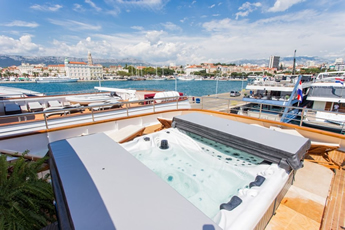 Gay Life Croatia Info
In smaller towns and tourist resorts, generally speaking, LGBT people meet in bars, clubs and c afés which are known to be gathering LGBT people and which are gay-friendly but do not specifically count as being gay. There are a lot of such places throughout Croatia and the atmosphere in many of them, not all, is relaxed and open-minded towards homosexuals.
If you are spending your vacation in a seaside resort you will have the best chance to meet LGBT people by visiting the gay beaches - and there are a lot of them along the amazing Adriatic coast. However, do not expect them to be too crowdie. In public places LGBT persons tend to act "straight" and therefore hard to "detect" while they're much more relaxed at the gay beaches. It is usually very easy to make contact with people in Croatia and when you get a Croatian friend you'll have a friend for life.
Many say that Croatia is a Mediterranean naturist paradise and judging by the number of nude beaches along the Croatian Adriatic coast this may well be the truth. Naked sunbathers are welcomed since the beginning of the last century when naturists were allowed only on a few especially designated areas. Today, except on official nudist beaches marked as "FKK", nudity is often tolerated on many other so called "wild beaches".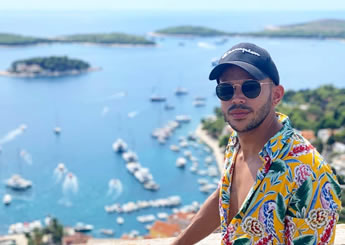 Many say Croatia is the hottest new European destination. Well, hot, it certainly is, but new? Hardly. Croatia is as old as the hills, drawing Europeans who appreciate its beauty, beaches, history, culture and affordability. In the past few years more and more Americans, Aussies and tourists from other continents are discovering Croatia as well.
A place like Croatia offers a lot for everyone. Roman ruins and medieval villages are ubiquitous. The country's long rugged island-dotted coastline covers practically the entire eastern seaboard of the Adriatic, and there's no shortage of ancient towns encircled by picturesque crumbling walls. Vineyards, olive groves and beaches complete a montage of landscapes right out of central casting.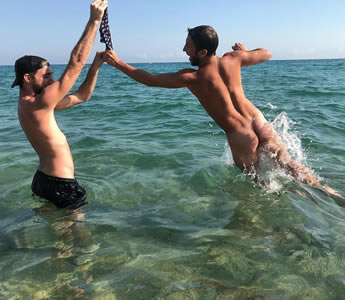 Split
Split is the largest Croatian coastal city (187,599 inhabitants, 2001) and represents the ideal launching point for any Dalmatian island-hopping. Its traffic-free streets are a living treasure house, and allow you to walk though history without barriers or museum curators.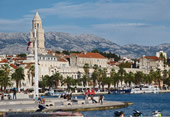 The Roman Palace is where students promenade under floodlights at night, sitting in cafes sipping cappuccinos. The site was first settled when, at the end of the third century AD, the Roman Emperor Diocletian built his palace here. The importance of Diocletian's Palace far transcends local significance because of its level of preservation and the buildings of succeeding historical periods built within its walls, which today form the very heart of old Split. Diocletian's Palace is listed by UNESCO as a World Heritage Site.
Gay Disco:
Metropolis is known as the unofficial gay club among male homosexuals, lesbians and bisexuals in Split. The attitude in the club is macho and you will need a "gaydar" or a local gossip columnist with you to detect any gay people here as they act very discreet. Mostly younger LGBT visitors/clientele (14-30 y.o.)
Gay Bars:
Getto Club, Dosud 6, Club in the old palace owned by wonderful lesbian couple Klub Svjetskih Putnika, Gay-welcomed cafe-bar behind The National Theatre, north of Diocletian's Palace in centre of Split. Gay and Lesbian mixed crowd. Medium popular.
Bula- Club in the old palace Porta- Club in the old palace Semafor The cafe-bar opposite the main Post Office (HP)
Gay Beaches: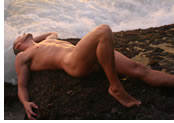 Duilovo gay nude beach This is the most active and popular gay beach near Split. The meeting spot can be found on the hills above the rocky strip of land between hotel Zagreb and Stobrec village. There is rocky beach with pine trees above the shore. Woods are, obviously, very cruisy. Almost everybody is gay here. To get there take the bus number 15 from the city. If you have a car, drive into Stobrec and park near the school and walk down to the beach. Very popular/active
Marjan beach The Marjan hill (178m high), lies on the west side of the city. Today it is a park forest. This is a large peninsula poking out into the Adriatic to the west of the city center. The park is a great place to bike around (you can rent bikes near the entrance for a few kuna), walk the wooded trails, or dip your toes into the sea along the shoreline. It's a popular weekend spot for Split residents.
Gay men often visit beautiful beach just before Institute of Oceanography (Institut za oceanografiju). It is a rocky and hilly area and it is not exclusively gay and in fact very mixed. We recommend you to be discreet. To get there take the bus no. 12 from the church of St. Francis in the center, near hotel Bellevue. Take off at Institute and walk down to the beach by steep path.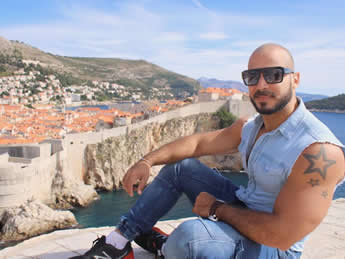 Dubrovnik
Dubrovnik is one of the most beautiful cities on the Croatian coast. In the middle ages the Republic of Dubrovnik was an important rival of Venice. Many buildings in the old city center testify of this glorious past and to its Venetian influence.
The walls of Dubrovnik girdle a perfectly preserved complex of public and private, sacral and secular buildings representing all periods of the city's history, beginning with its founding in the 7th century. Particular mention should be made of the city's main street, Stradun, the Prince's Palace, the church of St Vlaho, the Cathedral, three large monasteries, the Custom's Office and the City Hall.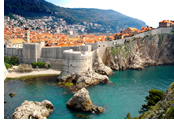 The Republic of Dubrovnik was the centre of a separate Croatian political and territorial entity, and was proud of its culture, its achievements in commerce and especially of its freedom, preserved down so many tempestuous centuries.
Considered the gateway to the Adriatic Sea and consistently ranked among the most beautiful cities in Europe, Dubrovnik has been nicknames the "Pearl of the Adriatic" and ha been listed as a UNESCO World Heritage Site since 1979. During the Middle Ages it rivaled Venice for the shear amount of maritime trade in and out of its ports. Now home to glistening beaches and an old medieval city complete with gates, walls, and a castle, the city combines old-world charm, modern luxury, and brilliant beaches while maintaining its small-town, remote feel. No stranger to parties, Dubrovnik also hosts a Summer Festival that is the largest in the region.
Dubrovnik Gay Scene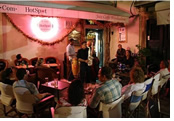 Dubrovnik is also very popular gay and lesbian destination. Actually there are not gay discos and gay scene is reduced to the very popular and well-visited Lokrum Beach on the Lokrum island. In the town gays and lesbians meet each other in only one gay cafe - Troubadur.
Troubadour Hard Jazz Cafe is on the square on the eastern end of the Old Town. Described as a "hard jazz cafe," this bar has a great collection of jazz that it plays when jazz musicians aren't on stage during the summer. A great place to hang out. No cover charge. Café Troubadour has wonderful terrace and the live soft jazz which gives those balmy nights a perfect sense of artistic completeness.
Dubrovnik Gay Beaches: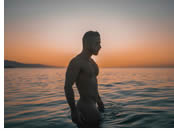 Lokrum Beach The nudist rocky beach at Lokrum Island is outside of Dubrovnik. It is the most popular meeting place for gay guys in Dubrovnik. Take the boat from the harbor of Dubrovnik to Lokrum Island which is leaving every 30 minutes till 8pm. Travel time is about 10 minutes. The gay beach is on the end of nudist area. From the harbor at Lokrum there is a 5-10 minutes walk to the nudist beach. Just follow the road to the left after debarking the vessel. There are clear signs showing you the way. After a slight climbing of the road you're entering the nudist area. The nudist part (the left part of the island) is very large and quiet (even in August!), and the water is wonderful…large rocks and easy access to the sea. The gay area is, as always, at the end of the rocks, just before a wonderful water canyon with unbelievable water colours. This is one of the most known gay nude beaches in Croatia and woods above the beach can be "cruisy". A small paradise!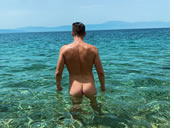 Babin Kuk Located on the Babin Kuk part of the town. Walk down the path next to the hotel President. When you reach the stairs turn toward steep rocks. This is where gay men come to enjoy sun and sea… Head from the town on the number 4 bus line. The gay beach is between the end of the no. 4 bus line (a big hotel President) and Copacabana Beach. If you are walking from the bus stop to Copacabana, the gay area is before reaching Copacabana. There is really no beach, just rocks and boulders! Pretty spot, though!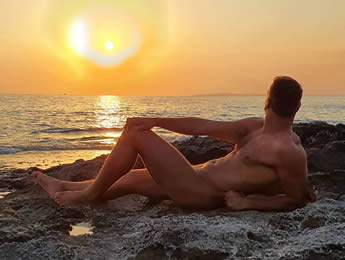 Korcula Island
Korcula, birthplace of Marco Polo (1254), is, after Lokrum and Mljet, the third most densely wooded island of Croatia.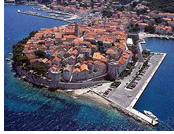 There is much evidence of a highly-developed social life on Korcula even in the 13th century. The Statute of Korcula, signed in 1214, prohibited the slave trade for the first time in Europe. It also spoke about the order and management of the city. Korcula makes an excellent base for day trips to places like Mljet and other islands of the Elafiti group (southeast of Korcula Island). Korcula is also famous for its traditional dance Moreska that has been performed for more than four centuries
Gay Beaches: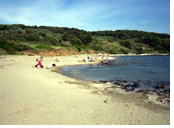 Przina beach (Town of Lumbarda) Two the most beautiful, Bili Zal and Przina, are located near the seaside town of Lumbarda, 6 kilometers east of Korcula town. Przina is a longer beach and in the summer it gets early filled with tourists and locals. Small restaurant is offering cold drinks and snacks. If you're looking for some skinny dipping, just follow the road straight ahead after sandy beaches and turn left when you get to the pine forest - Soon you will reach a nudist area.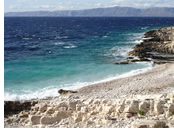 Proizd Beach (Town of Vela Luka) Naturist beach located near town of Vela Luka, on the small islet of Proizd, also called "the island of love". The city and port of Vela Luka in the western part of the island is an area less frequented by mass tourism and situated in a protected bay closed in by the islets of Osijak, Kamenijak, Gubesa and Proizd. Islet of Proizd, immediately outside the bay of Vela Luka, is an oasis of untouched nature – crystal clear sea, rocks, white pebbles, naturist beaches and lush vegetation are its main attractions.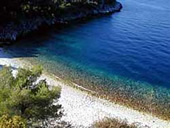 Vaja Beach (Town of Racisce) Beach Vaja near village of Racisce - Beach Vaja is a small not official naturist beach with white pebbles and azure sea water. It is a picturesque and romantic place, isolated and rarely visited. It is located about 1km north of Racišce. One can reach it by tarmac road that leads from the far end of the Racišce harbour. Walking up the hill and taking the path down the cliff to the beach is the way to come to this beauty spot.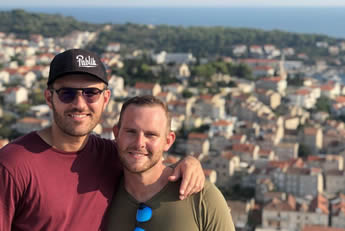 Hvar Island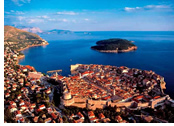 Hvar Island with its flower-filled gardens, its palms, its orange and lemon groves, its fragrance of rosemary, its enchanting countryside affording glimpses of a deep blues see, is an island of captivating charm. Hvar Island, the "Croatian Mykonos", is one of the most popular "gay-islands" in Croatia. The main town on the island, Hvar Town is a very popular LGBT resort and the popularity of the town is increasing for each year.
Fabulous Hvar Town, which is a small and charming medieval town situated in the southwest of Hvar Island, is attracting young good-looking gay/lesbian charter-tourists and bag packers as well as the international Jet Set and globetrotters from all around the world.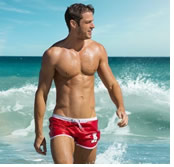 There are no LGBT organisations, official LGBT bars or clubs in Hvar Town where LGBT people meet. However, the town has a very lively nightlife when the tourist-season is in full swing and gays and lesbians meet each other in the hip bars at the harbour. Hvar Town is chic, youthful, vibrant and fun. It is easy to fall in love with Hvar Town and many gays and lesbians return from a year to another. There are great opportunities to make new friends at the Saint Jerolim Beach in summer and if you have been to the gay beach you will recognise people later on in the evening when strolling around in the town centre.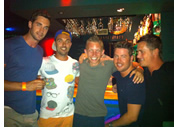 Hvar is the fourth largest island at 300 sq. km [182 sq. m.]. It is the sunniest island in the Adriatic with almost 2,800 hours of sunshine per year. However, there is enough rain to keep the island green and to maintain the beautiful fields of lavender, rosemary, sage, marjoram and thyme and carefully cultivated vineyards. Many people remark that in the spring Hvar smells like an herbalist shop. When in Hvar, you must purchase some lavender oil, which is the major export of the island. The hoteliers on the island pride themselves with the consistently good weather - if there is more than four hours of rain per day, they give a reduction on your stay and if snow falls [which happens once a year, on average] your stay is free!
CarpeDiem Bar This lounge bar is located on the harbour. A famous posh bar for beautiful and fashionable people – being at the top of the list of the most popular bars among gay men. Amazing are afterbeach parties.
Hvar Gay Beaches: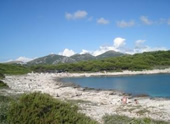 Jerolim Islet Beach Jerolim is an islet, part of Pakleni archipelago, directly opposite Hvar town – one of the hottest summer destinations in Croatia. There is a popular official naturist beach visited also by many gays. To get there take one of many taxi boats leaving Hvar harbor. They are departing every half an hour starting 9am, and returning in the same intervals with the last one at 7pm. When you get to the jetty turn right and walk some 100m along the shore until you reach the area with mostly gay couples, singles, lesbian couples and bisexuals. The gay area is about 300m long all along the east side of the island, and it is one of the busiest gay beaches in Croatia.The busiest time is August when Hvar is packed with mostly Italian tourists.
Vrboska Beach can be found in the Bay of Vrboska, after the nudist camp outside Vrboska Village, which is situated not far from Jelsa in the northern part of Hvar Island. The beach is not as popular as the Jerolim Beach outside Hvar Town, but then, if you are staying in Vrboska or Jelsa this is a closer choice. To get to the beach turn left out to the peninsula Glavica after passing the campingsite.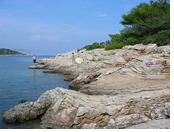 Iza Ige Beach (Town of Jelsa) Behind the last pier with the light house (red one) there is a nudist beach where you can meet gay people. The beach is located between Jelsa's main city port and Mina bay, on Gradina peninsula. The beach is on the small peninsula with the cemetery and a camping area. All around the peninsula there is a nice walking path from which one can go in a pine forest that is covering all peninsula and which can be cruisy. The beach is not just for nudists. It is mixed and there are lot of people that just take a walk around peninsula looking for adventure (it is usually after swimming time around 6-7 PM). Beach is close to the center of Jelsa.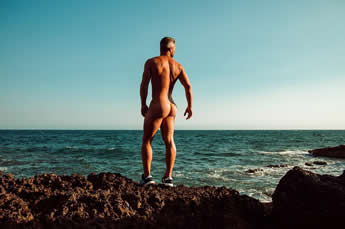 Island of Mljet
Mljet is an eight largest island of the Adriatic sea and one of the most indented. It is situated near wondrous city of Dubrovnik and it has been inhabited since ancient Greek times. More then 70 % of surface of the island is covered by forest and that is why Mljet is also called "the green island". Because of particularly attractive landscapes of the western part of Mljet that area (about 1/3 of the whole area) was declared a National park in 1960.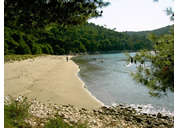 Blace Beach naturist beach Blace beach is located in the most beautiful sandy bay at the very southeastern end of the island. It takes a twenty minutes of walk to get there from a small village called Saplunara. Beach is nearly 1 km long, surrounded by coronet of centenary pines and presents a shining example of primordial intact nature. This is not an official naturist beach and it is used by both naturists and textiles.
There aren't any official naturist beaches on the island of Mljet and none of the beaches is marked as one. But the island offers hundreds of lovely, little pebble stone coves and bays, many of them reachable only by boat, where you can be undisturbed and enjoy total privacy for a day.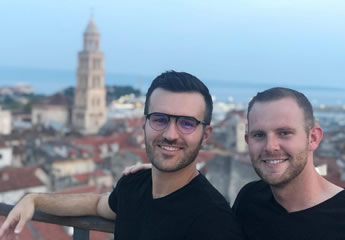 Good to Know Before Visiting Croatia
No official gay beaches! There are many naturist beaches and campsites and also many "wild" or not official nudist beaches on Adriatic coast (plus coasts of the rivers or lakess in some cities). Keep in mind that unfortunately there are no strictly gay official naturist beach (like gay naturist resort for example) in any country, there are only unofficial or official nudist beaches that are visited by gays only, with majority or minority of gay visitors.
Kissing on the street not recommended! Kissing and hugging in open public places streets, public transportation and shops, malls, restaurants, cinemas, theatres... is not recommened even if it is allowed by the law in many counties. We strongly suggest relaxed behaviour only in strictly gay clubs and bars (marked with "gay & lesbian", "men only", "more lesbian"...).
Precautions when visiting cruising areas! Visiting places like city parks, cruising areas, bushes, forests, promenades, public toilets and such is at your own risk. These listed spots are not official gay places and most of them could be risky even if they seem open and tolerant.