Danube River Christmas Markets All-Gay Cruise 2023
8 days from Regensburg, Germany to Budapest, Hungary
4 days Munich, Germany Pre_Cruise Extension
December 8 – 15, 2023
Emerald Cruises Emerald Destiny
Experience the magic of the holiday season as we sail OUTbound along the Danube River to the Christmas markets of Europe. Wander the twinkling city of Vienna and uncover the medieval charm of Bratislava before sailing into the majesty of Budapest. Originating in Germany and dating back as far as the late middle ages, the European Christmas markets, or Christkindlmarkts as they are known, are one of our favorite events each year. From Regensburg to Budapest, you'll see the best of Europe light up with festive holiday markets offering hand-carved toys and ornaments, spicy glühwein and authentic gingerbread. Come celebrate an old fashion family Christmas with your chosen OUTbound family!
The waft of delicious mulled wine and roasting chestnuts, along with a backdrop of festive sounds and twinkling lights ensure the air is filled with delightful Christmas-time cheer. Remaining true to their roots, many stall-holders at these wonderfully festive markets are local trades-people selling hand-crafted gifts and decorations, along with a delicious array of seasonal food to tempt you. From sizzling bratwurst and candied toasted almonds to Christmas cookies known as Lebkuchen, not forgetting the fruity festive favorite, stollen.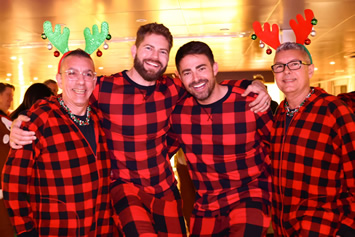 You'll also have the chance to start your holiday vacation a few days early and join us for a weekend in Munich before we set sail. We'll have a tour of the city lights at night, visits to two of the biggest & most festive Christmas markets in Europe, and transportation to our ship in Regensburg... all included with the pre-cruise package.
The crown jewel of Bavaria, Munich is a progressive, open-minded city, eager to show off its hospitable nature. The Müllerstraße neighborhood is considered to be the "gay area" of Munich, with lots of gay bars, clubs, saunas, and cafés. It's also home to lots of shops, galleries, and theatres and centrally located to all of the major Christmas markets of Munich.
Immerse yourself in the pageantry of Christmas the European way. An extra special treat awaits you on our Christmas Markets Cruise. Enjoy the splendour of the Danube at Christmas time with this all-gay cruise itinerary. Experience the majesty of Budapest, uncover the eastern charm of Bratislava and wander the twinkling festive markets of Vienna. Celebrate the festive season in style!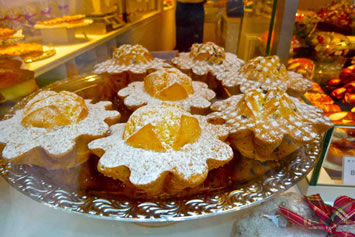 All Included! All Inclusive!
Remember, EVERYTHING is included from the moment you step onboard! From your food and alcohol to the incredible entertainment to the tours we'll take together as a family and even the minibar in your suite or stateroom... everything is included in the price of your trip! The only thing you'll need to budget for is your airfare, transport to and from the ship and any souvenirs or purchases you make while touring some of the incredible cities we'll visit together.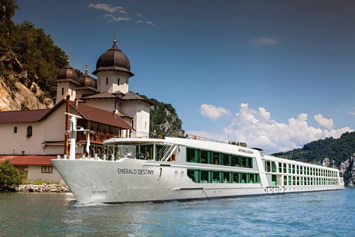 Your Ship - Emerald Destiny
The Emerald Destiny is specially designed to traverse the Danube river in style with tasteful and modern décor visible throughout the ship. The Reflections Restaurant on the Vista Deck is the center of our dining experience, where oversized windows offer excellent views of the passing landscapes. For a more intimate experience, head to the contemporary Horizon Bar & Lounge, where OUTbound entertainment will be enjoyed by all.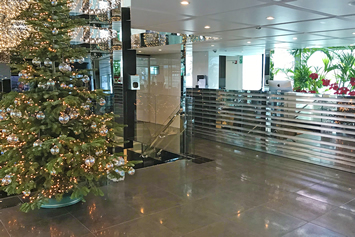 Boasting more than ninety suites and staterooms, the Emerald Destiny has a lot to offer when it comes to comfort, with features that would be aligned with those of a world-class hotel. You can spend your time on this vessel relaxing as picturesque views pass by, watching them from your private balcony as we sail past.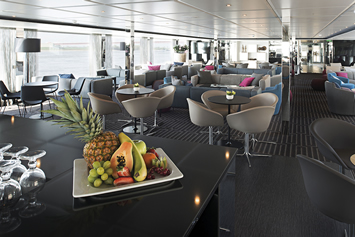 Horizon Lounge
The tastefully decorated Horizon Lounge, located at the front of the ship, was named for the superb views of the passing coastlines that guests will enjoy courtesy of the oversized windows. Intimate seating areas are peppered throughout the open floor plan, allowing you the choice of going all in with the group or enjoying a little private time between you and a smaller gathering of friends. The lounge also has a self-service beverage station with a machine that dispenses espresso, capuccino, mochaccino, hot chocolate, and hot water for a selection of teas... an OUTbounder favorite!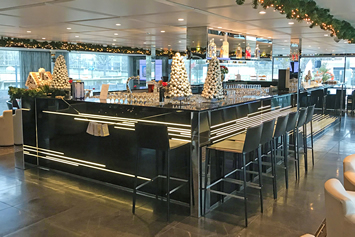 Horizon Bar
Enjoy a cocktail at the Horizon bar with us while watching a spectacular sunset together. Located within the Horizon Lounge, you'll find originality and innovation, with a new twist on the ol' purveyors of gin and tonics and buckets of beer. This is the place where you'll spend an enjoyable evening nursing a cocktail with great friends, old and new! Whether you're in the mood for a mixed drink or glass of wine, we invite you to join us and enjoy one of best bars at sea with your fellow OUTbounders. Order your favorite festive holiday cocktail you'll savor after a long day exploring the Christmas markets.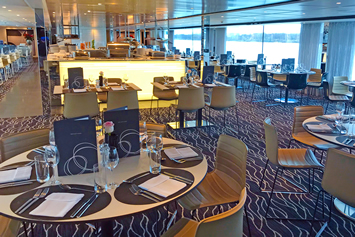 Reflections Restaurant
Get set for a gastronomic adventure in Reflections Restaurant, your go-to dining area for sumptuous local dishes expertly prepared by skilled chefs. Spacious and contemporary, with flexible seating options, this is your space to discover the local tastes of the season. Located on the Vista Deck, the restaurant comfortably seats all our OUTbounders at tables which vary in size with a panoramic view. The atmosphere is casual but elegant. The selection and presentation of the food is outstanding, and you'll find the quality of service is unmatched.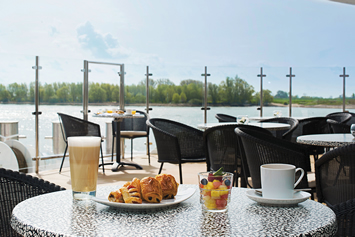 Terrace Café
An idyllic spot for breakfast and light lunches, the Terrace Café is a unique indoor/outdoor dining area located just forward of the Horizon Lounge. With a commanding position at the very front of the ship, inspiring views are guaranteed. This open-air bow seating and eating area has electric doors that make it easy to carry a drink or meal outside for a unique snack experience... snacks that are available throughout the day near the ship's lounge at the end of the bar.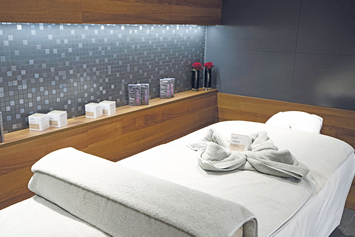 Wellness Area
Your space for relaxation and rejuvenation, the onboard Wellness Area provides everything from facial treatments to massages, delivered by a trained beauty therapist. Downstairs on Riviera Deck is the a hairdresser, where you can get haircuts, head and neck massages, and other services. Be sure to book quickly at the front desk when you embark because availability is limited.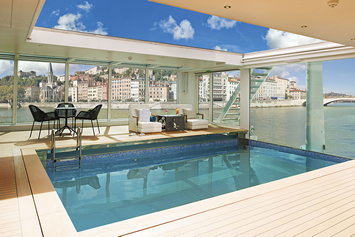 Indoor Pool
The indoor pool is located aft on Horizon Deck. It's surrounded by a glass-walled lounge area with chairs, tables, dressing rooms, and a bar with a self-service machine for coffee drinks and tea. The heated pool, complete with a retractable roof, is the perfect way to spend an afternoon or evening, soaking with friends while watching the incredible scenery of the Danube drift by.
Gay Münich
The crown jewel of Bavaria, Munich is a progressive, open-minded city, eager to show off its hospitable nature. The Müllerstraße neighborhood is considered to be the "gay area" of Munich, with lots of gay bars, clubs, saunas, and cafés. It's also home to lots of shops, galleries, and theatres and centrally located to all of the major Christmas markets of Munich. Walking around this part of town, you'll see rainbow flags hanging from the windows, while queer couples walk quietly holding hands.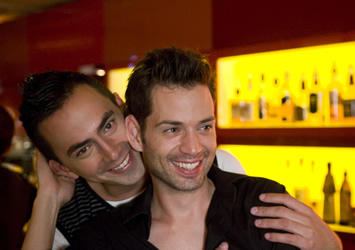 In the evening, you'll find LGBTQ+ folk meandering through the streets enjoying the city lights, drag queens smoking in the doorways of bars, and even loud dance music bumping from a few of the clubs. The best part is how most of the restaurants, cafés and bars have outdoor terraces and beer gardens, which is perfect for enjoying a drink or bite to eat, even in the middle of December.
Danube River Christmas Markets
All-Gay Cruise 2023 Itinerary


Date

Port

Arrive

Depart

08 Dec
Regensburg, Germany
4 PM
Overnight
09 Dec
Regensburg, Germany
8 PM
10 Dec
Passau, Germany
9 AM
6 PM
11 Dec
Durnstein, Austria
8 AM
12:30 PM

11 Dec

Krems, Austria
2 PM
10 PM
12 Dec
Vienna, Austria
11 AM
11 PM

13 Dec

Bratislava, Slovakia
8 AM
9 PM
14 Dec
Budapest, Hungary
10 AM
Overnight

13 Dec

Budapest, Hungary
10 AM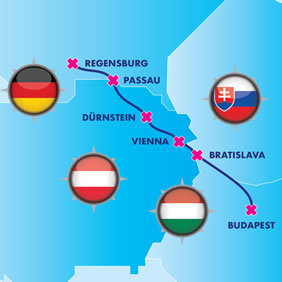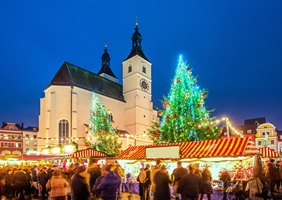 Day 1 - Regensburg, Germany
Today we'll start our holiday river cruise in Regensberg. After boarding our ship and settling in, you'll meet our crew and your OUTbound family before having dinner. We're in Regensburg overnight, so enjoy tonight however you'd like. Explore the city and take in all the Christmas lights on your own while shopping the countless craft stalls before returning back onboard to start our OUTbound holiday traditions!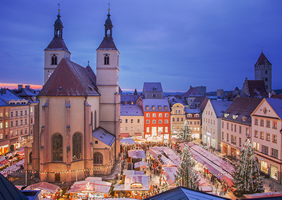 Day 2 - Regensburg, Germany
Today you'll discover Regensburg, one of Germany's hidden gems with a magnificent walking tour. Immerse yourself in Regensburg's festive atmosphere as you admire the city's twinkling lights and visit historical sights including the medieval stone bridge, the Altes Rathaus (Old Town Hall) and the Gothic-style St. Peter's Cathedral. Delight in the charm of the Christmas market in front of the cathedral and enjoy the atmosphere before heading back to our ship at your leisure.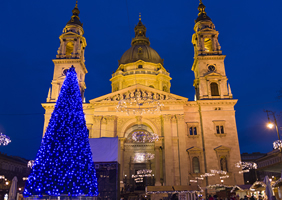 Day 3 - Passau, Germany
Known as "the city of the three rivers" and founded more than 2,000 years ago, Passau is one of the oldest cities in Bavaria. Today your guide will take you through the stunning Old Town and pause to admire its imposing baroque cathedral. Along the way, gaze up at the twinkling lights and enjoy the scent of spiced gingerbread and roasted almonds from street vendors. Afterward, enjoy free time to browse the stalls of local artisan craftsmen, who display all manner of handmade gifts from unique woolens, delicate glass ornaments and traditional wooden toys.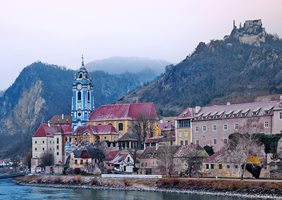 Day 4 - Durnstein & Krems, Austria
Today we'll sail through a serene tapestry of terraced vineyards, forested slopes, charming towns and castle ruins in Austria's Wachau Valley, celebrated as perhaps the most scenic stretch of the Danube. Included tour will take you into the UNESCO World Heritage-listed Melk Abbey, a Baroque palace that was gifted to monks almost a millennia ago. Enjoy the vistas of the splendid Wachau Valley and the Danube River during a scenic afternoon of cruising.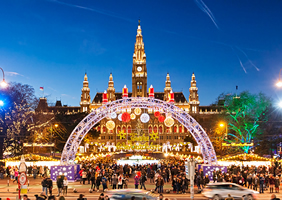 Day 5 - Vienna, Austria
Welcome to Vienna, where you will have every opportunity to discover the Baroque cityscape and a generous peppering of imperial palaces during your guided tour of the Ringstrasse and the city center, both by coach and on foot. The yuletide season transforms Vienna's beautiful squares into delightful Christmas markets. Festive lights illuminate the Old Town. The Schönbrunn market, set in front of the baroque Hapsburg summer palace, and Freyung market, nestled in the city center, are the perfect destinations for unique handmade decorations. Seasonal music and choral singing provide a merry ambience to holiday festivities in Am Hof Square, while the market at Belvedere Square mixes excellent shopping with views of the stately palace and adjacent lake to create a fairytale atmosphere.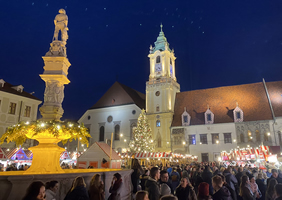 Day 6 - Bratislava, Slovakia
Today, we'll visit Bratislava and learn about Slovakian culture. A sightseeing tour of the city will introduce you to its architectural wonders, including the Gothic St. Martin's Cathedral and the neo-Renaissance Slovak National Theatre. The aroma of mulled wine and Slovakian delicacies mixes with the sound of Christmas carols to turn Bratislava's historic Old Town into a winter wonderland during the holiday season. The medieval Bratislava Castle overlooks lighted streets that give the city a fairytale glow. Vendors in Hlavné Námestíe Square display authentic artisan handicrafts, and a specially decorated Christmas tram adds to the holiday atmosphere as it transports visitors to the different fairs spread out around the city.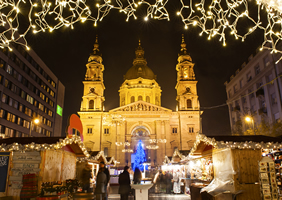 Day 7 - Budapest, Hungary
Offering a rich abundance of historical whimsy, Budapest is known for its architectural collections and the historic monuments that pepper both sides of the Danube. This UNESCO World Heritage-listed city is a true delight at Christmas, when the locals take to thermal baths to beat the crisp chill of the season. Today, your OUTbound guided coach tour will introduce you to Andrássy Avenue and the neo-Renaissance façades of the townhouses found there. This evening, enjoy a traditional Hungarian folklore show.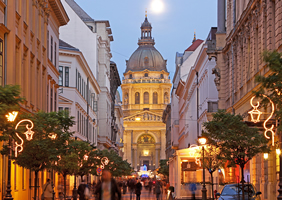 Day 8 - Budapest, Hungary
The Christmas season adds another layer of beauty to the already romantic charms of Budapest. Nestled in the heart of Pest lies Vörösmarty Square, home to the city's largest yuletide market. The enticing aroma of national specialties permeates the air as vendors display traditional and contemporary handicrafts. At the cozy St. Stephen's Basilica market, mulled wine keeps revelers warm as nightly light shows illuminate the church's facade. Across the Danube in Buda, Old-World allure mingles with festivities in Fo Square, where seasonal events and an outdoor ice rink entertain.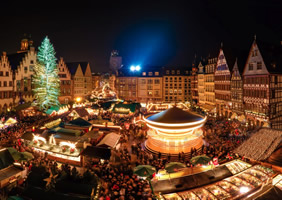 Optional Pre-Cruise Munich Holiday Extension
December 05 - 08, 2023
4 Day/3 Night Package
December 06 - 08, 2023
3 Day/2 Night Package
Tuesday, December 05, 2023
Early Munich Arrival
Welcome to Munich, one of the most festive cities in Europe with its many German Christmas markets and Advent activities found throughout this sensational Bavarian city. The city has four main Christmas markets, each with their own unique highlights and experiences. Christmas in Munich is synonymous with a quintessential holiday... sparkling Christmas trees, mulled wine, fairy lights, festive fare, chocolate treats and Christmas carols ringing out across the city. Delve in and find out all about the Munich Christmas markets and the cornucopia of Christmas cheer in this festive city.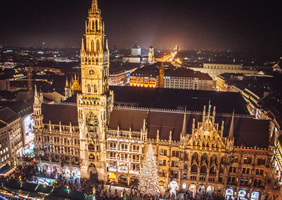 Wednesday, December 06, 2023
Welcome Cocktail Party & Light Festival
Let your OUTbound holiday begin! Germany is a country that rocks yuletide joy, and Munich is the crown jewel of the Bavarian Christmas crown since the entire city literally sparkles throughout the season. Today we get the party started with our welcome cocktail toast and a night tour of one of the largest Christkindlimarkts in Munich. No one does mulled wine better than the Germans, so make sure you get your fill of glühwein as you stroll through the festive stalls. Our host hotel is just a few minutes walk away, so you do you and OUTbound away!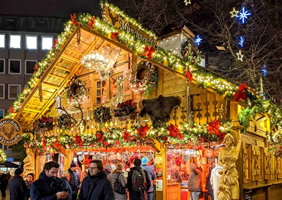 Thursday, December 07, 2023
Munich City Tour & Christmas Markets
Get to know this amazing city today with your included tour of Munich, decked out in all its glory for the holidays. See for yourself why Munich has developed a reputation for being one of Europe's cleanest, wealthiest cities, with a sky high standard of living that regularly pushes it to the top of "most livable cities in the world" lists. During our tour, we'll hit another of Munich's main Christmas markets. The markets are spread out across multiple venues, meaning lots of opportunities for varied Christmas sightseeing. Spend as much time in the festivities as you like!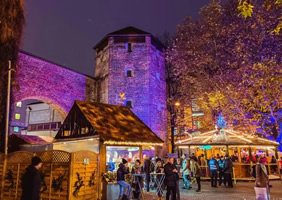 Friday, December 08, 2023
Transfer to Regensburg
Spend your final morning in Munich enjoying one of the many local cafés or do a little last minute shopping at one of the markets. The morning is yours to do with as you please. Explore the area around our hotel with your free time. This afternoon, we'll check out of our host hotel and transfer to our ship in Regensburg by coach. Our trip will take us through the breathtaking Bavarian Alps. We'll arrive at our ship docked in Regensburg and check into our staterooms.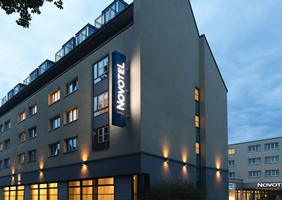 Munich Host Hotel
Our OUTbound host hotel is none other than the Novotel Muenchen City Hotel, centrally located in Munich and just minutes from the Müllerstraße, considered to be the center of the Glockenbachviertel... heart of the city's gay scene. Regularly changing resident artists ensure a steady flow of creative input.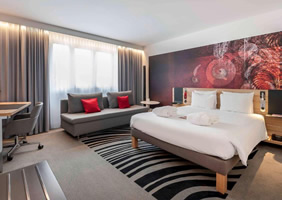 The 4-star Novotel München City hotel provides air-conditioned rooms with hot drinks facilities. Rooms are decorated in soft colors and feature large windows. The Flave restaurant and bar serves local and international cuisine. Guests can also enjoy some drinks. Adults can relax in the sauna