Azamara Pursuit
Ship Facts
Occupancy: 702
Crew: 408
Tonnage: 30,277
Length: 592 feet (180 m)
Beam: 84 feet (25 m)
Draft: 19.85 ft
Cruise Speed: 18.5 knots
Registry: Malta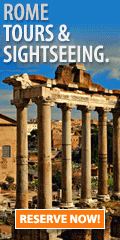 Italian Odyssey All-Gay Cruise 2024
8 days from Rome to Venice, Italy
September 1 – 8, 2024
Azamara Cruises Azamara Pursuit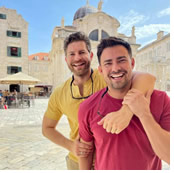 Join us on luxury Azamara Pursuit as we cruise the very best of Italy, Montenegro & Croatia, from Rome to Venice during this fascinating 8-day all-gay cruise itinerary. On our spectacular Italian gay cruise, you'll experience the epic history, beautiful landscapes and delicious food Italians cherish. Discover the magnificent Amalfi Coast from Sorrento where you'll have your pick of visiting Naples, Pompeii or Capri for the day. Explore historic Kotor, Montenegro's oldest coastal town. Next we'll spend the day in the medieval stronghold of Dubrovnik and its famed city walls before stopping in undiscovered Zadar with its unique culture. And a rare overnight in Venice lets you immerse yourself in Italy's most romantic city. Let our Italian gay cruise whisk you away to charming villages and legendary cities with a unique itinerary that lets you discover Italy as it was meant to be experienced.
Rome, Capri, Dubrovnik & Venice
Welcome to Italy, one of our favorite countries in the world! Be sure to pack your bags and leave your worries at home. That includes worrying about onboard expenses. When you travel with us to Italy, you can expect the following complimentary inclusions...
Select standard spirits, international beers and wines
Bottled water, soft drinks, specialty coffees and teas
Self-service laundry
Concierge services for personal guidance and reservations!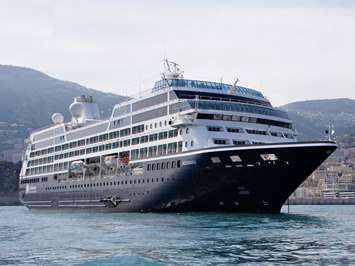 Your Ship - Luxury Azamara Pursuit
Launched in 2018, Azamara Pursuit provides our gay cruise guests with even more unforgettable, unique, and immersive experiences than ever before. As an upmarket cruise line, Azamara is known for small ship cruising and with a maximum of 702 guests in 351 staterooms on its ship, the experience feels exclusive and intimate.
Seven restaurants, cafes and lounges, a refreshing pool, sun-drenched decks, a revitalizing spa… the list goes on. With so many areas to explore onboard Azamara Pursuit, you'll have all the amenities of a mega ship while still enjoying the intimacy and personal attention you've come to expect from Azamara.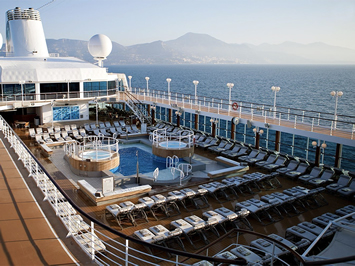 Pool Deck
The main pool is the heart of our ship, the social hub where we connect, relax, sun and celebrate. Located mid-ship on Deck 9 just steps from the Windows Café and Patio Grill. The large pool is flanked by two hot tubs, and the nearby pool bar offers at-your-deck-chair drink and snack delivery. At night, the pool deck transforms into an open air party space for dancing under the stars. Strut your stuff and show off your costumes during our themed dance parties, or get a spot up on Deck 10 and admire all the action from above.
Cabaret Lounge
The Cabaret Lounge onboard the Azamara Pursuit is where our entertainers shine on stage! The main theater features amazing performers in an intimate, engaging atmosphere. A mix of favorites and new talent makes for an unforgettable LGBTQ+ onboard experience. But it doesn't stop there. The Cabaret Lounge is where we'll have all of our OUTbound family moments, from staff introductions to final goodbyes. Each night we'll gather to share stories of the day's adventures and look forward together to what's yet to come.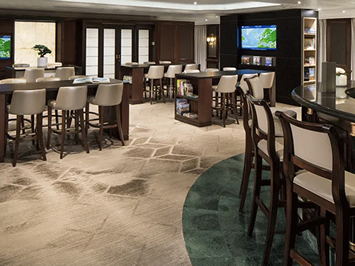 The Den
Located mid-ship on Deck 5, The Den is the perfect spot to enjoy a pre-dinner cocktail while listening to the sounds of a classical grand pianist. The Den features a flat-screen TV and full bar, making it the ideal place to unwind with friends, watch special events or simply sit around the tall tables and exchange stories with your fellow OUTbounders. Enjoy a glass of wine or a mixed drink while the talented pianist entertains you with soothing background music. The Den is also the place to get inspired with travel tools that transport you to all corners of the world with travel books, guides, and destination-focused activities.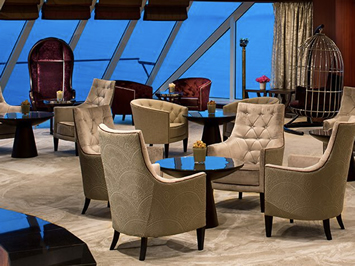 The Living Room
The Living Room, located forward on Deck 10, is a fantastic space for grabbing a drink with friends and enjoying panoramic views of the Mediterranean Sea and the gorgeous Italian coastlines. Late night is when our featured DJs spin the latest dance tracks along with your classic favorites. The Living Room is also the place where our guests take their turn on stage during karaoke nights. And OUTbound ABBA night lets you channel your inner dancing queen and recreate your favorite Meryl moments in true Mamma Mia style.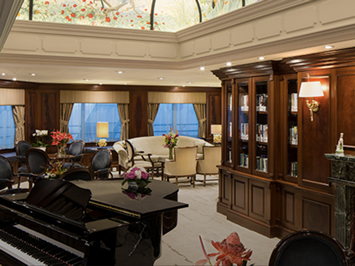 The Drawing Room
This library is one of the quiet jewels of our ship, a peaceful and beautifully appointed space for reading or relaxing after dinner. Browse the collection or simply relax in the tranquil atmosphere. But the library goes beyond just paper, with interactive digital tabletops available where you can make your own postcards and post to social media to share your OUTbound adventures with the friends back home. The library is also home to the impressive Inspiration Center, a digital way to explore the world with OUTbound and gain inspiration for your next voyage.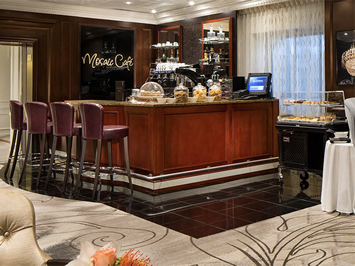 Mosaic Café
The Mosaic Café is the coffee bar at the heart of Deck 5 serving cakes and light snacks. With the couple of small shops in this area, it has a vibrant village square vibe and is a great place to meet friends for a coffee and watch the world go by. The onboard coffee corner may very well become your favorite spot on the entire ship. It's also one of the most stylish places, too. You'll find all your favorite coffee drinks here, and of course everything is made to order just the way you like. Whether you're looking for your favorite iced latte, a Nespresso specialty coffee or exotic herbal tea, Mosaic Café is the place.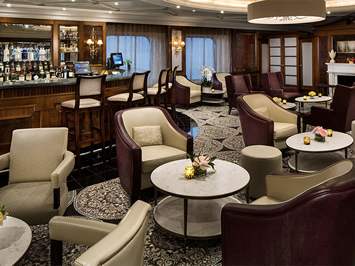 Discoveries Lounge
Located just outside the main restaurant, this busy bar is a favorite gathering place for pre- and post-dinner drinks and conversation. Meet up with your fellow OUTbounders for a drink to talk about the day's adventures before sitting down to dinner. Bar service includes a full selection of fine wines, mixed drinks, and premium spirits… plus the entertaining banter of our friendly bartenders. The Discoveries Lounge is the place to come to be social and connect with old friends and new.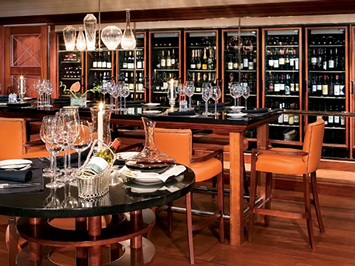 The Wine Cellar
You'll be hard-pressed to find a more extensive collection of limited production, small label and rare vintage wines anywhere on the high seas. And with vintages from France to California, and Argentina to South Africa, you're sure to find a wine to suit your palate and your OUTbound journey. The knowledgeable sommeliers can help you pick the perfect wines for your evening meal, and be sure to join the Wine Corner gatherings... perfect for discovering and enjoying new wines and benefiting from the thoughtful guidance of a knowledgeable sommelier.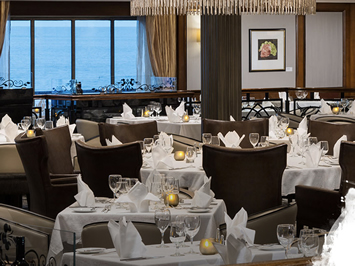 Discoveries Restaurant
In the main restaurant, you'll discover the world through dishes and flavors from the places we visit and give your dining a little local flavor and enjoy on shore tastes onboard! Of course, you will also have a wide variety of nightly selections such as filet mignon with black truffle sauce. With its elegant yet lively dining and décor, it's easy to see why this restaurant is the culinary heart of our ship and a hands-down favorite. Choose to have a romantic night at a table for two, or ask to be seated as part of a larger group of fellow OUTbounders... which we highly recommend!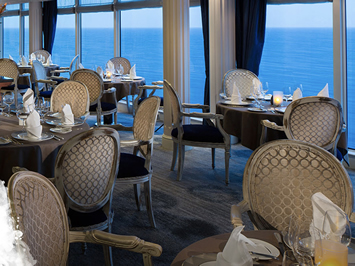 Aqualina
At Aqualina, you'll find some of Italy's most authentic dishes. Pastas made from scratch, traditional and authentic recipes, and scrumptious vegetarian dishes that make sure there's something for everyone. Savor a traditional Spaghetti Bolognese, enjoy an Eggplant Parmesan or a hearty Rigatoni Pomodoro with fresh veggies. But save room. You won't be able to say no to famous desserts like sorrento lemon liqueur mousse and hazelnut chocolate soufflé. The chefs love to be inspired, so after an on-shore visit to a local market, you can expect a delectable dish so authentic, you'll feel like you're still in town. Aqualina is a specialty restaurant onboard and can be enjoyed for $30 per person, per meal.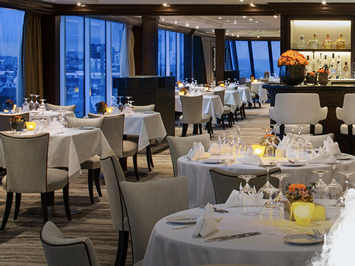 Prime C
When it comes to steaks, cooked to perfection, Prime C is the place to be. You'll also have your choice of crab and lobster cakes with fennel-aioli, herb-coated rack of lamb, duck confit and Chilean sea bass... all paired with savory sides. And last, but certainly not least, sample Azamara's famous mini cinnamon-sugar donuts with dipping sauces for dessert. But at Prime C, you're in for more than delectable dining. Expect a great evening with stunning views and lush décor. And of course, the company can't be beat. Prime C is a specialty restaurant onboard and can be enjoyed for $30 per person, per meal.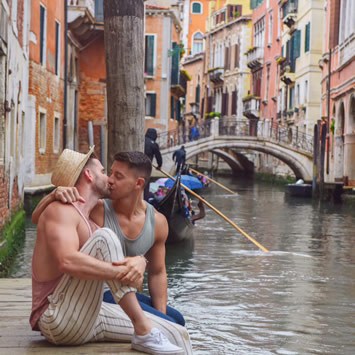 Italian Odyssey
Italy, Montenegro & Croatia
All-Gay Cruise 2024 Itinerary


Date

Port

Arrive

Depart

01 Sep
Rome (Civitavecchia), Italy
6 PM
02 Sep
Sorrento, Italy
8 AM
8 PM
03 Sep

Fun Day at Sea!

04 Sep
Kotor, Montenegro
9 AM
10 PM

05 Sep

Dubrovnik, Croatia
8 AM
6 PM
06 Sep
Zadar, Croatia
9 AM
6 PM

07 Sep

Venice, Italy
8 AM
Overnight
08 Sep
Venice, Italy
10 AM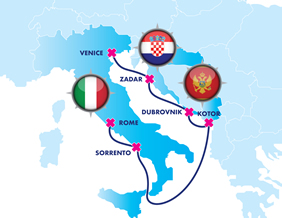 Day 1 - Rome (Civitavecchia), Italy
Always enchanting, the Eternal City will captivate you. Walk in the steps of gladiators at the Colosseum, channel your inner statesman at the Forum, or gaze up in wonder at Michelangelo's masterwork at St. Peter's Basilica. Then of course there's the Trevi Fountain, the Spanish Steps and as much gelato as your heart desires. Pasta and vino are a must, and there are plenty of places to relax and refuel after a day of exploration. Delight in the art, history and food of Rome before boarding our ship. Immerse yourself in the wonder of Ancient Rome and the Vatican as you lose yourself in one of our favorite cities.
ROME, THE ETERNAL CITY
Tour inside Vatican Museum, the iconic masterpieces of Michelangelo, and many other Roman treasures on this inspired journey. ($279/pp)
PANORAMIC ROME
Discover the wonders of Rome on this narrated sightseeing drive that includes a good deal of free time to explore independently. ($159/pp)
PASTA MAKING AT A LOCAL FARMHOUSE
Venture through the Etruscan countryside to a local farmhouse for a deliciously immersive lesson in the art of pasta making. ($179/pp)
INDEPENDENT EXPLORATION IN ROME
Embark on this self-guided excursion, ideal for those who've visited before, or who simply prefer to determine their own pace during a day in Rome. ($119/pp)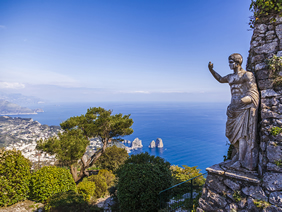 Day 2 - Sorrento (Naples, Pompeii & Capri), Italy
Sorrento is surely one of the world's most beautiful towns, built on a coast with breathtaking views overlooking the bay of Naples. The town is the key point on the Sorrentine Peninsula and is one of the most popular destinations of the entire Campania region. How will you decide to spend your day in Sorrento? Ride the ferry to the isle of Capri and take a chair lift to the very top of the island for gorgeous views. Explore the ruins of Pompeii in the shadow of Mt. Vesuvius. Or head to Naples, a city full of splendor so grand that the Italians say life is not complete without visiting it.
CAPRI: THE ISLE OF DREAMS
Spend a full day immersed in the ambiance and soaking up the sensational views found only on Capri. ($239/pp)
THE TOWN OF AMALFI
Follow the picturesque coastline to Amalfi, known for its Italian history, boutiques and panoramic vistas. ($249/pp)
NAPLES BY BIKE WITH PIZZA TASTING
Discover hidden corners and artistic treasures as you pedal through Naples with stops and pizza along the way. ($169/pp)
PANORAMIC SORRENTO
Enjoy a spectacular overview of Sorrento and the Amalfi Coast on this panoramic 1.5-hour sightseeing drive. ($129/pp)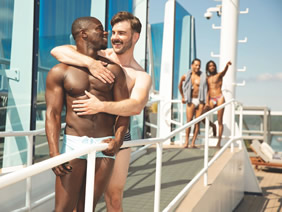 Day 3 - Fun Day at Sea!
Spend the day sailing in style aboard your boutique hotel at sea as we cruise the Messina Strait... the narrow strip of water between the island of Sicily and mainland Italy. This skinny strip of water is just 2 miles wide at its narrowest point. Indulge in a treatment at Sanctum Spa, stay ship shape with a class at our fitness center, or lounge the day away on our sunny pool deck. In the evening, savor inspired Italian cuisine at Aqualina, or relish in a classic steakhouse experience at Prime C. Plus, you'll find plenty of exciting evening entertainment, from thrilling shows at Cabaret Lounge to intimate performances in the Living Room.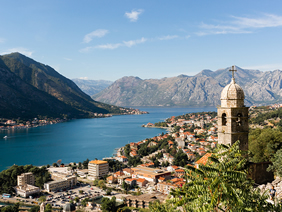 Day 4 - Kotor, Montenegro
Kotor is filled with churches, shops, bars, restaurants, and hidden piazzas. Wander any of the narrow, twisting streets to discover the perfect cafe and enjoy a sampling of Montenegrin wines like the red Vranac or dry white Krstac. The entire city of Kotor is surrounded by stone, both in the form of imposing Mount Saint John and by towering ancient walls, creating a cozy feeling of protection when you walk the cobblestone streets. The charming streets of Old Town are filled with 12th century Baroque palaces and Romanesque churches. For a unique perspective, climb to the fortress on the hill for a view like no other.
KOTOR CULINARY EXPERIENCE
Learn to prepare Kotor cuisine in the home of Vlasta Mandic, a local legend who enjoys sharing the culinary arts over homemade brandy. ($109/pp)
MEDIEVAL KOTOR WALKING TOUR
Start the walking tour with a fabulous view of the town walls and continue to the biggest square of the Old Town built during Venetian rule. ($39/pp)
WONDERS OF MONTENEGRO
Discover the rugged natural beauty, charming local villages and the ancient royal capital of Montenegro on this eye-opening excursion. ($79/pp)
KOTOR BY LAND & SEA
Sail to the tiny islet Our Lady of the Rocks and explore the medieval coastal village of Kotor. ($99/pp)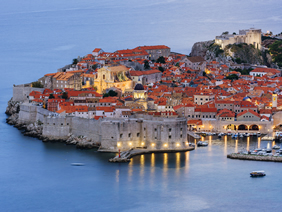 Day 5 - Dubrovnik, Croatia
Where city meets coastline, you will arrive in this beautiful 12th century walled city in Croatia. From the moment you step beyond the stone walls that protect Dubrovnik, you'll understand what makes it so special. This UNESCO World Heritage Site is adorned with charming squares and centuries-old red-roofed buildings. Walk the walls for a spectacular view of the city, and maybe even dare to recreate your own 'walk of shame' as seen on HBO's "Game of Thrones"!
WALK THE HISTORIC WALLS OF OLD TOWN
Discover Dubrovnik's medieval walls on this walking tour like no other. Enjoy time to explore Old Town on your own. ($129/pp)
TASTE OF STON: THE OYSTER CAPITAL OF CROATIA
Tantalize your senses on a boat journey to the town of Ston, the Oyster Capital of Croatia, for a unique oyster-tasting experience. ($139/pp)
SEA KAYAKING IN DUBROVNIK
Paddle your kayak along Dubrovnik's breathtaking city walls on this journey over the waters of the Adriatic Sea to a secluded cave and beach. ($89/pp)
SEASIDE RESORT OF CAVTAT
Journey to the resort of Cavtat where you'll enjoy free time for a leisurely seaside stroll past the yachts, cafés, and shops. ($69/pp)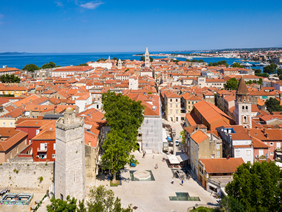 Day 6 - Zadar, Croatia
Old meets new in beautiful, undiscovered Zadar. Walk quaint cobblestone streets from a bygone era that give way to modern marvels of architecture and technology. Escape the city and explore two national parks, Krka and Plitvice, both teeming with natural beauty and breathtaking waterfalls. Afterwards, sample Maraschino, a traditional liqueur made from marasca cherries that has been continuously produced in traditional Zadar distilleries since the 16th century.
KRKA NATIONAL PARK
Embark on an exploration of Krka National Park, a magical landscape of waterfalls and gorges. ($89/pp)
ZADAR ON FOOT & THE HISTORY OF MARASCHINO
Discover the amazing history of Maraschino, a local spirit produced in Zadar since the 17th century using the fruit of the marasca cherry tree. ($59/pp)
HIKING PAKLENICA NATIONAL PARK
Embark on a guided hike through a wilderness of breathtaking canyons, caves, cliffs, and natural works of art known locally as "skrape". ($119/pp)
ZADAR BY BIKE
Cycle the thousand-year-old city of Zadar, riding along ancient Roman roads and passing architecture that spans the ages. ($109/pp)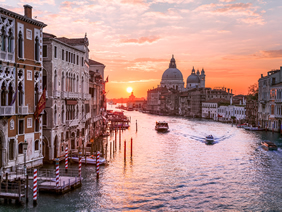 Day 7 - Venice, Italy
We end our cruise in Venice, arguably the most captivating and romantic city in the world. Ancient cobblestone streets lined with tiny ceramic and glass workshops and tempting cafes wind their way between fabulous palazzos and vast town squares along the banks of the canals.
SECRETS OF VENICE ON FOOT
Get to know the ins and outs of exquisite Venice on this thorough and informative guided walking tour. ($119/pp)
VENETIAN PANORAMA BY BOAT
Glide along broad waterways and across the Venetian lagoon to discover some of the most picturesque islands and precious landmarks of Venice. ($89/pp)
EVENING GONDOLA SERENADE
Embark on the quintessential romantic adventure, a gondola ride through the Venetian canals by twinkling evening light. ($149/pp)
MURANO GLASS AND BURANO LACE
Board a motorboat for an exclusive cruise to the islands of Murano and Burano, both set in the Venetian Lagoon and home to master artisans. ($109/pp)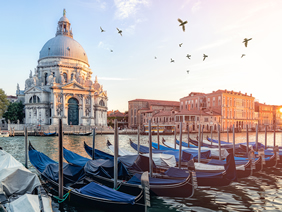 Day 8 - Venice, Italy (Disembark)
The city offers colorful markets, classic Baroque architecture and breathtaking sights like the Rialto Bridge, the Doge's Palace, and the Bridge of Sighs. Take to the water and explore the Venice canals on a gondola. As you make your way through the city, you'll find plenty of opportunities to shop, sample delicious Veneto wines, or people watch in Piazza San Marco.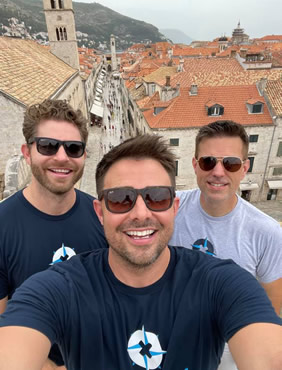 Guests: 702 • Crew: 408 • Gross Tonnage: 30,277 • Length: 592 ft. (180 m) • Beam: 84 ft. (25 m) • Draft: 19.85 ft • Cruise Speed: 18.5 knots • Registry: Malta

Italian Odyssey All-Gay Cruise 2024 Rates

Owners Suite
Spacious living room with separate master bedroom with queen size bed and 40" television. 55" television in living room. Marble master bathroom. Dressing room with vanity and ample closet space. Floor-to-ceiling sliding glass doors in living room and bedroom. Suite Amenities: English butler service. 240 complimentary Internet minutes per guest. One free bag of laundry service per suite. Complimentary seating in specialty restaurants dining. Priority embarkation and debarkation. Complimentary in-room spirits. In-suite afternoon tea service. (Approx 603 sqft; veranda 173 sqft)
$ 11,797

Spa Suite
Located next to the tranquil Sanctum Spa. Two lower beds convertible to queen size bed. Spacious glass-enclosed bathtub. Separate rain shower. Sitting area with 55" television. Floor-to-ceiling sliding glass doors. Veranda. Mini-bar. Spa Suite features: Luxurious cotton bed linens with duvet. Terry bathrobes and slippers. 24-hour room service. Fresh-cut flowers. Shoe-shine service. Turndown treats. 240 complimentary Internet minutes per guest. One free bag of laundry service per suite. Complimentary specialty dining. (Approx 414 sqft; veranda 60 sqft)
$ 9,797

Ocean Suite
Spacious living room with separate master bedroom with queen size bed and 40" television and another 55" television in living room. Marble master bathroom. Dressing room with vanity and ample closet space. Floor-to-ceiling sliding glass doors in living room and bedroom. Suite Amenities: English butler service. 240 complimentary Internet minutes per guest. One free bag of laundry service per suite. Complimentary seating in specialty restaurants dining. Priority embarkation and debarkation. Complimentary in-room spirits. In-suite afternoon tea service. (Approx 478 sqft; veranda 173 sqft)
$ 8,697

N1 - Continent Suite
Two beds convertible to one queen size bed. 55" television. Roomy bathroom with shower. Some also feature a tub. Floor-to-ceiling sliding glass doors. Veranda. Refrigerator with mini-bar. Continent Suites include: Select standard spirits, international beers and wines. Bottled water, soft drinks, specialty coffees and teas. Self-service laundry. English butler service. 235 complimentary internet minutes per person. One free bag of laundry service per suite. Complimentary specialty restaurants dining. Afternoon tea service in-suite. (Approx 266 sqft; veranda 60 sqft)
$ 7,697

N2 - Continent Suite
Two beds convertible to one queen size bed. 55" television. Roomy bathroom with shower. Some also feature a tub. Floor-to-ceiling sliding glass doors. Veranda. Refrigerator with mini-bar. Continent Suites include: Select standard spirits, international beers and wines. Bottled water, soft drinks, specialty coffees and teas. Self-service laundry. English butler service. 235 complimentary internet minutes per person. One free bag of laundry service per suite. Complimentary specialty restaurants dining. Afternoon tea service in-suite. (Approx 266 sqft; veranda 60 sqft)
$ 7,397

P1 - Veranda Plus Stateroom
Two beds convertible to one queen size bed and a 40" television. Roomy bathroom with shower. Floor-to-ceiling sliding glass doors. Veranda. Refrigerator with mini-bar. Veranda Plus amenities: Select standard spirits, international beers and wines. Bottled water, soft drinks, specialty coffees and teas. Self-service laundry. Concierge services. 120 complimentary internet minutes per person. One free bag of laundry service per suite. One night of complimentary specialty dining for two. Priority embarkation and debarkation. (Approx 175 sqft; veranda 40 sqft)
$ 5,297

P2 - Veranda Plus Stateroom
Two beds convertible to one queen size bed and a 40" television. Roomy bathroom with shower. Floor-to-ceiling sliding glass doors. Veranda. Refrigerator with mini-bar. Veranda Plus amenities: Select standard spirits, international beers and wines. Bottled water, soft drinks, specialty coffees and teas. Self-service laundry. Concierge services. 120 complimentary internet minutes per person. One free bag of laundry service per suite. One night of complimentary specialty dining for two. Priority embarkation and debarkation. (Approx 175 sqft; veranda 40 sqft)
$ 4,997

P3 - Veranda Plus Stateroom
Two beds convertible to one queen size bed and a 40" television. Roomy bathroom with shower. Floor-to-ceiling sliding glass doors. Veranda. Refrigerator with mini-bar. Veranda Plus amenities: Select standard spirits, international beers and wines. Bottled water, soft drinks, specialty coffees and teas. Self-service laundry. Concierge services. 120 complimentary internet minutes per person. One free bag of laundry service per suite. One night of complimentary specialty dining for two. Priority embarkation and debarkation. (Approx 175 sqft; veranda 40 sqft)
$ 4,697

V1 - Veranda Stateroom
Two beds convertible to one queen size bed. 40" flat-screen television. Roomy bathroom with shower. Floor-to-ceiling sliding glass doors. Veranda. Refrigerator with mini-bar. USB ports under bedside reading lamps. In-room safe. Thermostat-controlled air conditioner. All Veranda Staterooms include: Select standard spirits, international beers and wines, bottled water, soft drinks, specialty coffees and teas. Self-service laundry. Concierge services. (Approx 175 sqft; veranda 40 sqft)
$ 4,397

V2 - Veranda Stateroom
Two beds convertible to one queen size bed. 40" flat-screen television. Roomy bathroom with shower. Floor-to-ceiling sliding glass doors. Veranda. Refrigerator with mini-bar. USB ports under bedside reading lamps. In-room safe. Thermostat-controlled air conditioner. All Veranda Staterooms include: Select standard spirits, international beers and wines, bottled water, soft drinks, specialty coffees and teas. Self-service laundry. Concierge services. (Approx 175 sqft; veranda 40 sqft)
$ 4,197

V3 - Veranda Stateroom
Two beds convertible to one queen size bed. 40" flat-screen television. Roomy bathroom with shower. Floor-to-ceiling sliding glass doors. Veranda. Refrigerator with mini-bar. USB ports under bedside reading lamps. In-room safe. Thermostat-controlled air conditioner. All Veranda Staterooms include: Select standard spirits, international beers and wines, bottled water, soft drinks, specialty coffees and teas. Self-service laundry. Concierge services. (Approx 175 sqft; veranda 40 sqft)
$ 3,997

04 - Ocean View Stateroom
Two beds convertible to one queen size bed. 40" flat-screen television. Roomy bathroom with shower. Refrigerator with mini-bar. USB ports under bedside reading lamps. In-room safe. Amenities: Terry bathrobes and slippers. 24-hour room service. Luxury soaps and fine toiletries. Welcome fruit basket. Fresh-cut flowers. Tote bag. Complimentary use of binoculars and shoe-shine service. Turndown treats. Select standard spirits, international beers and wines. Bottled water, soft drinks, specialty coffees and teas. Self-service laundry. Concierge services. (Approx 143 sqft)
$ 3,497

05 - Ocean View Stateroom
Two beds convertible to one queen size bed. 40" flat-screen television. Roomy bathroom with shower. Refrigerator with mini-bar. USB ports under bedside reading lamps. In-room safe. Amenities: Terry bathrobes and slippers. 24-hour room service. Luxury soaps and fine toiletries. Welcome fruit basket. Fresh-cut flowers. Tote bag. Complimentary use of binoculars and shoe-shine service. Turndown treats. Select standard spirits, international beers and wines. Bottled water, soft drinks, specialty coffees and teas. Self-service laundry. Concierge services. (Approx 143 sqft)
$ 3,197

06 - Ocean View Stateroom
Two beds convertible to one queen size bed. 40" flat-screen television. Roomy bathroom with shower. Refrigerator with mini-bar. USB ports under bedside reading lamps. In-room safe. Amenities: Terry bathrobes and slippers. 24-hour room service. Luxury soaps and fine toiletries. Welcome fruit basket. Fresh-cut flowers. Tote bag. Complimentary use of binoculars and shoe-shine service. Turndown treats. Select standard spirits, international beers and wines. Bottled water, soft drinks, specialty coffees and teas. Self-service laundry. Concierge services. (Approx 143 sqft)
$ 2,997

08 - Ocean View Stateroom
Two beds convertible to one queen size bed. 40" flat-screen television. Roomy bathroom with shower. Refrigerator with mini-bar. USB ports under bedside reading lamps. In-room safe. Amenities: Terry bathrobes and slippers. 24-hour room service. Luxury soaps and fine toiletries. Welcome fruit basket. Fresh-cut flowers. Tote bag. Complimentary use of binoculars and shoe-shine service. Turndown treats. Select standard spirits, international beers and wines. Bottled water, soft drinks, specialty coffees and teas. Self-service laundry. Concierge services. (Approx 143 sqft)
$ 2,797

09 - Interior Stateroom
Two beds convertible to one queen size bed. 40" flat-screen television. Roomy bathroom with shower. Refrigerator with mini-bar. In-room safe. Amenities: Terry bathrobes and slippers. 24-hour room service. Luxury soaps and fine toiletries. Welcome fruit basket. Fresh-cut flowers. Tote bag. Complimentary use of binoculars and shoe-shine service. Turndown treats. Select standard spirits, international beers and wines. Bottled water, soft drinks, specialty coffees and teas. Self-service laundry. Concierge services. (Approx 158 sqft)
$ 2,497

10 - Interior Stateroom
Two beds convertible to one queen size bed. 40" flat-screen television. Roomy bathroom with shower. Refrigerator with mini-bar. In-room safe. Amenities: Terry bathrobes and slippers. 24-hour room service. Luxury soaps and fine toiletries. Welcome fruit basket. Fresh-cut flowers. Tote bag. Complimentary use of binoculars and shoe-shine service. Turndown treats. Select standard spirits, international beers and wines. Bottled water, soft drinks, specialty coffees and teas. Self-service laundry. Concierge services. (Approx 158 sqft)
$ 2,297

11 - Interior Stateroom
Two beds convertible to one queen size bed. 40" flat-screen television. Roomy bathroom with shower. Refrigerator with mini-bar. In-room safe. Amenities: Terry bathrobes and slippers. 24-hour room service. Luxury soaps and fine toiletries. Welcome fruit basket. Fresh-cut flowers. Tote bag. Complimentary use of binoculars and shoe-shine service. Turndown treats. Select standard spirits, international beers and wines. Bottled water, soft drinks, specialty coffees and teas. Self-service laundry. Concierge services. (Approx 158 sqft)
$ 1,997

12 - Interior Stateroom
Two beds convertible to one queen size bed. 40" flat-screen television. Roomy bathroom with shower. Refrigerator with mini-bar. In-room safe. Amenities: Terry bathrobes and slippers. 24-hour room service. Luxury soaps and fine toiletries. Welcome fruit basket. Fresh-cut flowers. Tote bag. Complimentary use of binoculars and shoe-shine service. Turndown treats. Select standard spirits, international beers and wines. Bottled water, soft drinks, specialty coffees and teas. Self-service laundry. Concierge services. (Approx 158 sqft)
$ 1,597

The fares above are per person in USD.

Port Charges & Fees of $299 per person are additional.

Single Travelers in double occupancy staterooms - 100% single supplement applies.

Payment Option 1: (Quarterly Payments)
A 25% + $300 pp ($400 Veranda & $800 pp Suites) deposit is due at the time of booking. Subsequent payments will be scheduled quarterly in three additional equal installments of 25% each between the time of booking and the final installment, which is due 90-days prior to scheduled Vacation start date.

Payment Option 2: (Monthly Payments)
A 25% deposit is due at the time of booking. Subsequent payments will be scheduled in equal monthly installments between the time of booking and the final installment, which is due 90-days prior to the scheduled Vacation start date. The number of monthly payments will depend on how far in advance you have made your reservation.

Payment Option 3: (Pay In Full)
Pay for their reservation in full at the time of booking and you're done! Unless you later make a change to your reservation, no further payments are necessary.

Cancelation Penalties (% of total) days before scheduled Vacation start date:
10% – 300 or More Days Prior to Event Start Date
20% – From 299 to 240 Days Prior to Event Start Date
40% – From 239 to 180 Days Prior to Event Start Date
60% – From 179 to 120 Days Prior to Event Start Date
80% – From 119 to 90 Days Prior to Event Start Date
100% – 89 or Fewer Days Prior to Event Start Date

Special Airfares








Pre-Cruise Hotels







Post-Cruise Hotel