Galapagos Luxury All-Gay Cruise 2023
8 nights cruise from/to Guayaquil, Ecuador
September 09 – 17, 2023
Relais & Chateaux Ecoventura MY Evolve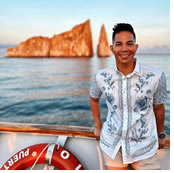 Happy Gay Travel & Source Journeys invites you to experience an extraordinary luxury all-gay voyage in the Galapagos Islands. Get closer to the natural world than you have or ever will, coming home with a radically different understanding of our planet. Snorkel with playful sea lions and penguins. Kayak among sea turtles, hike past dancing blue-footed boobies, and experience the magic of one of the greatest natural history destinations in the world. You'll encounter flora found nowhere else on earth.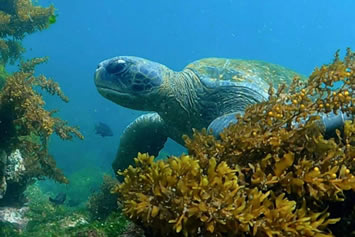 You'll enjoy this luxury voyage aboard a private LGBTQ+ charter of the new Evolve, a floating 5-Star boutique hotel that is part of the Relais & Chateaux Collection. This yacht features just 10 spacious cabins that combine modern design, gourmet cuisine, and exceptional service. We've timed this voyage to coincide with the anniversary of Darwin's first voyage to the Galapagos 188 years ago.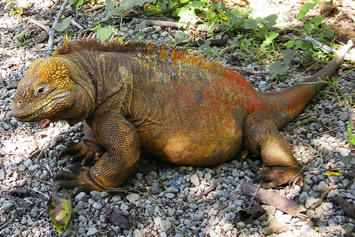 Galapagos Luxury Gay Cruise Highlights
• Private All-Gay Cruise Charter
• Inspired Organic Cuisine locally sourced
• Includes wine, cocktails & non-alcoholic drinks
• Brand new luxury Relais & Chateaux Yacht limited to 20 guests
• Follow in the footsteps of Darwin on the anniversary of his first voyage
• Come face to face with wildlife that has no fear of humans
• Star gaze under a new moon
• Galapagos National Park Certified Naturalist Guides
• Snorkeling, kayaking paddleboarding & glass bottom boat
• Entertaining enrichment lectures throughout the voyage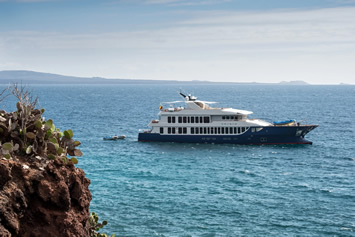 The Evolve Onboard Experience
The Evolve is the latest in a fleet of three identical luxury yachts by Ecoventura. These floating five-star "boutique hotels" are a part of the Relais & Chateaux collection, providing an intimate and exclusive environment for just 20 guests that aligns with their mission to emphasize the destination's awe-inspiring features while minimizing the impact on the delicate ecosystem.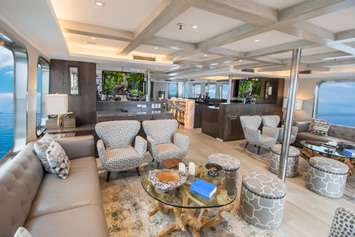 With over two decades of experience in Galapagos Expeditions, Ecoventura has redefined the small-ship yacht experience by immersing travelers in memory-making life-enriching experiences with smaller groups who share a passion for conservation. The names of all 3 yachts, Origin, Theory & Evolve, inspired by Charles Darwin's Theory of Evolution and Origin of Species.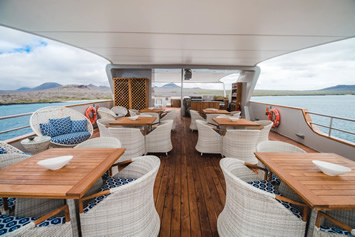 The 10 staterooms are roomy and inviting, with large windows, private bathrooms, and plenty of storage space. Our elegant dining room features marble tabletops, with configurations from two to 10 guests for private or group dining. Lunch is generally served al fresco on our spacious sundeck, which is equipped with day beds, chaise lounges, tables, hammocks, a four-person Jacuzzi, an outdoor shower, and a wet bar. The intimate indoor bar is always open for hand-crafted cocktails, wine, beer, sodas, juices, coffee, and tea.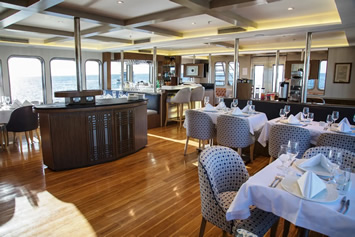 Interior social areas include a comfortable lounge for evening gatherings and general relaxation, and a cozy library stocked with books on the Galapagos and Darwin. WiFi is available and a public computer is provided for guest use. Evolve also has a boutique offering high-quality local handicrafts, sundries, and gift items, as well as a fitness center equipped with a treadmill, elliptical, free weights, yoga mats, and more.
The experienced 13-member Ecuadorian crew includes a high-level captain, a full-time concierge, and two expert naturalist guides – one for every 10 guests, the lowest ratio in the Galapagos.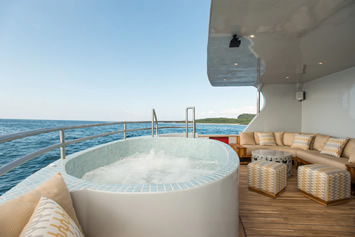 Evolve Yacht Features
• Family-owned and operated responsible cruise company from Ecuador, founded in 1991
• Member of the Relais & Chateaux collection of luxury boutique hotels and restaurants
• Crew of 13 including a Concierge and two Naturalist guides (one for every ten guests)
• Chic interiors by a local interior designer with curated art and contemporary understated décor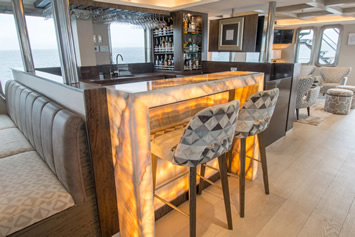 • Main lounge and indoor bar are beautifully inspired by the calming nature of the Galapagos.
• Cozy library stocked with rare publications on the Galapagos, natural history, and Charles Darwin
• Boutique offering high-quality embroidered apparel and handicrafts made by local artisans
• Fitness center is equipped with cardio equipment (elliptical, stationary bike) and yoga mats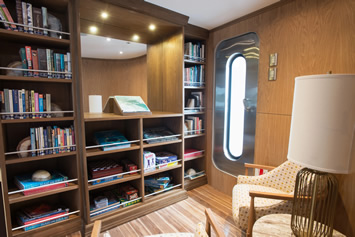 • Dinner is a beautifully plated four-course menu and BBQ lunches are served al fresco on the sun deck.
• Spacious sun deck partially shaded with day beds and chaise lounges.
• BBQ grill, outdoor bar, tables, and chairs for outdoor dining prepared on the grill
• Jacuzzi hot tub and outdoor shower
• Outdoor lounge areas provide a private spot to unwind with comfortable seating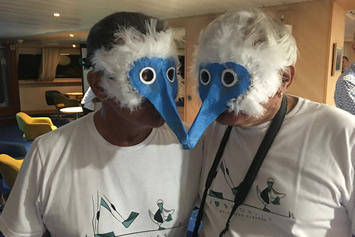 Included in this Journey
• Menus inspired by Relais & Chateaux with healthy and sustainable gastronomy
• 1 Night Hotel (September 9th) in Guayaquil including breakfast
• Cooking demonstrations, after-excursion gourmet bites, and an afternoon tea service with pastries
• Open bar including white, red, and rose wine, beer, spirits, juice, sodas, coffee, and tea
• Satellite communications (Wi-Fi)
• Guided shore excursions twice daily, evening briefings, and enrichment lectures
• Two Zodiacs and a glass-bottom boat for an exploration of the shoreline
• Multiple Kayaks (five doubles and a single) and two stand-up paddle boards
• Wet suits and snorkeling equipment (mask, fins, and snorkel)
• Transfers upon arrival in San Cristobal to the yacht
• Transfers from host hotel & airport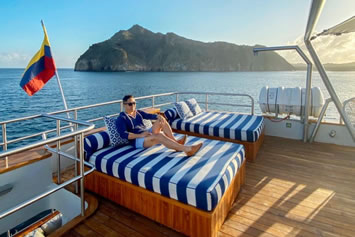 Not Included in this Journey
• International Flights
• Flights in-between Guayaquil and Galapagos – $495
• Galapagos National Park Entrance fee – $100 (Subject to Change)
• Transit Control Card – $20
• Gratuities
• Travel Insurance (strongly recommended)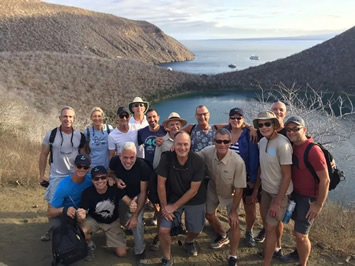 Galapagos Luxury Gay Cruise 2023
Itinerary


Date

Port

Arrive

Depart

09 Sep
Guayaquil, Ecuador
PM
10 Sep
Guayaquil, Ecuador / San Cristobal, Galapagos
AM
11 Sep
San Cristobal, Galapagos
12 Sep
Espanola, Galapagos

13 Sep

Floreana, Galapagos
14 Sep
Santa Cruz, Galapagos

15 Sep

Bartolome Island, Galapagos
16 Sep
South Plaza, Galapagos

17 Sep

San Cristobal, Galapagos / Guayaquil, Ecuador
PM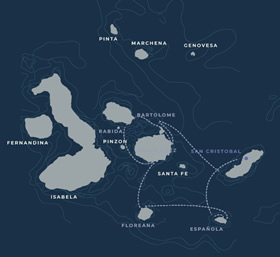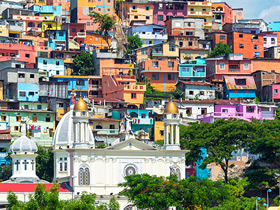 Day 1 - Guayaquil, Ecuador
Arrive in Guayaquil International Airport (GYE), transfer to our host hotel. Guayaquil is a port city in Ecuador, known as a gateway to Pacific beaches and the Galapagos Islands. Stretching along the Guayas River is the waterfront Simón Bolívar promenade, home to La Rotonda monument. In the north, Las Peñas is a neighborhood full of colorful houses. Stairs lined with cafes and art galleries lead up Santa Ana Hill, site of Santa Ana chapel, a lighthouse and views of the city.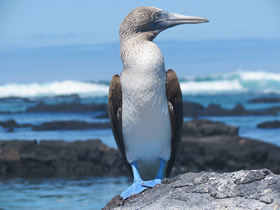 Day 2 - San Cristobal Island, Galapagos
Upon arrival at Puerto Baquerizo Moreno, your guides will be waiting to escort you to your luxury expedition yacht. You'll have time to settle in after lunch before the yacht leaves the harbor. Within a few hours, we reach Leon Dormido, (Spanish for sleeping lion), a remnant of a vertical tuff cone formation, rising 500 feet from the ocean. Erosion has split the rock providing a spectacular backdrop for photographs at sunset. As we circumnavigate the formation, you'll easily spot blue-footed boobies, Nazca boobies, and frigatebirds on the cliffs. After a briefing on activities for the following day, join our Captain and crew for a cocktail reception followed by a multi-course dinner.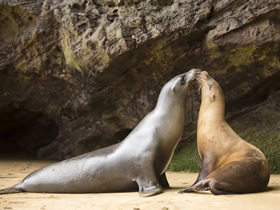 Day 3 - San Cristobal Island, Galapagos
Your first day of exploration starts with a Zodiac ride to look for wildlife at Cerro Brujo, known as Wizard Hill. Your guide will point out the wide variety of birds soaring overhead, from brown pelicans and brown noddy terns to blue-footed boobies dive-bombing the water as they fish. Sally lightfoot crabs, black when they're young but extremely colorful once fully grown, scurry all over the rocks. Your guides will also point out unusual geological formations, including the Cathedral, jokingly called Darwin's Pants. After the Zodiac tour, you'll step ashore at a gorgeous coral sand beach and can explore at your own pace. Take a peaceful walk along the beach, swim with sea lions, or get on a paddleboard or kayak.
Later, we go ashore at Punta Pitt, which is considered one of the best sites for birdwatching, primarily because it is the only place where you'll see all three species of boobies: blue-footed, red-footed, and the Nazca. Your guides will also point out frigatebirds, swallow-tailed gulls, storm petrels, and brown pelicans. We can snorkel at Pitt Rock with sea lions and colorful fish; King Angel and Surgeon fish. After dinner, join your guide on deck for an exploration of the Southern skies full of stars.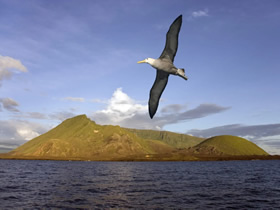 Day 4 - Espanola, Galapagos
This morning you'll land at Punta Suarez where your guides will point out the large number of endemic species living here, such as the magnificent, waved albatross, which spends the first several years of its lives in the open ocean and return to land to mate. As you walk, take care not to step on the marine iguanas sunbathing on the dark lava rocks. Follow the trail to the dramatic ocean blow hole, and watch for colorful sally light-foot crabs crawling along the shoreline. We also find Darwin's Finches, Hood mockingbird, Galapagos Doves, red-billed tropic birds, Galapagos Hawks, Nazca boobies, and swallow-tailed gulls, the only nocturnal gull in the world. Return to the yacht for a BBQ lunch served on deck and a cooking demonstration on how to make Ecuadorian ceviche. After lunch, you'll have the option to snorkel at Tortuga Rock and explore the caves covered with invertebrates. Disembark at Gardner Bay, the site of an expansive white-powder sand beach where colonies of sea lions dot the shoreline. Here you'll have the option to snorkel from the beach, kayak, or paddleboard, or take a leisurely stroll, sunbathe, or look for wildlife, Darwin Finches, Espanola mockingbird, and Galapagos hawks.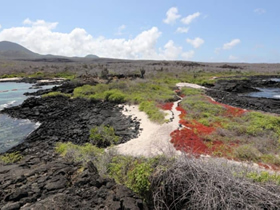 Day 5 - Floreana, Galapagos
Step ashore at Punta Cormorant's olive-sand beach with the sounds of sea lions, lava herons, yellow-crowned night herons, and blue-footed boobies. As you walk to a brackish lagoon, home to Bahama ducks, Galapagos flycatchers, and bright pink flamingos. The trail leads to a beach where sea turtles lay their eggs in the sand dunes and sting rays swim in the shallow water. Don't miss the opportunity to snorkel at Devil's Crown or Champion Islet, a shallow sunken crater colonized by a brilliant array of colorful fish and coral, white-tipped sharks, sea turtles, spotted eagle rays, and sea stars. Return to the yacht for lunch and a lecture on the human history of the Galapagos. Learn about fascinating facts about why this island is sometimes called the Island of Mysteries. In the afternoon, you'll be able to participate in a thrilling Galapagos tradition at Post Office Bay. Take a Zodiac excursion or explore by paddleboard at Baroness Point to find sea turtles and rays in the shallow lagoon.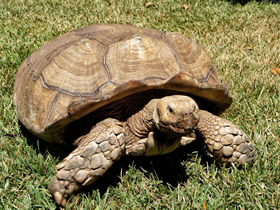 Day 6 - Santa Cruz, Galapagos
When you awake this morning, the view will be completely different from the last few days. A harbor full of boats is bustling with activity at Puerto Ayora, a town with a population of 24,000. You'll travel by bus to a higher altitude with beautiful geological formations including the lava tunnels at El Mirador and Los Gemelos (the twins), a pair of massive craters. Your guides will explain how they were formed. The highlight of the morning is a visit to Rancho Primicias, a privately-owned ranch where tortoises roam free. These slow-moving giants can grow to over 500 pounds! Lunch is served back on board the yacht, and later in the afternoon, you'll learn about the most famous visitor to the Galapagos – Charles Darwin – as well as current conservation efforts, when you visit the Centro de Crianza Fausto Llerena or Charles Darwin Research Station.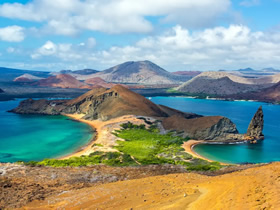 Day 7 - Bartolome Island, Galapagos
When you wake up this morning, you'll be in solitude once again, with no other boats in sight. You'll have two options for a morning activity. Today's hike is a challenge, with about 400 wooden steps winding around Bartolome Island, ending in a gorgeous panoramic view of Pinnacle Rock. Your guide will stop along the way to describe the geology of the landscape; mini lava cones and lava bombs formed by flowing magma from past volcanic eruptions. If you'd rather skip the hike, enjoy a Zodiac ride around the island to look for penguins. You'll see these adorable animals, the second smallest type of penguin, swimming and diving playfully or grooming themselves on rocks. Crystal clear water beckons you to wade in from the beach. Snorkel with schools of tropical fish, white-tipped reef sharks, and Galapagos penguins.
In the afternoon, enjoy lovely views and some of the Galapagos' renowned wildlife. Go ashore on Sombrero Chino (Chinese Hat), a small island off the southern tip of Santiago that owes its name to its shape. Sea lions await on the beach, and as you explore, you'll see marine iguanas and oystercatchers. Along the trail, you'll see remnants of the island's geological history, with volcanic rubble and cracked lava formations. Snorkeling here, often with penguins, is not to be missed. Navigate slowly along the shoreline, listening for the tell-tale deep inhale of a sea turtle and watching for the wings of a school of golden rays. In the evening, enjoy an enrichment lecture tonight after dinner on Charles Darwin and evolution.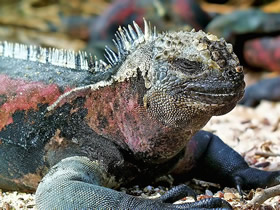 Day 8 - South Plaza, Galapagos
Arrive at this small islet with tall cliffs and a trail with a variety of plants and animals. This island's species of "Opuntia" or prickly pear cactus has been decimated by invasive species, so you'll see young plants surrounded by nets to protect them. Look for nests for a variety of birds, such as swallow-tailed gulls, shearwaters, small ground finches, and red-billed tropic birds. This geological uplift is home to a colony of bachelor sea lions, with dominant bulls in various stages of recovery from battles over prime beach territory. You'll also have an opportunity to see land iguanas up close, and your guide will describe what differentiates them from marine iguanas. During lunch, you'll sail to North Seymour Island, where a spectacular sight awaits frigate birds with red sacs on their chests inflated, seeking mates. You'll have a final opportunity to snorkel in deeper water. Look for sharks, sea lions, and starfish, along with a variety of tropical fish.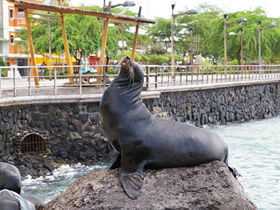 Day 9 - San Cristobal, Galapagos / Guayaquil, Ecuador
This morning you'll disembark from the yacht after breakfast. As a perfect way to sum up the trip, you'll visit the Interpretation Center to discover more about the human history of the Galapagos Islands. There's also a paved trail where you can enjoy a brief walk before a bus ride into town. You'll have some free time for last-minute photos before your transfer to the airport. It's a quick flight back to the mainland, but you'll be bringing lifelong memories with you!