Avalon Artistry II

Ship Facts
Ship's Registry: Germany
Passenger Capacity: 128
Crew Members: 37
Year Built: 2013
Length: 361 feet
Passenger Decks: 3
Amsterdam to Luxembourg
Rhine & Moselle Rivers All-Lesbian Cruise
October 4 – 11, 2021
Avalon Waterways Avalon Artistry II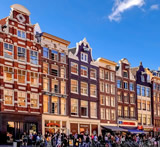 Cruise the Rhine River with the women of Olivia, starting in the extremely LGBTQ-friendly city of Amsterdam and ending in delightful Remich, Luxembourg. Stroll along the canals learning about Amsterdam's history, and experience vineyards and castles along the Rhine and Moselle Rivers. Included tours in most ports ensure you see the best of the best as you immerse yourself in the rich local cultures.
Start this magnificent European river cruise vacation in Holland's popular, modern capital of Amsterdam. See the treasures of this 700-year-old city from a unique perspective—on a canal cruise along the elegant grachten.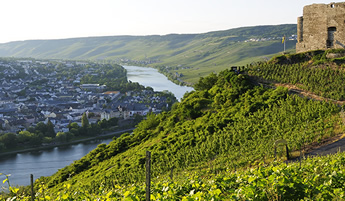 Then, begin your scenic cruise along the Rhine River and come to Cologne, Germany—a 2,000 year-old city known for its gothic architecture. On a guided city walk, see the famous twin-spired cathedral and explore the cobblestone streets of the Old City. You'll sail through the dramatic Rhine Gorge—the most beautiful stretch of the Rhine River where ancient castles stand on cliffs 400 feet above the water. In the charming wine town of Rüdesheim, enjoy a stroll through its famous cobblestone Drosselgasse lined with shops, restaurants, and lively taverns.
Along the Moselle River, you'll stop at the picturesque town of Cochem where the Riesling grape is cultivated. Visit Reichsburg Castle, nestled among vineyards and offering breathtaking views of the town and river valley below. In Bernkastel, enjoy a guided walk and taste some of the region's best-loved wines. Go on an excursion to historical Luxembourg City, offering unique and dramatic views as it is set on two levels—high above on straddling hills and dropping into two river valleys.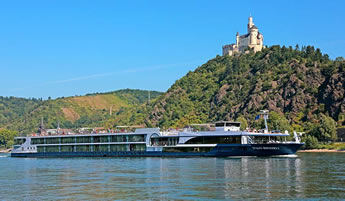 Your Ship - Avalon Artistry II
Cruise on Europe's most loved rivers with views that become part of your suite. The Avalon Artistry II delivers an intimate setting, along with two full decks of suites featuring Wall-to-Wall Panoramic Windows that transform the living space into a unique Open-Air Balcony. Enjoy unmatched, seamless views of passing landscapes from your window-facing Comfort Collection bed for the ultimate in European river cruise views. With 200 square feet, Panorama SuitesSM are more than 30% larger than the industry standard, giving you the rare opportunity to wake each morning to the enchanting scenery and fresh breezes. Onboard amenities include complimentary computer use in public areas and Wi-Fi access, a Fitness Center, and a spacious Sky Deck with premium lounge chairs, shade system, whirlpool, and the delightful Sky Bistro.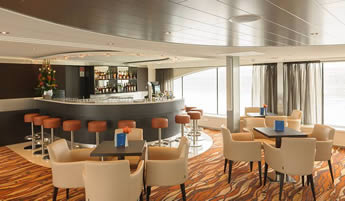 Some of the features and amenities you'll enjoy onboard:
• Wall-to-Wall Panoramic Windows
• State-of-the-art fitness center
• Convenient Elevator Service
• Outside viewing deck
• English-speaking friendly crew, staff & professional Cruise Director
• Onboard lectures, activities & entertainment
• Sky Deck whirlpool
• Complimentary Wi-Fi access
• Onboard Adventure Center with active gear, bikes, Nordic walking sticks, watercraft & maps
• Light lunch & casual dinner in the Panorama Bistro
• Choice of Leisurely, Traditional or Independent sightseeing pace options
• Onshore & Onboard experiences with regional customs, cultures & tastings with local artisans, experts & entertainers
• Well-stocked library with books, cards, and board games
• Full-size closet mirror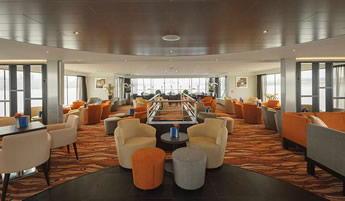 • Sky Deck with premium lounge chairs, whirlpool, shade awnings, & outdoor deck game area
• Non-smoking staterooms & ship interior
• Elegant, contemporary design
• Headsets for guided shore excursions
• Sightseeing with Expert Local Guides
• Room service for Continental breakfast & beverages (service fee applies)
• Complimentary computer use in public areas
• Additional biking excursions available in Amsterdam, Breisach and Bernkastel
• Sky Deck game area
• Nordic walking sticks available onboard for complimentary check-out
• Self-serve beverage station with complimentary tea, hot chocolate & premium coffees, including decaf options
• Complimentary bottled water, fresh fruit, and cookies available throughout the day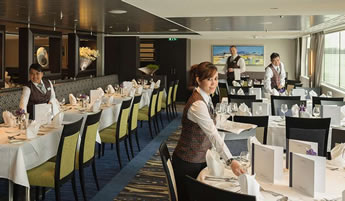 Dining:
• Olivia's welcome reception with sparkling wine and canapés
• Avalon Fresh healthy cuisine options at every meal
• Self-serve beverage station with complimentary tea, hot chocolate & premium coffees, including decaf options
• Welcome & farewell cocktails with sparkling wine & canapés
• Welcome dinner
• Five-course farewell dinner
• Spacious, open-seating dining room
• Daily early-riser breakfast
• Daily late-riser breakfast
• Full buffet breakfast with sparkling wine and made-to-order egg station
• Lunch buffet with carving and pasta stations
• Al fresco lunch in the Sky Grill
• Cocktails with a view on the Sky Deck
• Healthy Corner options including low calorie, low fat, high fiber, low cholesterol, and high energy choices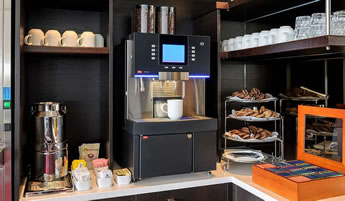 • Vegetarian options at every meal, as well as vegan and allergy-free selections
• Afternoon Tea featuring tea, coffee, and sweet treats
• Happy Hour every evening including featured drink specials
• Seasonal cuisine featuring the freshest local ingredients
• Chef-prepared onboard meals with regional cuisine and familiar favorites
• Four-course dinners with choice of appetizers, soups, salads, entrées and desserts or cheese
• Complimentary wine, beer, or soft drinks with lunch and dinner
• Room service for Continental breakfast & beverages (service fee applies)
• Night Fare served at 10:30 pm
• Panorama Lounge & Bar with premium spirits, cozy seating, panoramic windows & dance floor
• Healthy meal options
• Linger over several selections from the Panorama Bistro's tasting menu for a less formal "sit-down" atmosphere
• Tastings - sample the destination's famous delicacies
• Light lunch & casual dinner in the Panorama Bistro
• Coffee or tea after dinner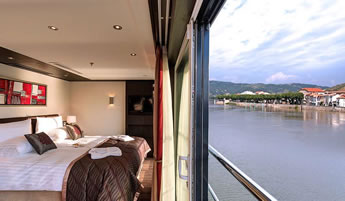 Deluxe Staterooms & Suites Amenities:
• Comfort Collection Beds
• Egyptian super-combed cotton linens
• Soft & firm pillows
• Choice of bed configuration
• Bedside tables with reading lamps
• L'Occitane bath products
• Easy under-bed luggage storage
• Alarm clock
• Bathrobes & slippers
• Complimentary bottled water
• Individual climate control
• Large mirror in bathroom
• Two windows
• Writing desk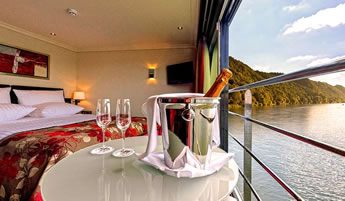 • Memory foam mattress toppers
• European-style duvets
• Extra blankets
• Nightly turn-down service
• Hairdryer
• Spacious 3-door closets with shelves for ample storage
• Flatscreen satellite TV with movie channel
• Direct-dial telephone
• Well-stocked minibar
• In-room safe
• Elegant, contemporary design
• Complimentary Wi-Fi
• Full shower with glass door
• Vanity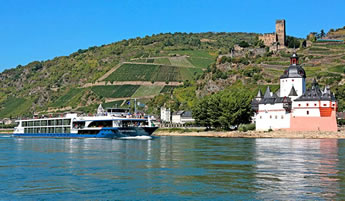 Amsterdam to Luxembourg
Lesbian River Cruise Itinerary


Date

Port

Meals

04 Oct

Amsterdam, The Netherlands
D
05 Oct
Amsterdam, The Netherlands

B, L, D

06 Oct

Cologne, Germany
B, L, D

07 Oct

Koblenz / Rhine Gorge / Rudesheim, Germany
B, L, D
08 Oct
Cochem, Germany
B, L, D

09 Oct

Bernkastel, Germany
B, L, D

10 Oct

Remich, Luxembourg
B, L, D
11 Oct
Remich, Luxembourg
B

Itinerary is subject to change based on river level, traffic, and locks.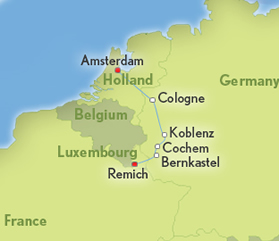 Amsterdam, The Netherlands
Monday, October 4, 2021

Welcome to Amsterdam! The capital of The Netherlands is sophisticated and modern, with a rich and fascinating history. The works of famous Dutch masters can be seen in world-renowned museums such as the Rijksmuseum or the Van Gogh. At approximately 4 pm, board your river cruise vessel and meet your Olivia staff and ship's crew at a welcome reception with dinner.
(Note, guests must be on board by 5 pm).
Amsterdam, The Netherlands
Tuesday, October 5, 2021

There is no better way to see the city than by canal boat, cruising through the elegant grachten-lined canals with stately homes dating back to Amsterdam's "Golden Age." There's free time in the afternoon to explore on your own, or enjoy an optional tour. Afterward, your river cruise vessel sets sail for Cologne.
Included canal boat tour
Cologne, Germany
Wednesday, October 6, 2021

Today enjoy a peaceful morning of cruising before reaching gay-friendly Cologne in the afternoon. Cologne is one of Germany's largest cities, with a river skyline dominated by the soaring twin spires of its magnificent gothic cathedral. In 2010, it was the site of the Gay Games. The Germano-Roman Museum located next to the cathedral is a must for history buffs! Try a Kölsch in one of the many beer taverns or shop for a bottle of "4711," the original eau de cologne.
Choose between and included Guided City Walk or Jewish Heritage Walk.
Koblenz – Rhine Gorge – Rudesheim, Germany
Thursday, October 7, 2021

This morning, dock in pretty Ru¨desheim, a typical Rhine Valley wine town. Visit Siegfried's Mechanical Musical Instrument Museum to see and hear a large collection of self-playing calliopes and music boxes from the 18th to the early 20th centuries. Today, we'll enjoy a special treat. Downstream from Ru¨desheim is the dramatic Rhine Gorge, the most beautiful stretch of river. Here, ancient castles stand sentry on lofty cliffs rising 400 feet above the waters. Cruise past the legendary rock of the Lorelei, where echoes of enchanted siren song lured sailors to their doom. Then, arrive at the place where the Rhine and Moselle Rivers meet—the Deutsches Eck (German Corner) with its impressive statue of German Emperor William I. Join your Local Guide for a walking tour of 2,000-year-old Koblenz, which reveals an eventful past through its castles, fortress walls, towers, squares, and monuments.
Cochem, Germany
Friday, October 8, 2021

In Cochem, you'll find Reichsburg Castle, Riesling Wine, and the Charm of the Moselle Valley. Relax on the Sky Deck of your ship while sailing through the Moselle Valley, famous for the beautiful wine-growing villages and their vineyards. Enjoy an included Guided Walk of Cochem to see the charming town's half-timbered houses and winding streets. Visit Cochem's hilltop Reichsburg Castle with a bird's-eye-view of the Moselle Valley and river bend.
Bernkastel, Germany
Saturday, October 9, 2021
In this charming town, you'll find gracious German Vineyards of the Moselle Valley. Enjoy an included Guided Walking Tour of the charming wine village of Bernkastel—with its medieval marketplace and 17th-century gabled timber-framed houses OR: Spend some free time at your leisure this afternoon—hike to view the vast vineyard landscapes, bike through the Renaissance-style village, or relax with a glass of German wine. Join a Wine Tasting to experience the tradition of legendary German wine making.
Remich, Luxembourg
Sunday, October 10, 2021

Ancient Worlds, Old World Charm, and World-Class Wine await your adventure today! Included Guided Tour of Luxembourg City — with its dramatic views, ancient ruins, and modern architecture along the deep gorge terrain.
Remich, Luxembourg (Disembarkation)
Monday, October 11, 2021
Your vacation ends with breakfast this morning. Flights may depart Luxembourg (LUX) any time on October 11 since our ship will arrive to Remich, Luxembourg on October 10, and we will overnight there.
Vacation Stretchers
We are offering a Pre-program in Amsterdam,

and Post-Cruise Vacation Stretcher in Luxembourg.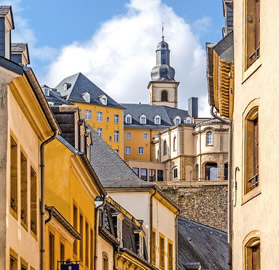 What is included?
• Accommodations for 8 days/7 nights on one of the finest river boat cruises sailing from Amsterdam
• All meals while on board
• Champagne at breakfast daily
• Beer, wine and soft drinks with lunch and dinner
• Coffee, tea, juices during all meals
• Olivia signature entertainment and programming
• Local entertainment
• Bottled water replenished in cabin daily
• Included sightseeing tours in each port
• Gratuities to ship crew and Avalon Cruise Director
• Olivia Staff assistance throughout
What's not included?
• Transfer from Amsterdam airport to ship, or ship to Luxembourg airport
• Optional tours
• Alcoholic beverages, bottled water, and soft drinks (except where indicated)
• Phone/Fax, Salon Services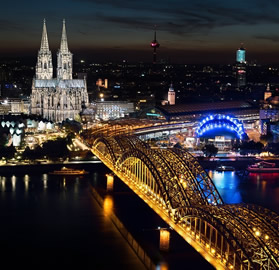 Trip Notes
Currency
The Netherlands, Germany and Luxembourg use the Euro.
Languages
Dutch, German and Luxembourgish, but most people speak English!
Where to fly into/out of
You will need to fly into Amsterdam-Schiphol International Airport (AMS) and out of Luxembourg International Airport (LUX). We encourage all passengers to extend their trip with our Pre- and Post-trip Vacation Stretchers to enjoy all Amsterdam and Luxembourg have to offer, as well as to avoid the stress of unexpected delays.
Activity Level
This trip do require a level of mobility, as most of the tours are walking tours for up to 3 hours, which may include walking on cobblestone streets and stairs. A "Gentle Walkers" Group is included on most included walking tours, which accommodates those needing a little extra time and sometimes a shortened version of a tour, keeping in mind as few stairs as possible. If you are bringing a portable wheel chair or collapsible travel scooter, they must be able to collapse and be stored in your cabin. They cannot be used to get around the ship, only to use while off the ship. They may be used on tours that are accessible, but that can be difficult because of the cobblestone streets, stairwells and need to lift them up on curbs. If you do have limited mobility, you are required to travel with someone who can assist you to lift the scooters down the gangways, up and down curbs, and up and down stairs.